Mother, Thirst take home Director's Cut Awards
This year's 12th Director's Cut Awards were given out on December 21, and the top winners this year were Thirst, Park Chan-wook's stylish vampire-horror film starring Song Kang-ho as a vampire priest, as well as Bong Joon-ho's Mother, whose Kim Hye-ja is earning a number of accolades as the titular mother who goes all-out to protect her dimwitted son (Won Bin) from a false charge.
Also honored was Jeon Do-yeon, who didn't win an acting award but was given a plaque of appreciation as part of the Cinema Angel Project, which promotes the development of independent films. In addition, a commemorative plaque was issued in memory of Jang Jin-young, who recently passed away of stomach cancer at the age of 35.
Winners List
Best Director: Park Chan-wook (Thirst)
Best Actor/Actress: Song Kang-ho (Thirst), Kim Hye-ja (Mother)
Best New Director: Ounie Lecomte (A Brand New Life)
Best New Actor/Actress: Kim Dong-wook (Take Off), Park Bo-young (Speed Scandal)
Best Producer: Yoon Je-kyun (Haeundae, JK Films)
Best Indie Film Director: Yang Ik-joon (Breathless)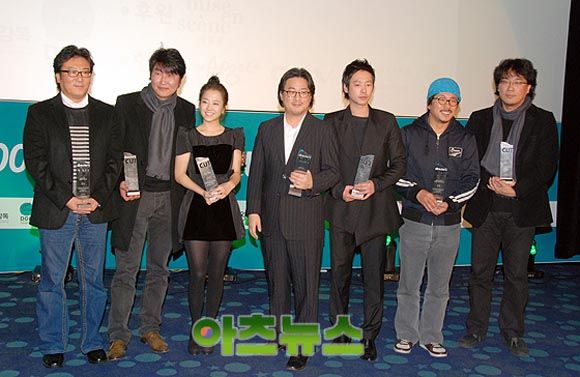 Park Bo-young, Jeon Do-yeon, Kim Dong-wook

Song Kang-ho, Park Chan-wook, Yoon Je-kyun
Via Newsen
RELATED POSTS
Tags: awards, Jang Jin-young, Jeon Do-yeon, Kim Dong-wook, Kim Hye-ja, Park Bo-young, Park Chan-wook, Song Kang-ho