Preview and press conference for Wedding Dress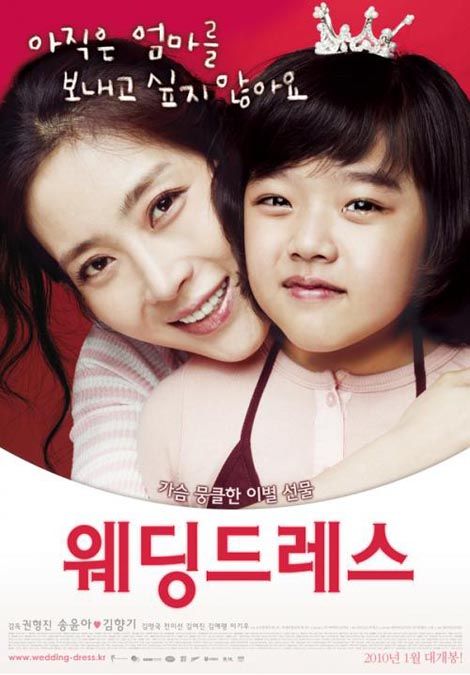 Mother-to-be Song Yoon-ah has a new movie coming out, in which she stars as a single mother to young Kim Hyang-gi. The film held its press conference and preview screening in Seoul on December 29.
And aie, it looks like it's the kind of movie to start you bawling halfway through and not let up until the end, since the cute mother-daughter relationship soon finds itself endangered when Song Yoon-ah is diagnosed with a fatal illness. I usually steer clear of tearjerkers like this because the setup is almost indulgently sad (the trailer below reminds me of the old Choi Jin-shil tearjerker The Letter), but for some reason I feel drawn to this one. Might be just the thing to spur on a cathartic crying session.
Wedding Dress's trailer clip:
Ten-year-old Kim Hyang-gi may be a familiar face to some — she has a precocious charm that she's shown in dramas like Hero (as Lee Junki's niece) and Bad Couple. At the press conference, she called Song "Yoon-ah umma" (Yoon-ah Mom) and explained, "She treated me well, like a real mother." Asked if she found acting difficult, Kim Hyang-gi answered, "Not really. On the filming set, there were sad times and times where we laughed, but Yoon-ah umma was like a real mother to me so I didn't really have a hard time."
Song Yoon-ah also had words of praise for her young co-star: "Normally when acting with child actors, the adult actors have to pour on two or three times the normal energy. Before we started work on the movie, I prepared myself but Kim Hyang-gi was so good that I was astounded. She adapted quickly to the filming set and the staff was also surprised at how well she did."
Song Yoon-ah was married to actor Sol Kyung-gu in May, and recently announced her pregnancy. Her most recent film was the thriller Secret, in which she stars as a woman under suspicion for murder, which was released earlier this month.
Directed by Kwon Hyung-jin of For Horowitz, Wedding Dress opens on January 14.
Via E Daily, Sports Chosun
RELATED POSTS
Tags: Kim Hyang-gi, Song Yoon-ah