Smile: Episode 20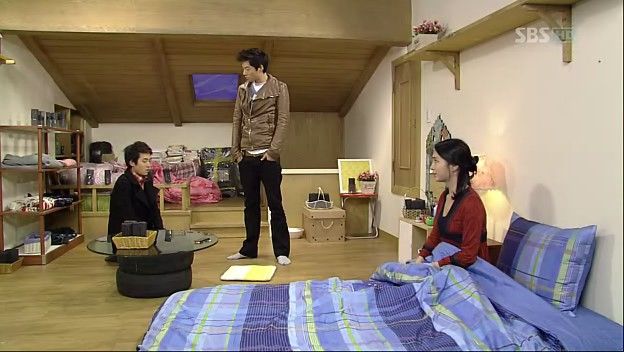 This was one of the first episodes in quite awhile that I didn't fawn over. I'm starting to feel that Jung-in and Hyun-soo's relationship is moving into the sugary sweet arena, which makes me a bit antsy. The drama has done a good job of keeping things organic and need to introduce some angst into the storyline using the same method. Thankfully, the ending hints at things to come, which may be a welcome change to the sweet drama, if done well.
SONG OF THE DAY
Smile OST: Yurisangja – "그대, 웃어요" (Smile, You) [ Download ]
I haven't given much thought to the OST, but its done a fairly good job of keeping the music secondary and not letting it interfere for the story. I usually find songs created specifically for a drama to be cheesy, but I enjoy the campiness this song – which was playing at the birthday prep scene. And they get a bonus for using the kazoo!
Audio clip: Adobe Flash Player (version 9 or above) is required to play this audio clip. Download the latest version here. You also need to have JavaScript enabled in your browser.
With Han-se surprising Jung-in and Hyun-soo with news of Jung-kyung, the 3 of them stand, shocked, unsure of what to do next. Jung-in takes control of the situation and starts whispering something in Hyun-soo's ear. It's funny to see the exasperated Han-se, trying to find out what she's saying.
Jung-in sends Hyun-soo off to meet her sister and heads back home, but not before requesting ice cream. Before he leaves, he has a word for his rival.
Hyun-soo: I don't know what you were expecting when you came here, but stop following us around.
Han-se: If you don't like me doing this, don't hang around our Jung-in. (It literally is "our" but the in Korean it basically means "my".)
Han-se catches up with Jung-in as she is about to go inside. He's still curious to find out about what they'll be doing later and brings up Jung-kyung again in an effort to split them up. I love how Jung-in threatens Han-se with his mom, when he tries to threaten them with Geum-ja. Sang-hoon shows up just in time and chases Han-se away. Inside, we see the beginnings of a partnership. (It looks like Geum-ja's going to be the odd person out.)
Jung-in: Ajusshi, don't you not like me?
Sang-hoon: Why would I not like you?
Jung-in: Thank you.
Sang-hoon: It's not something to be thankful for.
Meanwhile, Hyun-soo goes back to the cafe but Jung-kyung is gone.
Sung-joon forces himself into Ji-soo's apartment, continuing his crazy delusion that she's in love with him. When she asks what he's doing tomorrow, Sung-joon thinks that she's about to ask him out on a date and replies, "It's finally here, but it can't be an overnight trip." Ji-soo laughs at him and says that it's just to help out at the store.
Jung-kyung is hidden in her room, afraid that she might get found out by Sung-joon. It probably wasn't the best idea to runaway to a place her brother visits daily.
Jung-in is perched at her window, looking for Hyun-soo's return. He brings her ice cream and watches as she eats. They get into a conversation about Jung-kyung, telling each other what they know about her job and relationship with the chief.
Even with the serious conversation, they are dating after all and have fun with the ice cream. She talks about how she play-fights with Sung-joon when eating food, and Hyun-soo quickly catches onto the clue. He draws a line in the ice cream and tells her not to cross the line while eating.
Geum-ja hears laughter up in Jung-in's room and tries to listen in. Sung-joon walks into the house and finds her peering in. Sung-joon is as sly as a fox and immediately catches on to the situation. He climbs up to the room and says smoothly, "Come out." Hyun-soo pops up from the blankets in the corner, and kneels down in front of Sung-joon, with Jung-in muttering, "Idiot."
Sung-joon: Let's set a [wedding] date.
Hyun-soo: Hyung!
Jung-in: Oppa!
Sung-joon: You, don't call me oppa. The reason why I'm on your side is because Hyun-soo generously gave up his room for me. It's not because of you, Jung-in.
Hyun-soo: [Breathing a sigh of relief] Thank you.
Sung-joon: Even when Han-se came asking for help, it was your innocence that kept me from listening to him. I like you.
Jung-in: I'm the one who asked him to lie. You know my situation. So don't make things into a big deal.
Hyun-soo: I'm sorry for hiding it. I like Jung-in, but I was trying to be discrete.
Sung-joon: Of course. I like your introspective attitude. [To Jung-in] I'm warning you.
Jung-in: What did I do?
Hyun-soo: Jung-in. [Giving her a look]
Jung-in: Alright oppa. I'm sorry.
Sung-joon is hilarious. I love that he wants his sister to set a wedding date, even as a self-proclaimed playboy. Back down in the boys' room, Sung-joon continues his overly protective comments, "If you ever make her cry…" But Hyun-soo immediately answers, "Of course not. I'll be trying hard to give her laughter." It seems like he'll be taking lots of orders from Sung-joon from now on. One word from his future brother-in-law, and Hyun-soo immediately hands over the mattress.
A drunk Han-se calls Hyun-soo to talk to Jung-in, calling her "our" Jung-in again. Hyun-soo tells him that "our" Jung-in isn't next to him. Han-se has a pitiful moment.
Han-se: Why do I need to do this? Jung-in is my woman. Why do I need to go through you in order to talk to her? Let me talk to her!
Hyun-soo: You're drunk.
Han-se: You have Jung-kyung nuna. Just go to her.
Hyun-soo: The person I like is Jung-in.
Han-se: Then how about Jung-kyung nuna. Do you know where she is and what she's doing?
Hyun-soo: Do you know where she is?
Han-se: You acted like you weren't interested in front of Jung-in. Why are you asking? Why? Why?
Han-se starts to bang his head against the wall, wailing "Jung-in" and making Hyun-soo uncomfortable.
Jung-kil wakes up Geum-ja, to get back at her for making him late for work the other day. He makes her pull together breakfast for him, while she dozes off on the side. Geum-ja tells him to just send Jung-in to Han-se, and get some help from Global Motors, instead of toiling away like this. Jung-kil agrees that his thoughts are the same but will not be leaving until he gets what he deserves, namely the house.
The family all work outside in the morning, with the Seo family working hard to get grandpa Man-bok against Geum-ja.
Sung-joon walks over to Jung-in and whispers "cue" and the couple starts a fight. Sang-hoon and Sung-joon tell them to stop fighting, and Sang-hoon makes the 2 of them make up and shake hands. It's even better than Jung-in and Hyun-soo expected, with the unforeseen physical contact in the morning due to their fight.
Hyun-soo asks Ji-soo about Jung-kyung, making her nervous about lying. Sung-joon arrives at the store, demanding lunch. When Ji-soo leaves to feed a sick Jung-kyung, he follows her to the apartment. He tries to go into the extra room and see the roommate but Ji-soo pushes him out.
Jung-in tries to use Hyun-soo's computer but sees that he's changed the password. When she calls him to ask about the change, they have a bit of a *barf* moment.
Jung-in: Boyfriend, where are you?
Hyun-soo: In your heart.
I realize it may be an "awww" moment to many, but does anyone else think their relationship is getting a bit too sugary sweet?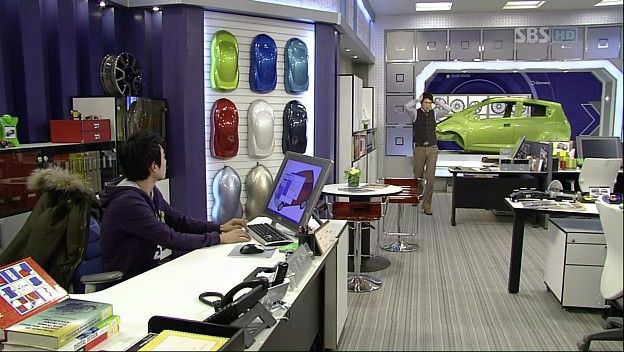 Hyun-soo goes into the office and sees Han-se waking up from his drunken stupor. He's upset and frustrated to see Han-se's behavior. He tells him that liking someone means learning to let them go as well. Han-se brings up Jung-kyung again and doesn't understand how Hyun-soo could like both sisters.
While the Kang/Seo household have dinner together, Jung-in announces that it's Jung-kyung's birthday tomorrow and suggests throwing a party. She brings the whole family together to blow balloons, make decorations, and enjoy each other while working on the celebration. In contrast, Jung-kyung lies in bed alone, feeling sad and sorry for herself.
Jung-in goes out to the backyard to see Hyun-soo working out. She comments, "It must be nice to have a girlfriend like me, who even takes care of his first love's birthday. How did Seo Jung-in become like this." She adds that their family doesn't celebrate birthdays and she's only doing it because she doesn't want Hyun-soo to get sick from not celebrating Jung-kyung's birthday.
Jung-in: How much did your heartache while changing your password? It's difficult enough to let go of your 8 year first love, but she's disappeared and isn't coming back. Be honest, you sent me a telepathic message. 'Remember Seo Jung Kyung's birthday… remember… remember."
Hyun-soo: [Seriously] I did send it. [Smiling] We really do communicate well.
Jung-in: There's no need to be so happy. I'm throwing the party to show that you have no chance with Jung-kyung. Know that I'm the only who likes you and treat me well.
She then tell him to change his password to 0730 instead. And when he's ignorant of the number, she gives him a nasty look, making him realize the meaning immediately. He tries to get her to stay longer, but she leaves to help making the food for the party. He smiles as she walks off.
In order to get Jung-kyung to come to the house, she makes Grandpa Man-bok call Jung-kyung. She wants him to tell her, "Happy Birthday. I miss you." (LOL) Man-bok is unable to say such words but does tell the birthday girl to come home for dinner. When Jung-kyung uses work as an excuse, Jung-in gets on the phone.
Jung-in: Don't hate me also. Because I've lived my life stupidly, everyone hates me. So come tomorrow.
Man-bok: Who hates you?
Hearing Jung-in's somber comment, Man-bok tells Geum-ja to take care of Jung-in, saying that she must be having a difficult time even though she doesn't show it on the outside.
Kyung-soo is sent to Ji-soo's store to help, with Joo-hee feigning Jung-kyung's birthday to stay home. (She claims that she gets sick during the month she gave birth. OMG. So that means she's sick 3 months of the year. Geez.)
He tries to come up with many excuses as possible to get out of working with Ji-soo. He has a shaking problem and might drop the dishes. He's face is so ugly that he might chase away the female customers. (Puhaha.) Ji-soo laughs and asks, "Why do you keep calling me nuna when we're the same age? Just call me by my name." He gets to "Ji…s…" but can't continue.
Sung-joon comes to pick up Ji-soo for the birthday party. She's reluctant to attend, but he uses the past hospital bill to guilt her into coming. They head to a small store to buy a gift. Sung-joon then notices a hairpin and puts it on her hair, telling her that it's nice to see her face.
Sung-joon is pretty hilarious, telling her that buying a present is a bit too forward. When she calls Jung-kyung unni, he quips, "Did we apply for a marriage certificate?" LOL.
Joon-bae and his new girlfriend plan a trip together. When he suggest taking their friends, she refuses to go anywhere with his friend, Man-bok. We've seen before that she's apparently a con artist and is spending time with Joon-bae to take his money.
When Jung-kil shows up to buy some meat for the party, he recognizes it immediately. "I think you're similar to me." He may be idiotic in some aspects, but notices when he sees his own kind.
Jung-in and Hyun-soo decorate the Christmas tree. She's worried about the electric bill, when Hyun-soo bring a used car battery to light the tree. They put on the angel ornament, which makes her long for her house. She realizes that it's unlikely that they'll get the old house back. She thinks about the angel statue and her old pictures, saying that she was really cute as a kid. Hyun-soo tries to lighten the mood by pointing out that she couldn't have been cute since she would have looked like a tadpole as a child. "When you find your house later, I'm going to check the album first. So don't give up hope."
Jung-kyung thinks about Jung-in and Hyun-soo's words, pondering what to do. The chief is also waiting for her, keeping the promise that they made. He's at a restaurant with his daughter, hoping for Jung-in to come. He's also decided to take a sabbatical so that Jung-kyung will come back to the hospital.
Jung-kyung chooses her family instead of the chief and heads to the house. The family is elated and all start talking at once, lighting the candle, and singing happy birthday – turning into one big happy family.
Jung-in calls for presents and Sung-joon turns on a spotlight (swirling around a flashlight) for the event. How cute is it that he makes Ji-soo follow him?? Not too many people have prepared a present using food, cake, meat, and giving birth an excuse. But she does get a piggy bank (Ji-soo), candy (Sang-hoon), and gloves (Hyun-soo.)
Jung-in takes everyone outside for her gift, proudly showing off the Christmas tree as her present and making the whole family happy. Joo-hee even recites an impromptu poem for the occasion.
Jung-in gives Hyun-soo a little shove for the gloves,which prompts him to grab her hand behind his back. "But your gloves are right here." He hold her hands and says, "Your gloves." And put his hand into hers, "My gloves." It's pretty sweet (and a little *barf*.) Jung-kyung, who's standing next to them, sees the two of them holding hands.
As Jung-kyung is about to leave, Hyun-soo asks to talk before she goes. When Jung-kyung says she needs to head out, Jung-in suggests that he driver her home and they can talk in the car. Continuing to see the couple exchange happy looks makes Jung-kyung miserable.
Hyun-soo tells Jung-kyung to go back to the hospital, telling her to keep working at her relationship with the chief. She tells a befuddled Hyun-soo that her difficulties aren't because of the chief and walks away.
Jung-in realizes that she's left her angel ornament downstairs and send her own telepathic transmission to Hyun-soo, wanting him to bring up the angel. Just as he's about to pick it up, Jung-kyung comes back.
Jung-in: Don't turn off the light. I haven't said my wish yet. I'm sorry. I was wrong. Kang Hyun-soo, can't you like me again?
Meanwhile, Jung-in opens her window and looks at her hand, commenting "Kang Hyun-soo's glove," leading to…
the real love triangle.
Comments
I really enjoyed the coming together of the full family for the birthday party. Call me a sap, but I like seeing a family together, especially a dysfunctional one. I think one of the important messages of the drama is the strength of a community, and the birthday scene, along with the contrast of Jung-kyung alone, did a good job of articulating this point.
The also appreciated the extra focus on Sung-joon and Ji-soo. I've been waiting for the couple to have a bit more screen time, which I think happened in this episode. I do wish that they would have picked some other token than a hairpin, which has been overdone a bit this year. (My Fair Lady, You're Beautiful) But I absolutely adore the flashlight scene at the birthday party. It does a good job of showing their impending relationship, with Sung-joon doing something funny and crazy and making Ji-soo follow along.
Now for the final scene… the writer has done this to us before – giving us a sense of conflict at the cliffhanger, but quickly resolving the issue at the beginning of the next episode. With the series heading to its midpoint, I do think we need a bit of conflict to occur. (They can't possibly show us 26 more episodes of Jung-in and Hyun-soo dating each other, as cute as that might be.) We did pretty much know that this was coming, and I think it's an interesting topic to dive into. As much as Hyun-soo says that it doesn't matter, he's liked both sisters and it's gotta be atleast a bit awkward. And Jung-in is the model girlfriend right now, but how much longer will she be OK with her boyfriend and sister meeting together?
As for Jung-kyung, her behavior is hard to defend. I also dislike the way that she confesses her feelings to Hyun-soo – not coming out and saying that she likes him but trying to manipulate him into remembering his old feelings for her. Choi Jung Yoon, the actress who plays Jung-kyung, has basically come out and said she doesn't like Jung-kyung's behavior. It'll be interesting to see how well she pulls off her character's emotions when she doesn't seem to relate to it at all.
RELATED POSTS
Tags: Jung Kyung-ho, Lee Min-jung, Smile