Smile: Episode 21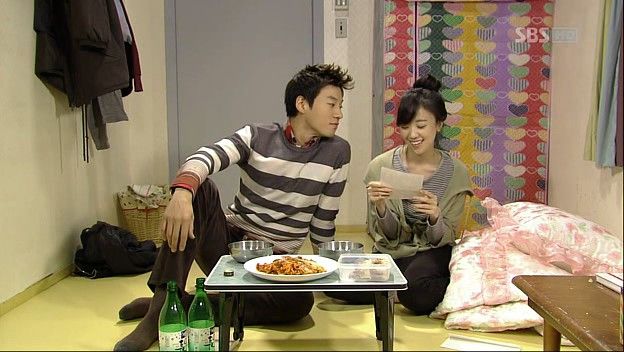 It was totally unexpected but my wishes are finally fulfilled and I get some real quality Sung-joon (and Ji-soo) time. With the Hyun-soo/Jung-in/Jung-kyung issue percolating, the Sung-joon/Ji-soo line is a welcome addition.
I have some mixed feelings on how the whole love triangle thing was handled in this episode, but I found the giggle factor to be fairly high mostly to due Lee Chun-hee's cute, frivolous, and lighthearted Sung-joon.
SONG OF THE DAY
Smile OST: Yang Sun Mi – "많이 아파" (Hurts a Lot) [ Download ]
Audio clip: Adobe Flash Player (version 9 or above) is required to play this audio clip. Download the latest version here. You also need to have JavaScript enabled in your browser.
The writer of Smile does it again and gives the viewers a sweet surprise. Sung-joon thinks that Ji-soo is emotional because she misses her family, still thinking that she's a rich family's daughter. Seeing her cry, he lends her his chest. When she takes him up on the offer, he's shocked and a little excited. When she moves back, he stares at her and gives her a kiss.
Sung-joon: I think I need to break up with you now.
Jun Hye Jin (Ji-soo) is a pretty new actress and it shows. Did anyone else think that her crying sounds didn't match her facial movements? I suspect a little dubbing going on. This scene works because of Lee Chun-hee and the writing. I also absolutely love the fun irony, ending the scene with the song, "Good-bye My Love", poking fun at itself and other dramas for the grand "I can't be with you because of XXX" type of good byes. Hee-hee.
Now back to our regularly scheduled programming. We find Jung-kyung, confessing her feelings to Hyun-soo.
Jung-kyung: Kang Hyun-soo, can't you like me again? … I've finally started seeing the Kang Hyun-soo that I didn't see before. Am I too late? I guess you can't change it back.
Hyun-soo: That's right. Jung-kyung, I'm going to think that you're like this because of your mood. And I want to do my best to the person who's next to me right now.
It's not a big surprise. We all knew that this was going to be his response, right? But still… YAY! He starts out stammering, shocked to hear Jung-kyung's question and blames her difficulties for her actions. But seeing that she's being genuine, he tells her flat out that he's moved on, even heading back to finish his thought.
Hyun-soo: Since you're my friend, cheer us on. It's the first time. Even when I make a mistake, she just laughs and lets it go. She listens to me. I know that I'm lacking, but when I'm with her, I feel like I'm a good man. Because she believes that's who I am, that's who I want to become. I'm sorry. No matter what you said or how you acted, I wanted to accept it. But I'm sorry I can't.
Jung-kyung: I know. You're Kang Hyun-soo. I figured that you wouldn't, with someone else in your heart. But since you're the Kang Hyun-soo who liked me for 8 years, I thought maybe, perhaps… I'll try. If not, I won't be able to see you even as a friend.
Geum-ja and Sang-hoon walk out of the house together and see them. Geum-ja is livid when she finds out that Jung-kyung is the one who rejected her son and vows to get her revenge.
Sung-joon, who has ran away from Ji-soo, is confused about what he's feeling and goes up to see Jung-in for some clarification. He hugs her and scratches his head, thinking "That wasn't the same…" Jung-in thinks that he's referring to Jung-kyung and gets mad.
Jung-in: Even though both of you are my oppas, you and Hyun-soo are like night and day to me. One person makes my heart flutter every time I see him. When I don't see him, I wonder what he's doing and want to see him. And I want to do anything for him. The other [pointing an accusatory finger at Sung-joon] is the complete opposite.
Sung-joon: I feel the same! I've never wanted to put a hairpin on that protruding head of yours!
Jung-in: Really… why bother? I didn't feel it when you went abroad, but when Hyun-soo oppa goes down to the basement room, it's like he went away to the farthest place in Africa!
Hahaha! These 2 siblings. When Sung-joon finally tells his problem with a girl that reminds him of a ggo-choo-jang (red pepper paste) jar, Jung-in assumes that he's meeting a married woman and tells him to come to his senses. Hee hee.
Hyun-soo picks up the angel ornament on his way back into the house and brings it up to Jung-in's room. He sees her sleeping and takes a photo of her with the angel and names it "Hyun-soo's girlfriend," completing the photo circle.
When the morning alarm goes off in the morning, Jung-in finds a nice surprise on her pillow, the angel ornament. But she finds even a bigger surprise: Hyun-soo sleeping on the floor! She goes down first to check out the lay of the land. She tries to signal Hyun-soo to come down but is stopped short by Geum-ja, who's still wrapped up with thoughts about Jung-kyung. She gets Jung-in to spill all of her lovey dovey thoughts about Hyun-soo, which livens her up.
When Sung-joon tells her that Hyun-soo didn't come home to sleep last night, she tells him to check under the desk. Because he likes to sleep there there when busy to maximize his work time.
During breakfast, Grandpa Man-bok asks everyone to come home early and help with the kim-jang (winter kimchi.) Joo-hee and Sung-joon make excuses but Jung-in quickly raises her hand and offers help, reminding Geum-ja that they were the fantasy pair when working at Joon-bae's restaurant. (So cute.)
Grandpa Joon-bae tries to get Man-bok to go on a trip with him. He even promises that So-nyu will find him a match. Grandpa Man-bok (and I) burst out with laughter hearing Joon-bae call her, So-nyu (which means young maiden in Korea). Joon-bae sulks, "What can you do? It's her name." Man-bok has another bout of laughter when he hears her calling Joon-bae, oppa.
Before Man-bok leaves, he tells Joon-bae to not listen to Han-se. And So-nyu's ears perk up at the talk of selling a house. Man-bok notices her reaction and raises his suspicions about her.
Han-se follows around Jung-in at the office, saying that his heart flutters even when seeing her back. When she threatens to call his mom, he lets her go. But not without an "I love you" and a wink. (It's been awhile since Lee Kyu-han's last drama project, and he's had a pretty good comeback as Han-se. He brings a certain charm to the annoying character and make you root for him.)
Jung-in heads back into the beat team office and sees Han-se lost in thought. She's worried about her sister and asks him to meet her again. But he responds, "I don't want to. Jung-kyung doesn't know her own feelings and is confused right now. There isn't much I can do."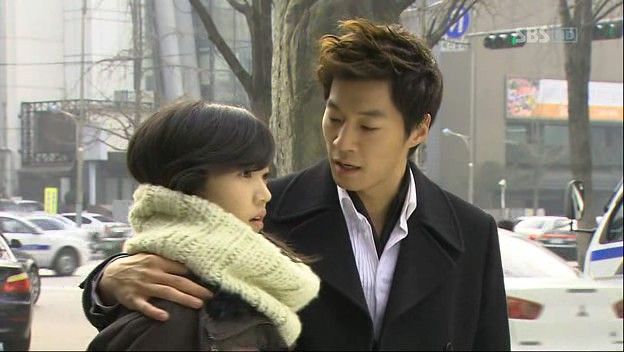 Sung-joon shows up at the dduk-bok-gi restaurant, bringing a smile to Ji-soo's face. (Lee Chun-hee is looking pretty good in his suit. *giggle*) He has grandiose plans to send Ji-soo back to her house and tells Joo-hee that they'll have to run the restaurant from now on.
He takes Ji-soo out for a farewell date. He takes her to the richer part of the city and first buys her clothes. He wants to send her back home looking the part. He does a double take, seeing her walk out of the dressing room wearing a dress.
While checking out their newly developed car, Hyun-soo gets a call from the chief. Jung-in looks on, knowing that something is up with her boyfriend. Han-se tries to steal her attention.
Han-se: Look at him. But you're the only one I have. So don't worry. Look at me. [Jung-in keeps her eyes on Hyun-soo.] Hey. Look at me!
When she tries to start a conversation with Hyun-soo, he's pulled away for work and walks away.
Sung-joon and Ji-soo continue their date at the restaurant, and she tells him that it's the first time that a man has treated her this way. She's happy to spend time together like this, but Sung-joon proclaims that this is why they need to break up. When she mumbles that they can just forget about the other night, he exclaims, "How can I when my lips remember! Can you promise that our relationship won't go any further? What will happen when the family disapproves?" Of course he's talking about her family, but Ji-soo thinks that he's talking about his own family and agrees to ignore him from now on.
After lunch, he's ready to send her back home.
Sung-joon: From here, you take the lead. I need to see you go home before I can leave. If your father is a three star general, you must live well. Apkujong-dong, Chungdam-dong, Nonhyun-dong. (Well to do towns) I figured it would be within these areas. I think I need to take you home before I can forget you. I'll talk to grandpa.
Ji-soo: What are you talking about? I said I was an orphan.
Sung-joon: Why are you like this? If you've cried because of a man, you're now an adult. Do you still not understand your parents?
Ji-soo: Are you still confused and think that I'm the daughter of a three star general?
Sung-joon: What do you mean confused? I know it's the truth.
Ji-soo: How many times do I have to say that it's not true!!
She gets angry at this point and tells him this makes her even more pitiful. Sung-joon thinks about it and finally concludes that she must really be an orphan. His face lights up and starts running after her.
Sung-joon: [yelling] Are you really an orphan with no place to go? Then we don't have to break up. Ji-soo, let's go together!!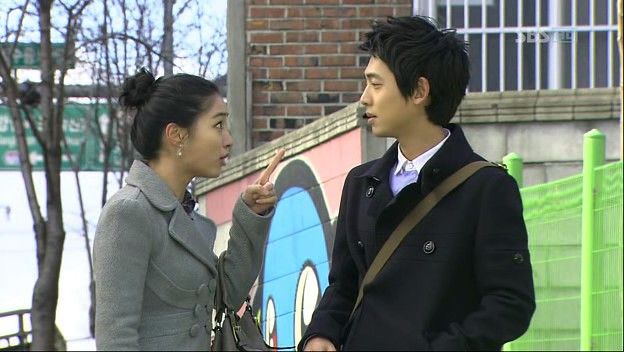 As Hyun-soo and Jung-in walk home, she notices his doleful mood. She thinks that he's worried about Jung-kyung and says she'll take charge of his thoughts. Out of the 10 "thinking pockets", 5 can be filled with cars, 3 is hers, 1 is for the family. When Hyun-soo thinks that the last pocket is for Jung-kyung, she says no way. Jung-kyung needs to be in the family pocket and reminds him that his family is huge – including all of the factory workers he calls family. He responds, "Alright. I won't think about her."
Hyun-soo grabs her hand to walk back home, but she runs in by herself saying that Geum-ja is finally being nice to her. She tells him to count to 100 before coming in. He watches her walk away and starts counting with a big grin on his face.
Han-se is back at Joon-bae's restaurant, trying to buy back the Seo's house. Han-se tells him that he needs to get the house back to get Jung-in to like him again. He asks Joon-bae to help him love again.
Jung-in and Jung-kil arrive at the restaurant to borrow the equipment for making kim-jang. After hearing Han-se's confession, Joon-bae asks Jung-in if she has any interest in getting back together with Han-se. But she gets angry at his comment and says that she'll wish for all of his hair to fall out again if he keeps bring it up. Joon-bae gets the hint.
On their walk home, the father/daughter pair have a sweet conversation. He brings up Han-se, but she's now thankful for everything that's happened. Being able to have breakfast together, celebrating Jung-kyung's birthday together, and seeing her father spend his hard earned money for the family.
Jung-in: I had this thought on unni's birthday. That I want to marry a man just like my dad.
Jung-kil: Really?
Jung-in: In the past, I liked you, but I didn't want to marry a man like you. But these days, you're always on my side, you go to work early in the morning for your family, and coming on the errand with me like this. This is the kind of man I want.
Jung-kil had wanted to talk to Jung-in about marrying Han-se, but can't bring it up hearing her talk about how much she likes who he's become.
The whole family work together to make the kim-jang. The men (minus Sung-joon) dig the hole for the urn. And the ladies (plus Sung-joon) are indoors, getting the ingredients ready. Seeing his mom sitting idle, he tells her to go and help Ji-soo at the restaurant. Geum-ja, who's taken a liking to Ji-soo, comments that whoever marries her will be a lucky man, making Sung-joon listen blithely.
Joo-hee listens and is upset to hear Ji-soo being matched up with Sung-joon. And Geum-ja takes this chance to put down Jung-kyung, still mad at her rejection of Hyun-soo. By this point, Sung-joon gets mad at his mom for talking badly about Ji-soo. And when she yells at Geum-ja to just let Ji-soo marry Hyun-soo, Jung-in gets up in arms over her comment and tells Geum-ja to just ignore her mom. (It is the Kang/Seo household after all, we were bound to have a family fight.)
The whole family then gathers together to make the kim-jang. Even Jung-kyung arrives at Geum-ja's request to come help.
And she has fully decided to give Jung-kyung hell and tells her to go wash the dishes since she came late. But Hyun-soo says that he'll do it and heads into the bathroom. Jung-kyung follows suit but he's visibly uncomfortable around her.
Jung-in comes into the awkward atmosphere, wondering what's up with the 2 of them. When Geum-ja peers in and sees Hyun-soo doing the dishes, she gives the look of death to Jung-kyung, making the awkward environment even worse.
The whole family sits together after finishing the kim-jang, to enjoy some mak-gul-ri (rice wine) and pork. Grandpa Man-bok passes out the family photo, making Hyun-soo and Jung-in smile, seeing a photo of themselves. And Sung-joon asks about the other family picture, and laughs to himself, seeing him and Ji-soo together. He immediately excuses himself to go help Ji-soo with the store.
Geum-ja looks at the picture and says that Jung-in looks the prettiest from the Seo family in the picture. She turns to ask Hyun-soo, who looks around uncomfortably, and picks his mom as the prettiest. As they continue eating, Hyun-soo looks lovingly at Jung-in, which Geum-ja sees and mistakens for gazes at Jung-kyung.
As Ji-soo enjoys the pin in her hair, Sung-joon arrives at her house. She immediately takes it off, embarrassed to let him see it. He brings the kim-jang and mak-gul-ri and tells Ji-soo to prepare the table. Afraid that Jung-kyung may come home, she drags him into her room. It's now Sung-joon's turn to get embarrassed, "But I'm not ready yet."
Ji-soo: Now that I look at this picture, you're really tall.
Sung-joon: You only see me?
Ji-soo: It looks like a real family. Right ahjusshi?
Sung-joon: If you want to really be family, how about changing what you call me? I don't like ahjusshi.
Ji-soo: Then do you want me to call you oppa?
Sung-joon: That's too common. You call Hyun-soo oppa also. And Jung-in, Jung-kyung, they call me oppa. It's too confusing.
Ji-soo: Then what should I call you?
Sung-joon: Baby.
Ji-soo: Eh? Oh… disgusting.
Sung-joon: Fine. Then how about simply… Sung-joon sshi.
Ji-soo: Think about how old I am. If I call you by name, it's to ill-mannered.
Sung-joon: Alright. Then you can call me by what you really want… dear. Dear.
Ji-soo: Dear?
Sung-joon: Let's not take too much time on stuff like this. Dear. Honey. Darling. You. Pick from these 4.
Ji-soo: I don't like any of them.
She tries to give him a shove but slips and ends up falling in his lap.
Back at the house, Geum-ja keeps pushing Jung-kyung's buttons. When the conversation turns to her ideal man, Hyun-soo runs out of the room, with Jung-in on his tail. She's unable to let things go and this point and demands an answer. When he feigns ignorance, she asks, "Do you still like unni?" Jung-kyung overhears the conversation and comes in.
Jung-kyung: No, Kang Hyun-soo doesn't like him. But I like him. That's how I feel. Do I need get your permission for that also?
At that moment, Geum-ja comes in and hits Jung-kyung, pressing to know why she rejected her son when he followed her around for 8 years and leaves the whole family shocked at the revelation.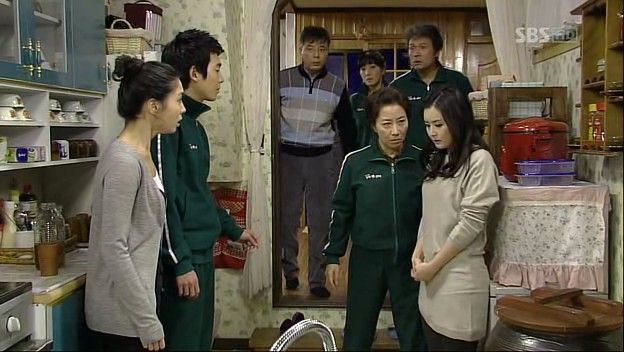 Comments
I can probably write about Lee Chun-hee forever. But I think my fangirl side has been fairly well exposed, so I'll just say this. It's pretty difficult for a love line to be convincing when it's just one-sided. But even with a fairly lackluster Ji-soo, Sung-joon pretty much carries this couple's sweet and a little flighty relationship.
Now onto Hyun-soo. He fully puts the nail on the coffin when he tells Jung-kyung that he'll try harder around her because she's his friend and more importantly, Jung-in's sister. I know that he doesn't have any left over feelings, which made me question why he didn't just tell Jung-in about what happened. I'm sure it can be argued that he's trying to shield her from being hurt, but I'm not sure if I would buy that reasoning. The basis of their relationship has been brutal honesty up to this point. (Well, except for the ring. But that makes more sense.) Are we getting into some angst manipulation? I'm not really sure because the episode didn't show enough to make a conclusion.
I do wonder whether the cancellation of the Saturday episode had any kind of impact on the flow. The episode felt almost unfinished, leaving me a bit unsatisfied. I've felt like the drama had made the 2 weekly episodes almost fuse into 1, with the real cliffhanger coming at the end of the Sunday episodes. I guess we'll just have to see how it plays out.
RELATED POSTS
Tags: Jung Kyung-ho, Lee Chun-hee, Lee Min-jung, Smile