Smile: Episode 22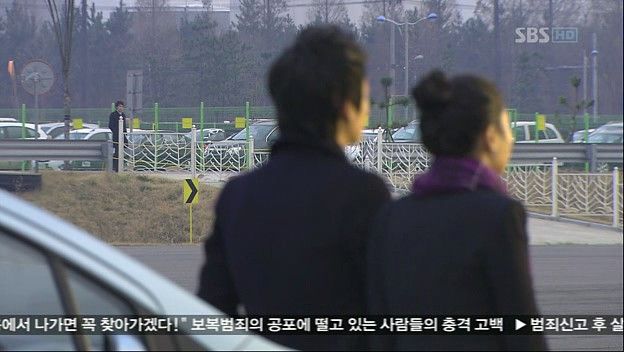 Hello all! Sorry for the hiatus… computer issues coupled with some apartment redecorating had kept me away from the wonderful world wide web. I just recently caught episode 22 and was glad to see the relationship between Hyun-soo and Jung-in develop a bit and pass the early stages of bubbly cuteness.
And as many (including myself) had desired, we finally got a couple of scenes out of the usual locales which was a nice change of pace. But in the end, family kdramas tend to stick to the few tried and true scenes, so I don't expect much variation. And Smile hasn't really shown any good camera work, keeping it fairly simple and boring: another reason to keep our expectations low.
I again found this episode to be a bit slow, but the scenes towards the end with Han-se and the couple made up for most of the dullness of the first half.
The rice wine brings out some craziness for the Kang/Seo family which leads to Geum-ja hitting Jung-kyung, wailing by Geum-ja and Jung-in, and everyone confessing their fondness for one another. It's all pretty ridiculous but funny none the less. The funniest part is when Jung-in raises her hand and says she likes Hyun-soo also, after Jung-kyung confesses that she likes him. The sisters both mean that they really like Hyun-soo, but the family thinks that it's just friendly affection.
As Jung-kyung leaves, Jung-in follows to ask her out. She admits that she feels uneasy knowing that her sister now likes Hyun-soo. She ends the conversation reminding Jung-kyung that Hyun-soo is the man whom her younger sister likes.
I really like that Jung-in focuses on her own feelings when trying to dissuade Jung-kyung from liking Hyun-soo. In comparison, Jung-kyung told Jung-in to keep her feelings in check because Hyun-soo had liked her for 8 years.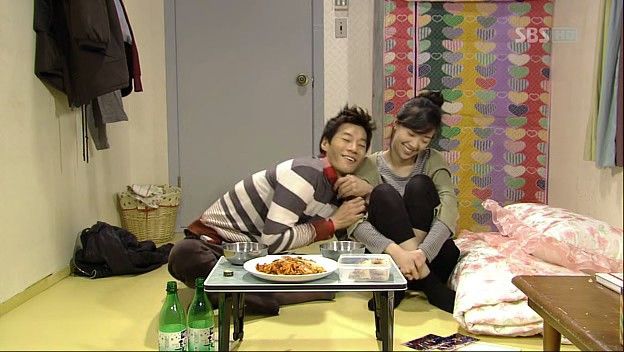 Sung-joon is enjoying his drinks with his new girlfriend, Ji-soo. When she asks him why he likes her, Sung-joon has an honest answer.
Sung-joon: I like you because you're next to me. Miss Brazil, Angelina Jolie, Girls Generation (Kpop girl group). Why would I like them when I've never even seen them before. I like you because I'm able to see you everyday. How did you ever come to the auto center?
He's just so super cute! They start their oh-so-sweet phase of their relationship, reminiscent of Hyun-soo and Jung-in. They start rattling off all the things they want to do together. He aims high: taking a plane to Italy and she aims low: sitting on a train together.
When Jung-in returns to her room, she notices a slight change to the graffiti on her wall, courtesy of Hyun-soo. It now reads: Idiot x 10000. His way of letting her know that it's ridiculous for her to worry about Jung-kyung's feelings.
In the morning, Hyun-soo is the one packing their lunch and Geum-ja comes to apologize for her alcohol induced behavior. He starts yelling at his mom when he notices Jung-in standing by the door.
Hyun-soo: Because I'm in shock from your behavior, I'm going to start dating from today. I'm going to meet a girl who likes me and date earnestly. So don't be surprised. From this moment, if there's a girl who likes me, I'm going to immediately start dating her.
Geum-ja: But you can't just date anyone. I'm sure there are lots of girls who'd like you.
Hyun-soo: Of course, I have to choose. Someone like you with big eyes, a hearty voice, and who can cook, especially someone who can make good rolled eggs.
When Geum-ja leaves the kitchen, he's left to deal with Jung-in's anger (for not telling her about Jung-kyung.) She pinches his arm, which immediately gets him to sing a chorus of I'm sorry.
Over at Ji-soo's house, she wakes up to find Sung-joon asleep next to her. He's about to leave, but is shocked to see that Jung-kyung is the new mysterious roommate. Of course there are surprises all around as Jung-kyung sees her brother and Ji-soo coming out of the same room in the morning. She asks him to not tell her family where she lives, and in turn Sung-joon tells her not to blow their cover as well. After he leaves, Jung-kyung comments, "I guess you don't know since you're by yourself, but it doesn't always work out because two people like each other."
Jung-in continues to harbor her anger at the office and Hyun-soo eventually gets upset as well. "Do you still have any interest in Han-se?" When she profusely denies it, Hyun-soo adds, "Then why do you think I would?" Hearing his words quells her heart and the two move in for a little affection. But Han-se watches from the side and jumps right in, seeing the 2 of them too close for comfort.
Hyun-soo gives Jung-in an assignment and starts to give her his new computer password (her birthday) but stops short. She asks to send the info over using telepathy, which he happily obliges by touching her forehead. Han-se tries to get in on the action and follows the same motion, telling Jung-in to guess the surprise present that he's planning for her. (Haha)
Hyun-soo and Jung-in walk home together, arm in arm, happy to have made up from their fight. When Jung-in gets melancholy, thinking about having to hide their relationship, Hyun-soo decides to take her somewhere special: to the public bath. (MISA flashback anyone?) They spend time alone together but are hit with an unexpected surprise.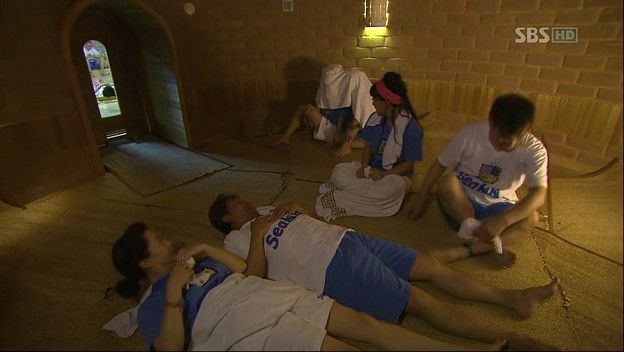 It just happened that the Kangs and Seos decide to have an excursion of their own to the very same public bathhouse. When they enter the room with the couple, they are forced to hide their faces by throwing a towel on them. They try to make a getaway but are forced to remain seated. Jung-in eventually takes the towel and runs away alone, leaving Hyun-soo to hide his face using his t-shirt.
The two finally meet at the igloo room. They decide to stay in the cold room a little while longer, figuring that the adults wouldn't come into such a cold room. Jung-in suggests that they get blankets to keep themselves warm, making Hyun-soo smile and ask, "Does that mean we get to be under the same blanket?" Hahaha.
Unfortunately, their families are sitting right outside and Jung-in gets caught just as she walks out. She's forced to sit with them and eat hard boiled eggs while Hyun-soo freezes.
Hearing that Man-bok is under the weather, Joon-bae comes to visit, bring his girlfriend, So-nyu. She tells Joon-bae to take care of his friend, thinking that Man-bok doesn't have much. But changes her whole attitude when she finds out that Man-bok is really the rich one. He just doesn't like to show it. She looks at him with different eyes and even calls him oppa, fulling raising Man-bok's suspicious antenna.
Jung-in gives everyone a face mask to create a diversion for Hyun-soo's escape. But Geum-ja sees him as he tries to leave and they are forced to stay with their parents. The two of them are able to stay alone for a short while, which gives them a chance to play a silly word association game together. (i.e. Your face is red. Apples are red. Apples are tasty, and so on.) But the game leads Jung-in to come up with a plan for bring their families closer, and ultimately for them to reveal their relationship.
They come up with a clever plan to go on a vacation with both families, manipulating the conversation with their parents. They get everyone to agree on traveling together to save money, but play separately once they get there. They sit around trying to think of a name for their vacation group which ends up with the Paradise group. The whole thing is kinda ridiculous and kinda cute, but the goal of bring together the sets of parents works for the time being.
Han-se takes Jung-kil to Joon-bae's restaurant and asks for his help in convincing Joon-bae to sell back the old Seo house. Jung-kil starts putting the pieces together in his head and comes to the conclusion that the house must be the the last wish that his father had shared with Man-bok. (Oh boy. What shenanigans will he get into now?)
Hyun-soo receives a call from Jung-kyung, and fully discloses the call to Jung-in, making her smile. Jung-kyung heads to the hospital to talk to the chief. She tells him not to take a sabbatical on her account and reveals her feelings about Hyun-soo, quipping, "Isn't it funny that I like someone who doesn't like me back at this age?" But the chief answers, "No it's not funny. It looks like I'll be doing the same. But I still want to do it.", and surprises Jung-kyung with his confession.
Han-se's mom comes into the office and finds Jung-in working at Global Motors. She drags her to Han-se's office demanding to know what's going on. When she starts to accuse Jung-in of trying to win back her son, Han-se speaks up to his mom for the first time.
Han-se: I'm the one who called her back. I made her work here by threatening her with the ring money. I'm the one who likes her even though she doesn't like me back. She doesn't want money or anything else. So don't be like this also.
HS Mom: [To Jung-in] You must be jumping up and down on the inside. But I know what you're really up to. [To Han-se] Kick her out right now!
Han-se: Mom, you leave! I can't just let Jung-in go like this. I thought I would be able to get her back. I thought she would come back to me if I had Global. But she says she won't come. Even if I gave her Global, she won't come. I don't need Global or anything else, so mom you bring back Jung-in to me!
His mom slaps him, sending both Han-se and Jung-in into shock. Hyun-soo runs over hearing that Jung-in has been dragged to Han-se office and finds Han-se clinging onto Jung-in.
Jung-in: I told you I don't have any leftover feelings.
Han-se: Do what you want. You said you wanted to meet who you liked. Alright, do what you want. It's OK. I'll wait. Come back. Please, Jung-in.
Jung-in: I'm not going to say anything. No matter what I say will hurt you.
Han-se: No. I think I finally know what I should do.
When Jung-in asks for an expensive cup of coffee to liven up her mood, Hyun-soo takes her to ride in the new beat car and hands her a can of ice coffee. When she wonders why it has to be cold coffee, he replies, "There's a reason. What did you and Han-se talk about?" When Jung-in doesn't answer, he tells her to hold on and starts swerving around with the car, forcing Jung-in to blab out the conversation with Han-se.
Then they finally have a serious adult conversation.
Jung-in: I think I understand why you didn't want to tell me about Jung-kyung unni. Honestly, my heart ached. Are you angry?
Hyun-soo: I can take it for now.
Jung-in: Me too. So tell me. Be honest.
Hyun-soo: I was surprised, bewildered, shocked, unbelieving, flustered, and scared.
Jung-in: That your feelings would be shaken?
Hyun-soo: That your feelings would be shaken. 'It's difficult to be Kang Hyun-soo's girlfriend. Even with Global's heir chasing me, I decided to still date him but what's with him? I have to lie and be secretive about my relationship at home and my older sister is his first love. It's giving me too big a headache to continue.' That you'd leave like this.
Hyun-soo takes her hand and they sit in silence, while Han-se looks on with sadness and acceptance in his eyes.
The parents talk about where to go on their family vacation but have a hard time agreeing on a spot. When Geum-ja mentions just going to a karaoke bar instead, Sung-joon appears out of nowhere and yells, "Karaoke call!" (Hahaha!!! I really missed Sung-joon in this episode.)
When Jung-in and Hyun-soo arrive home together, Joo-hee discloses that they are working at Global Motors together and it's not a big surprise that they would be coming home at the same time. But Sang-hoon's suspicions are raised for the second time. (The first time was seeing the two of them together at the public bath.)
Jung-in and Hyun-soo spend the night talking away on their couple phones. When Jung-in mentions that it's difficult to lie to Sang-hoon, Hyun-soo tells her that his dad will understand why they decided not to tell the family right away. The two of them promise to be good to each other's families, when Sung-joon pops up out of bed, "Instead of thinking about being good to me later, just let me sleep now." Sung-joon threatens vengeance by talking on the phone for a long time as well. They are just about to get into a conversation about his new girlfriend when…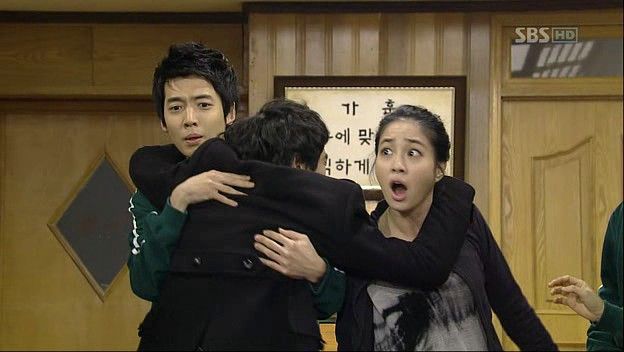 the whole family is awaken to: KANG HYUN-SOO! OPEN THE DOOR! A drunk Han-se shows up at their doorstep looking for Hyun-soo.
Han-se: Kang Hyun-soo. I'm so miserable. Kang Hyun-soo. Seo Jung-in. You two. How can you do this to me!!

Comments
Han-se was really terrific in this episode. Lee Kyu-han does a great job of showing Han-se's serious side, after weeks of being relegated to comic relief. (We knew he had the chops after Que Sera Sera, so it's nice to see the drama taking advantage.) The relationship between Hyun-soo, Jung-in, and Han-se is shown rather beautifully in the episode with bouts of angst, bliss, and comedy all melded together. It allowed us, the viewers, a chance to glimpse into the lives of people in love and feel their confused emotions in a real way.
I think that's what the drama wanted us to feel in episode 21 with the Jung-kyung incident as well, but without success. I really believed that the meat of the angst would come from this part of the love rectangle, but that has not been the case so far. I think the storyline is there to develop something of significance, but the more I watch Jung-kyung, the more I think Choi Jung-yoon may have been miscast for this role. I actually like her quite a bit but she's not coming off genuine to me. She has come out and commented that she doesn't really understand why Jung-kyung would behave this way, and I think this shows up in her acting. The scene where she cries, holding onto the gloves, was completely forced. Of course, it's not just Choi Jung-yoon's fault, as Jung-kyung's character development has been sketchy at best. Why the writer needs to have her quit the hospital and turn her into a sobbing mess is beyond me.
As mentioned in the opening, the first 2/3 of the episode dragged on for me a bit. I fully expected a bit of a lull with the drama hitting its mid poingt, so it's not completely disappointing. But I think they may need to add in something a little new to keep things moving. I'm usually not a big fan of throwing in a new character to bring in excitement, so I'm hoping that the something new will be in the realm of character development.
RELATED POSTS
Tags: Choi Jung-yoon, Jung Kyung-ho, Lee Kyu-han, Lee Min-jung, Smile