The good, the bad, the middling [Year in Review, Part 2]
(I'm very pleased to introduce guest review #2, which comes to you courtesy of thunderbolt. Tune back in tomorrow for more! —javabeans)
Have you watched The Good, The Bad, The Weird? If you haven't and the movie is available for rent in a store near you, pick it up and invite a few friends over. It's truckloads of fun and will fit in perfectly with the fêting and feasting this time of the year. Moreover, you'll find yourself clutching your sides because he who plays "The Weird" is so funny. Between the figurative good, bad and weird in the movie, I'll take whoever makes me laugh the hardest.
Likewise, in a year where I watched fewer dramas but finished more of them, my favorites were the ones that made me squeal and giggle. As the months passed and it became apparent that this was going to be another so-so year, I lowered my expectations and decided a good drama need not be perfect in every aspect. All I asked was that the writing was alight (not necessarily crackling in every scene), that it worked my laugh muscles, and that it wouldn't leave me with hives or a nauseating hangover.
SONG OF THE DAY
You're Beautiful OST – "Promise" (A.N.JELL version) [ Download ]
Audio clip: Adobe Flash Player (version 9 or above) is required to play this audio clip. Download the latest version here. You also need to have JavaScript enabled in your browser.
All of my top five dramas shared those three common denominators (and more). In contrast, the worst dramas left me hot and bothered, riling every cursed hour spent. As for the middling ones, they didn't miss the mark by a mile (unlike the worst dramas), but they were still mostly forgettable fare.
Okay, fourteen dramas reviewed in alphabetical order and a first-impressions summary of five more. Awards to wrap it all up. If you're ready… let's start!
REVIEWS
Again, My Love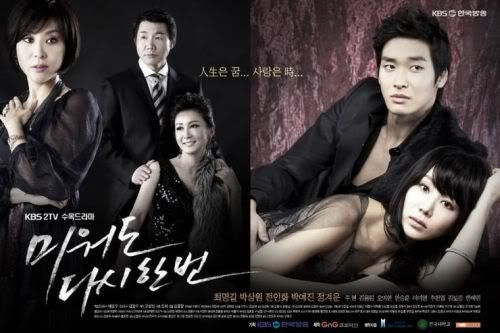 (Verdict: Bad)
A woman in her fifties (let's call her She Who Must Be Feared aka SWMBF) pines for a lover whom she believes to be reposing in the land of eternal sunshine. Despite being loaded and lofty (she's president of a large company), her life is one of abject misery. Every single second of the day she is thinking of HIM. Not of the husband who is leading a double life with his mistress, nor of the son who is fast building a reputation as good-for-nothing cad. No, everything revolves around her LOSS.
Don't tell SWMBF (Choi Myung-gil) to "Get over it, it's thirty years since he died, for crying out loud" because her glare can kill and that's only if she decides to be nice. If she decides to be nasty, you'll be very sorry. Just ask Park Ye-jin. The poor thing soon becomes a shriveled shadow of her former strong and ambitious self, all because she dares to stand up to SWMBF. In fact, anyone unfortunate enough to be connected to SWMBF, whether through blood, marriage, employment, infidelity or hush-hush contracts, better toe the line or else. It's exhausting to watch her ride roughshod over everyone including her husband (take a bow, Park Sang-won, for acting the hell out of your boring and henpecked character).
Then a miracle happens. Dead Lover isn't dead! Wearing the same grimace and bad haircut like he did thirty years ago, he becomes a pawn in the hands of Possessive Mistress who wants DL and SWMBF to elope (a second time since the first one circa 1979 was aborted on account of him dying in the process). The ploy works and SWMBF decides it's now or never, because such passion as you have never seen before flows in their veins! They must have each other or die! But before they can run away together, he must first run away from her, then she from him, then he from her. (Your head spinning yet? And you thought only young'uns can have fun?)
Between Elopement 1 and Elopement 2 (which is the entire span of the drama), rivers of tears burst their banks, drowning us all.
If a circuitous plot drives you insane, stay far away because nothing is too coincidental in the drama; everything needs to be recycled (hence the second elopement). If you think it's selfish to be clinging so stubbornly to a past that's three decades old, if you're puzzled by how an art studio and its thirty-year-old contents (brushes, canvas, paintings) can look as good as new, if you don't care for spoiled brats and a young couple (Park Ye-jin and Jung Gyeo-woon) who should be in love but who spend much of their relationship mired in one misunderstanding after another, don't touch this. But if you decide to proceed, prepare yourself for…
MOST RIDICULOUS PLOT TWIST OF THE YEAR.
If you had come to my house after I watched that most malodorous of plot stinkers, you would have noticed nail marks and dried streaks of blood on the wall behind my computer. DNA galore. Years from now, someone might even stand before that wall and solemnly say, "Behold the signs of true kdrama addiction." Another would then reply, "No, not addiction but stupidity. She should have jumped off long ago, but she kept chugging on, not realizing the train was going to collide with a gigantic pile of shit."
A mountain of maudlin. An avalanche of angst. Not even the generally solid acting (the veterans are awesome) can forestall the wreck that the drama becomes in the last seven to eight episodes. Is this also called Hateful But Once Again? It really ought to be Hateful But Never Again!
Assorted Gems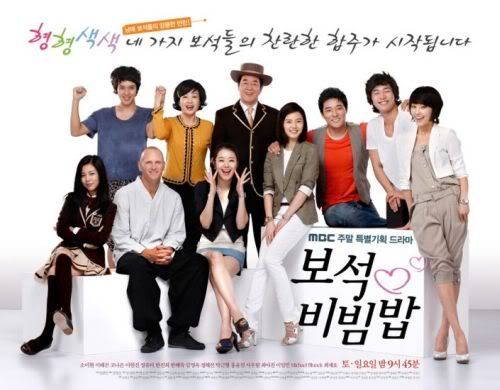 (Verdict: Good)
No hedging here. I'm addicted to Assorted Gems and the first thing I'm going to do when I finish this year-end review is to catch up with the episodes.
This is about the funniest thing I've watched all year. The humor (toilet ones included) isn't slapstick, which is a relief. On the contrary I'm getting most of my laughs from the writing, always the most important element in a drama. (Even the best thespians, directing or acting, can't rescue a drama or movie if the script stinks like swill.)
Because the writing in Assorted Gems is so wise and witty, I find myself gasping often, and then seized by guffaws. Many of my favorite scenes, for example, are of the grannies trading their verbal barbs, each wanting the last word. These two are a riot because their shared history goes way back. That they are now in-laws and neighbors, with five grandchildren between them, means there's no end to the number of things they can bicker about. If they can't win the battle of the gab, then watch them go at each other in the most hilarious scene of the year: Kung Fu Fighting Grandmas! Yet when things get difficult, guess who the grandmas turn to first? Each other, of course. Kim Young-ok and Jung Hye-sun give us two of the best supporting performances you'll see this year; they also get my vote for Best Odd Couple.
But it isn't just the humor in the drama that has captivated me, it is also the ensemble acting, the family dynamics, the romances, and the leisurely pace at which events unfold.
Relationships have room to grow in Assorted Gems. The characters spend a lot of time talking, which may scare off viewers who dislike 'talky' dramas, but I lap up the heart-to-heart exchanges, even if what is laid bare is sometimes painful to hear and watch. In one of the most unforgettable scenes in the drama, the four children in the Gung family confront their parents about a lifetime of grievances. In seven years of watching kdramas, I don't remember ever watching a family discussion of this length. I feel like an outsider intruding on something very private and yet I can't tear my eyes away. The scene is so real.
I love the close-knit relationship which the Gung children share with each other. In spite of their different temperaments and the troublesome twosome called The Parents, the siblings are the best of friends. They banter, they look out for one another, they remind me so much of the times my brother and sisters and I have sat around a meal talking and laughing, an occasion so rare now because we live in three countries.
Then we have the two tenants, played by Lee Tae-gon and Michael Blunck. I LOVE the unfolding romance between Lee Tae-gon's character and the eldest sibling (Go Na-eun). I love how these two mature and sensible characters are building their relationship based on trust rather than giddy feelings, and how they are falling in love so very slowly, which makes it all the more delicious. Best Hug of the year (and we must thank a flock of pigeons for making it happen) belongs to them. As for Michael Blunck, I love him for acting so effortlessly in his first drama, for speaking flawless Korean (best ever performance by a non-Asian actor in a kdrama), and for making me laugh repeatedly. His character and So Yi-hyun's have amazing chemistry as best friends now and perhaps as a couple later.
Bibimbap was my introduction to Korean food years ago and I still seek it out occasionally, always opting for the dot sol (hot stone) version. The more piping hot it is, the more comforting to my body. Jewel Bibimbap (Assorted Gems) feels the same way, like comfort food. The writing is superb, the directing less so (with some blink-and-you-miss-it random scenes that make me go "Huh?"), but consumed as a whole it is totally yummy. My Best Family Drama of the year.
Brilliant Legacy
(Verdict: Good)
Eyes that are pools. Eyes that you can drown in. Which actor comes to mind? Bae Soo-bin.
But don't watch Brilliant Legacy for the eye candy. Watch it because it's one of the highest-rated dramas of the year and deservedly so. Watch it to see how Lee Seung-gi's character changes in tandem with his hairdo and you'll marvel at how every little detail is so carefully planned.
When the drama begins, our male lead's hair is so unbecoming (even mops look better) you can't help but dislike him and his caddish behavior. With each passing episode, that nest above his eyebrows stops looking like avian housekeeping gone awry. The hair is now tamed, in keeping with the character's slow but steady transformation into an heir that his grandma can be proud of. That transformation, more than the romance (and more than someone's limpid eyes), was what made me stick with the drama despite its boring first episode and overly-dramatic plot shifts in the next three or four episodes.
Not only does Lee Seung-gi's character improve (and you can't help loving how earnestly he tries to change), Lee Seung-gi himself turns in a performance not to be sniffed at. His most memorable scenes are the quiet ones; there you will see a control that belies the fact that this is his first main role. The other young actors hold their own as well, but it is Moon Chae-won who shines the brightest (although she plays second lead to Han Hyo-joo). Her acting in the final episode will bring you to tears and leave you hurting, not only for her character, but for the fact that her luminous talent has yet to be given a lead role.
But the best acting belongs to two veterans: Ban Hyo-jung (as the grandma who shocks everyone by bequeathing her inheritance to a non-kin) and Kim Mi-sook (as the witch who will do anything to protect her witchling). The latter played her evil role with such grace and aplomb, I was torn between admiration and revulsion. One of the best villains of the year.
I didn't fall in love with the drama from the start. On the contrary, it took more than ten episodes for indifference to become mild enjoyment, then liking, and eventually love. But when something grows this slowly, it's also less likely to be quickly forgotten. I think of all the moments in the drama that made me smile and tear up, like Lee Seung-gi's Hwan holding court with a group of giggly senior citizens in a community center, or the witch and her witchling on a rooftop in one of the most heartbreaking scenes of the year. Whether quiet or dramatic scenes, nothing feels superfluous or overwrought.
Brilliant Legacy does not break new ground with its plot or dramatic devices. It is simply a sweet, funny and heartwarming drama, well written and directed. Every episode is better than the one preceding it; before long you'll start caring for the characters and wanting to know how their individual stories will unfold. I wish, though, that we didn't have to wait so long for Eun-sung to learn her dad is alive and for the missing Eun-woo to be found. Bae Soo-bin's tears also can't be wiped through the screen, dang!
This is the little drama that could. ("Little" because it does not boast a star-studded cast.) Its final episode pulled in astonishing 47% ratings. Bravo!
City Hall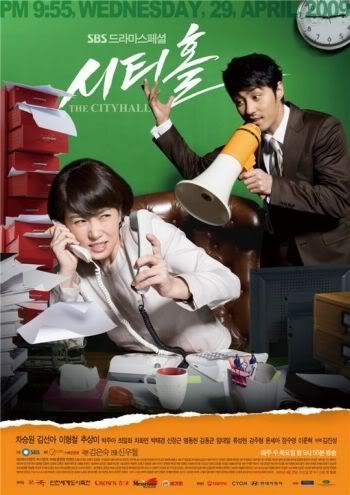 (Verdict: Middling)
I confess: I'm afraid to write this review.
In the five months since I published the City Hall review on my blog, I have learned that City Hallers are a formidable force. They love this drama with a passion that I have NEVER seen before, and they will defend it with an ardor that awes and frightens me.
I love my own No. 1 drama fervently, but I've yet to review it nor have I tried persuading people to watch it. City Hallers, on the other hand, spread the word everywhere they go. If there's a poll for best kdrama of the year, they alert everyone and then they turn up in the thousands to vote.
On account of all that, I really don't want to be in their bad books again. I would be, if I wrote another review. You understand, don't you?
Thus, allow me to be so brazen as to direct you to my original review since it is much more detailed, for one thing, and written when I hadn't yet experienced the baptism of the City Hall fire fervor.
In a nutshell, City Hall is awesomesauce because of Cha Seung-won's acting and his unbelievable chemistry with Kim Sun-ah. That kept me engaged, spellbound even, for about fifteen episodes. The last five episodes, in contrast, felt like someone had dumped a bucket of eels on my lap; I couldn't stop squirming.
To this day I'm puzzled that what City Hallers proclaim to be the best episodes (where the couple's love is sorely tested, etc.) are the ones that I dislike the most. What did I miss? Is it all a matter of taste (in which case there is nothing to debate about, since taste is so personal and subjective) or something else, like how some people would pick the runt in a litter over the perfect pup?
This may not make sense to anyone except myself, but I recently watched an episode of Assorted Gems where the main couple kiss for the first time. It is unexpected and tentative, like most first kisses, yet so sweet I replayed it endlessly in my head. In that replaying, I suddenly remembered the kiss that I loved so much in City Hall (Episode 14?). Compared to the AG kiss, the CH one suddenly lost its magic, feeling like something rehearsed, calculated even. It was as smooth as the AG one was amateurish.
City Hall is so very romantic a drama, but perhaps it shouldn't try so hard to sweep me off my feet?
He Who Can't Marry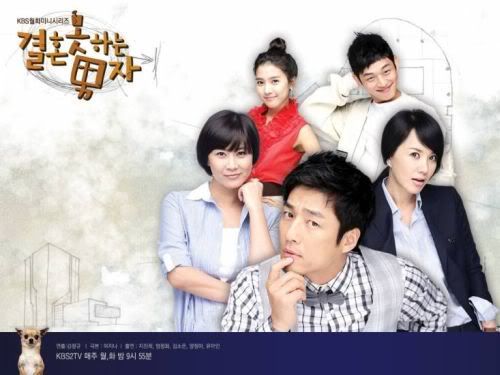 (Verdict: Bad)
Whatever my opinion of the drama, I can't help feeling sorry for it. How can I not when it has two overwhelming parameters stacked against it from the beginning?
First, it is based (tightly) on the Japanese drama Kekkon Dekinai Otoko, a drama as perfect as any drama can hope to be. Second, its lead, Ji Jin-hee, will undoubtedly be compared with Abe Hiroshi, who owns the original role as if it was written exactly with him in mind. How then can He Who Can't Marry succeed so that it will win over the skeptics (the ones who love the dorama and Hiroshi) and folks who go "Kekkon De What?"?
The answer is for the story to offer something new and refreshing, and for Ji Jin-hee to make the role his own so that he does not feel like a poor imitation of Hiroshi. By the end of the sixteen episodes it is clear the drama passes the first criterion but fails the second.
Time and again I've seen acting so sublime the actor carries the drama on his or her shoulders. On the other hand, it's rare for one actor to singlehandedly ruin a drama. Alas, I'll have to chalk up He Who Can't Marry as one of those rare instances. You may protest (and if you're his fan, you WILL protest), but I'm not exaggerating when I say my enjoyment of the drama was marred, right off the mark, by our lead actor's acting.
Now, Ji Jin-hee is an experienced actor; he was excellent in Dae Jang Geum and Spotlight. Friends who have watched him in more dramas and movies than I have tell me that he is an assured actor, not given to overacting. How then did he make a mockery of what was supposed to be an endearing and memorable character?
Seeing the way he walked, like one recovering from hip replacement surgery, or how he conducted his imaginary orchestra, like a drowning man clutching at straws, I didn't know whether to laugh or cry. For my own sanity I stopped measuring him against Hiroshi; instead I willed him to be a Jae-hee I could like. It didn't work. I dozed off repeatedly while watching and when it was all over, crawled into bed and slept for fourteen straight hours.
Which is all a pity, actually. Despite many "Ha! Another Kekkon scene!" and some unbelievable (and most unKekkon) plot turns, the drama has a certain charm and a competent cast. I loved Yoo Ah-in in Strongest Chil Woo and he is wonderful here in a complete turnaround role. Both he and Kim So-eun are markedly different from (and even better than) the original J-versions, thus succeeding where Ji Jin-hee failed.
I'm on the fence about Uhm Jung-hwa, though. She is giggly girly one moment and officious the next; I just could not feel for her character. I didn't care whether she and Jae-hee dated, kissed or hopped into bed since the way he wooed her was so clumsy anyway. (Did you see how he tries to kiss her? It's like watching a blindfolded person play "Pin the Tail on the Donkey"! Even five-year-olds don't kiss that way.)
In the end I just could not muster any affection for the lead couple, even if their relationship progressed far beyond what Kekkon Dekinai Otoko gave us. I only wanted Yoo Ah-in and Kim So-eun to end up together; everything else was just icing on an unremarkable cake.
Hometown of Legends 2009
(Verdict: Middling)
Among the dramas that I watched this year, this is the one that gives me the most mixed feelings.
I've always steered clear of this genre because horror is just not my thing. But as a (dedicated) fansubber, it's unthinkable to chicken out of a project helmed by the best historical drama translator in town. Thus, with the exception of the first episode (which was anything but scary), I watched the drama with a piece of paper covering much of the screen. That makes for an uncomfortable viewing, as my aching arm (the one holding up the paper) will attest. It also means I can't describe how most of the apparitions look like, but I sure can tell you how they sound like.
Every episode is a stand-alone with a different writer, director and cast. Quality varies widely as a result. Take the first episode, for example. Titled Bloodsucking Wraith, you expect to be frightened out of your wits, but instead it is a shoo-in for Best Comedy of the year. I'm not kidding when I say it's practically a laugh a minute. The CG effects are so fake and the make-up so exaggerated I'm howling my head off instead of crapping my pants in fright. Which makes me wonder, of course, whether that episode is a ploy to hoodwink scaredy-cats like me into watching the next episode.
But don't expect Episode 2 to be as ludicrous because it is anything but. Easily one of the best single episodes of the year, this one is rich in its historical references and much more chilling. About an island and its ghostly inhabitants, all of them wrongly accused of treason and massacred, its leads are Kim Gab-soo, Jung Gyeo-woon and Jo Yoon-hee. Wonderful, wonderful casting.
Compare the acting in Episode 2 with what passes off as 'acting' in the opening episode and you'll understand why Kim Ji-seok gets the Worst Actor 'award' on a platter. The guy is supposed to play a vampire, but don't alert Dracula or Edward Cullen to that fact or there'll be a revolt when they show up to lend Kim Ji-seok support but find themselves beating the crap out of him instead, so appalled are they by the outrageous drop in vampiric standards. Instead of a bloodsucking vampire you get a menagerie. Chimpanzee? Check. Snake? Check. Circus clown? Check, check, check.
Watching the first two episodes, you start to wonder what surprises Episode 3 will throw up. Did the writers agree to alternate bad and good episodes? And indeed that seems to be the case because the third episode is far less interesting although it is nowhere near Episode 1's bottom-of-the-barrel quality. The next episode, in contrast, is excellent. Full of pathos and suspense, it tells the story of children left to die in the forest because of a contagious disease.
I've not finished the drama and am anticipating and also dreading the remaining episodes. In the meantime I'm scouting around for a cheery-looking clip so that I need not use my arm to hold my paper shield. I still need to learn how to foretell a scary scene. It's no fun jumping two feet into the air when you least expect to.
Kyung Sook, Kyung Sook's Father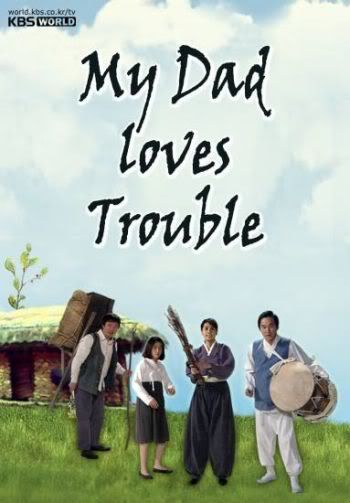 (Verdict: Good)
After finishing Kyung Sook, Kyung Sook's Father in February, I told myself, "Ha, shoo-in for Top 5 dramas of the year." Then I waited, and waited, for a drama to come along that would outshine this four-episode gem. None did.
Janggu player Jo Jeolgu (Jung Bo-seok, my pick for best 2008 actor) has a mom, wife and two daughters. He ups and leaves them all during the Korean War, with a promise to return after the war is over and when he no longer has to fear being conscripted. "Just fend for yourself," in other words. As fate would have it, the quick-witted Jeolgu is caught by American soldiers (wit is nothing when the barrel of a gun is bearing down on you) and forced to join the South Korean army. The family that he dumps, in the meantime, has moved on, learning to live without this scoundrel of a son, husband and father. Within the space of four episodes, much will befall the family and their missing head.
Mixing tragedy and comedy, the peculiar with the everyday mundane, this little drama is as much black comedy as it is a damning indictment against a period of history that Koreans would rather forget. The first scenes in the drama hint at the first reality of wartime: Food is more important than anything else.
Be it a bag of rice or a bun, hunger is as real as the enemy that flies overhead, firing indiscriminately at anything that moves. Such is war, where you'll see the basest of human behavior (saving your own hide or abandoning your own kin, who's to say which is baser?) and the most noble.
An absorbing story that will make you laugh, cry and flinch, you do not need to be acquainted with the Korean War to appreciate Kyung Sook, Kyung Sook's Father. Time flies as you're watching; before you realize it the drama is over. But the story and the characters will linger, for a long time. Such is the consummate quality of its writing and acting.
Jung Bo-seok's laughter is so infectious you can't help being charmed by him. No matter how rascally his character and how reprehensible his behavior, this is one man you can't dislike. Neither can you remain unmoved by what happens to him in the drama. This is the greatness of Jung Bo-seok, playing time and again a flawed character with such verve you do not know whether to love or hate him. (Exhibits A and B: Shin Don and Bittersweet Life.)
It is hard to outperform Jung Bo-seok, but Shim Eun-kyung succeeds. She is just a joy to watch here, giving us one of the best performances of the year. Just fifteen years old (she began acting at the age of ten and already has an impressive body of work), she is both child and adult in the drama. Wise beyond her years and yet never acting older than her age, she is the heart of Kyung Sook, Kyung Sook's Father and the main reason why it is gold. So young and yet possessing such range, she can be any emotion (playfulness, rage, fear, you name it) and be it convincingly. Just see how she handles that challenging village dialect and you would think she spoke it all her life.
Kyung Sook, Kyung Sook's Father may feel like a vignette rather than a full-fledged drama, but all of its dramatic elements (what makes a drama a drama) work perfectly; there isn't a single discordant note. A delight from start to end, it is the little drama standing tall above anything else this year.
Loving You a Thousand Times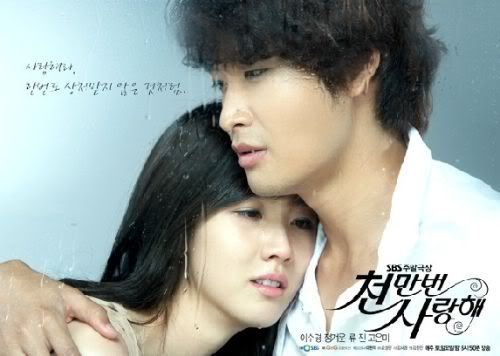 (Verdict: Bad)
Two reasons made me pick up this drama.
First, I have a soft spot for Jung Gyeo-woon. After the horrid Again, My Love, I needed to see him in something new and happier. Second, the premise intrigued me. Characters abandoned and adopted I had seen plenty, but this would be my first time watching a kdrama about a surrogate mother. The fact that it is 50 episodes was somewhat daunting, but there's always a door marked "Exit."
The drama is still airing, but I've watched 28 episodes and plan on continuing despite disliking many things I've seen so far. The two reasons for picking this up in the first place still hold true and I have even added a third reason along the way: The Couple.
I love the couple (he more than she, but they come together). I love how he loves her, so single-mindedly. I love how cheerful he remains, no matter the obstacles in their relationship and no matter Lee Soo-kyung's woebegone expressions. Their chemistry isn't exactly sizzling (I would like her to show more affection toward him, for starters), but it is sweet in its own way. I'm worried, though, about what will happen when he learns (after their marriage) that she was once a surrogate mother and that the nephew he adores comes from her (her egg, to be exact). How will his well-heeled family react to that bombshell? Without sounding pessimistic, let's just say all hell will break loose.
But it isn't as though hell hasn't already broken loose, what with the drama truly going overboard with the histrionics. A father suddenly becomes deathly ill and requires a liver transplant. On the other side of town, a rich family is in despair because the sole daughter-in-law can't beget. There is much sobbing and beating of chests. There is betrayal and adultery. People flit in and out of hospitals, a company hovers on the brink of bankruptcy. Everyone goes crazy with worry. I mutter, "Stop watching, stop watching."
Entire scenes feel redundant, adding nothing to the main story and instead slowing things to a crawl. Every episode must have several of those scenes, like Kim Hee-chul's mom bemoaning her writer's block (the woman is a drama writer) and doing everything she can to avoid the drama's PD. The running away gets rehashed to death; soon I'm fast-forwarding the moment I see the mom's face.
I'm sorry, Park Soo-jin, but I fast-forwarded most of your scenes as well because the overacting really grates. You surprised me in Queen Seondeok when you showcased the fastest improvement I've ever seen (you were an absolute scream in the first episode, for all the wrong reasons, and then you made an astonishing turnaround the next episode), but here in Loving You a Thousand Times you have only two expressions: pout and pout.
One more reason to quit? Of late the drama seems to have shifted gears and is focusing a lot more on the elder brother's adultery and falling-out with the younger brother. With its ending still far away, it's going to be unpleasantry upon unpleasantry. Yikes.
Still (because I never learn, do I?), I'll stick around for The Couple and because I really want to know how the drama addresses the surrogacy issue. Infertility is a growing concern and with many Koreans still close-minded about adoption, surrogacy is a viable alternative. I didn't like the ungainly way it was handled in the early episodes (greed, deceit and coercion playing such overriding roles) and hope there's a more satisfactory closure.
Partner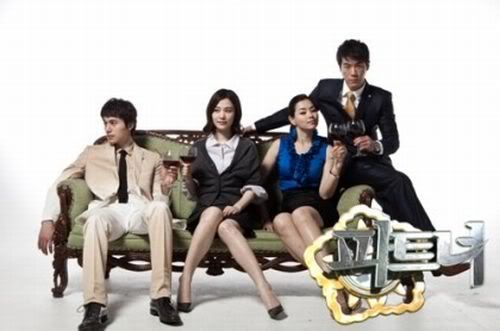 (Verdict: Middling)
Poking around for a short drama to watch (funny how sixteen feels short), I couldn't remember if Partner was loved or loathed by my circle of fellow kdrama addicts. No one seemed to have talked about it.
After two episodes, I could understand the lack of 'noise' surrounding the drama. Will you see ripples if you throw cotton on water? That was how lightweight the drama seemed to be, its opening episodes blurring into each other with nothing special enticing me to watch further except Honey Lee's bewitching eyes and dimples.
Lee Dong-wook didn't seem like he had improved after his memorable turn in Bittersweet Life (my pick for best 2008 drama). On the contrary he made me cringe in his opening scene, his cheeky demeanor at odds with the court scene. His mood swings are abrupt and puzzling. For instance, why is he so brusque with Kim Hyun-joo, freshly arrived in town with a mission to be advocate for the downtrodden? (As if to prove she's a fighter raring to go, her opening scene is a boxing match.) They have never met and yet he treats her with disdain; is it standard protocol for the main couple to always start off on the wrong footing?
But what made me want to barf the most was Shin Yi's character speaking in that stilted way and acting all prissy, like she is some royalty. My hair stood on end every time she opened her mouth or batted her fake lashes. Why make her so cartoonish and unnatural, like a wound-up toy? So she can be a foil for the real princess in the firm, Ms. Honey Lee?
I disliked Honey Lee's dalliance with the resident philanderer, the two of them feeling zilch remorse for their cheating. I hated the histrionics in the first two court cases. There wasn't any suspense keeping me on the edge of my seat as the lawyers went about the trials. Everything felt so predictable: Kim Hyun-joo goes beyond the call of duty; Kim Hyun-joo keeps her faith in the face of immense pressure; Kim Hyun-joo gets fired.
Bored to death, I wanted to bail out but plodded on because a friend said the drama really wasn't bad. That perseverance paid off when I was rewarded with Kim Gab-soo's appearance in Episode 7. Playing a wife-beating professor, he breathed life into what had been a yawnfest the first six episodes. The sight of this favorite veteran (he is gold) roused me from my stupor and kept me plodding on until the end.
Just an average drama, this one. The cases aren't exciting and the romance is muted, because our leads are so busy pursuing justice they barely have time to eat and sleep. Still, the end should satisfy you, if you keep your expectations low and not demand overt sighs of affection. Acting is adequate overall, although I must confess I can't concentrate when it's a Honey Lee scene. Those eyes!
Queen Seondeok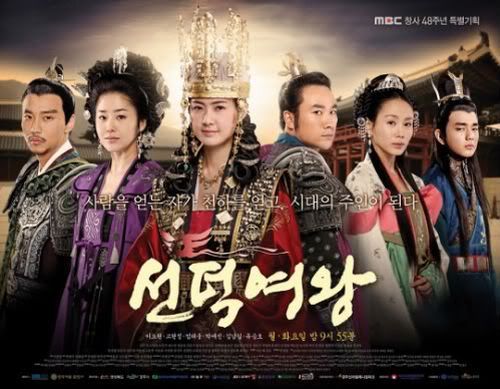 (Verdict: Bad)
This was supposed to be a 50-episode drama, but because of its high ratings it got extended to 62. I wailed when I found out.
If I had learned of the extension when the drama newly aired, I would have screamed for joy. Four episodes was all it took for me to get addicted. I even wrote a blog post titled Falling Under Queen Seondeok's Spell. Said post is now an embarrassing reminder of how deluded I was once upon a time. How my feelings have changed.
It was all so good at first. Fantastic cinematography. Spellbinding splendor. Spellbinding acting. Go Hyun-jung transfixed me with her screen presence and exquisite portrayal of a power-crazed concubine. Never has a villain in a kdrama been more alluring. No wonder Mishil's sycophants remain true to her from Episode 1 to Episode 62. Such is her hold upon them (and us).
In comparison, Lee Yo-won turns in an inferior performance. She tries hard and she sometimes succeed in being queenly (although it seems to take forever for Princess Deokman to become Queen Seondeok), but she is also often wooden and impassive when a situation calls for a more animated response. The same woodenness is true of Uhm Tae-woong. I know he is capable of much better acting (have you watched him in Resurrection?), so I can only blame the script for often relegating him to a mere prop. Especially after Deokman returns to the palace, his Yushin Rang is like the walking dead. How can you tell he longs for her? Just look at how spaced-out his eyes are.
Why are there so few relationships to care about or people to root for in the drama? The good ones like Park Ye-jin and Shin Goo exit too soon. Meanwhile the number of dolts keeps growing, like weeds. One person makes a statement and five others will confirm their collective IQ hovers in the double digits by going "Huh?" and looking bewildered. Or a most profound conclusion is reached (such as "This does not make sense!") and the camera must then show the reaction of every single one of the ten who are part of the gathering. First person nods, second person nods, third person nods… The eleventh one (me) pulls all her hair out.
Much of an episode is spent around a table, the characters regurgitating words just spoken two minutes ago. No one goes home. They don't even eat, because unlike in Dae Jang Geum, there's no kitchen and very rarely is there food. Yushin is wedded, but he and his wife don't remember what the other looks like. Like his mom, who's always hovering around the ailing king (did he make her his secret concubine, perchance?), Yushin's place is next to Deokman. Don't you forget it.
When you throw out everything that is fluff and which does not advance the plot (such as mindless flashbacks and endless gossip), what's left is only fifteen minutes of substance. I can count fewer than eight episodes which hold my interest from start to end; the rest bore me to tears. The fighting scenes are a joke, with the extras waving their swords in the air or felled by the wind. A secret underground hideaway (Mishil's) is lit by dozens of candles even as sunlight pours into the room. Bidam's face is as brown as soil and then it suddenly becomes fair. He acts like he's on crack and then abruptly he's all reined-in.
Still, I love Bidam for making the drama a tad more bearable. Kim Nam-gil may overact, setting a new standard for the stink eye in all dramas to come, but at least his overacting is lovable, not loathsome. The best scenes are of him and Go Hyun-jung together. I even rooted for Bidam and Deokman to sail into the sunset hand in hand, simply because the guy deserves happiness and props for trying so hard to enliven every scene he is in.
To end, if it can't be good then at least be so bad it is entertaining, like Episode 1 of Hometown of Legends 2009 or last year's zany Strongest Chil Woo. But no, Queen Snoredeok is just brain-numbingly dull. What a waste of a good start.
Smile, You
(Verdict: Middling)
Unlike last year where I dropped many dramas after the first episode, I am learning that I can't always rely on first impressions. Resuming a stalled watch months later can give me a whole new perspective. Also, if I have just finished an abysmal drama, then something which I considered bad earlier may even start looking like a gem.
Such is the case with Smile, You. I didn't enjoy the hypocritical older characters and the dysfunctional younger ones in the first two episodes. The granddad is a dishrag in front of his former employer but a tyrant with his own family. (His behavior really bothered me and is the main reason why I wanted to drop the drama at first.) That employer and his dimwit of a wife are total caricatures. Jung Kyung-ho is hopelessly in love with a woman colder than a dead fish. Lee Min-jung looks like a woman in a freak show, mascara streaks on her face. Lee Kyu-han plays a cad, again!
But after reeling from Again, My Love and Strike Love, I needed to watch something light and hopefully funny. So I picked up Episode 3 of Smile, You and soon found myself gobbling up one episode after another, my appetite helped by the transformed granddad, Lee Chun-hee's appearance (!), and the sweetest couple of the year. I am smitten with this couple.
Ah, Jung Kyung-ho and Lee Min-jung. Not for a moment do I feel that the two are acting. He is natural, unassuming and so very endearing. His comic timing is perfect, surprising me because in Sorry I Love You he was such a whiny mama's boy, and in Time Between Dog and Wolf he was this dedicated secret agent. Who knew he had it in him to play funny as though he's done it all his life? She, on her part, is a revelation, slipping into her first lead role with such ease. I liked her in last year's Who Are You? even though her role was so small, but I absolutely love her here. One of my favorite lead roles of the year, and a hands-down winner of Breakout role of the year, too.
Then there's Lee Chun-hee, so roguishly charming he brightens up every scene that he is in. I giggle like a loony whenever he pops up.
Winsome acting and plentiful laughs aside, I'm not as enamored with the drama as I was two weeks ago. The first reason is because I love Assorted Gems more. The second reason has to do with leech fatigue. I'm fast growing tired of Jung-in's selfish dad and her whiny mom; the latter looks fifty but behaves like five. The elder daughter, Cold Fish, has a face that chills you to the bone. Let's hope she finds something to smile about soon.
With more than 20 episodes to go, much can happen to thwart our young couple's happiness. I hope not, though. I want the drama to remain sweet, funny, and angst-free. That is not too much to ask, is it?
Strike Love
(Verdict: Bad)
If I had stopped watching Strike Love after three episodes, it would have received a Good verdict. If I had stopped midway, it would have received a Middling verdict. But no, I had to watch it to its wretched end.
What is there not to like at the beginning? A young girl moves with her family to a small town and there meets a young boy who throws a mean curveball and who will become the love of her life. The girl mothers the boy (thus aging her by 30 years and tempting me to call her "Ajumma") and gives him a cute nickname. He reciprocates by saving her from the neighborhood thugs, said chivalrous deed coming back to haunt him years later. The girl then moves away (and one must be a stone not to shed tears at the parting scene), leaving the boy with his gambler dad and an uncertain future. The years pass and the boy Hye-sung is now… Yoon Tae-young!
If I had stopped the drama midway, Yoon Tae-young would have been a strong contender for best actor. Each time he appeared, I had to tell my heart, "Be still." Not only did he look utterly desirable on and off the field, his acting was pitch-perfect as well. Just hear the way he says "Eom-ji" and you want to dive into the screen and yell, "I'm here!" even though you are neither Eom-ji nor look like her. See how he loves and protects his girl, his dad and his best pal. Such a man deserves all the happiness that life can offer. Unfortunately, the writer is determined to make our protagonist suffer and so he gets beaten to a pulp, is shipped off to some godforsaken island and returns four years later to find Eom-ji (Kim Min-jung) wedded with a daughter.
As life deals his character one cruel blow after another, and as the plot begins to unravel in three or more different directions (melodrama? sports drama? absurdist theater?), we see Yoon Tae-young losing that spark and charisma he had owned in the first half of the drama. His eyes look dead, his face is careworn, his brain is probably reeling at the realization that Strike Love is going to strike out at 16 episodes instead of the original 20 (with filming almost complete, too). That's four hours lopped off.
Imagine being in the middle of a tooth extraction when the dentist suddenly says "All done" and gets up and leaves. You lie there, bloody tooth still dangling, your mouth numb from the anesthesia, too gobsmacked to blink. That's akin to what happens here. Hye-sung's baseball team is just getting a new lease of life, he and Eom-ji belong together, and he does not know that her daughter is his. These and other dangling issues need to be resolved before the game is over. But try telling that to a TV station determined to give us the worst drama ending this year.
That Fool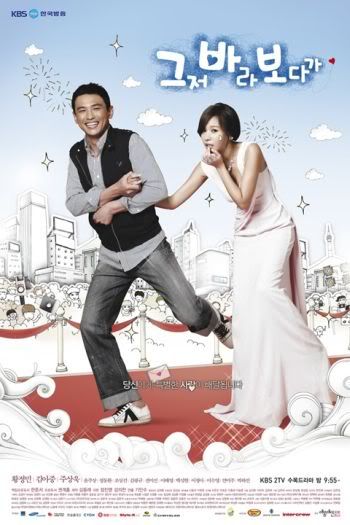 (Verdict: Middling)
Among the crop of 2009 dramas this year, That Fool stands out for one reason: The finest acting of the year, actor or actress, lead or supporting.
Without Hwang Jung-min in this, his first drama after almost 20 years as an actor, there is no reason to watch That Fool. But with him in it, you miss this at your loss. In my books his acting here is up there with Kim Myung-min (White Tower, 2007) and Yang Dong-geun (Ruler of Your Own World, 2002) as the Top 3 performances ever in a kdrama.
Playing a kind-hearted postman who agrees to a contract marriage with a famous actress, Hwang Jung-min made an absurd arrangement believable. He played his character with so much heart I thought my own would burst. He elevated a third-rate script, one which I heartily disliked because of how it manipulated the main relationship, and soon it didn't matter how his Gu Dong-baek was being used and misused in an unethical and outrageous charade. What mattered was that he completely disappeared inside his role, until I no longer saw Hwang Jung-min. I only saw a character with a "heart of gold." I only saw acting so pure, I found myself often in tears just watching him. I wanted so badly for him to be happy.
On the other hand, I didn't care for Kim Ah-joong and I cared even less for the second male lead, Joo Sang-wook. Both acted with as much finesse as an elephant on crack, but at least her acting improved after eight episodes whereas his remained insipid for the entire drama. Ordinarily I wouldn't have bothered too much; these two entered the industry only in the last 3-5 years, and plentiful stars with "actor" as occupation can't act to save their lives. But it's impossible to ignore their shortcomings whenever they share a scene with the great Hwang Jung-min.
The plot itself isn't new, reminding me at times of Full House (also a contract marriage between a star and a nobody, also a honeymoon to an exotic land). It's obvious from the beginning how events will unfold and how the fairy tale will eventually end (happily, of course). A welcome diversion is Baek Sang-hyun, playing the actress's brother (and Hwang Jung-min has more chemistry with him than with her). I'll rather watch him rage like a bull than watch Joo Sang-wook in yet another log-like scene. Perhaps the latter should ask for tips from Lee Chung-ah because her acting swings to the other extreme, as though she has the crazies. It took more than half the drama before her character calmed down and I could stop cringing. I even grew to love her by the end of the drama.
It's been five months since I finished That Fool and yet I remember vividly many of Hwang Jung-min's scenes. For selfish reasons (because I get to enjoy more of him than in a two-hour movie) I hope he'll do another drama, one which is more deserving of him this time.
You're Beautiful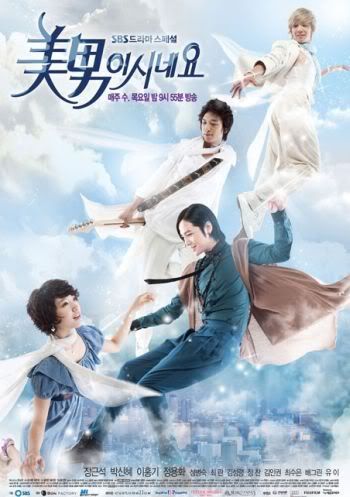 (Verdict: Good)
Rounding up the reviews is a drama with a fanatical following. Count me among its besotted fans.
Beyond a "It makes me happy," it's hard to explain why I love this drama. Neither the writing nor the acting is spectacular. A few episodes have decidedly less luster than the rest. Jang Geun-suk wears way too much eyeliner (he can't cry pretty with those black rings around his eyes) and his high heels should have been tossed out with the garbage long ago. Yet I adore him here.
Like how Hwang Jung-min carried That Fool on his shoulders, I believe You're Beautiful owes its appeal largely to Jang Geun-suk's portrayal of Hwang Tae-kyung. He took a complex character (angsty and arrogant) and ran with it. He made silly look sweet, he made me so addicted to one scene in Episode 7 (hint: pig) I'm embarrassed to tell you how many times I've replayed it. (Shayne Ward's Breathless clip on YouTube also owes its spike in hits to Hwang Tae-kyung. And yes, I contributed to that spike, need you ask?) Because you gave your best performance ever, and one of the best in the year, I am now officially your fan, Jang Geun-suk. I promise to give you one hundred marks, test or no test.
Not to be overshadowed, Park Shin-hye, Jung Yong-hwa and Lee Hong-ki all delivered. In what is one of the best ensembles of the year, the three showed flashes of brilliance and acted their hearts out. Park Shin-hye was my favorite at first. I loved her for being so sweet and innocent, and for cracking me up so early in the drama. Jung Yong-hwa didn't wow me with his acting, but his character was so stoic and caring it was impossible to remain unmoved. But the one I grew to love the most fiercely (besides Jang Geun-suk) was Lee Hong-ki. The best scene in the drama (beating out even the pig chase scene) is Jeremy on the bus, singing through his tears.
You're Beautiful isn't perfect, of course. It would have been a better drama if it didn't make Mi-nam so lovesick for Tae-kyung and so willing to be a doormat for him. I cringed, to be honest, when she was so giddily happy that he 'allowed' her to like him. That whole "You're my brightest star in the sky" refrain got old pretty quickly; it didn't help that the last two episodes literally threw a roomful of stars at us. I also wished that the writers delved more into the twins' relationship with each other. They had no contact (mail, phone calls) for fifteen episodes!
Still, those are minor quibbles. The drama's pluses (such as the cast's awesome camaraderie) far outweigh its minuses and what we get is a magical tale that is pure escapism. After a generally middling first half of the year, this boyband drama lifted my spirits and gave me plenty of reasons to smile. Because I expected nothing of it and because it surprised me, You're Beautiful has made me look at trendy dramas in a new light. For that and more, it is one of my favorite dramas of the year.
FIRST IMPRESSIONS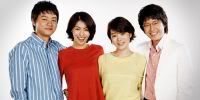 These are the ones where I watched just 1-3 episodes. Again, arranged alphabetically.
Cain and Abel – Could not stand the excessive bad blood and shenanigans in Episode 1 and tried five times to finish Episode 2 without success. Despite my love for So Ji-sub, I just don't have the forbearance to endure the abysmal writing and Han Ji-min's over-the-top acting. Shin Hyun-joon's expressions also gave me too many Stairway to Heaven flashbacks and my friends know how much I 'love' that drama.
Friend – Kicking myself for not starting the drama earlier so I could finish it in time for the year-end review. Loved the acting and atmosphere in the first episode. Although filled with trepidation at the prospect of blood and broken bones aplenty, this is one of the first dramas I'm going to watch in 2010. Kim Min-joon's cauliflower hairdo needs to go, though.
Job Well Done – Watched three episodes and forgot to continue. Uhm Ki-joon and Chae Rim were wonderful in their roles and had amazing chemistry, but the opening episodes seemed to focus too much on the older and more depressing relationship (Jung Ae-ri's). Kim Hae-sook's caterwauling when she discovered a certain baby also scared the bejeebers out of me. May continue if I need my Uhm Ki-joon fix; the guy's so adorable it's illegal.
Temptation of Angel – Most dramatic first episode of the year? Or craziest? Everything felt surreal, like a third-rate circus of freaks. I fled for my life after one episode, but may resume this just to watch Bae Soo-bin. This is his first lead role and it's only right that I'm there to cheer him on when he makes his grand appearance. Which episode is that, by the way?
Triple – Gets my vote for most boring first episode and most incredible body-shrinking act of the year. Yoon Kye-sang's overacting grated and Lee Hana's smile felt fake. I adore Lee Jung-jae and Lee Seon-kyun to bits, but a drama's supposed to entertain, not cure insomnia.
TOP FIVE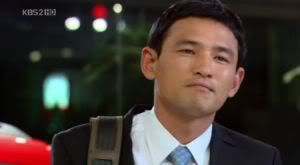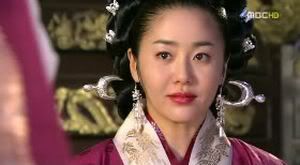 Only the dramas which I've finished or where I've watched at least 20 episodes are in contention.
Dramas
1. Kyung Sook, Kyung Sook's Father
2. Assorted Gems
3. You're Beautiful
4. Brilliant Legacy
5. Smile, You
Actors
1. Hwang Jung-min (That Fool)
2. Jung Bo-seok (Kyung Sook, Kyung Sook's Father)
3. Cha Seung-won (City Hall)
4. Jang Geun-suk (You're Beautiful)
5. Jung Kyung-ho (Smile, You)
Actresses
1. Go Hyun-jung (Queen Seondeok)
2. Shim Eun-kyung (Kyung Sook, Kyung Sook's Father)
3. Lee Min-jung (Smile, You)
4. Kim Sun-ah (City Hall)
5. Kim Hyun-joo (Partner)
Supporting Actors
1. Kim Gab-soo (Partner)
2. Bae Soo-bin (Brilliant Legacy)
3. Lee Chun-hee (Smile, You)
4. Kim Nam-gil (Queen Seondeok)
5. Lee Hong-ki (You're Beautiful)
Supporting Actresses
1. Kim Young-ok (Assorted Gems)
2. Moon Chae-won (Brilliant Legacy)
3. Jung Hye-sun (Assorted Gems)
4. Park Ye-jin (Again, My Love; Queen Seondeok)
5. Kim So-eun (He Who Can't Marry)
Writing
1. Kyung Sook, Kyung Sook's Father
2. Assorted Gems
3. Brilliant Legacy
4. You're Beautiful
5. City Hall
Direction
1. Kyung Sook, Kyung Sook's Father
2. You're Beautiful
3. Brilliant Legacy
4. City Hall
5. Partner
Couple
1. Jung Kyung-ho and Lee Min-jung (Smile, You)
2. Cha Seung-won and Kim Sun-ah (City Hall)
3. Lee Tae-gon and Go Na-eun (Assorted Gems)
4. Lee Seung-gi and Han Hyo-joo (Brilliant Legacy)
5. Jang Geun-suk and Park Shin-hye (You're Beautiful)
Sarah, I'm thrilled to be in the august company of your year-end reviewers and have thoroughly enjoyed our Editors' Picks discussions (debates!) on the best of 2009. Thank you once again for the honor and privilege.
For your friendship and everything that you do for the worldwide community of kdrama fans, you are my Blogger of the Year.

RELATED POSTS
Tags: 1 show to rule them all, Accidental Couple, Again My Love, Assorted Gems, Brilliant Legacy, City Hall, Hometown of Legends 2009, Kyung Sook Kyung Sook's Father, Loving You a Thousand Times, Partner, Queen Seon-deok, Smile, Strike Love, The Man Who Can't Get Married, year in review, year in review 2009, You're Beautiful