Will It Snow For Christmas: Episode 8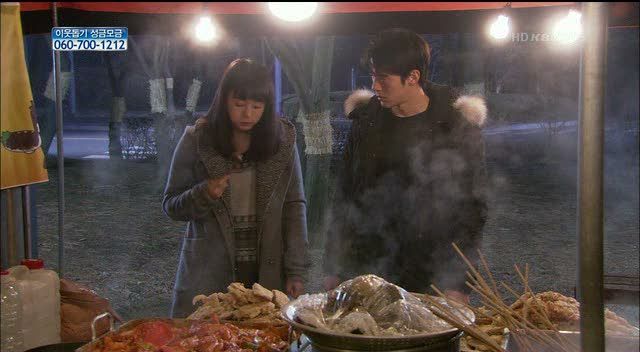 Note that there will be no new episodes of Will It Snow For Christmas next week, because of SBS's year-end awards shows. Episode 9 will air on January 6, which, by the way, is when Chuno premieres on KBS.
As for the title, well, I guess it didn't snow on Christmas after all. Not that the drama even has a snow motif in play at the moment…
SONG OF THE DAY
Will It Snow For Christmas OST – "그대라서" (Since it's you) by Gummy. [ Download ]
Audio clip: Adobe Flash Player (version 9 or above) is required to play this audio clip. Download the latest version here. You also need to have JavaScript enabled in your browser.

EPISODE 8 RECAP
Kang-jin arrives at the police station in time to overhear Ji-wan's pained confession over why she has been living with guilt, why she left Sancheong, why she ran away and cannot face her parents. It's all because of him.
Drunk and exhausted, Ji-wan pitches forward onto Tae-joon's shoulder, and to give him some credit, he looks genuinely concerned for her welfare. He moves to carry Ji-wan out, but Kang-jin steps forward and shoves him aside. Ignoring Tae-joon, he hoists her on his back and turns to leave. Tae-joon addresses him, although Kang-jin doesn't acknowledge him back:
Tae-joon: "Let her go. She's been hurt enough. You heard clearly for yourself, that your very existence is a source of pain to Ji-wan. Don't you get it?"
Despite disregarding Tae-joon, Kang-jin is in fact thinking the same thing. As he carries her away, he thinks back to Ji-wan's first refusal of him as a teenager, now knowing the full story behind the outburst. He wrestles his conflicted emotions as he sees her home and puts her to bed.
A week later, Jun-su is dealing with some bad medical news — but against his expectations, it's not regarding Chun-hee's health, but his own. Chun-hee is fine, but his doctor friend has informed him that he's suffering from a serious brain tumor that requires surgery. Jun-su takes a fatalistic line, sighing that surgery wouldn't really change anything. He broods to himself while he tries to come to grips with the situation.
This means he has stayed away from Chun-hee, who has jumped to conclusions and assumes that she is dying. She takes to her bed, and even Young-sook tries to cheer her up. (Young-sook is more friendly now that she realizes what her husband's business with Chun-hee was.) Chun-hee sulks like a petulant teenager — Young-sook must be happy that she's dying! Young-sook, however, reminds her of her promise to ignore Jun-su if she gave Bu-san's alibi. Doesn't she have any conscience for reneging on her word?
That makes Chun-hee look at her sharply — how dare she speak of conscience when she was the one who stole Jun-su away from Chun-hee? She knew that they were in love and used her father's power to take him away. Chun-hee snaps, "What is a promise to a woman who's about to die?!"
Jun-su finally comes to see Chun-hee, presenting her with the test results. He contradicts her drama-queen declarations that she must be dying and says that she's healthy.
That cheers her up, but he puts a quick damper on that by asking sternly if she's going to keep her promise with his wife. He says bluntly, "You're not dying of a disease, so keep the promise. I'm not going to see you anymore, either. Not till I die."
After he steps outside, he breaks down into tears.
The rabble-rouser from the previous episode, named Kim Jung-pil, presents Woo-jung with documentation showing that his father's gravesite is in fact real and that his grievance with Bumseo Group's new shopping-mall project is valid. If they don't do what he wants, he threatens to call the media.
Woo-jung remains suspicious and tries to keep her temper under control enough to placate Kim Jung-pil, offering generous compensation if he will negotiate. He answers that he will only negotiate after they fire Kang-jin.
Meanwhile, Kang-jin has gone on a business trip to look into Kim's claim. He's due back today, so Woo-jung orders Jae-hyun to summon him immediately. Jae-hyun finds Kang-jin in the parking lot soon after his arrival and lets him know that Woo-jung is on the warpath and wants to see him. Oh, and also, Ji-wan is in the lobby to see him — curiously enough, she calls him "Kang-jin oppa." When did that happen?
Tae-joon spies Ji-wan first and approaches. She looks chagrined to see him, but thanks him politely for helping her the night before. She remembers seeing him at the police station, but everything after that is blank. She assumes that he helped her home, and thanks him.
Tae-joon doesn't deny it, letting her think it was him, and asks to see her later. Ji-wan declines by answering, "I'm going to meet Kang-jin oppa. I came to see him. I haven't heard from him in a week so I was worried."
Since she doesn't remember it, Tae-joon tells her what she had confessed at the police station — that Kang-jin is the reason her brother died and that she can't date him now because of it.
Tae-joon: "Are you confident you can keep seeing Cha Kang-jin, laughing and chatting with him and being happy? Are you confident that you can forget about your brother so he doesn't pop up in your memory? If you are, then date him and I won't stop you."
At that moment, Kang-jin appears in the lobby. Despite coming to see him, Ji-wan turns away abruptly, as though to avoid him. After a moment, she turns back and walks toward him, pinning a smile on her face as though everything is normal: "I heard you went on a business trip. That's why I haven't heard from you in a week. You were really confounded when I disappeared from the pojangmacha, weren't you?"
Explaining that she had felt tired and cold, she had headed home. Since their date didn't work out as planned, how about they forget it and start over? She suggests a particular restaurant and draws a map on his hand with the information, telling him that she'll wait for him there after work. They're open all night, so he can take his time and even if he's late, she's fine to stay until morning.
Aware that she's forcing her cheeriness, Kang-jin remains silent all the while, looking at her with a careworn expression. And sure enough, as soon as she's outside, Ji-wan falls to her knees, feeling the toll of trying to act normal.
At home, she tells her family portrait, defensively, "I'm not sorry, not at all. Eight years of being sorry is plenty. I've been sorry enough! Now let me have this. Let this slide, just once."
Upset at the Kim Jung-pil situation, Woo-jung takes it out on Kang-jin, throwing papers in his face and asking if he realizes what he's done. If this puts a stop to the construction plans, it means a huge loss for the company. He has two options: beg the guy for forgiveness, or resign. Kang-jin says, without hesitation, "I'll write my resignation."
He presents some documents and tells her that twenty years ago, Kim Jung-pil abandoned a grandfather suffering from dementia. He didn't know where his father's grave was, or even that he had died. It's also clear that someone coached him on how to behave with Bumseo and when to appear.
She asks if he's suggesting that somebody in the company did this. Kang-jin merely answers that he doesn't know: "I don't wish to be a source of trouble to the company any longer. I'm sorry." He bows and leaves.
It's pretty clear that Kang-jin knows what happened, but he's not going to accuse anyone and would rather leave on his own terms. He begins to pack up his apartment and calls his mother, asking if she'd be interested in setting up a restaurant together. They could make it a family business.
Chun-hee assumes he's kidding around, but he continues pushing for the restaurant, which puzzles her. Hearing that they're having a big dinner, he announces that he's going to head down to join them, and starts the long drive to Sancheong.
However, a glimpse at his palm reminds him of Ji-wan's date proposal, and he hesitates. He's torn between the choices — Tae-joon's warning hits home, but Ji-wan did say she would wait all night. After trying to ignore the impulse, in the end he turns around and heads for the restaurant.
True to her word, Ji-wan sits there for hours, waiting. Seeing a girl fiddling with a Rubik's cube, Ji-wan offers to solve it for her, and gets to work. This is the sight that greets Kang-jin when he finally arrives at the front door.
He remembers the incident with his mother's shoe, and how she had boasted that she's handy with things like this, only to break the shoe in the end. Like then, she fumbles with the cube now, furrowing her brow in consternation and saying that she's usually good at this.
Kang-jin takes over, works the cube quickly, and hands it back completed.
Woo-jung calls for a meeting with Kim Jung-pil, who reminds her of his demand. She asks shrewdly, "Why are you so fixated on Cha Kang-jin's fate?" She agrees to compensate him, so he'd better drop that condition.
When she asks whether he'd been coached by someone, he feigns ignorance. Woo-jung knows he's bluffing and coolly presents him with two photographs — Tae-joon and his sidekick, Sung-min. Was it either of these men? Kim Jung-pil's expression tells us that she's got him, but he sticks to his denial. So she comes at him with an offer to triple his compensation payout — if he tells her the truth.
At first, Ji-wan picks at her food, content to watch Kang-jin eating heartily. He notices and urges her to eat up, so she dives in to the food. But instead of enjoying the food, she starts to shovel in mouthful after mouthful, which makes him look at her in worry. He tells her to slow down, but she keeps going, ignoring him.
Naturally, she suffers, and throws up in the bathroom. She waves off his concern, however, and says that because her stomach is empty now, she's hungry again. Cheerfully, she suggests going for some ddukbokki.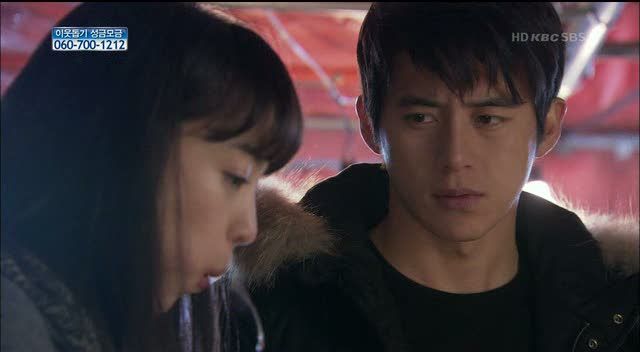 At first he's amused, but that quickly turns to confused concern. He watches with a pained expression as she stubbornly continues to shove food into her mouth, hardly giving herself time to chew or swallow one bite before adding another. This time, he steps in and tells her to stop eating. He knows she isn't hungry and she's not enjoying the food, so why is she doing this? He orders her to spit out her mouthful.
Round 2 also ends with Ji-wan getting sick. As she retches by a park bench, he tries to help by pounding on her back, but she shoves him away. She's in a stubborn mood, and when he suggests that they call it a day, she protests.
Ji-wan wrenches her hand from his and bursts out in a self-accusatory tone:
Ji-wan: "We're meeting after eight years and we couldn't even eat a meal properly together, because of me!"
Kang-jin: "We can eat together next time."
Ji-wan: "Next time? Who knows what'll happen then?!"
Kang-jin: "We'll meet tomorrow and eat together, and see a movie the day after that. Then the day after that, let's go to the most wonderful, beautiful place in Seoul and walk holding hands. I have lots of time now. I have nothing but time."
His assurance is sweet, and he tells her more gently that she should rest tonight, and they'll be sure to meet tomorrow. But she still feels conflicted, and goes home and cries frustrated tears. I suspect she's angry with herself for not being properly happy — she must be recalling Tae-joon's challenge of whether she can be happy with Kang-jin without being haunted by her brother's death.
During class, Ji-wan can't concentrate and smiles to remember Kang-jin's promise to see each other again. But she doesn't look too good — it would be more accurate to say she looks like death warmed over — and has trouble focusing, finally falling unconscious at her seat.
Kang-jin hears about Ji-wan's collapse from the cafe owner and rushes to the hospital, where Tae-joon is already waiting in the hall. Inside Ji-wan's room, the professor asks crankily who he is, noting, "You look even worse than the other guy. Are you three in a love triangle?" Kang-jin asks what's wrong, but the professor doesn't know.
Kang-jin tells him that she had overeaten last night and vomited. He tried to stop her, but she forced herself to continue eating and vomited again. The professor asks for more information, so Kang-jin adds, "Ji-wan is having a really hard time because of me. B-because of me, she's overdoing it. Because of me… Ji-wan's brother died."
Professor: "Then she got sick because she couldn't deal with you. She couldn't accept you so she tried to swallow that food instead, and made herself sick. If you try to force yourself to accept something that won't be accepted, you make yourself sick. This kid could get herself in trouble, and sickness born of resentment can kill a person."
Kang-jin: "What has to be done?"
Professor: "The source of pain has to go away, like with all illnesses. Why ask what you already know?!"
Kang-jin walks out numbly, shoulders slumped and mind preoccupied.
Tae-joon: "There's a kind of fate where two people shouldn't meet twice. Some people are supposed to end things after a short first encounter. It's like that for me and Woo-jung, and also for you and Ji-wan. Let go of her. Ji-wan can't let go of you. Even if that dummy kills herself like this, she won't let you go. So you let go. You stop it. Please."
Fighting back tears, Kang-jin thinks back to the day Ji-yong gave him the notebooks, sending us into a flashback.
Ji-yong has called a meeting with Kang-jin and sizes him up — Kang-jin is the top student at school and popular with the girls. Ji-yong talks as though he's on Kang-jin's side, commiserating with his predicament. "This won't work," he says with an amused look at Kang-jin, "I'll have to tell Ji-wan to give up on you. Even to me, you're out of her reach as a boyfriend. She's a bad student and she's not even pretty — how could she look at a guy like you? Sorry, she doesn't know her own level."
This speech makes Kang-jin look at him in dismay; he doesn't see what we can clearly see — that this is a test. Kang-jin says, haltingly, "But Ji-wan's pretty. And I'm definitely not too above her reach. Out of all the girls I know, Ji-wan is the nicest, prettiest, best girl. About her not being a good student… I can teach her."
Test passed! Ji-yong asks, "Are you confident you won't ever change your mind? You won't ever hurt her, or make her cry? Do you feel confident you can make her happy every day, and make her smile every day?"
In answer, Kang-jin holds up his finger for a pinky-swear. Ji-yong smiles and accepts that promise.
Woo-jung meets with Tae-joon's sidekick Sung-min and asks, "Are you Park Tae-joon's dog?" She knows everything, so he doesn't have to bother defending himself. She saw him deleting Kang-jin's presentation and heard from Kim Jung-pil about their deal. How can Sung-min be so loyal to Tae-joon — is this because of the money Tae-joon gave him two years ago? Does he even know where Tae-joon got that money?
Sung-min bows his head miserably and defends Tae-joon — this was all his own fault, not Tae-joon's! The money came from Woo-jung's father to break up with her, and that money saved Sung-min's mother. Woo-jung's eyes widen in surprise to hear that Tae-joon was intending to use the money for surgery bills for his father, but the day he got the money, his father died. He had told Sung-min that since it wasn't going to do him any good, he should save his mother with it.
While this new information stuns Woo-jung, who had never known, it doesn't invalidate her anger or disappointment in Tae-joon. She still addresses him acerbically:
Woo-jung: "You must have encountered other rivals in your life. Were you this cowardly back then?"
Tae-joon: "No, I wasn't. Then, I wasn't afraid of anything. Then, I was on top of the world.."
Woo-jung: "But were you that afraid of Team Leader Cha?"
Tae-joon: "Yes. I was scared of him, for some strange reason."
Woo-jung: "Because he's honest and honorable. Compared to the likes of you, who uses whatever means he has to in order to obtain his goal, he's superior. This time I'm going to definitely fire you. That way, I can save Team Leader Cha. That way, the world becomes just."
I kinda love Tae-joon's reaction, because mixed in with his resentment of Kang-jin is fear and vulnerability. It's not enough to sway us to his side, but enough to make him a pitiable, rather than hateful, character.
With Tae-joon, Woo-jung is strong and self-possessed, but it's only after he leaves that she allows herself to shed tears.
Tae-joon starts to pack up his desk, while at the same time, Kang-jin packs up his apartment. Woo-jung covers up her own tears and puts on her happy face as she arrives at Kang-jin's doorstep. He ignores her hint to come inside and steps outside to keep their interaction in the hallway.
Woo-jung holds up his resignation letter, then rips it up. The issue wasn't his fault, so he can show up to work tomorrow. In fact, she punished Tae-joon and saved Kang-jin: "Aren't you thankful? Aren't I pretty to you? If I am, can you hug me just once?"
Kang-jin looks amazed (and amused) at her audaciousness, but before he can respond, he catches sight of Ji-wan down the hall.
Ji-wan had remembered Kang-jin's vow to see her the next day (and the next). She had left the hospital, still feeling sick, to make good on the promise.
Woo-jung clocks Kang-jin's reaction to Ji-wan and sizes up the situation. Eyeing Ji-wan as a challenge, she says, "If a hug is too weak, a kiss will do. Or if a kiss is too much of a burden, then just a peck?"
Once more, Kang-jin recalls Tae-joon's accusation that he's a source of pain for Ji-wan. He knows that Tae-joon is right about Ji-wan never letting go of him, even at the expense of her own well-being. It hits him that this may be the best chance to act, to force her to let go.
So he grabs Woo-jung and swoops in for a kiss. Ji-wan looks at him in hurt, then silently walks away.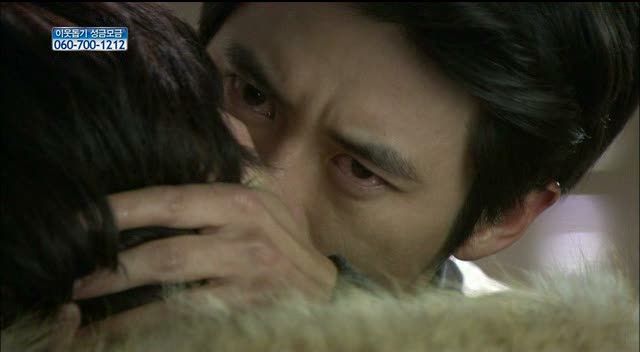 The moment is painful for Kang-jin as well, and tears fall from his eyes as he thinks:
Kang-jin: "I dreamed a dream. In that dream, I met Ji-wan. In the dream, I promised Ji-wan never to let her go again. That I wouldn't be foolish like before, in our Sancheong days."

COMMENTS
Minor complaint first: I dislike that the two moms fight over Jun-su like he doesn't have a mind of his own. True, that happens in real life when the two sides of a love triangle hate each other more than the wishy-washy one in the middle. But I'm not a fan of this behavior, in dramas or in real life. Yes, Chun-hee feels betrayed that her friend backstabbed her and stole her man so the issue is more than just fighting over a man, but why is she angry with Young-sook and not Jun-su? Based on the little hints we are being dropped, I suspect that there may be more to the story so I will refrain from further complaining — for now — but it had better make sense in the end.
Less-minor complaint: I'm going to put up with this Ji-wan-makes-herself-sick-with-anger plotline if it ends now — but really, drama? I suppose it's better than her being suddenly stricken with cancer. Or is it? Cancer as a plot device in a Korean melodrama is by now a joke of a cliche, BUT at least there's a base logic for the stuff that follows a cancer diagnosis. Here, the logic is less sound. One episode of Ji-wan throwing up in indigestion and suddenly the long-separated lovers must be parted forever? REALLY.
It had better be wrapped up in the next episode, is all I'm sayin'.
On the upside, the conflict was acted out well on all fronts. I find myself still wanting more from Han Ye-seul, but I can deal with it — at least Go Soo and Song Jong-ho are both doing wonderful things with their eyes. Sunwoo Sun, too, actually.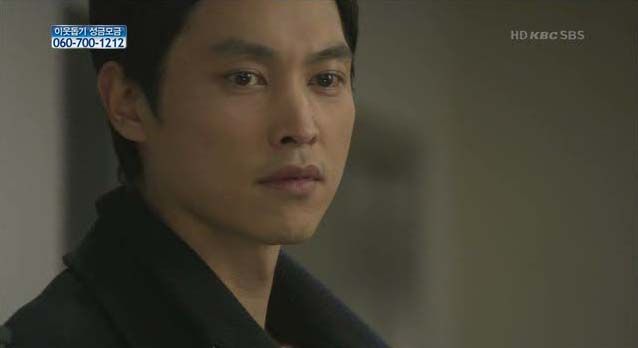 I thought Tae-joon's sick father plot point was rather lazy, but it does support the feeling I've been harboring that Tae-joon is a much more complex guy than he seems at first glance. For instance, I'm still skeptical that he's acting out against Kang-jin in pure jealousy — he seems too conflicted to succumb to such a simple reason. I don't mean he's not feeling jealous, but that I think there's more to him than meets the eye.
In earlier scenes, he had let Woo-jung assume the worst of him and never defended himself. It made me wonder if he was letting her malign him more than he even deserved, as though he were thinking, "Fine, just blame me. I hate myself anyway so what's the point in quibbling over details?"
I think Tae-joon may see himself as a lost cause — he made the decision to take the money in exchange for Woo-jung and he has to live with it, so he won't bother trying to justify the reason as noble. This may also explain why he's not willing to let go of Ji-wan without a fight — it may be less about Kang-jin and really more about his own battle with himself, as I said in the last recap. I still don't get the sense that he is in love with Ji-wan, but in his two encounters with Kang-jin in this episode, he made clear that his concern was for Ji-wan's sake first and foremost. (Even if I still can't believe the logic they're expecting us to follow here. Really? Ji-wan MAY EVEN DIE if Kang-jin doesn't leave? Because she'll continue to overeat and her body won't be able to handle it? Two words: PEPTO BISMOL.)
(Yes, I do understand that the "anger can kill you" line doesn't have to be literal. It's actually quite poetic and the theme is one I can appreciate. It's the handling of the theme that I find dissatisfactory.)
Plus side: I am really liking how sharp Woo-jung is. So many women in dramas can barely see what's right in front of their eyes, and sometimes even then they have to have everything spelled out for them, which gets frustrating. (How can these dim bulbs attract such undying loyalty from such brilliant, handsome, amazing men?) But it's refreshing how Woo-jung can put two and two together; she sees through people's lame excuses and calls people on their bullshit.
RELATED POSTS