Choi Jung-won in Wish Upon a Star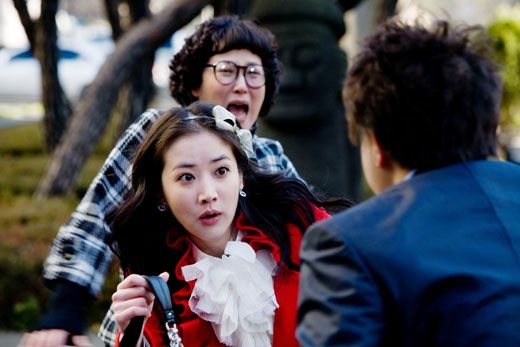 No surprise to see more promotional stills and reports out about another new show; this time it's SBS's trendy drama Wish Upon a Star (which I previously referred to as Pick the Stars; I'm glad SBS Global came up with a better-sounding English title for the drama).
The 20-episode romantic comedy shows a complete different side to its lead star Choi Jung-won, who has previously been known for her composed and feminine image. As you can see from the above still, her Jin Pal-gang character gets into her share of sticky situations.
Choi's character Pal-gang has worked at an insurance firm for five years, but she spends more than she makes and has racked up credit card debt. Loud-mouthed and rash, she has a pretty immature personality despite her 25 years of age and her life's greatest goal is to find a handsome, perfect man and live in married bliss.
The name Pal-gang, as I mentioned before, means "deep red," and each of her siblings also is named after a color (Ju-hwang = orange, No-rang = yellow, Cho-rok = green, Pa-rang = blue). Pal-gang unexpectedly becomes their caretaker upon the sudden death of her parents. (It's noted that Pal-gang isn't related to them by blood; her parents had adopted them.) Also starring in the drama are are Kim Ji-hoon as a lawyer who doesn't believe in love and Shin Dong-wook.
Wish Upon a Star premieres tomorrow, January 4 (but will air at 9pm and therefore doesn't have to worry about drama competition).
Via BNT News
RELATED POSTS
Tags: Choi Jung-won, Wish Upon a Star