City Hall: Episode 17
(written by samsooki, with 0timelost and cleown)
Episode 17 – Trial By Ordeal: the Judgment of Shin Mi Rae.
While the concept of trial by ordeal is probably most easily associated with Medieval Europe, equally loathsome practices were institutionalized in ancient China and Korea as well, all of it based on the idea that to get to the truth, one must exact and another must endure great pain. What's more, the "cost" of truth is evident even in mass contests, as in any conflict opposing sides battle not just for material gain but also for the right of moral suasion. The adage goes, "winners write the history books" and so "truth" is often based on which side is able to sacrifice more for victory. Last episode, Shin Mi Rae, fresh from the happiest day of her life, has found that the simmering political and personal conflicts that she has been fighting have reached boiling points. She has been arrested at the behest of unknowns, charged with bribery and corruption. In order to win the fight for the truth, Mi Rae, as Mayor and as a woman, must pass through her trials by ordeal. There is no other way.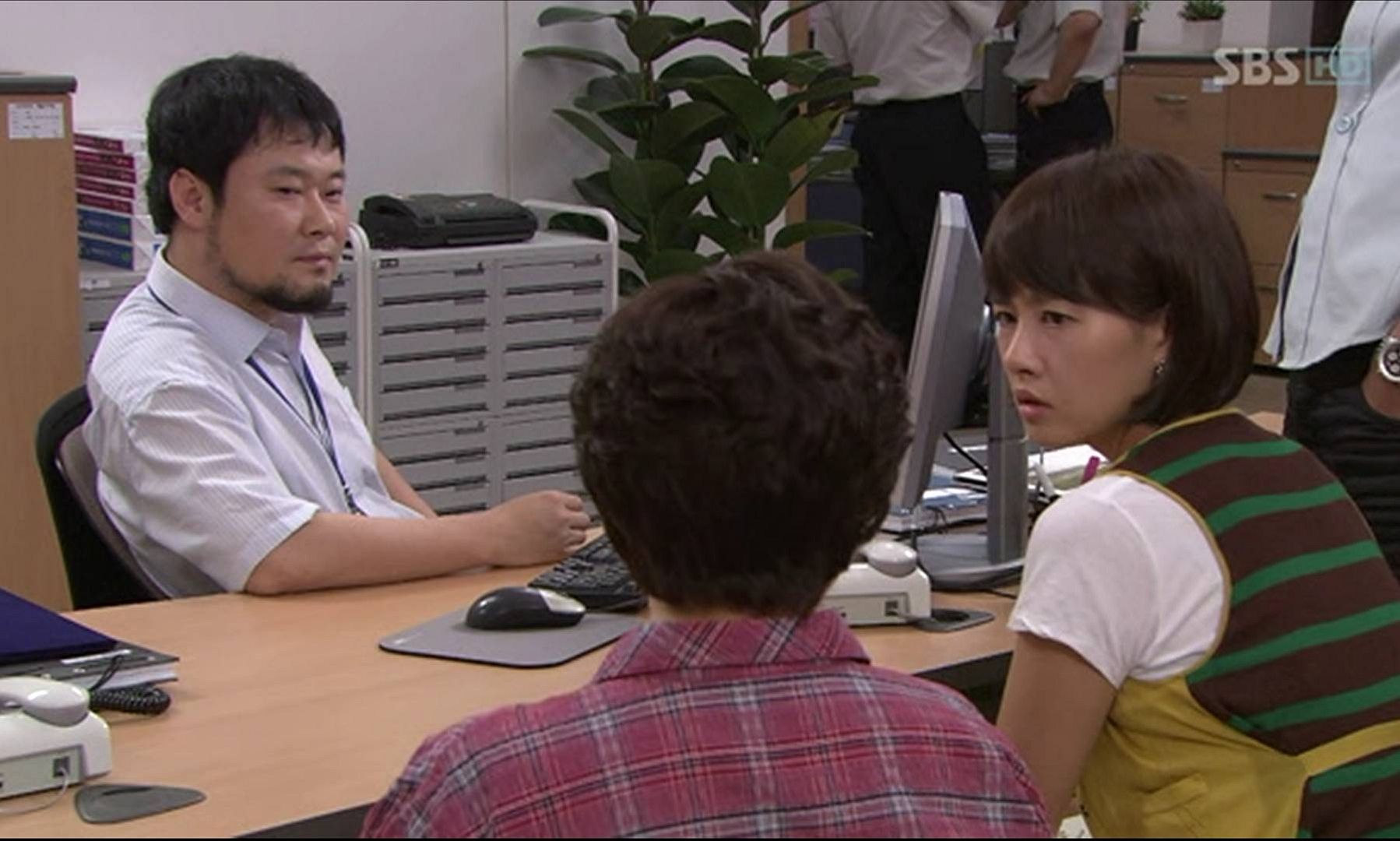 At the police station, Mi Rae is questioned by a detective about a certain doraji (bellflower root, often shredded, pickled and served cold, or boiled and drank as tea) that was accepted by Mi Rae's mom and consumed by both. Mi Rae's mom, with no concept of the potential for illegality in accepting gifts from others, details out the acceptance of the gift as Mi Rae looks on.
Jo Gook, learning of the substance of the charge, is more annoyed than worried, while both Mi Rae and Mi Rae's mom are confused as to why this is an issue at all. Did they take it? Sure, absolutely. Did they eat it? No! They drank it! hehe! Even Jo Gook has to smile. Of course, Jo Gook's mirth subsides when the police detective reveals that the doraji that Mi Rae received was valued at over $2,500 per root!
Still, this is relatively small potatoes as Jo Gook feels comfortable in merely blustering his way out of this. But at that moment, he gets a phone call – a cabal of businessmen who also double as City Council members have apparently created this whole scenario to get Jo Gook's attention. Mi Rae's economic plans to revitalize Inju City will cost these businessmen dearly, as they have been used to sucking the wealth out of Inju City and Mi Rae threatens that tap. How can Jo Gook sit there and let that happen!
Still, Jo Gook knows how to deal with this kind of vermin. With a single phone call to the notorious Madam Jung (it pays to have a person like Madam Jung as a noona!), Jo Gook has the City Council members tripping over themselves to call their buddy the police chief and get Mi Rae released. And Mi Rae is home before dinner.
On the other side of town, though, Jung Do is beyond angered at the latest to befall his Mayor. This smells exactly like something that his career criminal of a wife Joo Hwa would do. He accuses his wife of plotting this. Inasmuchas this is not a bad assumption, since Joo Hwa has been responsible for everything else, Jung Do should have at least given Joo Hwa an opportunity to respond to the accusation.
But, Joo Hwa's reaction is not positive. When Joo Hwa seems elated by the news of Mi Rae's arrest, Jung Do rages and slaps his wife across the face! Wow! Joo Hwa could not have been more surprised. And Jung Do is shocked at Joo Hwa's reaction… wait, his wife didn't having anything to do with this???
As much as I dislike Joo Hwa, Jung Do was completely wrong here. Once violence is done, it cannot be undone. What's more, even if you disagree with your wife, you STILL have to support her. What kind of a husband chooses sides against his own family? And almost immediately, Jung Do realizes his error and tries to apologize but Joo Hwa will not hear of it. Not only has Jung Do screwed up big time, but now he just made it extremely personal for Joo Hwa to bring Mi Rae down. An enormously huge blunder. At this point, it is safe to say that Joo Hwa would gladly risk jail if it meant that Mi Rae would be there as well. Nice job, Jung Do, you just created more problems for Mi Rae.
The next morning, at the Shin residence, Mi Rae and her mom are sitting down to breakfast. Mi Rae, despite being the mayor of 130,000 people, has prepared the breakfast before her mom has gotten out of bed. Her mom is still feeling apologetic for being ignorant and very unsophisticated, resulting in the doraji charge, but Mi Rae brushes away her mom's tears.
Her spirit rejuvenated, Mi Rae's mom reverts to instinctual mother-ing, noting that if there were a man in the house, the detectives wouldn't have treated them so poorly. Mi Rae has to get married while she is still desirable (as mayor). Mi Rae deflects as usual.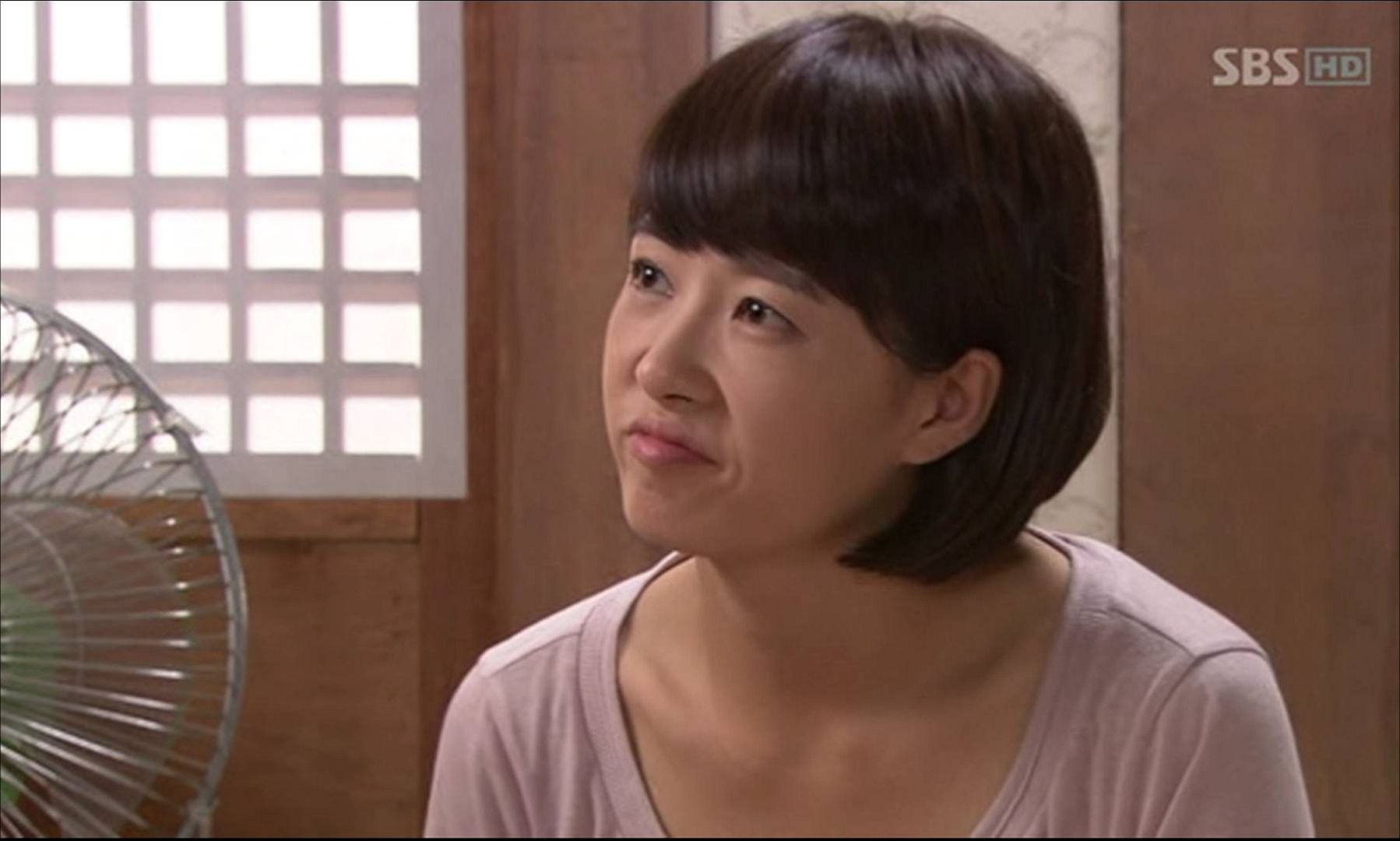 Mi Rae: Not to worry. I'm going to broadcast a city-wide announcement and line up all the guys who look like Hyun Bin, Jang Dong Gun, So Ji Sub. Have no worries, okay?
Hey moms, isn't a mayor for a daughter good enough for you???
Hey, I understand the cultural normalcy of such talk. But let's get real for a second: Mi Rae overcame unbelievable odds and won the highest municipal job in the entire city. And Mi Rae could have lived in the Mayor's residence, but instead stayed home, so that she could take care of her mom. And yet, Mi Rae's mom's only thought is, "you need to get married." Hasn't Mi Rae done enough? What is this obsession with getting your kids married, even to the point of not caring who the spouse is?
Anyhoo, Mi Rae is off to work but makes a quick detour to Jo Gook's house to drop off an ox bone, wishing him strength for his first day at the National Assembly. Jo Gook wanted a cute text, but gets a bone instead. Hehe! Hey, cute texts and coffee are for closers only!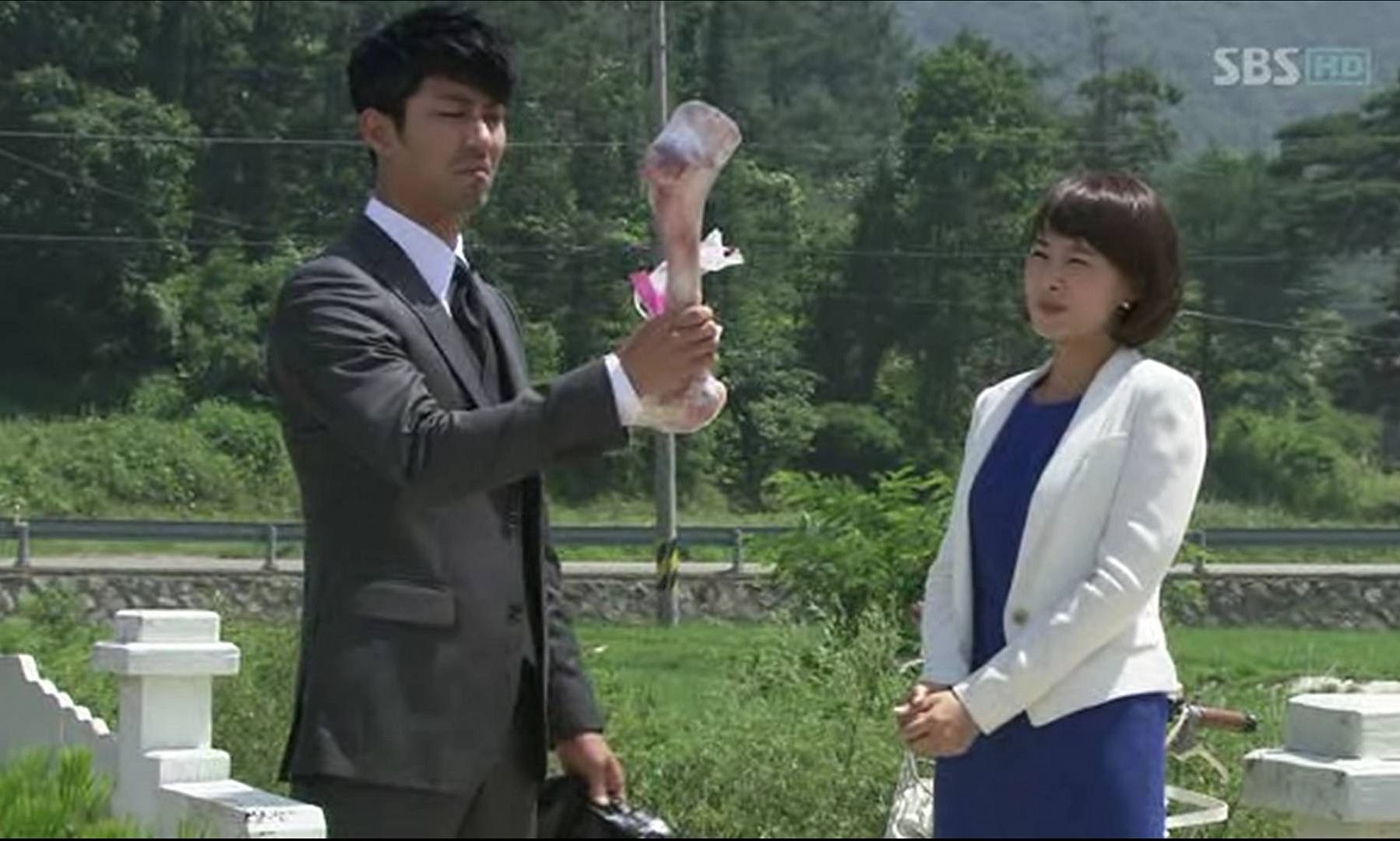 After a quick and cute repartee with Jo Gook, Mi Rae heads to City Hall and meets with her staff. Right as the meeting is ended, an unannounced visitor has arrived to meet with the Mayor. It is the beautiful and elegant Go Hae; might Mi Rae have time for a spot of tea? And now, the fateful meeting, the buildup of which has taken a dozen episodes, between these two women has finally arrived.
Go Hae starts off bearing extremely generous gifts for Inju City. She has understood that Mi Rae wishes to build a hospital in Inju City, and how would she like it if Go Hae brought the Dae Han Group conglomerate to build it? And, what's more, how would Mi Rae feel if Go Hae also got the Dae Han Group to put up the capital to build a factory in Inju City? Mi Rae hesitantly agrees that yes, that would be wonderful… but why Inju City?
Go Hae: If I may be frank, this isn't for you. Can I say, this is as a wife doing this for her husband National Assembly Member Jo Gook? So, really, there's no need for thanks.

Mi Rae (immediately understanding): I see, I guess that's all right then…

Go Hae: But you, you seem different than the last time I saw you… is it because you have fallen in love? You look so pretty, Miss Shin Mi Rae…
Oh my, a compliment. Warning! Warning! It's coming. Run away, Mi Rae! Nobody can protect you from what is probably coming next!
Go Hae:  …Is it fun to be with him? He's not really that much fun, is he?  Not romantic either. Do you meet with him often? Do you sleep with him and do things like that?
Go Hae has brought guns blazing to this fight.  Mi Rae has nothing to say.  It would appear that Go Hae has every right in the world to say these things to Mi Rae.  Mi Rae bows her head and excuses herself.  There's really no reason to stay and listen to Go Hae shred her dignity with her salon hardened nails.
Go Hae: SIT!  I have had to put up with much worse that this, and you cannot even last 30 minutes? That wouldn't be right…

Mi Rae (sits back down): …
Go Hae: That's right. Sit in front of me and listen, as this is my punishment for you.
Mi Rae: What sort of things do you want to hear? To be honest, I don't really have much to say. This is uncomfortable for me, and there are things here that seem very unfair. But… with sincerity, I am sorry.
Go Hae (incensed): "I'm sorry."??? Did we just bump into each other on the street? By accident, did you step on my foot? Don't you know that those are the circumstances when "I'm sorry" is said? Don't you dare think that you can set yourself free from guilt by giving such a flimsy apology like that!
Mi Rae then asks if Go Hae loves Jo Gook, but Go Hae brushes that away as well.
Go Hae: LOVE??! You act all good and noble, but in the end, the last card you pull is "love"?! Is Miss Shin Mi Rae's defense only going to be that person's heart? It looks like those who have nothing tend to use that hormone nonsense extravagantly, but I can do quite well without love. So go ahead and "love," the two of you. Go right ahead. I'm saying that I won't stop you… but tragic, isn't it, that a sentence never ends with a comma, does it? Shin Mi Rae is just a comma in Jo Gook's life, and not the period at the end.
Very, very harsh.  But from Go Hae's perspective, isn't everything that she said, the truth? Mi Rae merely swallows this bitter pill, as she must, and then leaves.  You play with someone else's credit card, sooner or later, you got to pay the bills that come due.  This isn't Mi Rae's fault, but Jo Gook's, for playing both sides. How should Mi Rae feel right now? As long as Jo Gook remains with Go Hae, that makes Mi Rae the cheap floozy on the side. Can she blame Go Hae for anything? From Go Hae's perspective:
1. Go Hae was first; Jo Gook is her man. How do you know? Well, the engagement ring should make things clear.
2. Jo Gook has said to Go Hae privately that he will not dump her, but will wait until Go Hae dumps him. That means they are still together as long as Go Hae is willing.
3. Go Hae and Jo Gook had an arrangment already, built on trust, and Jo Gook breaks it just because he falls in love? What does love have to do with their arrangement?!
4. And who does Mi Rae think she is, KNOWING that Jo Gook is engaged, and STILL acting as if Jo Gook is going out with her?
Meanwhile, the sole cause of Mi Rae's bitter pain is making his first appearance at the National Assembly.  Jo Gook joins up with his new party and then elects the Agriculture and Labor Committee to join.  After his introductions to fellow party members, he quickly makes an about-face and returns to Inju City, to see his girlfriend.  What a life it must be for Jo Gook – he's a rising political star / National Assembly member. He has a billionaire betrothed. He has plenty of money. Everybody likes him. And he has his girlfriend to have fun with, when he's home. Mi Rae, though, is not too happy to see him, avoiding him at the charity luncheon and not reflective of Jo Gook's warmth.
An ignorant and very blissful Jo Gook is wearing his couples sneakers, but Mi Rae barely notices. After all, would a "comma" care whether she is treated well or not? Mi Rae breaks it down with a single question: what is Jo Gook planning on doing with Go Hae and herself? Is he waiting to see which one of them grows tired first and falls away?
Jo Gook replies by saying that he needs time so that he can let Go Hae protect her pride. Can't Mi Rae understand that? Does he have to dump Go Hae so cold-heartedly in order to prove his sincerity to Mi Rae? Hmm. Actually, Jo Gook's response is a very good one. I had to pause to think about it. After all of the criticism that I've leveled toward Jo Gook, I have to say, that's an angle that I didn't really consider.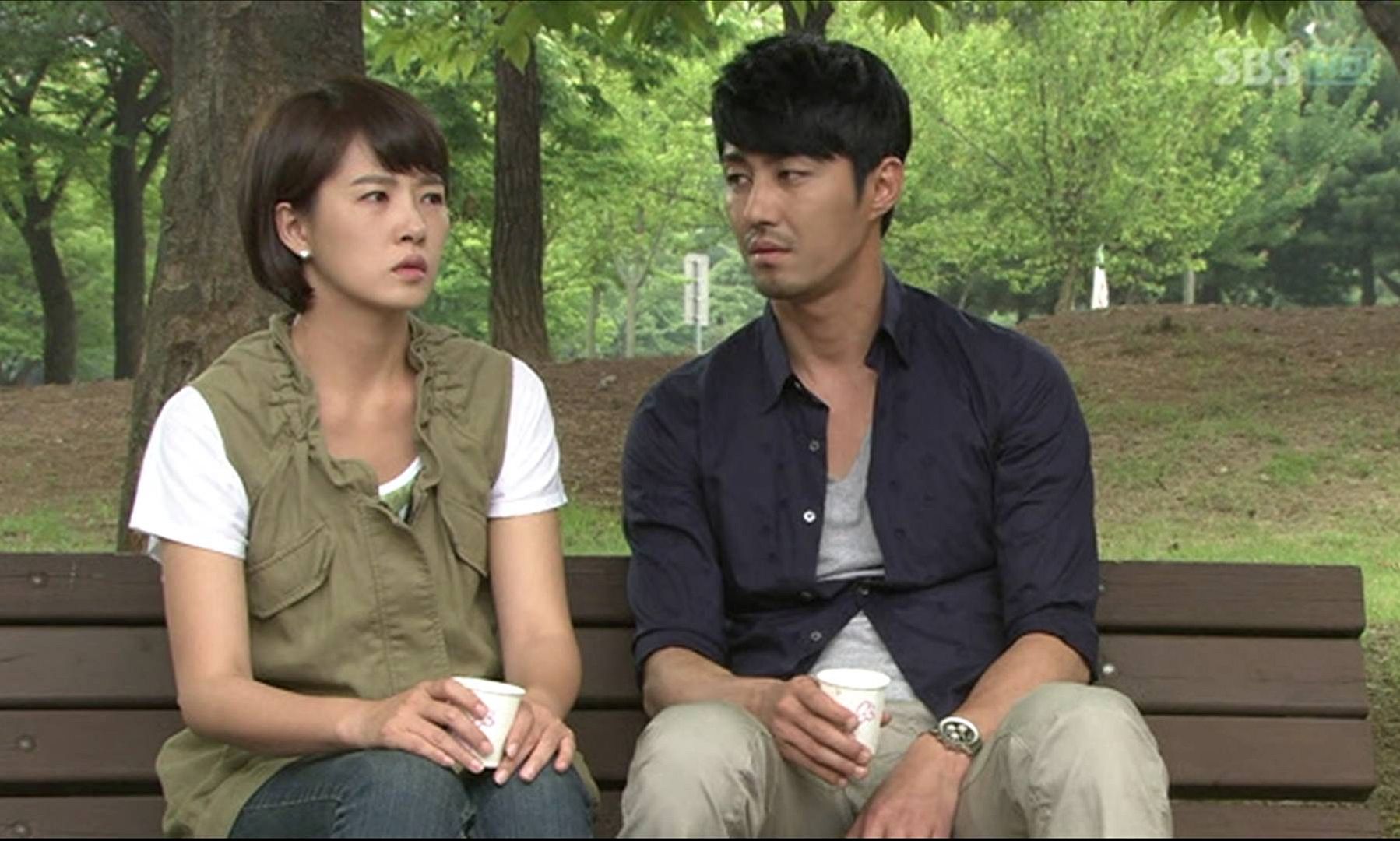 I'm honestly a little bit confused now as to whether that's a good enough reason. I get it. Jo Gook is trying to be a stand-up kind of guy, giving Go Hae the time and space to formulate an exit strategy. But shouldn't that be something that he works out with Mi Rae first, so that she is not blindsided by Go Hae? Jo Gook, you gotta be more considerate of the person you presume to love… Mi Rae's face says that she is not entirely convinced of Jo Gook's plan of action either.
Meanwhile, Joo Hwa's anger at being slapped has not cooled, and she decides to take Go Hae up on her offer to become a stooge for BB.  Joo Hwa rounds up Mi Rae's supposed friends, and with bribes and implied threats, gets them to sign affidavits accusing Mi Rae of election fraud and bribery. If she is going to be slapped around by Jung Do for getting Mi Rae arrested, then, at the very least, Joo Hwa should experience the antecedent reward.
A triumphant and almost crazy-looking Joo Hwa then lets Jo Gook know of the impending arrest, giving him one last opportunity to get back with Go Hae. Joo Hwa looks like she really has gone off the deep-end, and Jo Gook's reaction is stunning – unlike the amateur doraji charge, this is beyond serious – it is potentially fatal to Mi Rae's mayorship.
Absolutely furious, Jo Gook meets with Go Hae. Go Hae notes that in actuality, all of this really is Jo Gook's fault, and none of it is Mi Rae's. Who was the one who shook a country bumpkin's heart and put her into the mayoral chair where she didn't belong? Who was the one who made her think she was somebody in the first place? If Mi Rae gets hurt, it's really all Jo Gook's fault. Jo Gook responds that his only reason for not dumping her sooner was so that she could protect her pride. Go Hae smiles and says no need for that, as she has her own ways of protecting her pride. Jo Gook's lack of foresight here is an absolutely stunning miscalculation of Go Hae's resourcefulness and tenacity.  Btw, this is what happens when you gamble your life.  You have to be right 100% of the time. If you screw up, even once, this is what could happen.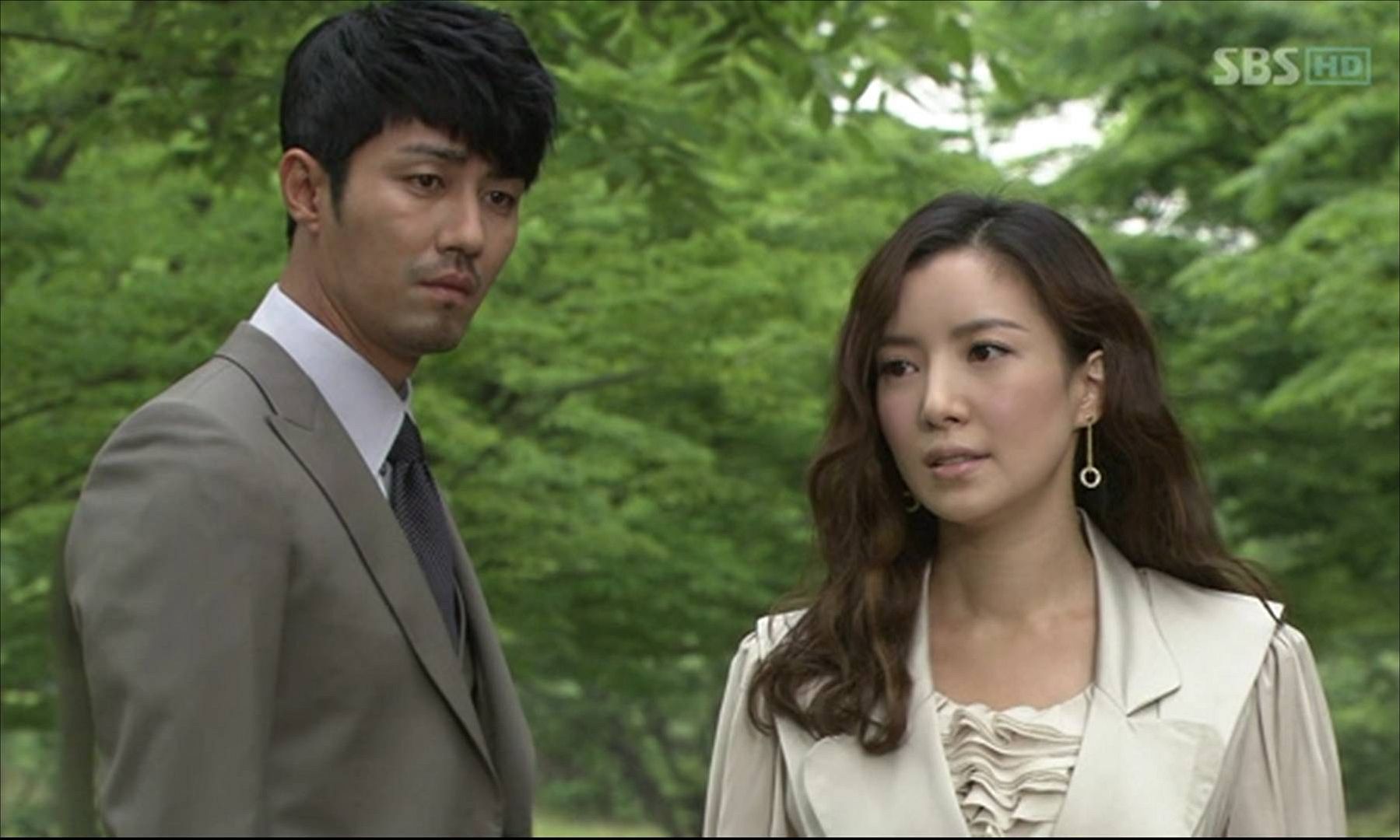 Realizing the chain of events to follow, Jo Gook races to the police station, as Mi Rae has been arrested and subjected to closed interrogation. And not even lawyers can approach to help Mi Rae at this point, leaving Mi Rae all alone. Mi Rae is subjected to hours and hours of repeated questioning and accusations, with signed affidavits by her supposed friends claiming that she is a corrupt person. Hour after hour, as detectives rotate in to try to break her, Mi Rae is subjected to the same accusations.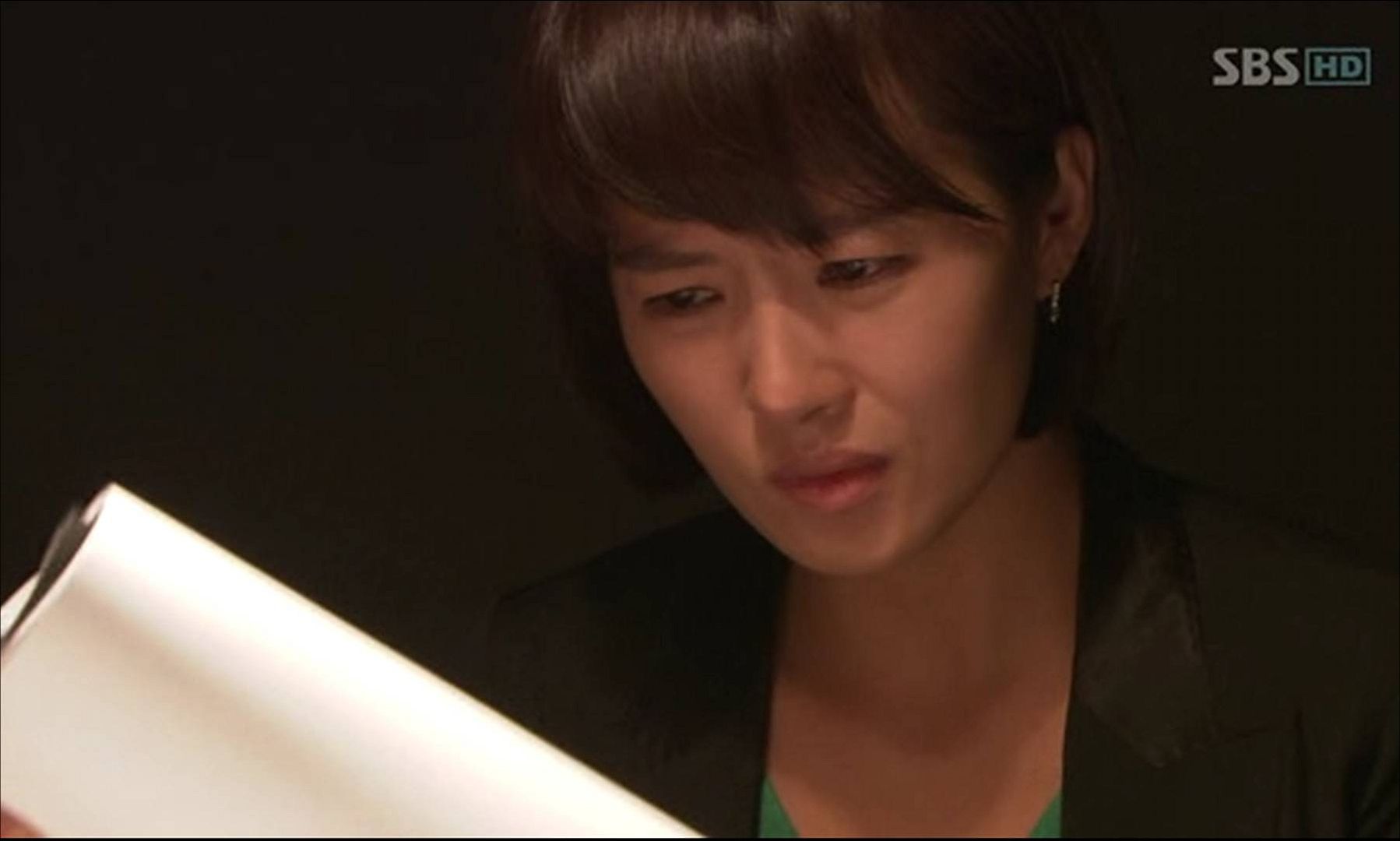 And all Mi Rae can do is cry out that she has done nothing wrong, as she stares at papers that tell her that even the very people for whom she has worked so hard, for whom she has received terrible beatings and vicious calumny, conspiracies and threats, for whom she sold out her own heart's fondest desire for love, that those very same people, had betrayed her. And all Jo Gook can do is wait helplessly outside, knowing exactly the kind of interrogation techniques and accusations the interrogators must be using on Mi Rae, trying to get her to confess to lies. And all of Go Hae's words were true, weren't they? Jo Gook, the brilliant rising politician, had a job to do down in Inju City and failed miserably, managing only to get a simple girl all confused with thoughts of love.
And now, precisely because of all the short-sighted things that Jo Gook did out of spite for his father, and due to childish romantic feelings toward this simple girl, that blameless girl was being punished. Her mayorship would be finished, her dreams for Inju City would be toast, her reputation would be that of a pariah, and she would have nothing.  After all the struggles that Mi Rae has gone through, she would be left with nothing.  And she would be correct in blaming Jo Gook for all of it.
Jo Gook is a beaten man. He know it. He calls Go Hae to tell her that she has won. Go Hae is magnanimous in victory, and tells him not to worry about Mi Rae. Jo Gook must go back to BB, however. Jo Gook has no choice but to agree. How will he have the heart to tell Mi Rae?
In the morning, Mi Rae is let out of the police station in daze. She is met by Boo Mi and Jung Do. Boo Mi is beyond upset, not willing to believe that Mi Rae's own friends could have betrayed her like that. Jo Gook is there as well, but strangely perhaps, he does not greet Mi Rae, does not even try to comfort her. He merely watches from a distance; it isn't time to break the news to Mi Rae.
Back at City Hall, an emotionally and physically exhausted Mi Rae sinks to the floor of her office. Is this what being Mayor is all about? Is this why she worked so hard, giving everything that she had as a person, just so that people will use her as a target for their political games? As she begins to realize how much of herself she has given, only to end up with nothing, Mi Rae begins to cry uncontrollably. It is more than a little ironic that it was on that very same spot that the previous corrupt mayor had cried as well, the night before he resigned for corruption.
On her way home, after this most terrible day of days, Mi Rae finds a visitor waiting for her in the darkness. It is Jo Gook. Is this the proper moment to tell her who was behind this, what they can do to beat BB / Go Hae / Joo Hwa, together?
Even if everyone else has betrayed her, at least he might be able to help her, comfort her and give her guidance. Mi Rae wants to fight. She wants to sue the people responsible, and she will not stop until she has repaid the evil-doers with 10 times the pain she has received. Jo Gook's reply is cold, however.
Jo Gook: Why do I have to help you? …It seems like you are always standing in my path, blocking my future. You were right. We cannot be on the same side.
Mi Rae: Right now… what are you…
Jo Gook: I'm sorry, but I am returning to my own proper place now.
Mi Rae: Assembly Member Jo…
Jo Gook (with suddenly caring eyes): But don't lose to me. Don't ever lose to me.
And with those last cryptic words, Jo Gook leaves Mi Rae absolutely stunned and beyond confused. Jo Gook is dumping her?!
A panicked Mi Rae runs after Jo Gook, not understanding why he is dumping her or what he means by "don't ever lose to me." She runs after Jo Gook, pleading for him to stop the car. Jo Gook does not stop.
Mi Rae (screaming desperately): Please wait a minute!
Just give me a second!
Just wait one second!
Just wait one second!
Just wait one second!
Just wait one second!
Just wait one second!
Just wait one second!
Just wait one second!
Just wait one second!
Just wait one second!
This is one of the saddest scenes I think I have ever seen. Every single scream out of Mi Rae's mouth causes tears to come unbidden. What did Mi Rae do to deserve this treatment from Jo Gook? Mi Rae has now been betrayed by her friends and now apparently by the one that she loves with all her heart. Yet Mi Rae still does not give up. She continues to run after Jo Gook, long after itis apparent that Jo Gook will not stop his car. Why is she running? What is it about Mi Rae that makes it so that she will not give up without fighting?
And then, in the ultimate scene, a beaten Jo Gook has appeared before BB.  As BB looks impassively looks on, Jo Gook lowers himself to the ground, on both knees.
As his knees the touch the carpeted floor, I think a part of me wanted him to get up and give a Jung Do slap to BB, first for abandoning him and his mom, and second for intentionally hurting the person that he loves. But Jo Gook can't do that. He can't do anything except stop the bleeding. It is time to give up.
Jo Gook: I… admit defeat. I beg you not to touch that person any more. That person, she has many dreams, and for her dreams to come true, I beg you, please, leave her alone from now on.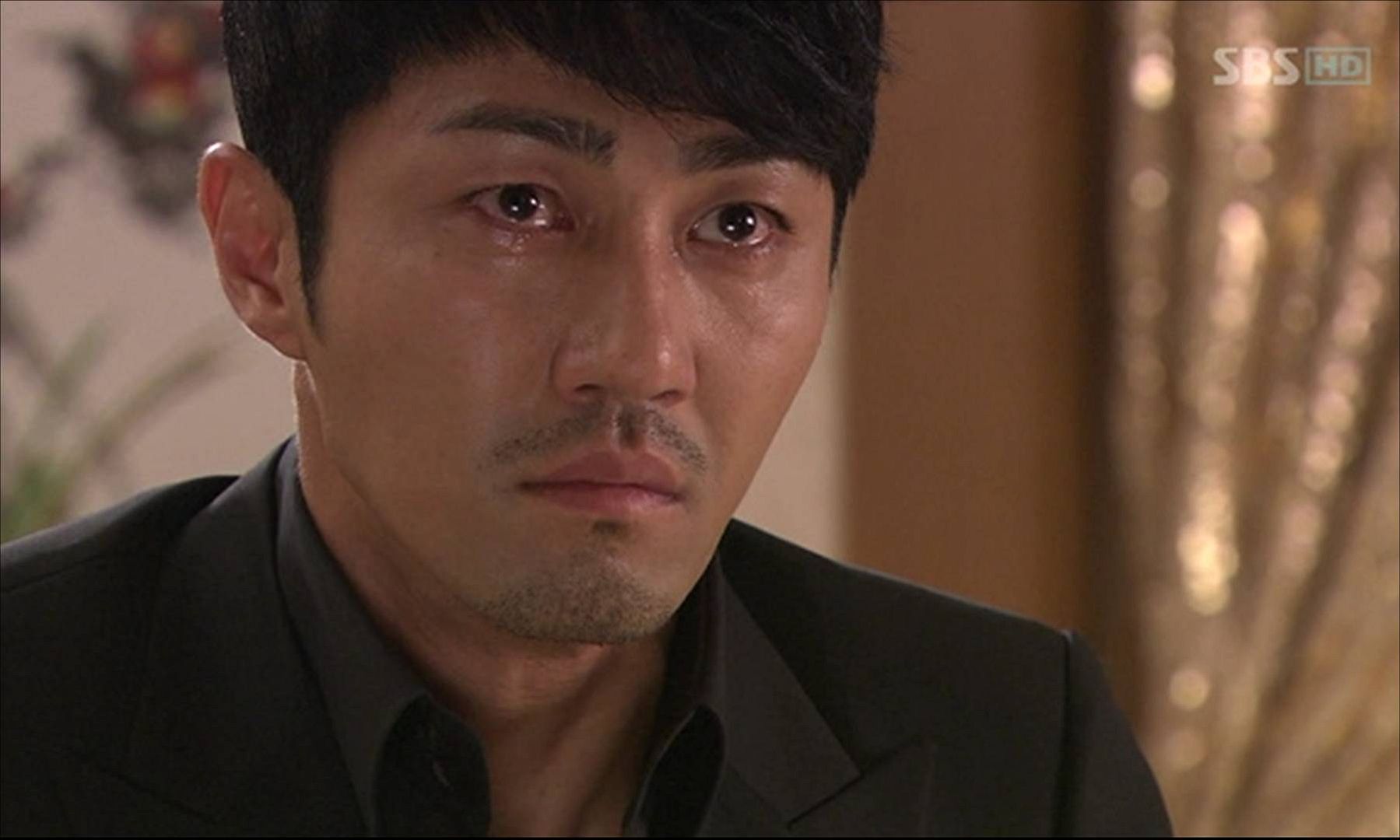 Comments –
One word: wow.
The scene to watch for in this Episode: the park bench scene at the end.
I was actually part of the fan-subbing team that did this drama, and as luck would have it, the responsibility of translating this particular episode fell upon me. And the hardest part of translating this episode weren't the difficult words, but typing out each "just wait a second!" that Mi Rae screamed out to Jo Gook. (And to think, I had requested a "happy" episode to translate…)
I mean, it's a drama, right? So it's fictional. But there's something about City Hall, and Kim Sun Ah as Shin Mi Rae, that just makes me forget that it isn't real; this scene is so heart-breaking as you can literally feel what Mi Rae is feeling, and you can understand why Jo Gook is doing what he is doing (to a certain extent, anyway – honestly, I disagree with his whole approach). Mi Rae is the kind of person who will not stop fighting, she will not back down from injustice or unfairness. Every single time she is beaten down, something inside of her forces her to get back up and get stronger.
Mi Rae, consider this as Jo Gook's last lesson. You are stronger than you know, you are strong enough now to beat everyone and anyone, including the quadruple team of Jo Gook / BB / Go Hae / Joo Hwa, even if they are all aligned against you. Don't ever give up, and don't ever lose to Jo Gook!
On To Episode 18!
RELATED POSTS
Tags: Cha Seung-won, City Hall, Kim Sun-ah