City Hall: Episode 18
(written by samsooki, with 0timelost and cleown)
Episode 18 – "It's not your fault I am leaving."
What does it take to break Shin Mi Rae? What her enemies just don't understand is that Shin Mi Rae is actually two separate people: the protector and the woman. To break Shin Mi Rae, you cannot just put up a political filibuster or trump up false charges like what Joo Hwa has done. And you cannot just wave an engagement ring in her face like what Go Hae has done. To break her, you have to break both the protector and the woman. Jo Gook, sacrificing his own hope for happiness and love, has purposely only broken the woman in Shin Mi Rae but has left the protector alone – what he knows better than anyone else is that Mi Rae the Protector will now grow even stronger. And Jo Gook knows that Mi Rae will need every single ounce of strength to fight what is coming. This is a time for war, and what Inju City desperately needs is their Wonder Woman.
With Jo Gook on his knees before him, BB is stone-cold. Does he even care that this is his own son who is on his knees? BB is all about business. Jo Gook, you will be the mole for BB within the ruling party. Agreed. And you will stay away from Inju City. Yes. And you will marry Go Hae. After a pause and a swallow, yes. At least BB is consistent. BB has taught Jo Gook from Day 1 that to reach the top, one must step over and on top of others, starting with those closest around. Is it any surprise that BB stole any chance of happiness away from Jo Gook and Jo Gook's mother?
Miles away, Mi Rae is back in her bedroom that she has had since she was a little girl. Her hands clasped together, Mi Rae cannot help but wonder why things went so terribly wrong. How can a man who professed so much love for her, suddenly dump her like trash? Didn't they buy couple sneakers together? Didn't Jo Gook say that the only reason he hadn't yet let go of Go Hae was because he wanted to give Go Hae's pride a chance to heal? Why didn't Mi Rae get the same kind of respect? Is it because she isn't as pretty, doesn't have the same money or family background? No! Don't think like that! Things will be okay, just wait until morning. Things will be okay…
But morning comes with confirmation of the worst kind. On the bench outside her home, an envelope was left during the night. The envelope contains the body contract that Jo Gook had Mi Rae sign, which gave him rights over her body. Just as Mi Rae had returned Jo Gook's jacket when she had broken things with him, now it is Jo Gook's turn. The return of the contract can only mean that Jo Gook is now through with Mi Rae. As Mi Rae now reads the contract one last time, we can see that the contract really amounted to a love letter, with Jo Gook wishing that she would only hold hands with him, only stay near him, only look at him, use her lips for food, speaking and that's it (with other guys). Mi Rae smiles as she remembers how special their relationship once was.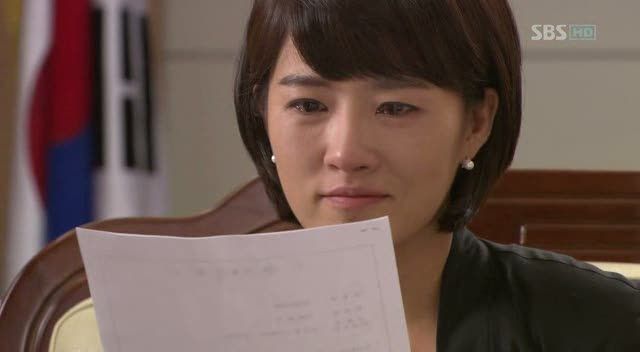 And finally, we also see what it was like for Jo Gook to write this love letter, chuckling to his heart's content. Jo Gook probably had never been happier in his entire life, than he was at that moment, writing a silly contract and laughing his heart out like a love-struck fool. It is the dumbest love letter ever written, but for Mi Rae, it is also the sweetest.
And as Mi Rae smiles, the pain in her heart starts to swell again. The hurt feeling radiates almost exactly from the center of her chest outward and upward, and Mi Rae clutches at her mouth as she gasps in pain, even reaching for a pillow to try to block the cries from escaping. Still, it is just as well that she cries here. Her time of grieving as a woman is almost over. From here on out, Mi Rae the Mayor must not be defeated by Jo Gook or by BB. The woman in her might be pining away, but the protector in her is stronger by far.
And at that very moment, Jo Gook is also hurting. But for him, pain is a good thing, as it lets him know how much he cares for Mi Rae, reminding him of why he sacrificed his love. And so he listens to Mi Rae's sobs left on his voice-mail, over and over again. Because, even if Jo Gook believes that he did the right thing, the devastation over the breakup was still too much for Mi Rae to bear. For that, Jo Gook deserves all the pain he can bring upon himself. And so he replays the message again.
But even as the two lovers are hurting apart, both have jobs to do. Mi Rae continues her duties as Mayor, rousing the old folk with encouragement for exercise. And Jo Gook continues his meteoric rise with a sparkling political speech on how the politics of old have shut out the common folk in Korea. It is almost ironic that Jo Gook's path toward political stardom has been paved entirely by the bricks laid by Mi Rae's principle of helping those who need help.
That afternoon, through some trickeration by Soo-In, Mi Rae manages to finally meet up with Jo Gook. Jo Gook does not look happy to see her, however – I think he wanted to avoid seeing her until he could make things better. With nothing resolved yet, Jo Gook must continue to play the part of the jerk. Jo Gook invites Mi Rae to lunch, presumably to give answers.
At a very fancy restaurant, Mi Rae stares at Jo Gook with disbelief, as Jo Gook carefully tends to the wine-list rather than tell her what's going on. Doesn't he know that she has been dying inside? But when Jo Gook does speak, he is immediately rude and brusque.
Jo Gook: What are you so choked up about? …I have already booted you, Shin Mi Rae. I had all the fun that I wanted, and now you are no longer any fun.

Mi Rae: Why are you like this, really?
Jo Gook: Didn't you say that you've broken up with men before? Didn't you say you wept and carried on afterwords under a bridge? Well, you can do that again this time around. Which bridge were you talking about? Do you want me to bring you there?

Mi Rae: …

Jo Gook: I didn't really intend to say this, but… my leaving, it's not your fault.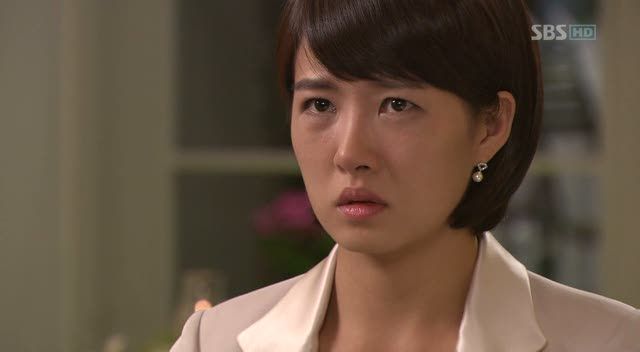 Dude, that's not right. I KNEW you were going to say that as soon as I saw you acting all rude, but that was the ONE thing that Mi Rae asked you never to say. It was her one wish, that even if the two of you were never to become a couple, that you would not treat her like trash and say those words. You could have said anything, you could have said nothing, but YOU DO NOT HAVE THE RIGHT to say those words to her. You haven't earned the right, not even with your groveling before BB.
Mi Rae cannot bear any more. She gets up and leaves. Jo Gook, knowing he crossed the line, runs after her. Mi Rae whirls around and says something actually really interesting.
Mi Rae: You want me to just forget you? You want me to just eat well and live well from now on? Don't even dream of that happening.

Mi Rae: I'm not letting go of you. Until I breathe my last breath, I'm not sending you out of my heart. You can go if you wish. But even after you leave me, no matter where you go, no matter where you live or who you are with, you will always have two homes.

Mi Rae (pounding her chest): Because in here. Inside my heart here… you have a room. In this room, you and I will grow old together. And I will never let you go. Just thought you should know.
That's a really surprising reply from Mi Rae, but on second reflection, I think it also makes sense. Mi Rae believes that Jo Gook is acting like a third-class jerk so that Mi Rae will hate him, allowing Jo Gook a clean conscience to go back to Go Hae and her money. But Mi Rae will not trash her memories of the Jo Gook that she cherishes, just so that Jo Gook can move on with his life in a free and easy manner. Mi Rae has learned to value herself more than that!
So the question is, really, why did Jo Gook choose this method of trying to make Mi Rae self-sufficient? Weren't there easier ways? Personally, I think that Jo Gook acted like that because he really believed that he would never get back together with Mi Rae, and he wanted to give her the gift of freedom, and not imprison her heart forever (which would prevent her from ever finding love again). It is ironic then that Mi Rae's response is contrary to that hope. Perhaps Jo Gook should have realized that since everything that he has learned about treating women he learned from BB, he should have just done the opposite of what his instinct tells him to do…
In a wonderful scene that follows, Jo Gook is standing in his yard, contemplating what just happened, when his own mom comes out and tries to shoo him away. This is her time and her place to be forlorn, and not Jo Gook's. Jo Gook mentions that BB asked about her, but Jo Gook's mom reply is bitter and sharp:
Jo Gook's mom: You should tell him that I died. Next time he asks, just tell him that I died. It is true enough, anyway. I am here, living my life like a walking corpse and in the end, meeting real death.

Jo Gook: Do you hate him, even now?

Jo Gook's mom: I hate him. Do you think it is easy for a talkative woman like me to go through life with my mouth shut? But as for right now, I hate you even more. You spent 10 months inside of me, but how come you are more like him?
What Jo Gook is seeing in his mother is the result of a life spent hating someone. Jo Gook's mother never had room in her heart for anyone else, because all she kept inside was just her hate for BB. Incidentally, this is what would have happened to Mi Rae, had she been the same kind of person. Thank goodness that Mi Rae is no ordinary person, and refused to play along with Jo Gook's plans, stating that she would only carry her love and her cherished memories of Jo Gook inside of her. And now perhaps we see why Jo Gook is like this. His only guide has been BB, and we can see how important it is for a father to teach his son how to treat people the right way. Who knows whether BB and Jo Gook's mom were once like Jo Gook and Mi Rae, until BB pulled the same stunt…
Moving on, Mi Rae and Jung Do set up their meet and greet with the Dae Han Group and the beautiful and elegant Go Hae.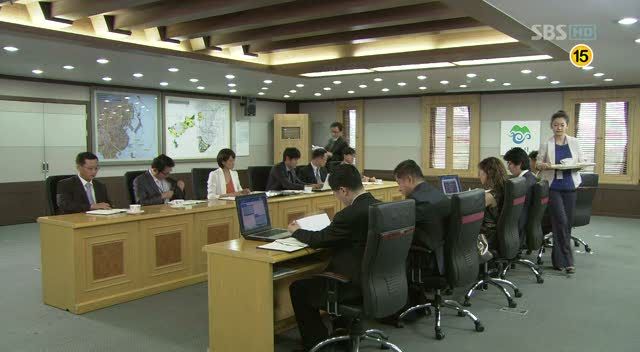 Really quickly, here's what's going on. In order for a project of this magnitude to be accomplished, there are many hurdles to pass. First, a MOU (memorandum of understanding – a contract) must be agreed upon between the Dae Han Group and Inju City (via the City Council). Second, the land that is owned by the municipality must be sold to the Dae Han Group and chartered for industrial use. Third, the Mayor must sign off on the plant building as executive authority to decide how the land is used.
Mi Rae ends the meeting and asks to speak privately with Go Hae, for reasons not quite clear. But the beautiful and elegant Go Hae uses this particular time to gloat:
Go Hae: Oh, and I'm not sure whether I should bring this up… but I hear some rather tragic news. And so I gave that man a stern piece of my mind, I did… I am truly sorry. I thought it would last longer… I didn't think that the comma would come so early in the sentence.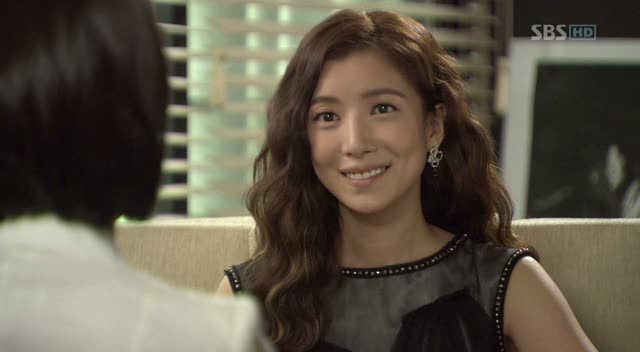 Heh. I'm not going to comment on Go Hae. I know a lot of City Hallers have… strong feelings about her, but I've come this far defending the beautiful and elegant Go Hae, and I'm not stopping now. But Mi Rae has the best lines of the drama, as far as I am concerned in her reply:
Mi Rae: How much do you know about him? …to him, I am neither a period nor a comma. I am his parenthesis. That person's hidden meaning, is me. The person that you know is much different than the one that I know. When we are together, we are happy. And he has such a romantic side to him. But even so, you won't be giving up your help to him, because of childish jealousy, will you?
Wow, nice! Gotta love these little chats between adults. What separates City Hall from so many other k-dramas is that the feelings might be the same, but the responses to those feelings are different when you deal with people mature enough to handle those feelings.
And following up with that nice little chat, Go Hae meets up with Jo Gook at the jewelry store. It is wedding bling – buying time, but Jo Gook's mind is clearly elsewhere. Go Hae realizes that she already has lost her man, and while it did not bother her before, it is bothering her now as it is clear that Mi Rae is right. Go Hae's gnawing discomfort at having the body but not the man clearly shows on her face; Go Hae might be an ice queen, but even an ice queen is still a woman.
Jo Gook skips out on Go Hae, telling her that he has a meeting to attend. Jo Gook heads back to Inju City but rather than meet with anyone, he goes to his favorite eating spot in the whole wide world. Not because the porridge is that special, but because there is a picture of a smiling woman whom he loves. The close-ups of Jo Gook's face, alternating between smiling and nearly choking and crying in his porridge is so moving, so awesome. There's not much more to this entire drama than this one scene. If you had to show one scene to someone who hasn't seen this drama before, I'd probably show this one. There's no dialogue, just him eating, but really, that's enough.
Also, I love how the people that run the porridge shop are there in the back, silently watching and empathizing with Jo Gook from a respectful distance.
The MOU between Dae Han Group and Inju City Council has been signed, and the next step is the selling of the land. For that, the residents who own interests in the land need to hear the details. And Jo Gook has created quite a stir, and has insisted on taking the credit for the whole deal. This is where it is a little complicated. Secretly, Jo Gook wants this project to fail and he will work to ensure that it does fail. He wants it to fail because (1) he knows its bad for Inju City, and (2) because he wants Mi Rae to win. So, by taking full credit for this, he is actually trying to shield Mi Rae from the political fallout, after his behind the scenes machinations to get this project deep-sixed are hopefully realized.
But Mi Rae doesn't see this, and only sees how Jo Gook is crowing over this deal and pushing Mi Rae to agree. And given everything that Mi Rae has learned about Jo Gook and his shady operation in getting her elected, Mi Rae isn't about to trust that Jo Gook has the best interests of Inju City at heart. She cancels the resident's meeting, but Jo Gook un-cancels it and proceeds. As the meeting is ending, Mi Rae arrives to find Jo Gook and Go Hae leaving. His eyes squarely on Mi Rae, Jo Gook grabs Go Hae and brings her in tight, leading her to his car and opening the car door for her.
A furious Mi Rae then drops a bombshell. She will not sign the MOU without further research and study. She will not let this project get any further than it is now. Jo Gook is absolutely stunned. This is NOT how he had planned things to go.
No no no! This is 100% backwards now. And Jo Gook's nightmare is coming true. It is Jo Gook who has the ability and the plans to blow things up. Jo Gook knows that if Mi Rae does not sign, then she will be in a world of hurt, and everything that Jo Gook has done to prevent that from happening will have been for nothing. This time, if Mi Rae fights back against BB, she will get crushed and this time, no amount of groveling at BB's feet by Jo Gook will not be able to stop it.
Mi Rae MUST sign the MOU! It is the only way for Jo Gook to protect her.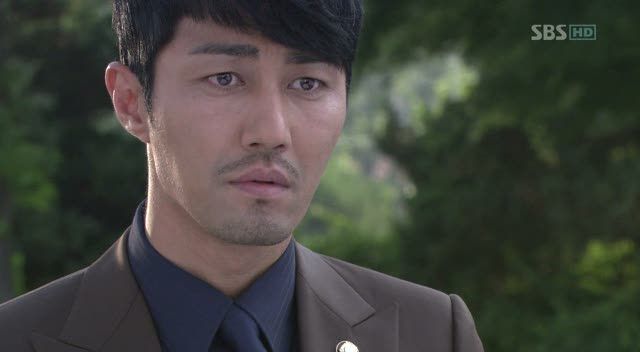 And so Jo Gook sets up the MOU signing ceremony and then goads Mi Rae to attend, threatening an incensed Mi Rae with more interrogations and mud-slinging and the destruction of her career. Mi Rae is literally dragged to the ceremony where the beautiful and elegant Go Hae awaits her contract to be signed. Go Hae signs her name beautifully and elegantly, and then looks to Mi Rae, who picks up her silver fountain pen.
Mi Rae knows what is at stake, but even if she is put back through the ringer again, even if she loses everything, she cannot let her people get hurt if she can help it. She puts down the pen and rises.
Mi Rae: I am sorry, but today's MOU signing will be postponed. I will initiate a review of The Dae Han Group proposal.
With those fateful words, there is bedlam at the ceremony, and Mi Rae has likely sealed her fate.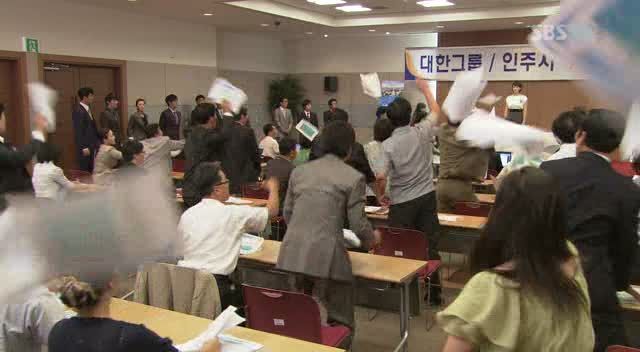 Jo Gook's sacrifice, when he groveled for Mi Rae's safety before BB, is now likely all for nothing, and by the look on Mi Rae's face, there is little more than pure rage towards Jo Gook. Everything that Mi Rae has, she has now put on the line. All of her dreams for being Mayor, all of the hopes and dreams of the thousands of men, women and children who voted for her, who put their trust in her to protect them. All of her political capital and reputation. Her very future as mayor and even as a citizen, everything, now is being threatened by Jo Gook / Go Hae / BB / Joo Hwa. But even so, she would rather die than see her city get hurt.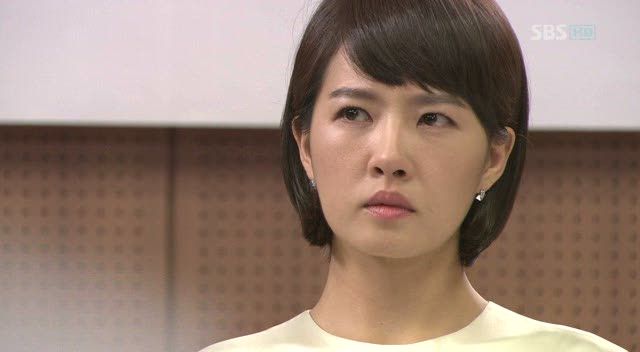 And poor Jo Gook, he has underestimated the strength of Mayor Shin Mi Rae, once again. And this time, it looks like he has also lost everything. Not only has he fallen back with BB and Go Hae, but he has very likely lost the love of his life. Why is it that everyone always underestimates Mi Rae? Can't you just have faith in her, just once? And what is most tragic is that Jo Gook, who tried so desperately to leave Mi Rae the Protector alone, choosing to only break Mi Rae the woman, is now going to watch helplessly as Mi Rae the Protector is about to get smashed.
Comments –
The acting just keeps getting better and better!!
I voted for City Hall as my 2009 drama of the year because of scenes like the one in the restaurant, where Mi Rae hears the words that she begged Jo Gook never to say to her. Acting can certainly be a tough business, as some roles require the actor / actress to stop "acting" and start living the character. As in My Name is Kim Sam Soon, where Kim Sunah literally couldn't watch the drama for months, even years afterwards (she said later it was too difficult for her to watch), here in City Hall, she lives her character authentically, and those emotions translate freely to the viewer.
I think that most experienced k-drama viewers have pretty good BS meters, having sat through and watched a ton of dramas where the tears never end, and the contrived situational sobbing is on command and less than real. I think that what makes this particular drama special is the level of authenticity that Kim Sunah brings to Shin Mi Rae, and there's no BS in her. What you see in KSA is what you get, and that is why Mi Rae is so real.
The scene to watch for in this Episode: Jo Gook, at the porridge shop.
Perhaps not to be outshone too much by Kim Sunah, Cha Seung Won brings his A-game to this scene.
The great javabeans herself said it in recent recap of hers, and I'm going to steal her thought and use it here – there's something about eating that lends itself to expression of feeling. I think it has to do with honesty. People might be used to lying when they talk, but very few people lie when they eat. And so their faces reveal so much more when they have food in their mouths. It is like a window into their soul, and Jo Gook's soul is wide open for viewing.
Even if he isn't as smart as he thinks he is, even if he is too ambitious for his own good, and even if he can be a real jerk when he wants to be, I think his heart ultimately is in the right place, and if Mi Rae ever finds out how much Jo Gook sacrificed in order to try to protect her, maybe she will forgive.
On To Episode 19! Two episodes left!
RELATED POSTS
Tags: Cha Seung-won, City Hall, Kim Sun-ah