City Hall: Episode 19
(written by samsooki, with 0timelost and cleown)
Episode 19 – Invictus: The End of Mayor Shin.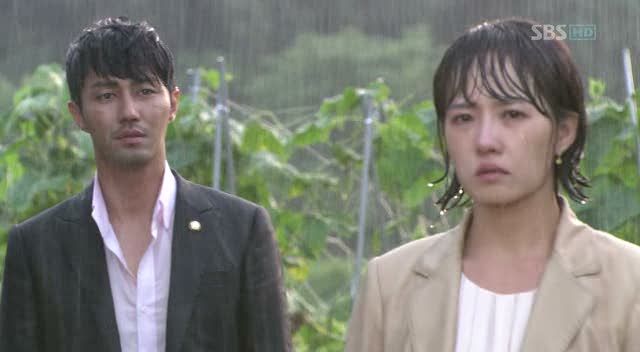 Mayor Shin Mi Rae, in a stunning move, refuses to sign the MOU (Memorandum of Understanding) contract or any authorization to begin selling the land to Dae Han Group. The landowners are beyond riled up, spitting mad at potentially losing their chance at becoming rich. Go Hae is furious, being made to look like a fool by a simpleton mayor, not to mention the hundreds of man-hours of work that went into this project already. And Jo Gook is crushed, seeing that all of his efforts to protect Mi Rae seem to have gone up in smoke. All Mi Rae has done is place herself in danger again, but this time, Jo Gook has nothing left to offer BB, to spare Mi Rae from being crushed like an ant.
Mi Rae has her face to face with Go Hae. Go Hae accuses Mi Rae of being a childish idiot, of being unable to read the documentation and refusing to sign out of spite. Mi Rae responds with an accusation of her own – there is no reason why Inju City should receive all of these gifts from Dae Han Group, what's the real reason?! Go Hae goes ballistic and repeats that it is because she wants to help Jo Gook! But Mi Rae has the last word: this project began before even Jo Gook came down to Inju City in the first place. In fact, it is because of this project that Jo Gook was forced to come to Inju City in the first place. How does Go Hae explain that? And with that, Mi Rae stalks off. She will not sign any authorization until she gets answers.
And with that, Go Hae is shaken… does she not know what is going on? Could it be that Go Hae is in the dark about what BB and Go Hae's dad have planned from the beginning?
People who have been in the dark are starting to see the light. Soo In is next. He barges into Jo Gook's office and demands an explanation. Jo Gook deflects the questioning, still playing the part of the jerk who merely got bored of Mi Rae, but Soo In's no idiot. He flips open a folder, and inside is a color photo of the poster hanging on the wall of the porridge shop in Inju City. Hehe. Smartie. That's why I like Soo In. He and Boo Mi should get married. Jo Gook relents. He tells Soo In that he hopes that Mayor Shin will not give in and sign the contract. But he also wishes that Mi Rae would sign, so as to not get hurt.
Jo Gook: I wanted Mayor Shin to fight until the very end, but I had hoped that Mi Rae would not fight at all, not get hurt, and just finish her two-year term without issues and escape this dirty cesspool of politics.
Soo In sighs, he figured as much, but confirmation doesn't make him any happier. Wishing for diametrically opposed outcomes makes for 100% chance of disappointment, and in this case, Mi Rae the Protector is indeed fighting to the end, while Mi Rae has gotten a world of hurt thrown into her face. The problem is that Mi Rae the Protector is now staring down the twin barrels of BB and Dae Han Group, a lethal combination of political power and unlimited money. Does Jo Gook actually think that with whatever plan that he has cooking up, that Mi Rae the Protector would be able to hold out long enough for his plan to work?
On a warm summer night, on the park bench where Jo Gook left Mi Rae, perhaps for good, both find their way to revisit cherished memories. At different times during the night, both reach out to touch the spot where the other had sat, and both listen to the other's voice through saved voicemails.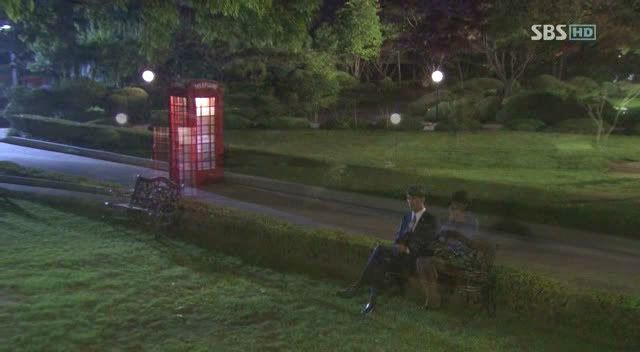 It is the best that the can do, separated by time, space and by choice. For Jo Gook, this is as close as he can get to the one he loves, while for Mi Rae, this is her way of keeping alive the memory of the love that she had.
Mi Rae, Boo Mi and Jung Do huddle, trying to determine what's missing. Of course, it is like looking for the oddly-shaped needle in a stack of needles, and they have no idea what they are looking for. Mi Rae checks her web-mail and indeed finds an odd email, written in English about the kind of toxic heavy metal slag that a Euro company wants to export to Inju City; thinking its 'unwholesome spam' (didn't I unsubscribe a while back?, she muses), she moves the email to her spam folder without trying to translate the email back into Korean…
In a stroke of perhaps 'k-drama plot device' kind of good luck, Jung Do mentions that it would be impossible to determine whether evil-doers are planning on exporting toxic waste to Inju City, because they would never say that they are actually going to export things like iron slag or copper sludge anyway. Mi Rae's ears perk up at those words, having read them before but not getting the context – she muses that maybe it wasn't a porn email after all. Jung Do is totally confused. LOL.
Mi Rae and Jung Do find the email and are elated, but inasmuch as it is a smoking gun, there is no proof of any wrongdoing. When Mi Rae declares to Go Hae that she wants to cancel the contract because of the dishonesty of the Dae Han Group, Go Hae flips out, and perhaps rightfully so. From Go Hae's perspective, this single email from an unknown foreign source means nothing, especially compared to what Dae Han Group means, not only to Inju City, but to all of Korea. Who is Mi Rae to level an accusation like this against Go Hae??!! This is a HUGE mistake on Mi Rae's part, as she really did jump the gun. Even if the email turns out to be real, her direct challenge and insult to Go Hae, now, cannot go unchallenged. The gap here is educational (not caste-based) between these women, and this gap cannot be overcome by good morals or by strong willpower. Mi Rae's simplistic understanding as to how things should work has really put her at a huge disadvantage.
Stinging from Go Hae's rebukes, Mi Rae has only one outlet to vent her frustrations: Jo Gook. She bursts into Jo Gook's office and accuses him of having planned everything (which is sort of true, but not really). Jo Gook plays it extremely cool (but why he plays it cool – I don't get it), which makes Mi Rae even angrier. And even with Mi Rae asking Jo Gook to stop, he continues to screw around.
Mi Rae finally responds:
Mi Rae: In this world, do you know what is so difficult that you might fail even if you die trying? It is the act of giving someone your heart. But do you know what is even more difficult to deal with than that? It is when you give someone your heart, and nothing is returned to you.

Jo Gook: …

Mi Rae: After you hoped and hoped that my heart would be torn to pieces, are you satisfied now, you son of a bitch!?
With that rebuke, Mi Rae leaves. Jo Gook has nothing to say. I'm not sure what to say either. I think that the reason he is acting like such a jerk is because (1) he believes that if Mi Rae still loves him, she will end up being hurt even more by those (i.e., Go Hae and BB) who want Mi Rae out of the picture, and (2) if Mi Rae's anger is raised, maybe she will work even harder to try to block the MOU. But if that's the case, then why did Jo Gook try to force Mi Rae to sign the MOU in the first place? I'm not sure if Jo Gook really knows what he is doing at this point.
In the scenes that follow, Jo Gook runs after Mi Rae, and tries to give her an umbrella for the rain. Mi Rae tosses it away, and then Jo Gook grabs her wrist and drags her to a gazebo to wait out the rain.
Mi Rae screams for Jo Gook just to let her go, but Jo Gook will not do so. Mi Rae collapses from the emotional and physical strain, just begging Jo Gook to stop hurting her. But what can Jo Gook at this point? With Mi Rae sobbing at his feet, the best that Jo Gook can do is just remain standing.
A taxi passes by and Jo Gook flags it, dragging Mi Rae inside. In the back of the taxi, Jo Gook releases the grip on Mi Rae's wrist. Jo Gook looks down and realizes that he had been holding on so tight that her wrist is raw and bruised. And then it happens – Jo Gook's hand closest to Mi Rae's bruised hand creeps up and Jo Gook's pinkie finger reaches out and touches Mi Rae.
Mi Rae recognizes his touch as an apology. Mi Rae bursts into tears again, her heart almost failing. What is it about Jo Gook that even a single touch can melt the strongest person in Inju City? What's awesome here is that Mi Rae does not pull away her hand. She still loves Jo Gook!
And this is confirmed when, at Mi Rae's house, Jo Gook asks for a towel to dry off. Entering Mi Rae's room, he sees a poster of him with the crystal baendaengi pendant on the poster's jacket lapel.
Mi Rae enters and she asks him to leave after he has changed, turning her back so that he can change in peace. She remains where she is standing though, curiously. Jo Gook's hand reaches out to touch Mi Rae, to grab her and hug her, but it is too soon. He withdraws and leaves without changing. Mi Rae turns around and he is gone.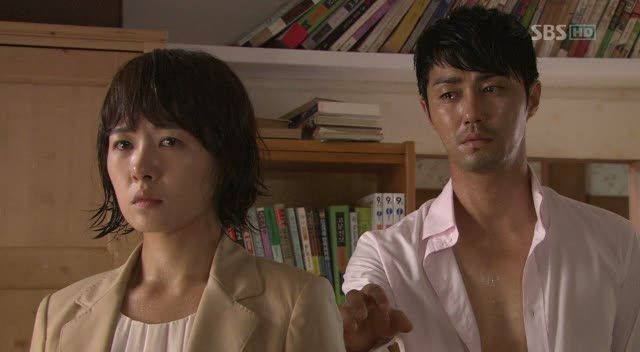 But not quite gone, however. Soo In meets up with Mi Rae the next day and shows a list of email recipients that received the same email from Jo Gook, who had been writing these companies in an effort to produce the kind of evidence that Mi Rae would need to stop the power plant project. As Mi Rae reads the list of recipients, she sees the one that send her a reply – she realizes it was Jo Gook who was helping her all along.
And at that moment, Jo Gook is continuing to play the double-agent game. Tasked with writing an environmental statutory supplement by BB so that Korean companies can import toxic waste without significant penalty, Jo Gook completes the project and shows it to his father. BB is impressed, and wants Jo Gook's party to introduce the supplement so as to keep his own hands clean.
Jo Gook agrees, but in a double-cross, shows a different environmental statutory supplement to his own party boss, stating that with this new law, BB and his party will be completely shut down. But before he pulls the trigger and kills any hope of his father achieving his dream of becoming president, Jo Gook himself needs a few answers – if this legislation goes through, he will be killing his father's dreams, and so he has to know whether BB was ever a good person. He heads back to Inju City to search out the Chairman of the Inju City Council, who was there at Jo Gook's birth, who was friends with BB before BB was anyone special. Why did BB, who could have become President, suddenly drop out of the race and endorse the current President?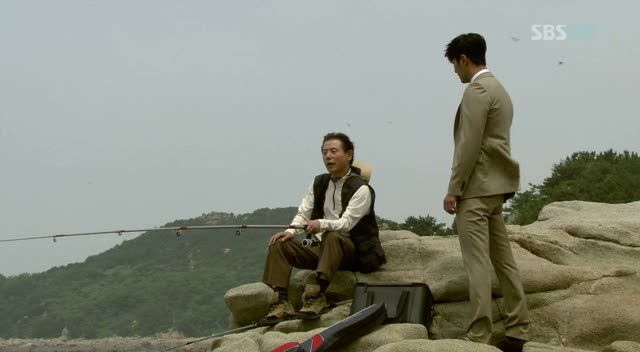 Chairman Kang explains it simply. The key had always been Jo Gook. In the last election, someone found out about Jo Gook and threatened to reveal that BB had a son but didn't care for him or the son's mother. That someone was actually Go Hae's dad, who was supporting the current President. But then the current President cut ties with the Dae Han Group, leaving Go Hae's dad with nothing. And so, this time around, Go Hae's dad and BB are tied together through Jo Gook's impending marriage to Go Hae. If Jo Gook marries Go Hae, then BB will likely become President, and then the Dae Han Group will be even more powerful and rich than ever. And with that, likely, Jo Gook's path to power will be secure.
Talk about decisions to make! If Jo Gook doesn't go through with the double-cross of BB, then he would likely be the heir apparent to not only the Dae Han Group, but also to the presidency of Korea as well. Unlimited money, unlimited power. All he has to do is close his eyes for a time and let Mi Rae and Inju City turn into nothing but a bad memory. While Jo Gook is pondering and walking back to his office, he sees Mi Rae waiting for him. Rather timidly, Mi Rae thanks him for lending an umbrella to her.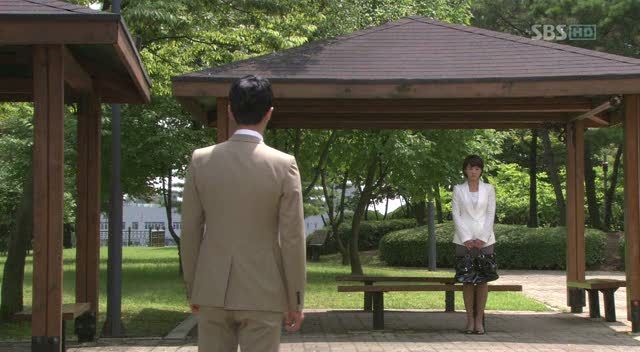 Jo Gook: But you didn't even use it.

Mi Rae: I thought so too, but… as it turns out, I was underneath the biggest umbrella in the world the entire time. Spring, summer, autumn and winter… all rolled into one rainy day, and I was all alone getting hit by all the rain in the world. Thank you, for keeping me so dry the entire time.
Yay! They are back together. I knew it, come on, we all knew it, but it still makes me happy to see it happen. But Jo Gook warns that he will be away for about 10 days, as he has to take care of matters – he started a fight with a certain someone (I won't say who, but the initials of the person are "B" and "B"), and he has to see it through. Mi Rae asks what she can do to help, especially since she knows that her and Inju City are right in the middle of this fight.
Jo Gook: Don't give in. Hold on for just a little while longer, and don't sign anything.
And so Mi Rae, Boo Mi and Jung Do play hide and go seek with Go Hae, trying to delay any project meetings. Mi Rae and her staff go on a series of outside the office events, literally hiding from Go Hae and the Dae Han Group staff, even delivering hand-delivering food to the poor. But Mi Rae cannot run forever, and at the end of another out-of-the-office events, BB's stormtroopers find and bring her to BB. And, in a scene that brought shivers down my spine, here comes BB, raging and full of wrath:
BB: As I have lived and lived all the years of my life, you are the first person I have ever met who cannot understand common sense, politics or money. But rather than just feeling anger towards you, I feel wrath.

What should take just a single word, you force me to use TEN words. And even with those ten words, YOU STILL DON'T UNDERSTAND! And then you have the gall to make me come and seek you out?

Your enemy is the Dae Han Group, although you know that I am with them… how dare you continue to frustrate their plans like this? It hurts my pride to have to fight a one-day old puppy, but with all the rage inside of me, would it be reasonable to think that I will just hold back?

However ignorant you may be, you have to know when it is time to stop and get on your knees. That is how I live and that is how you live. But if you continue to fight like this, is there anything for me to do but tear the very breath from your lungs and rip you apart?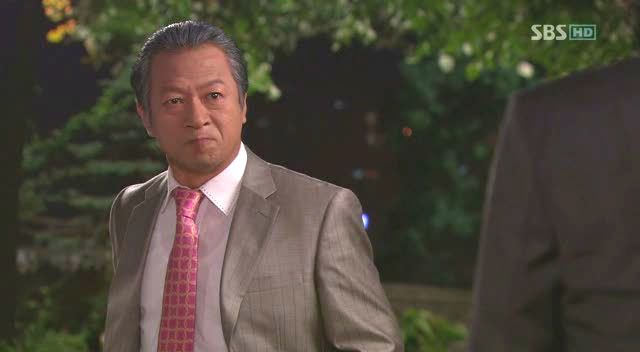 BB: And as for Gookie, what can you do for him? He is just beginning to make his ambition a reality. Then what the hell are you doing, putting out his fire, clipping his wings and destroying him?

By tomorrow, if I do not get news that the contract with the Dae Han Group is settled, then I guess I will have to start doing things my way. Other people seem to have tried the direct approach with you, but I think differently. Starting from the very bottom, I will fuck with every single person you know. Since the same pain can be shared, I will start with the company that feeds Inju City – Inju Fibers. And then all of the workers at City Hall, and then all of the families of the workers, and then all of the workers' families' relatives, and those relatives' friends, and shall I even fuck with the neighbors of those relatives' friends? The city may not have much to say for electing a woman to office, but as Mayor, shouldn't you at least try to stop this horrible tragedy from taking place?
With that, BB stalks off, and Mi Rae falls to the ground as if she has been shot. (Note: there are scary things on television like ghosts and vampires, psychopathic killers, giant man-eating pigs, etc. But absolutely terrifying is this guy BB, who has so little regard for humanity and weighs everything in life on a scale of the balance of power, rather than through any morality.)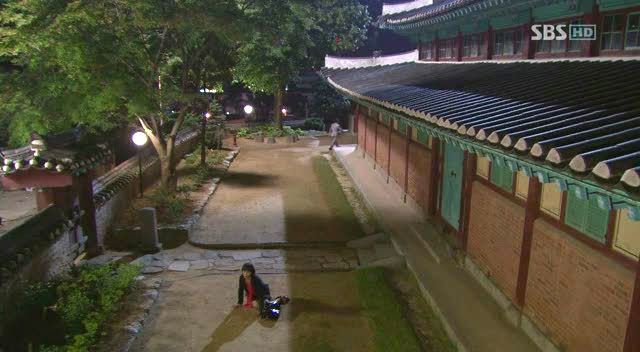 She tries to call Jo Gook, but his phone is turned off, as he has gone to Europe. She must handle this alone. After a night of thinking, Mi Rae calls up Go Hae and tells her that she will sign in the afternoon. And then she walks down the hall to the office of the Deputy Mayor. Joo Hwa, the former secretariat and the deputy Mayor are there. They have no idea what she is asking, but the look on Mi Rae's face tells them that this is not a political stunt. They look at one another, unsure of what to make of things.
We don't get to hear what Mi Rae asked of them, but after the meeting, Joo Hwa is walking around in an emotional daze, even the point of needing to hold onto a column for support. I think it is safe to say that for the first time in her life, she finally has learned what it means to actually be a hero, to serve other people.
With BB's threat looming over all of Inju City, Go Hae and Mi Rae get together to sign their respective documents. Go Hae needles Mi Rae about changing her mind about signing so quickly. Mi Rae ignores the goad and signs her documents, much to Boo Mi and Jung Do's dismay. They have no idea the level of threat that Mi Rae received, nor what possible plan she had put into motion with Joo Hwa and the deputy Mayor. But Mi Rae says only that she can turn all of this upside down.
That night, sitting in her room, Mi Rae thinks back to all the struggles that she had, to make it this far in her life, and all of the people that she has in her care. This is her legacy and her love story with Inju City, and Inju City's love story with her, an ignorant woman of no regard rising up to take on corruption, politics as usual, and to make Inju City a better place. The strain and the burden of caring for so many people, the emotional journey of what she had to endure to get to where she is… all of it weighs so heavily upon her shoulders. In the quiet of her own room, Mi Rae sobs to herself. There is no one else she can turn to. Where is Jo Gook??!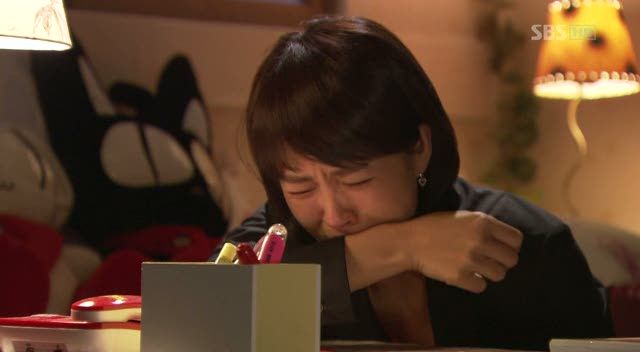 The next day leads to Jo Gook's return from Europe. Nice of you to show up, a day late and a dollar short. Still, Jo Gook is in a good mood.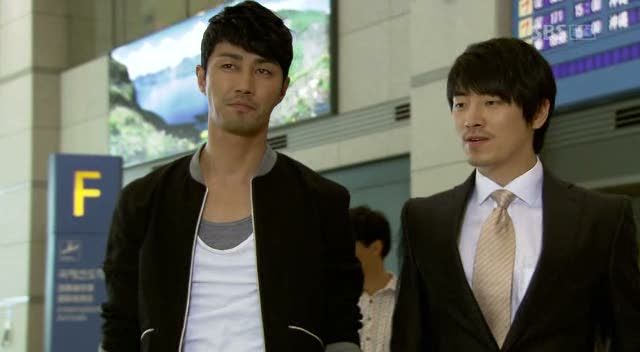 Jo Gook tells Soo In that after tomorrow, he can be seen with Mi Rae in public, without worries, and so Soo In should just give up any ideas of getting romantic with Mi Rae. Soo In returns a weird look on his face. I can't tell whether he is disappointed or happy for Jo Gook.
Jo Gook's legislation sponsored by the ruling party, has come up for the vote and has passed with the ruling party's blessing. BB, in his office, is beside himself with rage. It is time for Jo Gook to confront his own father and to stand up for himself and for Mi Rae. He stands in front of BB to take his wrath. BB is almost a raving lunatic, literally apoplectic with rage – throwing everything he can get his hands on. Jo Gook is not afraid at all.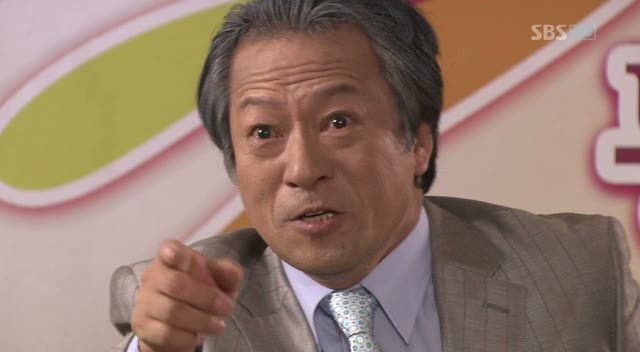 You know, BB's rage / wrath / madness is understandable, really. BB would have likely been president of Korea had the discovery of Jo Gook's sinister birth not been discovered. And BB has had to live with this fear of being discovered for all of Jo Gook's life, since he could not take care of Jo Gook and Jo Gook's mom early on. Discovery would lead to the death of his political career, and so BB has done whatever he could to endure and push on despite Jo Gook being a daily reminder of being the millstone around BB's neck. So that's why BB resents Jo Gook so much. But then again, it's not understandable at all. What father doesn't love his own child? Jo Gook warns BB – turn back now or BB will be defeated. BB starts turning colors that I didn't think a human body could manufacture, stating that he has had to endure Jo Gook all his life and this is the thanks that he gets? Jo Gook states matter-of-factly that BB just took away BB's last chance of forgiveness, as Jo Gook won't ever lose to BB again.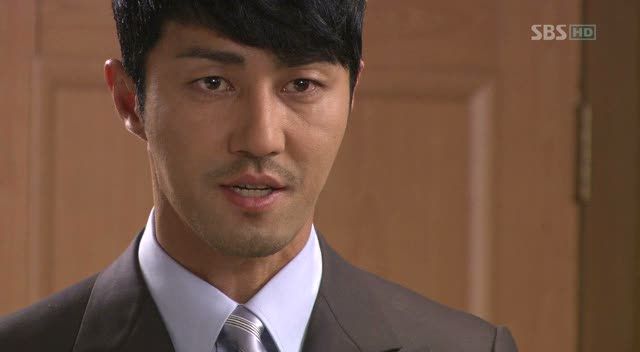 BB isn't the only one angered by this legislation.
Go Hae immediately realizes that Jo Gook's environmental amendment is a direct attack on Dae Han Group and, by proxy, an attack on her. There won't be any wedding bells in the future between them, after all. (This is truly a novel approach to breaking up – draft national legislation that attacks your fiance's dad's company…. some people just can't do the face-to-face breakup…) Go Hae tracks down Jo Gook for explanation. Jo Gook tosses Go Hae a folder full of contracts that were signed by the Dae Han Group, detailing the toxic waste that they were going to import.
Go Hae replies that there is no way that the Dae Han Group would have done that, but, even assuming that to be the case, there is no way that SHE would have allowed that to happen. All she wanted to do was express her devotion to Jo Gook by delivering campaign funding and by building a power plant in Inju City to help solidify his power base. AND, even if it were true that the Dae Han Group was attempting to bring in bad things, it was HIS responsibility as her fiancé to cover it up, to support her and the Dae Han Group rather than betraying her. And now, since she got Mi Rae's signature on the contract already, that power plant will be grandfathered in, unaffected by the new legislation, and Go Hae will see to it that even worse things are brought into Inju City, because even more than Jo Gook's legislation, there is no way in hell that Go Hae will allow herself to beaten by Mi Rae. Go Hae really is a tragic figure here. Honestly, so many City Hallers growl at her, but what exactly did she do that was so bad?
Jo Gook's eyes go round as he sees Mi Rae's signature. He cannot believe it. At that moment, Mi Rae and the deputy Mayor enter Jo Gook's office. Jo Gook asks, is this really your signature? Didn't he tell her not to give in??!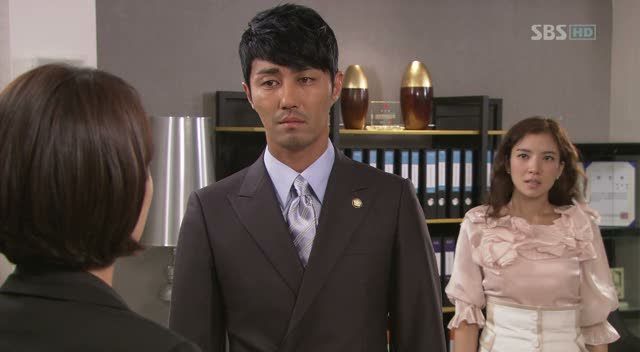 Mi Rae then drops the very last bomb in her arsenal: her signature has no legal effect, because she wasn't Mayor at the time. She had resigned before she signed. Both Jo Gook and Go Hae are stunned. And now we see what Mi Rae was doing inside the deputy Mayor's office. She asked Joo Hwa and the deputy Mayor to hold off on announcing her resignation until after she had signed, so as to prevent the power plant from being built with all of the toxic waste to be imported (and now we know why Joo Hwa was acting so strange). Mi Rae looks up at a shocked and saddened Jo Gook and smiles slightly.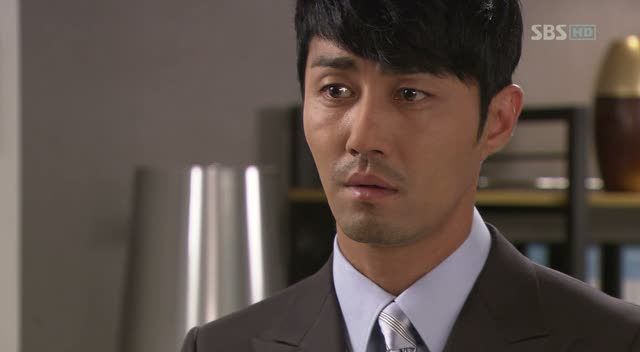 Mi Rae: The paths that I could walk, I have walked them all. And in any case, I didn't give in.
Comments –
In as much as I shed a tear or two for earlier episodes, this episode had me good. There are SO MANY emotionally charged scenes in this one episode. The gazebo scene in the rain, the subsequent taxi ride scene, the BB threatening unholy war against Inju City, Jo Gook finally standing up to his dad, Mi Rae asking Joo Hwa to close her eyes, just for a moment, Mi Rae reminiscing over what it took to become Mayor… How many times must my heart get caught in my throat? What's more, I always get a bit choked up when I think about how much better our world would be, if our politicians were as awesome as Shin Mi Rae… how wonderful of a world would we live in?
This episode is really the culmination of Mi Rae's career and of the love story between her and her city. That she would sacrifice everything, including her career and even her very freedom (she's going to go to jail for fraud if the Dae Han Group sues), to save her city from ruin is remarkable for anyone, but not remarkable for Mi Rae, because that's what her heart has always been like. It was just that she never had the guidance, encouragement or resources to get her to a place where she could make a difference, until Jo Gook showed up.
If I have one "wish," it would be that those shop-keeper "friends" of Mi Rae who betrayed her by written affidavits (charging Mi Rae with corruption) could have been in Jo Gook's office, so that they can see what it means to be a person of true integrity and character, so that they could fall on their hands and knees in awe and literally beg Mi Rae for forgiveness (which, I am a little pissed to say, Mi Rae would probably give, since she is also generous with that as well). At least, I am happy that that weasel of the secretariat, the career criminal in Joo Hwa and the deputy Mayor all were able to witness first hand what it means to be a hero.
Still to me, this is the saddest episode of all of the City Hall episodes, because we have been through such a roller-coaster ride with Mi Rae, and after everything – the ignominious firing and being tossed out on her ass from City Hall, the torn dress at her one-woman protest, being pelted with eggs, being subjected to ridicule and being ignored, being looked down upon by everyone, and then rising up to connect with her people, and then being threatened again and again with various taints of corruption and calumny, and finally, with being threatened by the scariest threat against all of Inju City, she has withstood and withstood and withstood some more, only to be forced to resign in the end.
On the day that Mi Rae leaves office, there should be a plaque made to be put under a portrait of her, with just one word engraved: invictus. Invictus is latin for "undefeated." Mi Rae, having never been defeated by any who seek to harm her fair city, deserves at least that much.
The scenes to watch for in this Episode: It's a tie! The BB threat scene and the scene at Mi Rae's house, after the gazebo and the taxi ride.
I'm not sure if Choi Il Hwa, who plays BB in this drama, will ever be able to play a role of a cuddly, good-natured or crazy funny slightly stupid grandfather in any future k-dramas. BB is so evil in this scene, so unforgiving, so terrifying… people who have seen in him this drama may not be able to picture him in the future as, say, a warm fuzzy and wise grandpop who is a poor fish-monger or shoemaker, who has to take care of spunky and cute Yoon Eun Hye who really is an heiress to a chaebol all by himself. When my wife and I were first watching this episode, I found that my left hand was death-gripping a pillow and that my right hand was being death-gripped by my wife's hand. Scary, scary stuff.
How awesome is this scene after the taxi ride and the gazebo? Jo Gook wants nothing more than to reach out and hug Mi Rae, but he can't, not before the trap that he set for BB and Go Hae is finished. And in the mean time, Mi Rae's heart has been nearly destroyed by Jo Gook. I say nearly, because even now, in this scene, even with EVERYTHING that Mi Rae has been through, she is still willing to forgive and love Jo Gook – why? Because her heart, though it might be broken, is STILL bigger and stronger than anything that Jo Gook or anyone else can throw at her. Mi Rae's broken heart is still stronger than most other people's regular hearts.
And that's why I love this drama.
On To Episode 20, the last and maybe the best episode of this entire series!! Trust me, you will not want to miss the last episode!!
RELATED POSTS
Tags: Cha Seung-won, City Hall, Kim Sun-ah