City Hall: Episode 20 (Final)
(written by samsooki, with mead33, 0timelost and cleown)
Episode 20 – The Greatest Ending Ever.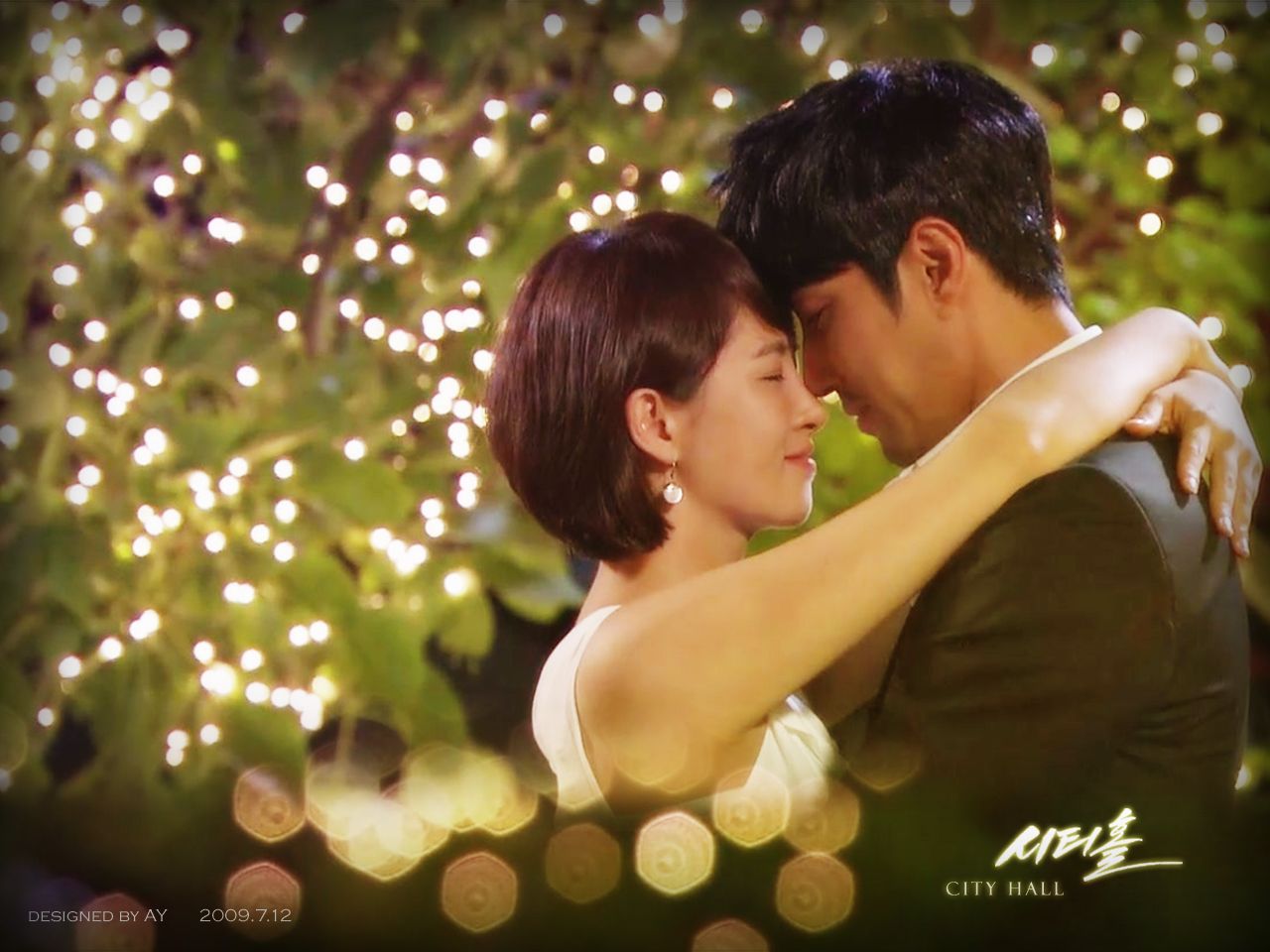 Last episode, Mayor Shin Mi Rae faced BB's awesome threat of literally destroying Inju City and everyone in it. And so Mi Rae had no choice but to sign the MOU and Authorization, the documents that would allow the building of a toxic waste recycling plant in Inju City – an act condemning the city to a slow death rather than a quick one. Mi Rae worked out a deal prior to the signing however, resigning her position as Mayor and only going through the motions of signing even though she had no authority to sign anything. This allowed Jo Gook the time he needed to secure hard evidence of the Dae Han Group's intentions as well as getting legislation passed to prevent future toxic waste recycling plants from being built on Korean soil. The combined actions of Mi Rae and Jo Gook have saved Inju City, but the cost was steep. Mi Rae is no longer Mayor and is probably going to jail for fraud, losing everything she owns including her freedom.
Jo Gook looks at Mi Rae with profound sadness. Why couldn't she have just hung on for just a little while longer? Mi Rae notes, eyeing Go Hae, that she had no choice as there were too many lives on the line. She had to act.
SONG OF THE DAY
Park Sang-woo – "사랑하고 사랑합니다" (I love you and I love you) [ Download ]
Audio clip: Adobe Flash Player (version 9 or above) is required to play this audio clip. Download the latest version here. You also need to have JavaScript enabled in your browser.
Go Hae might be beaten, but she is not through. She swears that she will follow through with the criminal complaint, and make sure that Mi Rae will pay dearly for her actions. Jo Gook stops Go Hae and tells her to stop; if she doesn't stop, then he will have to continue as well, and ultimately, the Dae Han Group will be forced to take responsibility. This makes Go Hae flip out.
Go Hae: Responsibility?! Responsibility??! I may not know what is inside these documents, but you should damn well know that this isn't yet the time for those kinds of words. Don't you know that I haven't confirmed anything yet? You should have waited and given me a chance to find out what is going on!
Go Hae is actually right. Jo Gook said that he would not let go of her hand until she let go of his hand. Saying those words means something. If you hold someone's hand, you better well mean it, and that means that Jo Gook has to take responsibility for Go Hae. Not only did he fail to do that, but he outright betrayed her, all the while, holding her hand. If Go Hae files the criminal complaint and Mi Rae goes to jail, will Jo Gook still hold Mi Rae's hand through the jail cell during visiting hours?
And yet, through it all, Mi Rae has won. Despite not having an education, despite having no money, despite being attacked at every turn, Mi Rae has beaten every single opponent she has faced. Just look at everyone she had to overcome:
All of the younger women at the Miss Baendaengi Pageant. Then Joo Hwa. Then the Bureau Directors, the Secretariat and fellow assistant. A bunch of thugs throwing eggs. Then the corrupt Mayor Go. Then she had to overcome her own lack of confidence in herself.
Then Mi Rae had to beat all of the candidates for the mayoral by-election, including more gangsters assaulting her. Then the Deputy Mayor, Joo Hwa, and the Bureau Directors again. Then the landowners opposing her. And then BB and Go Hae…
What does Mi Rae want, now that the end is here? Mi Rae still wants an expensive handbag from Jo Gook. Jo Gook might see it as an attempt at humor, but I see this as both an attempt at humor, and something that touches on truth. After all, getting a brand name handbag from a boyfriend who cares about her is the only thing that Mi Rae hasn't done yet in her life. In less than a year, Mi Rae has done more than most people do in a lifetime, except she still hasn't gotten that name brand handbag that every other girl has gotten from their beaus. Jo Gook, you idiot, you could have at least gotten her a bag!
It's time to get back to City Hall and say goodbye. Mi Rae waves bravely and starts to walk away but Jo Gook grabs her and holds her tight. At last, Mi Rae loses her composure and weeps in Jo Gook's arms. Jo Gook is out of bright ideas, and the only thing he can do is just hold a sobbing Mi Rae.
Mi Rae appears before the entire staff of City Hall, stating only that she has tendered her resignation. Her entire staff, all of whom are now behind her, cannot believe their ears. Resign? Why? Boo Mi, Jung Do, all the Bureau Directors, everyone who has finally seen the light and supported Mi Rae, they all feel the huge loss that this is.
But Mi Rae won't get into the details about how everyone's very livelihoods were threatened by BB and how she had no choice, but merely states that this is the best thing she has ever done. She merely asks that they give her a cool send-off, but before she can finish the thought, the tears again come unbidden. She cannot finish her thought.
The next day, Mi Rae speaks before the landowners and announces that there will be no purchase. Most of the landowners are angry and depart without listening to the reasoning, but a few remain behind and cheer for Mi Rae… including, I really REALLY hate to say it, but the two shop-keeper "friends" who betrayed Mi Rae by signing affidavits charging her of corruption. They apologize to Mi Rae, saying they had no idea of how much burden that all of this had caused her. I am less than moved. In fact, I am angered. Are they trying to excuse their felony perjury because they weren't aware of what a teensy charge of corruption would do? I won't spend any more time thinking about them, they are a waste of breath to talk about. But they and many others stand and cheer for Mi Rae, knowing in their hearts that whatever it was that Mi Rae did, she did to protect them.
Miles away, Go Hae has finally confronted her father, showing him the contracts that Jo Gook brought back from Europe. The contracts detail the toxic waste to be imported into Korea. Go Hae's father, the chairman of the Dae Han Group, doesn't even look. He ignores the question completely, saying that his company will be just fine – a few "The Environment is Important to the Dae Han Group" commercials and all will be better.
Go Hae is horrified. What about everything she learned from him, about business ethics, fairness, responsibility and morality? Were they just lies? Go Hae's father ignores her questions, arguing instead that he and the Dae Han Group have been feeding Korea for decades, and now it is time for Korea to spoon-feed the Dae Han Group a little. Isn't THAT what is fair? Go Hae cannot believe what she is hearing.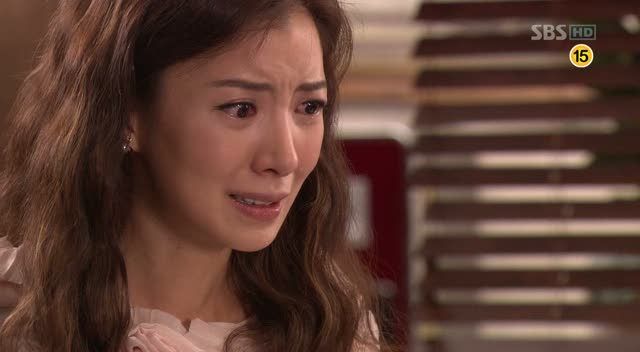 The biggest loser in this whole drama, since about mid-way through, has been Go Hae. She was played by Jo Gook from the start, but at least she knew that it was him using her and vice versa. That was the deal. And while she was played by BB, she could tolerate this since it meant having a man like Jo Gook. Again, that was the deal. But then Jo Gook betrays Go Hae for "true love," and breaks the bargain they had struck and deep-sixes the arrangement with BB. And now, Go Hae learns that her own father had betrayed her and her principles for mere money. Chairman Go shrugs off Go Hae's emotional response and tells her to go get married to Jo Gook, to solidify the deal with BB. Go Hae responds.
Go Hae: No, that won't ever happen. I can't go now. I can't go to that man. Even if I wanted to, I can't go now. Because of you, I cannot go!
Actually, Go Hae is mistaken here, since Jo Gook wouldn't take Go Hae even if the Dae Han Group was going to build an environmentally sound rainforest populated entirely by cute baby pandas in Inju City. But Go Hae is physically unable to see beyond her frame of reference, and that frame of reference has never included "love" as a reason to do anything. This last part is perhaps the biggest betrayal of a father to a daughter, as Chairman Go never taught his own daughter that love can mean more than all the money and power in the world. BB never taught his son that you can climb high while protecting others, like a true man. And likewise, Chairman Go never taught his daughter that living can be about more than accumulating, be it money, power or people.
And again, we find ourselves in BB's office. Jo Gook has given BB one last chance to change his ways and try to be a father to his son, but BB refuses to consider it. He has never once lived his life as a father, only as a leader. And so, Jo Gook can be BB's successor, but he will never be BB's son.
Jo Gook: No, you are mistaken. You will not live as a legend or as a leader, but only as a father!
Jo Gook turns around and calls in the press, and announces that he is the son of BB, and BB is retiring from public service to devote his time to learning to become a father to his estranged son, whom he had fathered but never raised. It is a death blow to BB, who sees his entire career evaporate before his eyes. BB never saw it coming. In the beginning, I just thought that BB was amoral. But BB turned out to be worse than amoral – he turned out to be immoral. With his intelligence and work ethic, BB could have been a great father and husband. He could have been President. And in the end, he gets nothing. It is a fitting end.
As her last act, Mi Rae writes a letter to the next Mayor, a tradition for politicians that crosses all cultures and history. The letter finished, she gathers up Boo Mi and Jung Do to escort her to the police station. It is time to go, but Shin Mi Rae lingers for just a little bit, looking around at this office of hers that she held so briefly, where she accomplished so much but left unfinished so many of her dreams to make Inju City into a great place to live and work.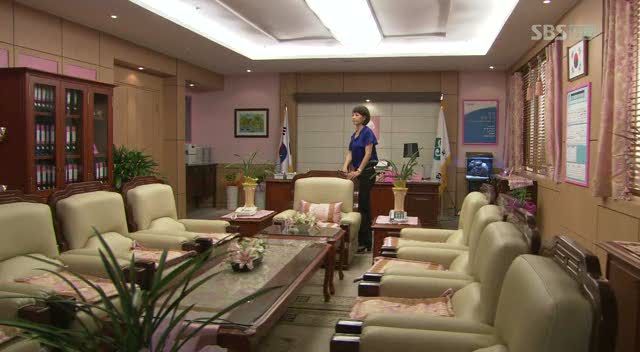 As they head out, they are surprised to be met by a group of Mi Rae supporters holding signs, asking her to stay on. It is a tender moment, indeed. Mi Rae is overcome by emotion, as her supporters literally cheer her to stay and continue to protect them as she promised that she would. They chant various slogans in unison, pumping their fists in the air, as Mi Rae watches with tears in her eyes.
Eraser and Cat: Wonder Woman Shin Mi Rae! Take care of our Inju City!

Honey and Jessica: Shade of a rose, Shin Mi Rae, you are our only Mayor!
(Note: Korea, after the Korean War, had a series of increasingly corrupt governments that did not represent the people nor follow the rule of law. But as a reflexive response, Korean citizens developed an obsession with mass protests to effect democratic change. These protests proved effective, even as many were brutally put down. At one point, unified and synchronized demonstrations were so popular that they were called the "national sport" of Korea. These days, however, Korea tends to be much more relaxed, maybe sedated by relative wealth, comfort and technology. I think City Hall, with its heart-breaking one-woman protest all the way to this little gathering of Inju City's citizens, is a little reminder of that legacy – that ordinary people can change their destiny, and change their world.)
At that moment, Go Hae appears. In a surprise move, perhaps, Go Hae announces that she and Dae Han Group are not going to sue! She gives back the MOU to Mi Rae. Mi Rae stares at the document and then at Go Hae. Go Hae has a response waiting for Mi Rae:
Go Hae: I cannot lose to you, Shin Mi Rae. In my whole life, I've never lost to anyone. It would be a terrible thing, if I had to lose to a person like you. And so, you should give me the victory. Let's start over from the beginning…. We aren't going to import toxic waste from Europe. Rather, we will build you a great factory which will use only our own country's recycled products. And of course, there still will be the municipal hospital. The only thing that I have left to protect is my pride.
Go Hae's determination to see a positive project through, complete with a factory and a hospital, is noteworthy. Go Hae's action here is undoubtedly against what her father would have wished to have happen, and so it actually completes and ends the cycle of betrayal. Go Hae has "betrayed" her father's principles, destroying what is left of Dae Han Group's ambition for profit at the expense of innocents. Go Hae has learned that she alone can protect her own pride – nobody else can do it for her, not Jo Gook, not BB, and certainly not her father.
Mi Rae responds that this kind of good news should be given to the deputy Mayor of Inju City, since she had resigned. But in a surprise, the deputy Mayor also appears out of nowhere, and rips up Mi Rae's resignation! And the weasel of a secretariat has even washed the mayor's car for transport back to City Hall! (Again, I'm not moved. You mistreated Mi Rae from the beginning and you think a car-wash is going to make up for it? Still, it's a start…)
Woo-hoo! Shin Mi Rae is Mayor of Inju City again!!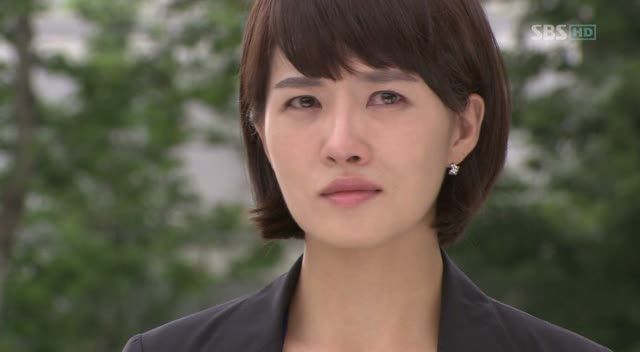 Epilogues –
Mi Rae and Go Hae!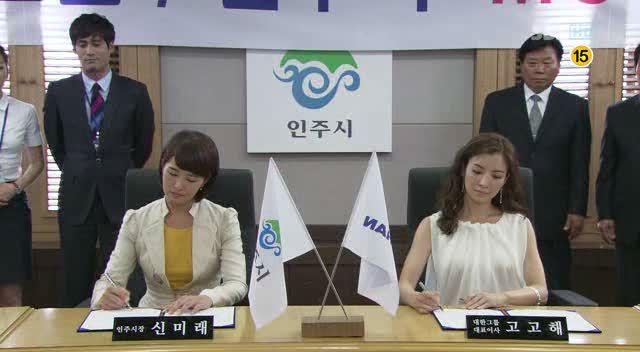 Mi Rae and Go Hae sign their new agreement, and then they shake hands. This is the second time we've seen Mi Rae offer her hand in mutual respect. First it was to Jo Gook, as one politician to another as equals, when she was elected Mayor. And now, to Go Hae, it is as one woman to another, again as equals. By offering her hand first, Mi Rae is proclaiming that she is no one's pawn and no one's inferior. By accepting Mi Rae's hand, Go Hae (and Jo Gook, way back when) is acknowledging this truth. Way to go, Mi Rae!
Joo Hwa and Jung Do!
And the Mi Rae / Go Hae relationship isn't the only one being mended. Thanks to Mi Rae's remarkable sacrifice, career criminal Joo Hwa has finally understood what it means to be a public servant. And with that realization, she has understood why Jung Do had worked so hard for Mi Rae. Joo Hwa shows up at the government center to process her divorce documentation, but inside her folder, she finds a love letter written by Jung Do.
Jung Do expresses his deep love for her, acknowledging his own faults and hopes that whatever happens, she must be happy. It is enough to turn a reformed career criminal like Joo Hwa into a bucket of tears.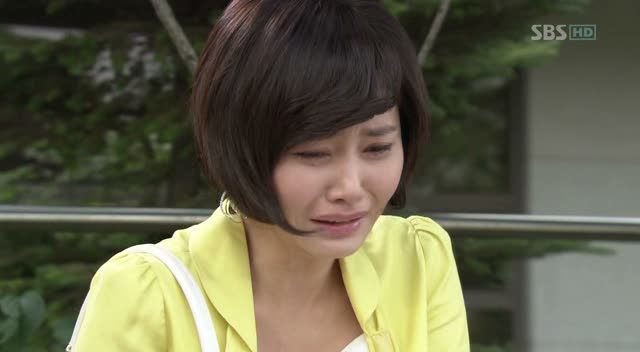 Joo Hwa doesn't file divorce papers, and instead goes to a batting cage where she goes when she is sad. It looks like she has finally started seeing things as they really are, and she realizes how hollow her life has been. Jung Do finds her, though, and brings her back home. In a symbolic moment, Jung Do cleans Joo Hwa, scrubbing away all of Joo Hwa's mis-deeds from her, and then they have the best make-up sex in the history of k-drama.
It is so good, that the next day, Jung Do is still smiling and chuckling about it the next day, grinning like a fool.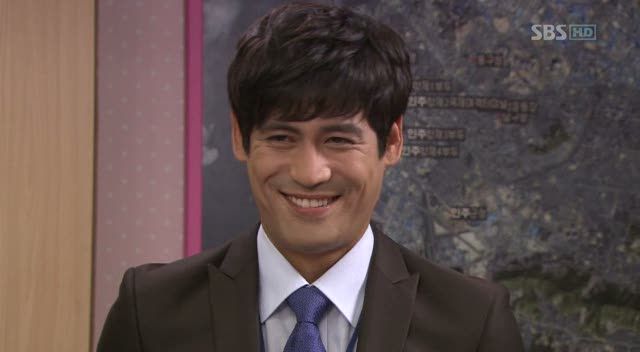 Months later, Jung Do is running the Miss Baedaengi pageant again, and this time he finds that his own wife is there submitting her entrance form! LOL! Jung Do is VERY surprised, but Joo Hwa is game. She has brought food… and the delicious aroma…. *urk*
*urk*
In a k-drama staple (what IS it about a throw-up face that indicates "I'm preggers!" to Korean people? see also Goong, Full House), Joo Hwa who had been unable to conceive, is nauseated by the smell… omg? A jubilant Jung Do then announces that his wife is preggers to everyone within earshot (extremely presumptively, I might add). I was going to ignore this part, but I include it for Jung Do's sake. He deserves to be happy.
Jo Rang and Jo Yong Hee (Jo Gook's son and mom)!
Jo Gook visits the flower shop in Inju City that he bought for his mom. With BB's dreams shattered, Jo Gook's mom feels more at peace knowing at least that her pain that BB did not ultimately profit from the pain that he caused her. Jo Gook is glowing with happiness, and Jo Gook's mom is apparently naturally perky, so unlike her dour self throughout the series.
Jo Gook gets a pink rose to give to Mi Rae from the cutie Rang, no charge. Jo Gook, in turn, takes a white rose and gives it to Rang for him to give it to that girl…
Rang: Oh, you mean Kyung Hee? Dad, didn't I already tell you that she's not my style?

Jo Gook: Ahh, is that so… but you even know her name!
Caught by Dad! Rang gives a small smirk. Ah, the smitten kitten…
Jo Yong Hee, the woman who gave birth to an illegitimate son named Jo Gook, and had to live her entire life as a whore with no surname of a father to give to her son, smiles as well. Being in this place, freed from the stigma by BB's resignation (which acknowledged that BB is the father), and watching her own son grow up to be nothing like BB, now… she can breathe a little. Now, she can live a little.
And Rang and Kyung Hee? Could they be the next cute couple?
Mi Rae and Her City Hall!
Mayor Mi Rae learns from Jung Do of a World Cities Festival being held in Korea. The Festival hosts a talent competition and first place is a new car! Mi Rae leaps to action, recruiting all Bureau Directors and Joo Hwa.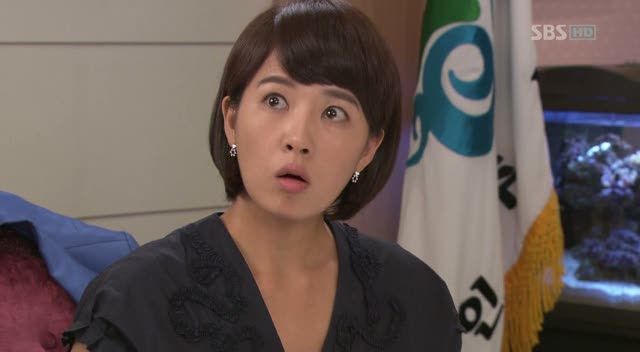 They do their interpretation of the "Sorry, Sorry" music video dance by the Korean boy-band group, Super Junior.
And then winner is announced: it is Inju City's City Hall!
Here's Mayor Shin Mi Rae making the "sarang hamnida" ("I lub you") pose with her hand.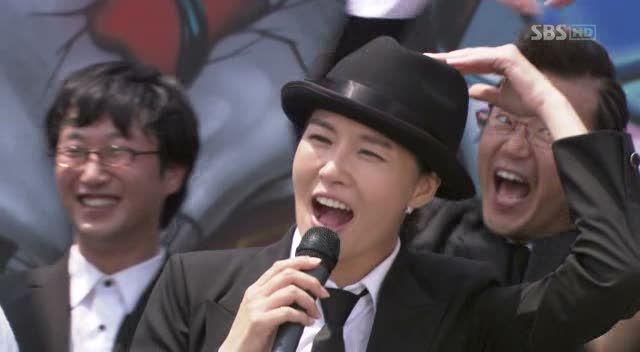 (Rating their performances, Mi Rae looked outstanding! Most impressive! However, I am very sorry to say that Boo Mi did not keep the beat the entire time. Joo Hwa's complete lack of coordination, I can understand, but Boo Mi is a Republic of Korea Ahjumma, and she should have been able to do it. I know, I know, let's see how well I can dance if I give birth to three kids… but I'm not buying it. Boo Mi just isn't a very good dancer.)
At the celebration dinner at Mexico and the Chicken, everyone is there, except for Soo In (glaring absence! grrrrrr.) Jo Gook gets up early, however, he has stuff he must attend to, telling Mi Rae not to stay too late. And Mi Rae surveys the table. These are her people now. It is good to be Mayor.
And lastly, Mi Rae and Jo Gook!
Mi Rae walks home from the Mexico and the Chicken dinner, singing and happy. She turns off the street lamps one by one as they flip on as she nears. But as one of the lamps turns on, she sees a sign hanging from the post.
The sign says, "I am someone who pays rent to live in Shin Mi Rae's heart." And then, the next lamp turns on as she nears, and this one says, "But instead of paying overdue rent, please accept this brand-name bag instead."
Another lamp turns on, and Mi Rae sees the biggest bouquet of roses, wrapped up in a bow.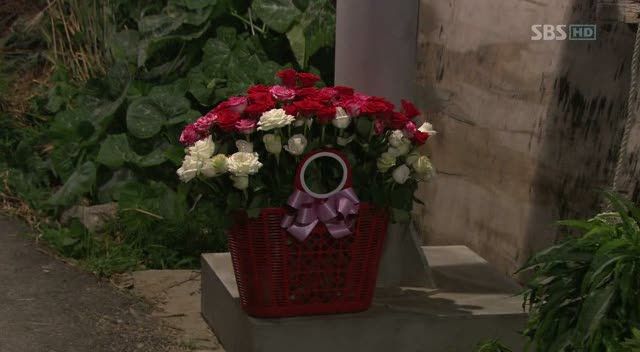 Mi Rae carries her huge "bag" to her house, but there is another surprise waiting for her. Jo Gook is there, with a candle-lit table in the yard. They look at each other, with smiling eyes, in the darkness.
But then Jo Gook flips the switch. This is so cool.
Jo Gook, okay. I didn't support you for 19 episodes. But I think this is the most romantic thing I've ever seen, and so in all fairness, I have to change my mind. You rock.
Jo Gook has brought a stereo system, and plays "Moon River" as he dances with Mi Rae.
Jo Gook: I have had a dream form inside of me. I want to become President of Korea one day. And on my inauguration day when I become President, just like tonight, I will be dancing with my wife…

Mi Rae (unsure where this is going): …
Jo Gook: On that inauguration day… won't you dance with me?
How awesome is that!!
In Korean dramas, there tends to be a recurrent theme of fate, about how people who are charged to meet, will meet, and those who are destined to never be together, will go their whole lives never being whole. In this instance, we learn of events that happened 8 years prior to Mi Rae being Mayor, when Jo Gook and Jung Do were still in school. On that night when Jung Do had carried a wasted Jo Gook to Jung Do's bedroom, their phones were switched and Jo Gook thought he was calling BB, but ended up calling Mi Rae, both of whom were #5 on the speed dial.
And so, from that chance "meeting," we are finally at the end of the episode. With the wedding between Jo Gook and Shin Mi Rae. If there is a more beautiful and elegant bride than Mi Rae, I've not yet seen it. After all the buckets of tears and heartache, after all of the struggles and the breakup, after everything that these two had to go through, we have the happiest ending in a k-drama ever.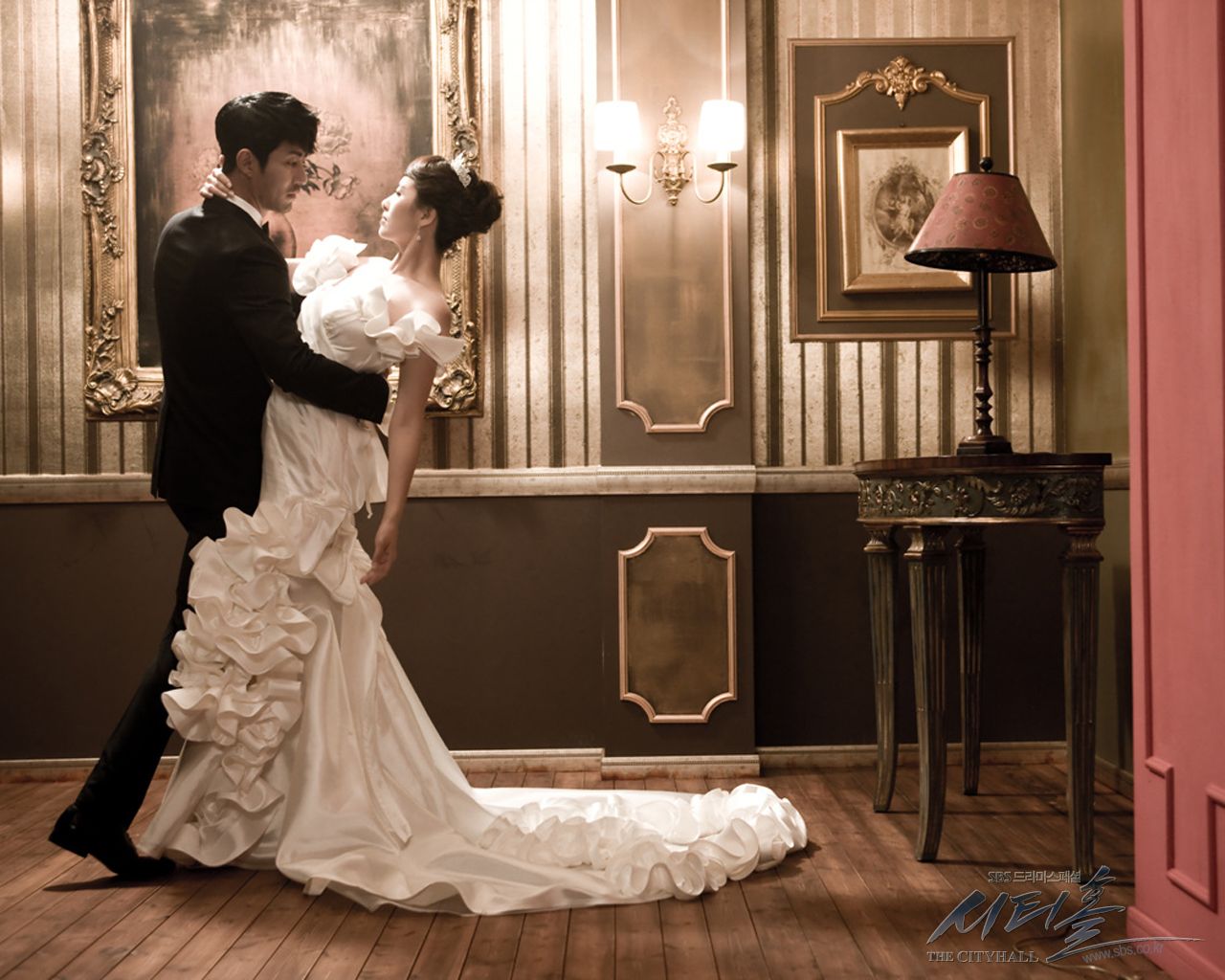 Last Comments –
First off, I'd like to thank javabeans for graciously giving space for me to have fun with these recaps and to share that fun with you. And I'd like to thank everyone for being patient with me, as I had to take a break from recapping to attend to a preggers wife of my own (and no, she didn't make throw-up faces like Joo-Hwa! But if I were living in k-drama land, how could I tell if she were pregnant?! Out pops a baby, and I would be like, "where did that baby come from, you never made the throw-up face…?"). Also, I am so thankful for mead33, 0timelost and cleown, who have helped me with these recaps, editing, commenting and writing, and without whom I would not have been able to start or finish.
City Hall turned out to be an unusual drama for me. I only started watching it after I heard some buzz about it from dramabeans Open Thread, and the beginning was a little bit rough. But starting with about Episode 4 or 5, I really started getting into it, and I couldn't watch it in the same manner as I had watched most of the other k-dramas that I had seen. Instead of just watching the drama, as the episodes came and went, I basically lived the drama, one hour episode at a time. I lived and died with Mi Rae, and with every obstacle that she faced and overcame, with every stab in her heart, and with every victory she won for herself and for her people, I felt like I was right there with her. And all praise must go to Kim Sun Ah, who made this drama into an experience to had to be lived, and not just watched. And that's really why I picked this drama as my Dramabeans 2009 Drama of the Year, and that's why, despite issues with directing and editing and some choppiness, I have no hesitation putting this near the top of my list of favorite dramas ever.
Lastly, I know I said that I wanted to do a special section for the "Best Of" City Hall, but going through each episode, one at a time, picking out the best scenes… in the end, I had about 24 awesome scenes (The Proposal, The Kiss, Jo Gook Eating Alone At The Porridge Shop, The Gazebo, The Taxi Scene After The Gazebo, Mi Rae's Bedroom After The Gazebo, Dancing With The Jacket, The Seawall, The Staircase Breakup, The First Time They Hug, The Tango Dance, The Tent Sleeping Scene, The Back Of The Head Slap, BB's Threat To Destroy Inju City, among many others), and I couldn't pick just 5. And so, in the end, I think the way to end this recap series is just to say thank you. I really hope you all enjoyed this Cityhall Journey with me, and on behalf of mead33, 0timelost and cleown, I want to thank everyone for watching the series and following along with Soompi City Hall and these recaps! *wave*
RELATED POSTS
Tags: Cha Seung-won, City Hall, Kim Sun-ah