Fans get their "Christmas date" with drama cast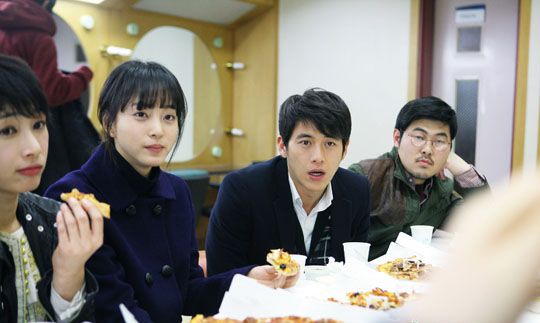 Some happy fans got their "Christmas date" with the cast of Will It Snow For Christmas, per the show's recent promotional event. If you'll recall, the SBS drama series held an online event that invited fans to tell memorable Christmas stories, with winners getting to meet the actors and possibly win a background acting part.
Four winners were chosen out of more than a thousand participants and given a brief tour of the broadcast station offices on January 14. They shared a meal with lead actors Go Soo, Han Ye-seul, Sunwoo Sun, Song Jong-ho, and Kim Ki-bang, and took photos with supporting actress Jo Min-soo, who plays Go Soo's mother. In addition, they were shown the drama's upcoming 13th episode, which airs this Wednesday.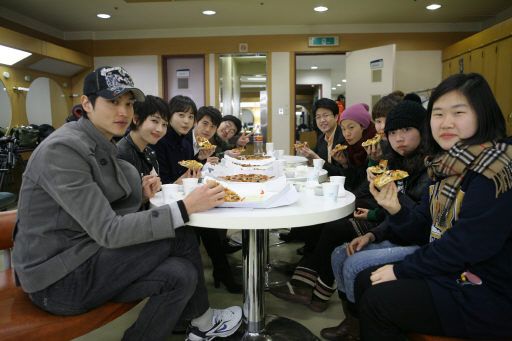 One participant, aspiring broadcast writer Kim Yuri, asked Go Soo and Han Ye-seul about filming their "snow kiss" scene (Episode 10). The answer: "It was snowing a lot and very cold, but I was glad the scene came out beautifully." Two of them (Kim Ki-wook and Lee Hye-jin) were given bit parts as a hospital patient and nurse, respectively. Kim Ki-wook also presented Han Ye-seul with a gift he'd made himself, a wooden bowl (pictured below); Kim Yuri gave all the actors decorative jars.
Afterwards, the four winners wrote on the drama's homepage, "By coming here to the filming set, we saw the actors and staff all working hard, and got to know what they're like normally. I hope there are more events like this in the future."
The drama's assistant director, PD Shin Kyung-soo, said, "In the past, there have been instances where groups visited the filming set, but this is the first time having viewers invited on a date with the lead actors and appearing in the drama itself. I'm glad we were able to give a meaningful experience to the viewers, and will do my best for the remaining episodes."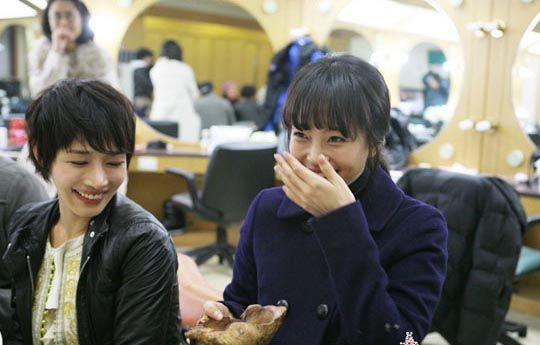 Via Herald Biz, TV Daily
RELATED POSTS
Tags: Go Soo, Han Ye-seul, Kim Ki-bang, Will It Snow For Christmas