Go Soo: "I didn't know this role would be this painful"
You'd be hard-pressed to watch SBS's Will It Snow For Christmas without falling under lead actor Go Soo's spell. Even if you counted yourself a fan before this drama premiered last month, there's something about his presence in this show that commands attention, and fans are definitely taking notice. Here's a recent interview with Go Soo — enjoy!
Popularity through the Kang-jin character of SBS's Will It Snow For Christmas?

There's a saying that if you want to make it big in the entertainment industry, you need a pure, clear gaze.

In this frigid winter with temperatures falling below 10 degrees, a pure, brilliant gaze struck the television airwaves, as though with a loud "clank." Netizens have coined several nicknames for the owner of this stare, responding fervently to the source of their "Go Soo flu," "Go Soo pangs," "Go-vid," "Go-neu-nim."
Go Soo pangs refers to that painful longing he evokes in fans, while Go-vid is derived from David (as in Michaelangelo's), and Go-neu-nim is my personal favorite since it's absolutely ridiculous, combining his name with the word for God (ha-neu-nim). It's equivalent to saying "God-Soo."
Go Soo, who plays the lead in SBS's Wednesday-Thursday drama Will It Snow For Christmas, is capturing the hearts of women viewers with his expressions and gazes that convey deep sadness and also endless reflection.

"Kang-jin is by nature very appealing. And good-looking. Haha, I'm sorry. He's clean, upright, and passionate. He also has a talented gift for architectural design. The female viewers like seeing Kang-jin treating Ji-wan well."
Of course, the Kang-jin character himself is handsome and cool. But it's because Kang-jin met Go Soo that he shines. Formerly thin and of slight build, Go Soo used to look delicate, but after coming back from military service and entering his thirties [he's 31], he has shed his previous image. He has filled out his build and upgraded his image with acting that has matured, from a good-looking pure youth to a trustworthy, lovely man.

"You could say that in the past, I asserted my intent first, but now I deliberate endlessly about how I can best express the conditions that have been given to me. Also, in the past I used to agonize over whether this was the right path for me, but last year I felt that acting is really my path. If I've changed, it's because of that."

The title Will It Snow For Christmas? gives a bright feeling, but the plot is heartbreaking. With dramas like I'm Sorry, I Love You, A Love To Kill, and Thank You, writer Lee Kyung-hee has always plucked the heartstrings, and Kang-jin and Ji-wan's painful love is the same way.

"I liked that Kang-jin isn't a character who is only soft and warm with women, and I was drawn to what he went through in his adolescence. I wanted to try a drama that wasn't easy on a fundamental level, that was a little dark and serious. But I didn't know it would be this painful. The further we get in the drama, the more painful it becomes. I didn't know it would be this difficult."
Growing up with a mother who is a cafe hostess and making it to the elite ranks, Kang-jin has a first love in his high school days, Ji-wan, who leaves suddenly. Unable to forget her, they have a fateful reunion a decade later. However, the reason for Ji-wan's departure is because her brother died in the river after diving in to retrieve Kang-jin's lost pendant. Although Kang-jin finds the Ji-wan he'd dreamed of finding, discovering this tragic truth torments him.

"Kang-jin reunites with Ji-wan after a lot of difficulty, but soon afterward he makes the painful realization that he is a source of pain for Ji-wan, and tries to distance himself from her. They confirm their love again in the January 7 episode (#10), but… you'll have to watch the future episodes to find out what happens. [Laughs]"

He's introverted. He's quiet and thoughtful. He's also an upright man. Within a loud, boisterous entertainment industry, he has a personality that makes it easy to be hurt.

"Before and after my military service, whenever I took a break from work, I deliberated over whether I had to continue acting. When I struggled with work, I even thought that this actor's job was too much for me to handle. I thought, do I really have to go back there again and live that frantic life and lose myself? But I decided to do it to support myself. In the past, I found it a burden just being in the spotlight, but now I accept it, and I'm trying to enjoy it."
In the past, he has mostly taken on characters who carry the weight of life on their shoulders, such as in Piano (2001), The Age of Innocence (2002), When a Man Loves a Woman (2004), and Green Rose (2005). Following his army discharge, he has dived into deeply shadowed acting with the film Into the White Night and this drama.

However, in his rookie days, he showed his oddball side in sitcoms like Jump, Family Honor, and Nonstop. Even now, although he can be cold, sometimes he tosses out a joke and provokes a laugh.

"I still pursue roles that are a bit difficult emotionally. Of course, upbeat acting is also difficult, but right now I keep feeling drawn to roles where I'm driven to the edge of a cliff. I did comedy a lot in my early debut days. I think I'll do it again a while later."

He said of acting, "The process of creating a character is interesting, and I like focusing on something in order to do it. I enjoy being able to go all-in to make a character."

But he finds it awkward to call himself an "actor."
There are several different words in Korean to describe an actor or performer. First, there's "talent" (텔런트), which is a general word to describe a person who acts or appears on television as an entertainer. Then there's "yeon-ki-ja" (연기자), which literally means "one who acts." You can act (yeon-ki), but to paraphrase the great Tyra herself, you can do the verb (to act) without being the noun (Actor). One doesn't earn the distinction of being a Serious Actor ("bae-woo," or 배우) without proving oneself; a distinguished minority can lay claim to that word, such as Song Kang-ho, Sol Kyung-gu, Jeon Do-yeon, Go Hyun-jung… This is the word (bae-woo) that Go Soo uses here.
"An 'actor' is a path I'd like to take but can't. I think it'll be difficult in the future as well. What I consider to be an actor holds a very significant meaning for me. Could I actually become a serious actor? I'm just doing my best with the acting that has been given to me."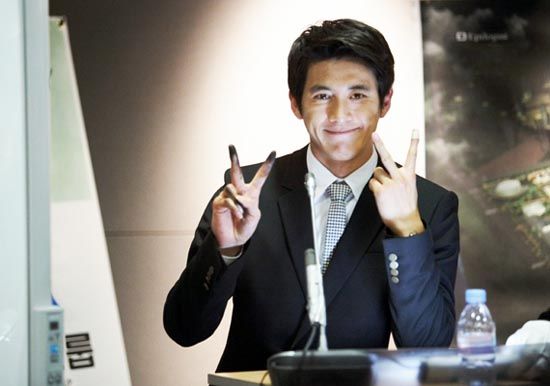 (Also, MINE! Hahaha. You'll never beat me to it.)

Via Yonhap News
RELATED POSTS