Smile: Episode 25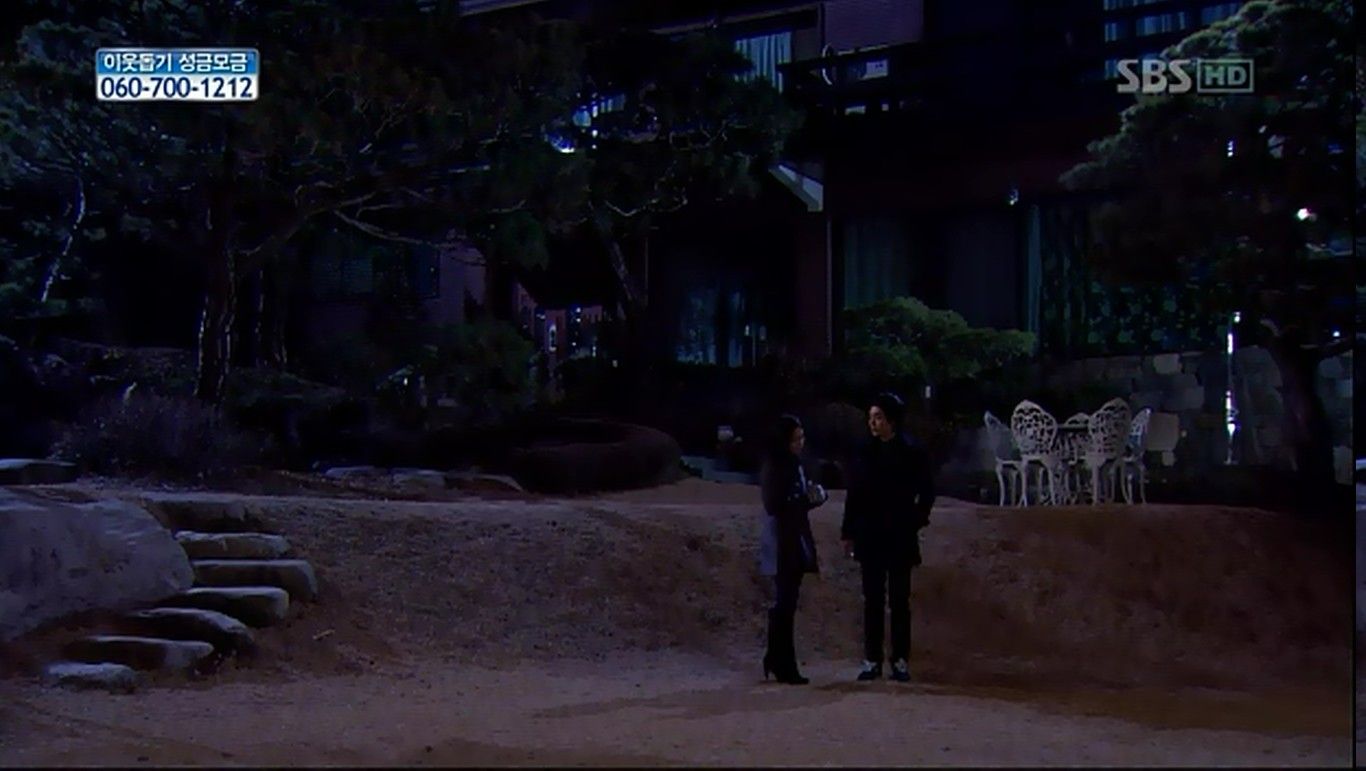 Hello to all continuing Smile-lovers and the now less enthused followers! I know it's been awhile (all my doing) and we're a full 10 episodes behind on the recaps, but there's good (or bad, depending on how you see it) news. There's still 11 more episodes left of Smile! That's a full 6 weeks – enough time for NBC to give Conan The Tonight Show boot, enough time for Toyota to be sent spiraling down by killer floor mats, enough time for a ferret to conceive and give birth, and (possibly) enough time for soyjoy and I to catch up on the recaps.
All kidding aside, the excitement I felt each Saturday and the sparkle that the series brought to my eyes are now a thing of the past. As soyjoy so aptly described in the past recap, Smile has positioned itself as the minivan in the lot of kdramas, kind of cool and fun in the beginning but still a minivan in the end, one that doesn't turn too many heads when joy-riding on the road. (I don't mean to take this metaphor too far. I just found it to be fun and clever…)
SONG OF THE DAY
Jung Kyung Ho (I'm Sorry, I Love You OST) – "소중한 사람" (My Precious Person) [ Download ]
Audio clip: Adobe Flash Player (version 9 or above) is required to play this audio clip. Download the latest version here. You also need to have JavaScript enabled in your browser.
This is a little random but I'm on still on a MiSa high after recently watching the 1994 drama, which started Jung Kyung Ho on his kdrama success. He demonstrates his acting chops playing a singer and So Ji Sub's (*sigh*) brother, even lending his voice to the OST.
When we last left off, Hyun-soo was laying a thick one on Jung-in, smack in the middle of his new car presentation.
Hyun-soo: Jung-in, I can't wait anymore. I think you'll have to cry from now on. Whatever happens, promise me that you won't waver and persevere through it.
At that moment, Sang-hoon walks into the hallway to see the two of them kissing. Being a man with some sense, he leaves the two of them alone, and calms himself down.
Hyun-soo returns to the presentation to unveil the new car, while his proud parents look on and applaud with enthusiasm (love it!) and a girl in love looks on with admiration and devotion.
The tears trickle down from his parents eyes as Hyun-soo talks about developing a love for cars while watching his father and grandfather. It looks like Hyun-soo's future is bright, but in reality, a storms a-brewing.
Jung-in heads back home with Hyun-soo's parents to prepare a congratulatory feast, trying to delay the ultimate unveil of their relationship for as long as possible. All the while, Sang-hoon looks on with worry as he sees the two continue to exchange lovey-dovey glances at each other.
With Geum-ja happy beyond belief, the two ladies have a ball while putting together dinner for Hyun-soo and his coworkers. And the family is excited to see Hyun-soo's success with the BEAT project. When the coworkers arrive, they are surprised to see Jung-in and her family living with Hyun-soo's family, but all take it in stride.
As everyone enjoys their dinner, including a little Sung-joon and Ji-woo (Hyun-soo's coworker) teasing thrown in for good measure, Han-se shows up with a slew of chefs to recreate the party atmosphere for the night's festivities. He tries to clear the table and put out the food prepared by professionals, but scary Sang-hoon comes out and kicks out Han-se's cronies.
After seeing Ji-soo's reaction to the teasing at the dinner table, Sung-joon comes out to talk to her and find out about her "three stars" (crimes for going to jail). He even tries to put her at ease by sharing the tales of his life of crime.
Sung-joon: I didn't want to say this, but I was kicked out after getting into a fight at Las Vegas. You're not the only one with a past. Fine. If you don't want to say, let's go one at a time. Me, getting thrown out. You? Me, I had over 100 traffic tickets. You? Me, skirting the army, public urination, singing boisterously, littering, and more…
He tries his darnest to get Ji-soo to talk, but she's not interested in revealing such details. When Jung-in comes to the backyard, she interrupts their discussion to Sung-joon's dismay. Finding out that Han-se is ruining the atmosphere indoors, he heads out for (I'm guessing) some libations when the motorcycle gang from Ji-soo's past shows up to teach Sung-joon a lesson. Ji-soo sees the gang when she leaves the house and runs to find a bloody Sung-joon. She breaks down and clutches Sung-joon, seeing the man she loves in pain.
Once the BEAT team leaves, Hyun-soo is ready to reveal his secret. He calls the whole family out for a meeting, while Jung-in grimaces in the corner, mouthing, "Don't do it…" (Hee-hee. So cute.) Seeing her agitation, Hyun-soo decides to announce the family trip instead, causing Jung-in to collapse in a sigh of relief.
The adults get excited about the thought of going away together, even to a humble sled resort. The only person not keen on the idea is Sang-hoon, who's no longer interested in bringing the two families together. He even tries to keep the two apart by volunteering to do the dishes with Geum-ja, when Hyun-soo and Jung-in say that they'll do the dishes together. Unfortunately, the two lovebirds have become adept at secret dating tactics and he looks on, perplexed, as the two exchange knowing glances.
The two make their way outside for their nightly date. And Jung-in has a nice surprise for her leading man.
Jung-in: Oppa, you were so impressive today, and charming, and made my heart melt. Team Leader Kang, you did a good job on BEAT. You did well. I give you 5 stars.
[Jung-in gives Hyun-soo 5 pecks on his cheek.]
Hyun-soo: That was kinda weak. Maybe it's because I didn't get to say what I wanted… my lips are a little itchy. Father…
[Jung-in gives Hyun-soo a peck on the lips.]
Hyun-soo: You can do stuff like this anytime you want.
It's hard to deny that these two are a very cute couple, but can you have too much of a good thing? (More on this later.)
As the two of them enjoy their rendezvous, Ji-soo and Jung-kyung carry a broken down Sung-joon home after his beating. He lies that the injuries are from a fall, even though no one's buying the fib. When Ji-soo tries to head out, he grabs onto her hand and calls for Hyun-soo. As a dense Hyun-soo comes next to him, Sung-joon slaps his hand away and clings to Ji-soo alone.
Hyun-soo and Jung-in look a little confused but Jung-kyung makes up an excuse to leave Sung-joon and Ji-soo alone downstairs. Jung-in is definitely quicker than Hyun-soo when it comes to matters of love and detects that something is going on between the two of them, but Jung-kyung interrupts their conversation to steer the attention back to Sung-joon's injury.
With the BEAT project closing down, Hyun-soo and team give their final presentation on the success of their project. Han-se can't stand to see the couple enjoy a shared moment and butts in at every moment possible. Seeing Han-se put his arm around Jung-in, Hyun-soo pushes it out of the way and moves Jung-in away from Han-se, letting him know that the two of will be having a coming out of their own very soon.
When Han-se calls Hyun-soo to his office for another throw down, he's seems to be ready this time around, citing the Seo and Kang family has reason enough for the couple's impending problems. Hyun-soo believes that he'll be able to provide for Jung-in and her family, while trusting that his family will support his decisions. But Han-se fully knows the problems that families can bring to a marriage and tells Hyun-soo to quickly end his chase so that Jung-in can come back to him.
Overhearing Hyun-soo's conversation with Han-se, Jung-in decides to encourage her love. She calls Hyun-soo out to introduce him to their new car: Mung-goo. Mung for Hyun-soo's nickname, mung-chung-yi (idiot) and goo for Jung-in's nickname, gae-goo-ri (frog). And gives Hyun-soo a big hug before sending him back to work.
She then heads to Han-se's office to dash any hope that he may about their future.
Jung-in: Once you get [the house] back, keep it for yourself. I told you that I wanted to marry you because I liked being loved. But besides that, I have a lot of good memories while we were together. But those memories and that house are just things in the past that I don't want to return to.
Han-se: Don't lie. You said that house was your hope.
Jung-in: I have a bigger hope now. It's to be part of Hyun-soo oppa's family. It'll be ten times, no hundreds times more difficult than getting that house back. But I think I'll be happy even during the difficulty. I'm sorry for saying this to you. But I need to become a bad person to you in order to attain my hope.
Han-se tries to hold onto Jung-in but she walks off. To find solace, he goes to see Jung-kil at Joon-bae's restaurant, and converse over a little meat and soju (alcohol) while working. Han-se tries to tell him that Jung-in's heart is now with Hyun-soo, but Jung-kil won't hear of it and tells him to focus his energy on getting back the house.
As annoying as the character can be at times, I think Lee Kyu-han continues to do a good job of keeping Han-se as likable as possible. I found his crouched position (in the scene with Jung-kil) to be both pathetic and endearing at the same time.
To feed the sick Sung-joon, Ji-soo brings abalone soup to the Kangs. When Geum-ja says that she'll save it for grandpa Man-bok only, a well-timed groan from Sung-joon gives Ji-soo an excuse to bring him the soup. He demands to know where the motorcycle gang is so that he can get his revenge, and free Ji-soo from them forever. Just as Sung-joon takes hold of Ji-soo's hand, Hyun-soo walks in to take them upstairs for a family meeting.
The family sits together to discuss the logistics of the family trip. When Hyun-soo says that he'll meet the adults at the sled resort, Sang-hoon makes a big stink about the need for everyone to travel together and spoils the plans of a romantic drive for the couple.
As a surprise, grandpa Man-bok pulls out bags filled with new clothes for the Seo family, including Ji-soo. The Seos blithely open up the package (and Geum-ja complains on the side) to reveal red uniforms for the family, completely the green and red colors of Christmas. The Seos grumble about being used as an advertising board for the Seung-ri Car Center and the reminder of the "Be the Reds" failure of the last World Cup, but in the end are satisfied with the gift.
The next morning, Hyun-soo takes special effort to butter up Joo-hee and presents her with a poem for the 1st Annual Paradise Vacation. Hyun-soo's compliment and poem puts her in a good mood. She comments, "The more I see you, you seem like part of our family. Hyun-soo, you are a romantic.", before skipping off to put some finishing touches on the poem.
Hyun-soo and Jung-in are touched by each other's efforts to win over the parents and encourage each other with, "Mung-goo couple UNITE!", while twirling around in a circle and continuing their kindergarten romance.
Before heading to the resort, Jung-in takes Hyun-soo to her old house for a farewell. Hyun-soo's taken aback by Jung-in's initial comments, but listens as she talks about her ability to see her grandfather wherever she lives.
Jung-in: So, I like living at your house the best. As long as I don't get kicked out, I'll live there forever with you.
Hyun-soo: Don't say that. Who'll kick you out?
Jung-in: You will. You'll kick me out if I annoy you by crying, grumbling, and sighing. I brought you here to make sure that you won't kick me out no matter what happens after the vacation.
[Hyun-soo hugs Jung-in.]
Hyun-soo: You're so bad. You selfish Seo Jung-in, only thinking about yourself. But there's something you don't know. I'm a selfish person also. Do you think I'll kick you out because you cry? I won't. No, I can't!
[Hugging her tighter]
Jung-in: It hurts!
Hyun-soo: Just wait even if it hurts! You said you'll endure anything. You can't even handle this?
The two of them continue their banter before Jung-in runs out to avoid getting caught by the new owners. But Hyun-soo stays behind and promises Jung-in's grandfather that he'll bring her back to this house.
While the adults head out, Jung-kil gets a call from Han-se with news about the owner of the house. And he gets the shock of his life when the owner's name is revealed: Baek Geum-ja.
Comments
As full disclaimer, I'll say that I'm fully caught up on watching the series, so my comments are probably tainted by the catastrophe of the episodes in the late 20s.
Smile has been on a downhill course for me the past few episodes. Sure the couple's sweetness is nice and all but I'd really like to see some real growth in the characters and the relationship. After giving us a few episodes of broody faces, they do bounce back to their former cheerful selves in this episode. I just wish that they would have come back with a bit more maturity or development, instead of returning to the same place that they were 5 episodes ago. I can't disagree that the scenes between Jung-in and Hyun-soo are still cute, but after seeing 20 of such scenes, even they become a little dull and repetitive.
As soyjoy mentioned in her last recap, the 16-episode extension is taking its toll on the lead couple and subsequently on all side plots. As much as I want to love Sung-joon and Ji-soo, they are also quickly loosing my interest with its odd motorcycle gang involvement and the even odder Kyung-soo addition which now seems to be a thing of the past. And what's happened to Jung-kyung? I know she wasn't anyone's favorite, but she was at one point a pivotal member of the story. Besides Hyun-soo and Jung-in, Smile just casts a net and hopes to catch something good when it comes to the side plot. And if it doesn't work, it just tosses out another net and tries lady luck one more time. Unfortunately, this disjointed approach is disrupting my enjoyment of the series and making me roll my eyes a bit too many times during the course of the viewing.
With the onslaught of new dramas in the new year, Smile is taking a backseat to spiffier and shinier models. But there is a ray of hope as we enter the episodes of mid-30s in the real world – that it might end up as a dependable minivan, no matter how ordinary and boring it might look from the outside. (Sorry for the semi-spoiler but the next 10 or so recaps might not be the most favorable. Just wanted you to brace yourselves.)
RELATED POSTS
Tags: Jung Kyung-ho, Lee Min-jung, Smile