Yoo Seung-ho and Kim Su-ro play chicken in God of Study
New stills for KBS's upcoming God of Study feature lead cast member Yoo Seung-ho (who plays a rebellious teenage troublemaker) engaging in a motorcycle race with Kim Su-ro. Yoo Seung-ho's character comes from a struggling household and delivers Chinese food as a side job; as they run into each other on the street, they exchange barbs and the situation escalates into a street race that has each guy cutting into the other's path.
Kim Su-ro, who is a motorcycle enthusiast, said of the shoot, "Because of the cold weather, filming the motorcycle scene was painful, but it was also thrilling to be ride a bike on a set for the first time in a while." Yoo Seung-ho filmed motorcycle scenes in his recent movie Busan, and said, "Riding motorcycles is a tough job. But the yellow bike is cute and fun, so it was fun to drive."
God of Study premieres tomorrow, and it's been a while since a night has featured brand-new dramas from every station. It'll be interesting to see which one grabs viewers' attentions most: God of Study, Jejoongwon, Wish Upon a Star (Pick the Stars), or Pasta. Which will you watch first?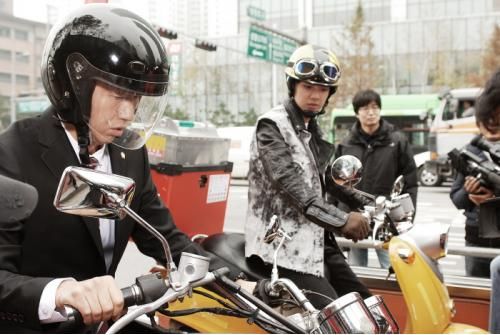 Via Newsen
RELATED POSTS
Tags: God of Study, Kim Su-ro, Yoo Seung-ho