Chuno: Episode 7
Chuno Episode 6 left us gasping for breath, waiting nearly a week to see what happens with the former General-turned-slave Tae-Ha rushing to rescue the former slave-turned-noble woman Hye-Won (Un-Nyun to Dae-Gil and so named for the rest of this recap), the former noble man-turned-slave hunter Dae-Gil rushing to capture Tae-Ha, Un-Nyun trying to escape capture from her brother's men, and Dae-Gil and Un-Nyun just seconds away from their reunion of sorts, as EVERYBODY appears ready to collide at a market intersection. Hehe!! It is a sight to behold, and you can't help but jump up and down in anticipation.
SONG OF THE DAY
Klaus Bedelt – "Skull and Crossbows" [ Download ]
Audio clip: Adobe Flash Player (version 9 or above) is required to play this audio clip. Download the latest version here. You also need to have JavaScript enabled in your browser.
Based on the last scene of the last episode, Dae-Gil was about 12 yards away, or a mere 2 seconds, from meeting the woman he has loved with all his heart, and for whom he has searched all of Korea for 10 years.  It appeared that meeting was inevitable; even if Dae-Gil were to trip and fall, or even if he were to get stymied by the rush of the marketplace, he would see Un-Nyun and then nothing could stop him from be reunited with his beloved.  Only Un-Nyun doing something like getting herself captured before reaching the intersection would prevent them from seeing the other.
And then, in a major k-drama case of "nuh-uh, I can't believe she did that" Un-Nyun accidently drops her rock (affectionally nicknamed "Choco" by hjkomo) which has represented her everlasting love for Dae-Gil, and Un-Nyun stops to retreive her precious rock… which, of course, leads to her capture by Baek-Ho before reaching the market intersection.  AUGH!! Oh, you foolish girl with perfect skin and hair, escape first! You can always get more rocks later!
And so Dae-Gil reaches the intersection without seeing Un-Nyun and immediately launches himself at Tae-Ha.  Slave hunter and runaway slave turn the crowded marketplace into a pile of smashed vegetables and broken tables. A quick stalemate in crossed sword to saber brings them face to face, but Tae-Ha's attention is clearly on someone else. Dae-Gil quickly swivels his head to see who Tae-Ha is looking at but only sees the back of the captured woman! AUGH!! Oh, you foolish boy with sculpted choco-abs! At least see WHO it is that Tae-Ha is trying to rescue! You can always fight more later!
And while Dae-Gil senses that Tae-Ha is trying to save this mysterious woman in white, Dae-Gil is really beyond caring. He simply has to capture Tae-Ha.  But a desperate Tae-Ha collapses an awning onto Dae-Gil, and manages to get away. In mere seconds, Tae-Ha reaches Baek-Ho and the rest of Un-Nyun's brother's men. Three against one, it is one fight after another!
But high atop a rooftop perch, where Wang-Son should have been, a colorfully dressed assassin named Yoon-Ji patiently waits for an opportunity to strike. Yoon-Ji has been sent by Lord Choi (the man Hye-Won / Un-Nyun sorta married but not really) to kill or capture the runaway bride.  Yoon-Ji correctly surmises that it is too much work to capture her, and so Yoon-Ji readies a dirk to throw at Un-Nyun. Her aim is true, but Baek-Ho, the leader of the group of mercenaries sent to protect and escort Un-Nyun back to Un-Nyun's brother, sees the thrown blade and throws himself in front of Un-Nyun, taking the hit for her. Un-Nyun cries out in shock at this latest attack.
The quick thinking Tae-Ha takes this opportunity to complete his rescue of Un-Nyun and they grab a horse and they are off!
After taking his sweet time getting himself untangled and freed from the collapsed awning, Dae-Gil tries to recover the lost time as he spies Tae-Ha fleeing with the mysterious woman in white.  Dae-Gil tosses one throwing knife in the air and whips the other at the fleeing duo on horseback. The first misses, but Dae-Gil catches the second knife and in a fluid motion, scores a direct hit!!
YEAH!  SCORE! DIRECT HIT!  Dae-Gil is pleased at his own martial ability, until he sees…
…is that… Un-Nyun??!
At that moment, in a complete daze as not in a thousand years would he have envisioned that he would have found Un-Nyun only to possibly kill her by a throwing knife, Dae-Gil is slashed at from behind by the soul-less Commander Hwang. Dae-Gil drops to the ground, lifeless.
A little while later, Baek-Ho and his men are recuperating from yet another ass-whupping by Song Tae-Ha.  Baek-Ho wonders, seriously, what the HELL he and his men have gotten themselves into.   Who are all these guys with extraordinary fighting skills? Could they ALL be sent by Hye-Won's sorta-husband, Lord Choi?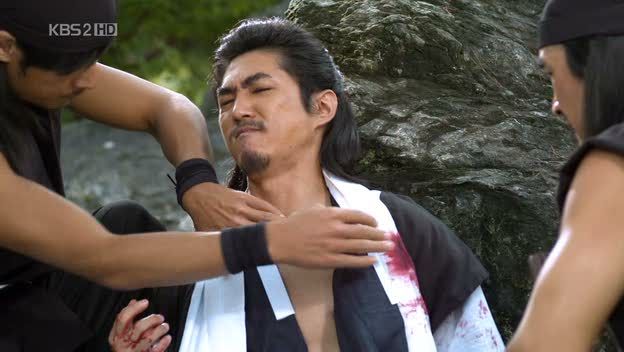 Answer: unlikely. First their fighting styles are too different, and that woman… with her skills, she's not even likely to be from Joseon at all, but from Qing (China) back when Qing was Ming – an assassin from the famed Ming Imperial Directorate of Ceremonial! Baek-Ho's men are surprised. How could a Ming assassin be in the employ of Lord Choi?  If Lord Choi has that kind of pull, then he is not someone to mess with…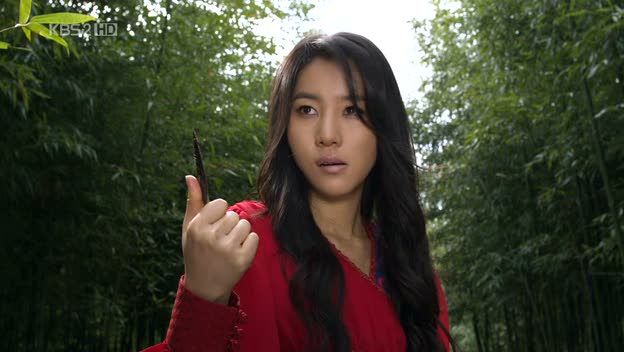 Meanwhile, the rat-bastard Chun Ji-Ho and his men find themselves in a bit of a pickle. As ordered, they kept watch as their employer Hwang went about slaughtering people in some rich person's house. This guy Hwang has murdered a lot of prominent-looking people, and now the 500 nyang that Chun Ji-Ho's gang got in advance doesn't seem to be enough. Chun Ji-Ho may not be the best fighter or have choco-abs, but he's got plenty of street smarts, more than enough to know that they weren't paid 500 nyang just to play look-out.  Are they being set-up to take the blame for the murders? Commander Hwang orders Chun Ji-Ho and his men to burn the bodies, but Chun Ji-Ho doesn't move right away. He figures more money needs to be forthcoming and Hwang needs them. Commander Hwang threatens Chun Ji-Ho with a few slick sword manuevers but doesn't kill him – it looks like rat bastard Chun Ji-Ho was right – there will be more money coming.
Not too far away, Dae-Gil has awoken from his forced nap at the hands of Commander Hwang, but remains in a daze (thank goodness for the armor provided by a foresighted Choi!). But who cares about Dae-Gil almost dying! Un-Nyun is alive, Un-Nyun is alive!
Choi and Wang-son cannot believe it; they've seen it before more than a few times. But Dae-Gil is adamant – Un-Nyun is alive! Given everything that has happened, with amount of powerful warriors appearing left and right, Choi urges Dae-Gil to stop this search. But Dae-Gil has too many critical reasons to stop – his heart, his reputation, his wallet and his very life – all of these things are now at risk. It is much too late now to back out. His beloved, Un-Nyun is alive and close!
Dae-Gil, Choi and Wang-Son head back to the copse of trees where they left Seol-Hwa and the horses, but they find nothing. They search for Seol-Hwa, but she is nowhere to be found.  Ahh, that girl!  Where did that dancing strumpet go now? And what will they do without their rides?
Back to Tae-Ha and Un-Nyun, who have made it a short distance away before Tae-Ha is forced to deal with Un-Nyun's knife wound. Tae-Ha has found a relatively safe and private location to tend to Un-Nyun, who has been bleeding profusely by the thrown knife. After inspecting the wound, Tae-Ha rushes off to create a field dressing to stop the bleeding. Tae-Ha returns and finds himself needing to undress her to adequately nurse her back to health.
Hours later, Un Nyun awakes to find herself half-nekkid from being treated by Tae-Ha and all blurry around her bosom for absolutely no reason at all.  Tae-Ha's sword lies beside her, a symbol that he hasn't left her, and will be there to protect her in the future? Un-Nyun realizes what Tae-Ha has done and goes outside the cave to thank him. 
Tae-Ha is just outside the cave, lost in thought by a shimmering water-fall. It would be somewhat romantic if not for the fact that Un-Nyun still has her Choco. Still, gentle Tae-Ha accepts the gratitude, but expresses the need to keep moving. Un-Nyun complies this time without argument, no more questioning from her. Tae-Ha has done more than enough to earn her confidence (umm, what about Baek-Ho who risked his life to save Un-Nyun? Doesn't he get a thank you too?). Interesting, speak of the devil – Baek-Ho and his men have already caught up with Tae-Ha, tracking them all the way to the cave.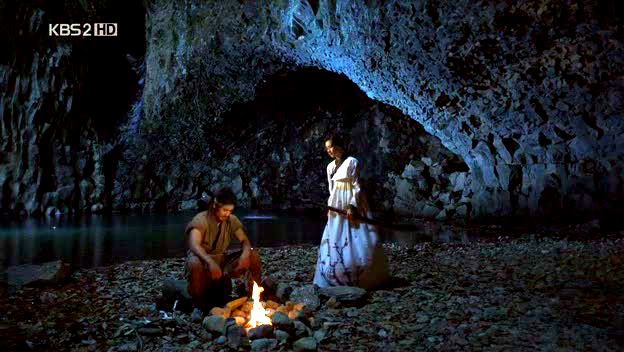 As Tae-Ha and Un-Nyun get a move on through the bamboo forest, Baek-Ho and his men pop up in ambush out of the bamboo trees and halt the fleeing couple. Tae-Ha acknowledges their zeal, but don't they realize by now that they are outmatched?  In a rather mixed show of respect and disdain, Tae-Ha plants his saber and picks up a bamboo switch. He won't kill these guys who clearly want to protect Un-Nyun (with their lives if necessary). It is two against one, but Tae-Ha quickly drops both of Baek-Ho's guards.
(Note: as impressive as it is, Tae-Ha does have a real advantage by using a short bambook switch. The bamboo switch is magnitudes lighter than the long swords carried by Baek-Ho's men, and lighter means quicker, faster strikes.  In close-quarters fighting, Tae-Ha can easily take on both less-skilled opponents using slower weapons.)
Tae-Ha then faces Baek-Ho, who grimly charges ahead anyway.  Baek-Ho knows he is facing a superior fighter but fights anyway.  And not surprisingly, after a few bursts of fighting, Baek-Ho is also defeated.  Tae-Ha notes that he understand that they must keep trying, but can Baek-Ho and his men give them at least one-night's peace? As men of honor, Baek-Ho and his men agree. They exchange v-cards, and Baek-Ho finds out the reason they keep losing. The man that guards Un-Nyun is none other than General Song Tae-Ha! They bow, probably feeling much relieved that they weren't beaten by some scrub. Baek-Ho asks what message that Un-Nyun wants to pass back to her brother.
Un-Nyun pauses for a second, but then says something shocking (to everyone, including Tae-Ha):
Un-Nyun: Tell him that this man is my husband.
Woah, Tae-Ha and I… we did NOT see that coming.
Far away, at Left State Minister Lee Gyeong Shik's home, more conspiracies are being planned, as Minister Lee tasks another son-in-law potential heir to corner the market in water buffalo horns, the key component in making composite bows. Minister Lee seems to be a supporter of the (now) Crown Prince Bong Rim, the second son of King Injo. Minister Lee surmises that if and when Crown Prince Bong Rim (who was the younger brother to the murdered Prince So-Hyeon) ascends to the throne, there will be war with the Qing, and Minister Lee's future stash of water buffalo horns will make him an even more powerful figure in the Royal Court.
As part of that plan, Minister Lee calls in a rich merchant's son, who has spent a decade being ignored for any kind of promotion to minsterial duty, despite his recent success with state examinations (which generally guarantee an upgrade in status). Minister Lee notes that a position for a ministerial position has opened up and it is high time that the rich merchant's son was able to make the move up the political ladder… but, alas, this process could be greatly facilitated if the son would agree to hand over 50,000 nyang worth of water buffalo horns to Minister Lee, for a bank note for 1,000 nyang. The son is outraged but finds himself pulled in by the enticement that he could make even ten times the value of the horns once he starts behaving like the corrupt minister he always wanted to be. As night falls, the rich merchant's son stalks away from Minister Lee's home, vowing to recoup the losses he has suffered this very night.
Evanescence – "My Immortal" [ Download ]
Audio clip: Adobe Flash Player (version 9 or above) is required to play this audio clip. Download the latest version here. You also need to have JavaScript enabled in your browser.
Miles away, night is beginning to fall on Seol-Hwa as well. After nearly a full day of waiting, Seol-Hwa is all alone. Where is Dae-Gil, Choi and Wang-Son? After the waiting all morning like she was ordered, Seol-Hwa had faced the increasing likelihood that Dae-Gil, Choi and Wang-Son have dropped her like a bad habit. Seol-Hwa had thus swallowed her bitter disappointment along with her tears, and sadly led the horses off to be sold. Seol-Hwa, alone again in this world, heads to a tavern to drink her sorrows away.
At the tavern, Seol-Hwa is immediately hit on by nearby men, and she decides to give up. Seol-Hwa tosses all of her remaining coins she got from selling the horses into the air and men gather around her greedily to take. Seol-Hwa resigns herself to playing the part of a dancing and singing strumpet, the role that she was forced to play when she was part of that dancing troupe and the only role that men only seem to expect out of her. It is a horrible existence to her, and so as she dances and sings like a puppet on a string, she is literally giving up – Seol-Hwa's face streams her tears even as she smiles a frozen smile.
(I think this is my favorite scene so far. The style of singing and dancing that Seol-Hwa is doing is traditional folk music called jap-ga (잡가 (雜歌), but to see Seol-Hwa performing a folk song (min-yo – 민요 (民謠)) so beautifully and intimately is heart-breaking, considering who she is singing for. It is almost like she is showing them that she is more than just a pretty face. But these drunken men, even as they sing and clap, don't care two nyangs about how she feels and they merely want to bed her. And Seol-Hwa knows all of this all too well as she sings and cries at the same time. I think the character of Seol-Hwa has stolen every single scene she has been in so far.)
And as one of the lecherous men creeps in to start fondling a drunk and resigned Seol-Hwa, Dae-Gil shows up! OH THANK GOODNESS! Dae-Gil kicks the would-be rapist away and Seol-Hwa turns to see her savior.
Seeing who it is, a depressed Seol-Hwa jumps up and cries out in unrestrained joy and relief, desperately hugging Dae-Gil:
Seol-Hwa: Orabeoni…?! Oh you terrible man!
Almost tenderly, Dae-Gil hoists a nearly passed-out Seol-Hwa on his back, carrying her from the place where she might have been raped and robbed by multiple men. Seol-Hwa is drunk but extremely happy that someone as cool as Dae-Gil Orabeoni did not abandon her.
Dae-Gil trudges back to his camp, with Seol-Hwa on his back, jabbering on for a little while about whether Dae-Gil knows what it feels like to be abandoned. Seol-Hwa finally passes out, and inadvertently drops her one prized possession – her hae-geum wrapped in cloth, and it makes a slight thud as it hits the ground. Dae-Gil notices and sighs, should he just leave it? But after a moment of deliberation, Dae-Gil bends low enough to pick it up. Hmmm, why is the Dread Slave Hunter Dae-Gil being so kind to a woman with whom he has no relationship, no duty, and no responsibility?
Not too far away, a similar scene is taking place between two other individuals.
Un-Nyun has sent away Baek-Ho and his men with a message for her brother. "Stop sending people after me, I am not going back to Lord Choi, I am already married to another man, General Song Tae-Ha." But as Un-Nyun is trying to explain why she said that to Tae-Ha, and how Baek-Ho will probably not chase them anymore, she finally collapses from her injuries and insufficient time of recovery.
Tenderly, Tae-Ha hoists an unconscious Un-Nyun on his back, trudging south. Tae-Ha cannot stop his mission to avenge his Master and to protect the last remaining true Crown Prince, even if he has to carry this beautiful but helpless woman with him the entire way. Their lives are linked now, perhaps by chance or by fate, but their lives are now linked. And then, at last, Un-Nyun who has carried her rock for more than 10 years, which meant so much to her that she was captured at the beginning of the episode because she couldn't not bear to let it go, at last, an unconscious Un-Nyun drops her Choco. Oh no! Poor Choco!
Dae-Gil carrying a passed-out Seol-Hwa and Tae-Ha carrying an unconscious Un-Nyun… do we have a debate on the horizon as to the One True Pairing?
Comments:
As you might have noticed, I haven't really spent too much time (or any time, actually) recapping the slave cabal story line with Eop Bok and others trying to start a rebellion against the yang-ban class and burning down the slave registers. The reason I've not spent any time on that story line is because I can't really figure out how it plays into the main story lines. However, in this episode, Eop Bok's role as the musket-totting slave has taken an interesting turn. Eop-Bok was given his next kill target, the rich merchant's son, by someone who knew exactly how much money the target would be carrying. This points to Minister Lee as the mastermind pulling the strings behind the slave rebellion, because he was the only one who would have known that that target would be carrying a bank note for 1,000 nyang! If and when the slave story gets more integrated into the main stories, I'll start recapping those scenes as well.
As for the rest of the episode, well, I am more than happy to be watching this drama. Granted, we are nearly 1/3rd of the way through, but given the huge size of the cast, there just hasn't been enough time to develop all of the story lines and flesh out characters. But this isn't really a criticism with Chuno, as it is more an acknowledgement that epic dramas with large casts will all generally have this issue.
I am now thoroughly enjoying this drama for what it is. An epic story in fusion sageuk fashion, with grand vistas and breathtaking cinematography, extremely beautiful people, wonderful action sequences, and interspersed moments of fun and hiliarity. The production values alone make this worth a long look. People might take issue at the character of Un-Nyun being a little lifeless and helpless, but really, I think we have to be patient for a while longer. This is a 24 episode drama, and Lee Da Hae's character has all the room in the world to grow (17 more episodes!), whereas most of the other characters can really only remain the same. I think the character of Un-Nyun / Hye-Won will see a dramatic shift in the episodes ahead, and a lot of the minor quibbles about Un-Nyun ability to stay clean and her popping boobies will be forgotten.
RELATED POSTS
Tags: Chuno, Jang Hyuk, Lee Da-hae, Lee Jong-hyuk, Oh Ji-ho