Chuno: Episode 8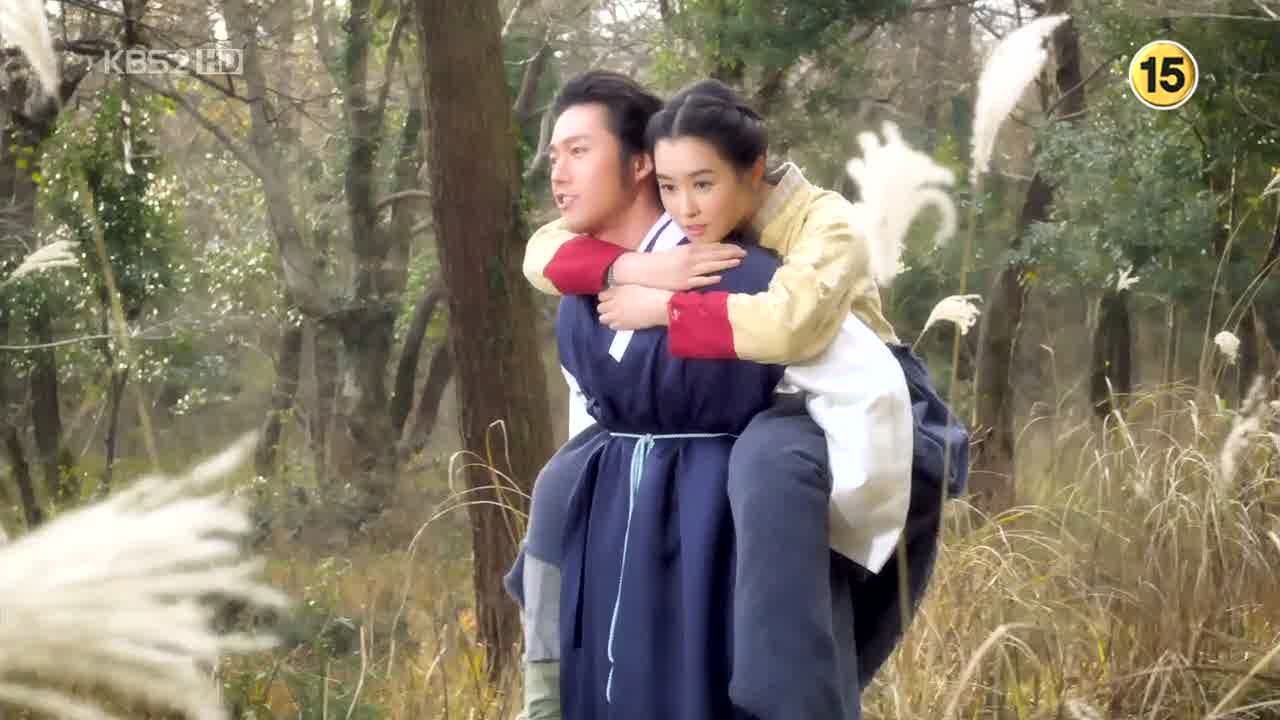 The Thursday episodes cliffhanger tradition continues with the so-close-yet-so-faraway chase between Dae-gil and Tae-ha/Un-nyun…
SONG OF THE DAY
Enya – "Far and Away" [ Download ]
Audio clip: Adobe Flash Player (version 9 or above) is required to play this audio clip. Download the latest version here. You also need to have JavaScript enabled in your browser.
The episode begins with a flashback of Dae-gil piggybacking Un-nyun and telling her his plans – he'll pass the national examination, get an important position in court, and create a world that doesn't discriminate between social classes. This is the world he dreams of – one where he and Un-nyun can live together for all eternity. Aww.
Back to the present…
Because one viewing (in Episode 7) wasn't enough to show us just how sad it was for Choco to be unwittingly dropped and left behind by an unconscious Hye-won, we get to see it one more time. Poor Choco!
In the morning, Seol-hwa is jolted awake by the slave hunters demanding to know what she did with their horses and money. Seol-hwa says she sold the horses and spent all of the money on food and drink. Uncharacteristically, even General Choi loses his cool over the news. Wang-son suggests selling her to recoup some of the loss, but Dae-gil just coldly tells her to leave, which she does tearfully.
Dae-gil notices Seol-hwa left her haegeum behind. In a sharp contrast with his ostensibly harsh dismissal of her, he once again picks up and rescues her precious instrument, just as he had done when he piggybacked her from the tavern in Episode 7.
Meanwhile, Tae-ha has brought Hye-won to the house of his former superior. While Hye-won sleeps, Tae-ha briefly removes his headband revealing the 奴 (no – male slave) branded on his forehead. He leaves her with some juk (porridge) to eat, as well as new clothing and a hairpiece (which will make her look like a married woman but is the easiest way to conceal her short hair).
Tae-ha apologizes to his former superior (played by Jung Ho-bin) for bringing trouble to his doorstep. The former general resigned from his commission when Joseon was defeated by the Qing and only wishes to live out the rest of his days in peace.
General: Is that woman a slave as well?
Tae-ha: She is a maiden from a noble clan. And I am not a slave.
The general reproves Tae-ha for defying the law and points out that, under the law, Tae-ha is still a slave. Tae-ha asserts that he was falsely accused, but the general says that's no excuse. A public servant must always follow the law – that is how one serves his sovereign (above) and looks after the people (below).
Tae-ha: Why did you refuse to surrender to the Qing and leave the force? Wasn't that not following the law?
General: There are certain orders a soldier cannot follow.
Tae-ha: It was the same for me.
Tae-ha then informs him that Im Young-ho was murdered by the general's own subordinate, Hwang Chul-woong.
Elsewhere, Scholar Jo continues on with the late Im Young-ho's plans to create a new world. He distributes the messages written by Im Young-ho in invisible ink to Song Tae-ha's men, who have all been living as slaves these last two years. After revealing and reading their secret messages, the men each partake in a fiber-rich snack. (Yum!)
While Tae-ha speaks with his former superior, Hye-won/Un-nyun changes into the hanbok and hairpiece Tae-ha brought her. She looks at the scar on her chest, where her slave brand used to be, and then suddenly notices that Choco is gone. OH NOES! She searches frantically for her precious rock but realizes that she must have dropped it while being carried by Tae-ha. With a heavy heart, she reminisces about the good ol' times with Choco and Dae-gil.
Flashback: While Dae-gil is studying for the national examination, Un-nyun brings him a late-night snack. He pulls her into his room and reminds her of his promise to carry her piggyback around the eight provinces of Joseon, teasing that he could blow off the exam and start the journey now, if she likes. He playfully tries to pull her onto his back, while she resists…leading to a close encounter of the romantic kind. Dae-gil leans in to kiss Un-nyun, but she draws back at the last moment and asks that he not toy with her. As a child, she naïvely thought they were equals, but she is now well aware of the class divide between them. So, what else could she be to him but a plaything?
Dae-gil: You know… I hate it all.
I hate you being cold, I hate you being hurt, and
I hate you having a hard time.
Un-nyun remembers this and mourns the loss of Dae-gil Choco. (But don't worry, Choco! You're lost but not forgotten!)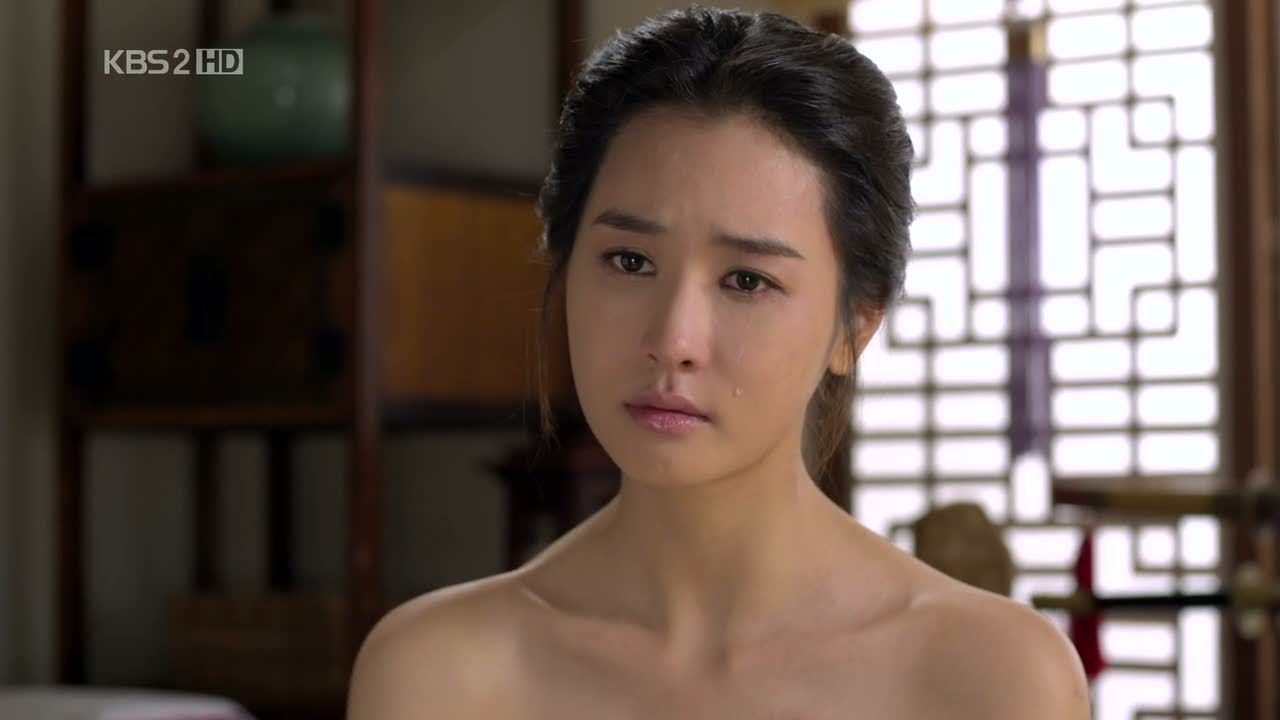 Tae-ha says he's going to Jeju Island to save Prince So-hyeon's last remaining son, but the general warns that the course of history is not so easily changed. Nevertheless, he agrees to stall for time, when Hwang Chul-woong arrives, to allow Tae-ha and Hye-won to make their escape.
Former superior and subordinate engage in a droolworthy battle of skills. (Jung Ho-bin in a fight scene is always hot + Lee Jong-hyukHOT = double hotness. *someone get me a fan – stat!*)
But, in the end, it's the former subordinate who remains standing, while the general lies mortally wounded.
General: So, you have greatly improved…
Chul-woong: May you rest in peace.
Tae-ha and Hye-won leave the general's house dressed as nobles. They pass right by Chun Ji-ho, who notices something peculiar about the couple – why are they traveling without any retainers or belongings? He calls out to stop the two passersby, but they narrowly escape when Hwang Chul-woong distracts Ji-Ho with instructions for another corpse disposal. Phew!
While Baek-ho's men continue to trail Hye-won, Baek-ho reports back to her brother and informs him of Hye-won's marriage to Song Tae-ha. As if discovering his sister is married to a runaway slave weren't bad enough, Kim Seong-hwan (a.k.a. Keun-nom) learns that the slave hunter pursuing them is none other than Lee Dae-gil, the man he thought he had killed along with his entire family. Under the pretext of protecting Hye-won, Seong-hwan orders Baek-ho to kill Dae-gil – at all costs.
Since Seol-hwa squandered away all their money, the slave hunters have to replenish their funds. Using their counterfeit amulets, they impersonate capital bureau officers and demand citizens show their hopae, (호패 / 號牌) state-issued wooden identification tags. Those with legitimate tags are let go, while those without (because they are either criminals or runaway slaves posing as commoners) are fleeced for bribes.
While Dae-gil scours the main streets for his next mark, Seol-hwa hangs around the food vendors hoping for some free food. As [bad] luck would have it, she runs into the dance troupe she ran away from. She's caught with no possibility of escape, but then, she spots Dae-gil and calls out to him for help – Orabeoni! Her pleas remind Dae-gil of the Manchu war, when Un-nyun cried out to him to save her, but he merely watches as they drag Seol-hwa away, turning a blind eye and a deaf ear…
…until his conscience gets the better of him.
Once again, Seol-hwa is forced to dance for tips and give a preview of her wares for the evening's more intimate activities. (Like the music played during Seol-hwa's folk song in Episode 7, the music here is used beautifully in this scene. I love the dichotomy between the upbeat folk song and the more somber tone of the score.)
Chuno OST – "Flower Road Star Road" (꽃길 별길) [ Download ]
Audio clip: Adobe Flash Player (version 9 or above) is required to play this audio clip. Download the latest version here. You also need to have JavaScript enabled in your browser.
When Seol-hwa comes across Dae-gil acting like a customer (in the episode's most adorable pose), she hugs and tackles him to the ground, overcome with tears of joy and relief that he came back to rescue her.
The dance troupe, however, is not about to let go of Seol-hwa that easily. Dae-gil offers 200 nyang for Seol-hwa, a price that the troupe leader is too greedy to pass up, but when Dae-gil hands over only 15 nyang and a verbal I.O.U., the leader orders her men to teach him a lesson. Dae-gil, however, concludes the transaction by opening up a big can of whoop-ass on them.
Back at the ravine, Wang-son flaunts his loot in front of Choi, whose earnings were a bit more meager. Then Dae-gil, whom Wang-son is sure to have scored the biggest, brings back…uhhh, Seol-hwa? Wang-son is incensed but then easily appeased with a little sweet-talking from Seol-hwa. She also vows her days of troublemaking are over and promises to do all the cooking, washing, and laundry.
Too bad, though, that Seol-hwa's ineptitude at cooking leaves Wang-son wearing the apron again that night. (Ha!)
Tae-ha and Hye-won stop at an inn for the night, sharing a room with only a cloth divider hanging between them. Tae-ha asks Hye-won to come to Jeju with him. That is where it all begins…where history will be rewritten. Hye-won does not wish to get in the way of his important mission, but Tae-ha expresses his desire to protect her (something he failed to do for his wife and son). When the cloth between them suddenly falls, they see they have been facing each other, and a moment of awkwardness at realizing just how close they are ensues.
In Mokpo, Hwang Chul-woong sends two of Ji-ho's men back to Hanyang with a letter for Lee Gyeong-shik and then requisitions a military boat for Jeju.
Tae-ha and Hye-won, however, are headed to Jeju via Wando, and Dae-gil, having figured Tae-ha would take this route, is hot on their trail. But the more immediate threat comes from the Ming assassin, Yoon-ji. Disguised as a noblewoman, she sneaks an attack on Hye-won, lunging with her knife from behind, but Tae-ha's quick reflexes keep the blade from plunging into its victim. As Tae-ha and Yoon-ji fight in hand-to-hand combat, Yoon-ji unsheathes a second knife and jabs upward. Tae-ha moves quickly enough to avoid injury, but his headband is not so lucky, and it falls to the ground, revealing Tae-ha's slave brand.
Hye-won sees Tae-ha's slave mark, Tae-ha sees that Hye-won has seen his slave mark, and Dae-gil is moments away from reaching Tae-ha and Hye-won. Again.
COMMENTS
Tae-ha has repeatedly told Hye-won that he is not a slave – something he truly believes, but even his former superior has pointed out that he is a slave under the law. Now that the cat is out of the bag, how will Hye-won react?
And will Dae-gil reach them in time? PD Kwak and the writer, Chun Sung-il, have certainly left the viewers clamoring for more, while agonizing over the six-day wait for the next episode, with these Thursday cliffhangers. Stay tuned.
RELATED POSTS
Tags: Chuno, Jang Hyuk, Lee Da-hae, Oh Ji-ho