Chuno: Episode 9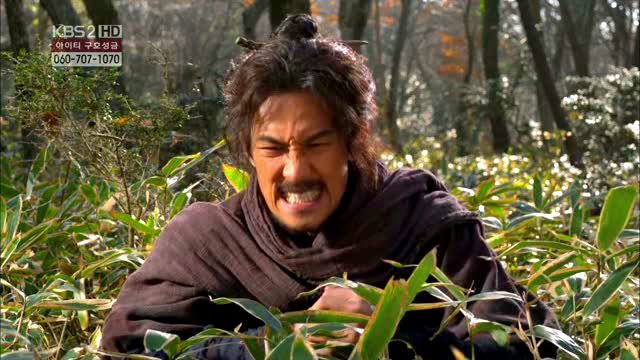 What does a General do in the forest?
In what has become a Chuno drama series' tradition, the even number episodes that end the weekly doublet have left viewers strung out and anxiously waiting for their next hit. Chuno Episode 8 cut off right as Song Tae Ha has been uncovered as a runaway slave as he saves Un-Nyun's life. And slave hunters Dae-Gil, Choi and Wang-Son were closing in fast, showing off their parkour skills as they rushed to capture Tae-Ha. Will this be the reunion episode?
SONG OF THE DAY
Chuno OST – "검은 울지 않는다" (A Sword Doesn't Cry) – Choi Chul-ho [ Download ]
Audio clip: Adobe Flash Player (version 9 or above) is required to play this audio clip. Download the latest version here. You also need to have JavaScript enabled in your browser.

The assassin Yoon-Ji had launched a surprise attack on Un-Nyun, and only the quick reflexes of Tae-Ha have saved the day. Yoon-Ji is then forced to attack Tae-Ha, launching spinning attacks that end with a reverse-gripped second dagger slicing upward.
By the narrowest of margins, Tae-Ha remains unscathed but his headband has been sliced apart, revealing the dreaded 奴 tattoo burned into his forehead. Note: this 奴 symbol, pronounced as "no" in Korean (see Chu-no), is the Chinese lishu character for slave. If you look closely at this symbol, you'll notice two elements side by side – left side radical 女 meaning woman (originally, this element was in the jiaguwen form of a woman kneeling) and the right side element being a stylized version of "right hand" – put together, 奴 means a hand servant or slave. The Korean word "no" itself translates to male slave, and together with the Korean word "bi" for female slave, combines to form the Korean word, "no-bi," which is the generic Korean term for slave and for slavery in the Joseon period.
Seeing this tattoo is a shocker for Un-Nyun, who really believed Tae-Ha when he said that he was not a slave.
But for Un-Nyun, the revelation of the 奴 has special significance. It was 10 years ago that she and her brother Seong-Hwan had escaped from Dae-Gil's family's ownership. To be integrated into society as free people, Un-Nyun and Seong-Hwan resolved to obliterate their tattoos by taking a red-hot iron and burning off the mark. It is almost too much for her memory to bear, and Un-Nyun is frozen by the sight of 奴.
Tae-Ha makes Yoon-Ji pay for gambling with a risky attack. Reverse-grip dagger fighting against a skilled and physically stronger opponent is a bad idea if the initial attack fails, as such an opponent would undoubtedly try to close the distance and grapple – your dagger, held reverse-grip, will end up being pointed towards your own body! And so, in a rather abrupt ending, Tae-Ha plunges one of Yoon-Ji's own daggers into her stomach, and it is good-bye to this intriguing but rather under-developed character.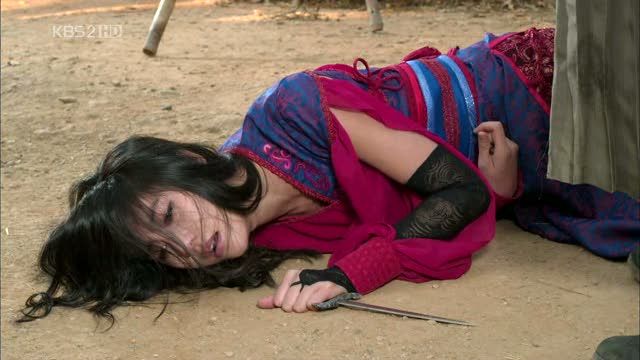 As predicted by Dae-Gil, Tae-Ha and Un-Nyun had decided to get to Jeju Island by picking the closest coastal town up-river from the island port of Wando, which iself is the closest port to Jeju Island. Tae-Ha grabs Un-Nyun by her wrist and they make it to a boat. With no further hinderances, they are off to Wando to find passage to Jeju Island.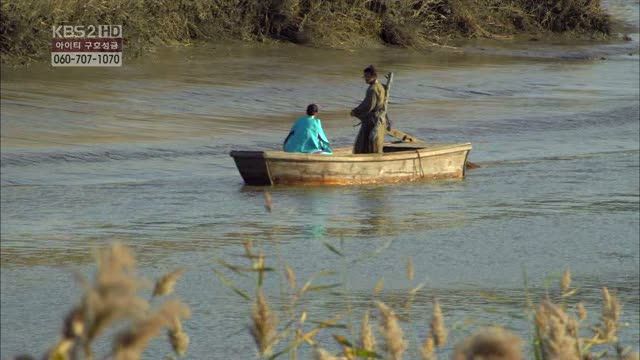 Meanwhile, Dae-Gil's mad dash to get to Tae-Ha and Un-Nyun before they make it to boat gets stymied, when Baek-Ho and his men suddenly appear in ambush. Dae-Gil barely escapes the initial slash by Baek-Ho, who could have cut Dae-Gil in two. Dae-Gil quickly defeats both of Baek-Ho's men, and then faces off against Baek-Ho, who has been ordered by Un-Nyun's brother to kill Dae-Gil at all costs.
Baek-Ho: Are you the slave hunter Lee Dae-Gil?
Dae-Gil (sneering): Lee Dae-Gil… is a name I am hearing for the first time.
Baek-Ho (unfurling a color drawing of Un-Nyun): This girl… do you know her?
I'm not exactly sure why Baek-Ho shows the drawing of Un-Nyun to Dae-Gil – why would Baek-Ho have thought that showing a color drawing of Un-Nyun make Dae-Gil freeze like a statue? But for certain, Dae-Gil is stunned by the drawing which shows Un-Nyun older than the pictures that Dae-Gil has been showing around. This man has seen Un-Nyun recently! Baek-Ho launches a killing attack on Dae-Gil but just before Baek-Ho is able to strike home, he is stopped… dead. General Choi has saved Dae-Gil with a wondrously accurate thrown-spear from some distance away!
Baek-Ho looks despairingly at the spear that has gone clean through his back and protruding out of his chest. He is a dead man, and has only time enough to gaze for a few seconds at the woman he loved and swore his life to protect. This is a rather poetic scene. The picture of Un-Nyun was sliced in two by Baek-Ho's surprise attack on Dae-Gil, and a dying Baek-Ho picks up one half and Dae-Gil picks up the other half. Neither has the real woman, and now the drawing (woman) has been ripped to pieces.
Dae-Gil rummages through Baek-Ho's corpse to find something that might give him a clue as to where to go next, and finds the clue that he is looking for: a wooden slip called a ho-pae (호패 / 號牌) that gives Baek-Ho's name, hometown, age (by birth year) and rank (if applicable).
With that, Dae-Gil rushes off to get to Baek-Ho's village, where he thinks he can find Un-Nyun, not even waiting for Choi and Wang-Son. Dae-Girl runs back to Seol-Hwa and rips a horse's tether out of her hands and gallops away. The hell with that! Seol-Hwa leaps onto the last horse and chases after Dae-Gil. Choi and Wang-Son arrive too late, what the heck do they do now?
Back in the capital city of Han-Yang, a few of Chun Ji Ho's men have been ordered to see the evil Left State Minister Lee Gyeong Shik at his open pavilion, while Chun Ji Ho and his right hand man are sticking with Commander Hwang Chul-Woong. The men going to see Minister Lee bring forth Commander Hwang's written accounts detailing the successful murder of the former Left State Minister Im.
Minister Lee is pleased and leaves the pavilion, leaving Chun Ji Ho's men and more importantly, leaving plates of hot and delicious looking food just sitting there. Chun Ji Ho's men happily help themselves, not knowing that Minister Lee has poisoned the food. They die horrible deaths, and then are strung up like criminals for the local magistrates to find.
Meanwhile. Tae-Ha and Un-Nyun are well on their way to Wando. Un-Nyun is full of questions. After a few questions – but really, Un-Nyun could have asked about the weather, or about Tae-Ha's favorite hobby, but right as rain she was going to ask the following question:
Un-Nyun: How did you come come to be a slave?
Tae-Ha: I am no slave.
Un-Nyun (expecting that answer): Then what is all of this? You are a slave but not a slave. You are one the being chased but you are not running away. What kind of words are these? Which words that you speak are ones I can believe in and which words should I throw away?
Well, this is right. Tae-Ha has sort of dragged Un-Nyun into a situation that she has not the first idea about. Then again, Un-Nyun does seem a little bit self-righteous (*cough* err, who's not a slave again? *cough*). Further, Tae-Ha is actually the one who should be indignant, because if it wasn't for him having to drag Un-Nyun around, he probably would have made it to the former Minister Im's house in plenty of time to discuss things before Commander Hwang got there and massacred everybody.
So Tae-Ha fills in the details. After his subordinate Hwang had betrayed him with Lee Gyeong Shik, the then Left State Minister Im came to visit Tae-Ha and his men in jail. Minister Im told Tae-Ha about the secret letter that the Prince had written to Tae-Ha, and how vital it was for Tae-Ha to survive and not to take the dignified path of being executed (and therefore spared a lifetime of indignity). Tae-Ha and his men thus allowed themselves to be turned into slaves, with the plan being that Minister Im would "activate" Tae-Ha and his men when the time was right.
Un-Nyun's response is a little revealing:
Un-Nyun: Then are you trying to undo this false accusations and go back to your life before you were made into a slave? Is that why you ran away?
Tae-Ha: I have more important things to accomplish than shedding slave status.
Un-Nyun (almost rhetorically): Could there be more important things than to free yourself of slavery?
Un-Nyun was born a slave. And with being a slave, Un-Nyun knows that she can be bought and sold, used for sexual pleasure, beaten, raped, starved, branded, tortured. And if she resists, she could be tortured and/or killed. If she were to have children, then those children, no matter who the father was, would also be slaves. From her perspective, what in the world could be worse than slavery? And therefore, what in the world could be more important than freeing one's self from being a slave?
On the other hand, Tae-Ha was not born a slave. Rather, he chose to swear an oath to defend the Crown Prince, and in so doing, Tae-Ha endured the loss of his command, the torture, the beatings, the permanent branding of 奴 because he had greater purpose. Tae-Ha lives not for himself, but for that greater purpose. It is interesting to wonder whether Un-Nyun might find greater purpose in her life, or whether she will spend the rest of her life trying to run away from being a slave.
Tae-Ha: There is something that I must do, even it means that I am turned into something even worse than being a slave.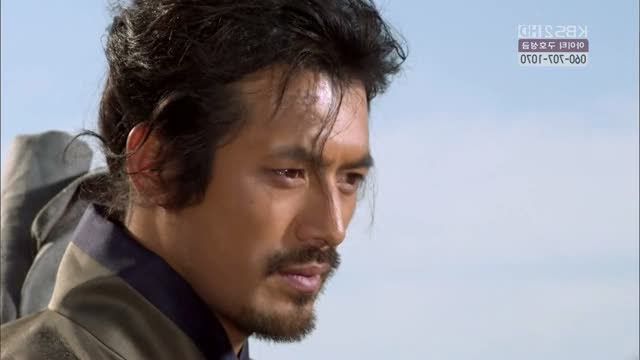 Un-Nyun stares at Tae-Ha, slowly shaking her head from side to side. Tae-Ha might be have his heart in the right place, but it is clear that he doesn't know a thing about what he is talking about. It is all just academics and theory until you've seen and been through what being a slave does to you.
Un-Nyun: There is nothing in this world that is worse than being a slave.
But even as Un-Nyun shakes her head, she takes off her cloak and tears the ribbon to make Tae-Ha a new head-band. Tae-Ha is surprised and touched by Un-Nyun's gift. Un-Nyun could have told him to rip off a strip of his own clothes to make a head-band, but she used her own clothes instead. And Un-Nyun picked a ribbon color that matched the trim on Tae-Ha's jacket, and really, who does that except for girlfriends marking their territory and/or wives?)
The slave rebellion conspiracy story line just got a little interesting, and I'm including some of it here. Back in Episode 7, Eop-Bok shot and killed a noble. Eop-Bok's girlfriend, Cho-Bok, rummaged through the dead man's clothes to find a 1,000 nyang draft note. Now the slave conspiracy wants to trade in the 1,000 nyang draft note to buy muskets but to do so, they need to enlist the aid of a slave who knows how to launder the note. Eop-Bok is angered to learn that person who can do the laundering is the same con-man who swindled him earlier! Eop-Bok is ambivalent now as to whether to continue.
Late that evening, Eop-Bok and Cho-Bok are walking in the late fall night, and Eop-Bok asks if Cho-Bok thinks it is possible for a righteous movement to use a non-righteous person like that con-man slave. Cho-Bok thinks for a second, smiles and grasps Eop-Bok's hand in hers, just as if they were two lovers out for a night-time stroll. Eop-Bok is immediately scared of being caught, but Cho-Bok smiles and squeezes his hand.
Cho-Bok: What do you think?
Eop-Bok: Let go, won't you?!
Cho-Bok (slowly letting go): You saw me, right? You hold on when you hold hands. And then you let go when it's time to let go… When to hold and when to stop… Whether to let go or not. But NOT to dither and hesitate. Hmm?
The logic is beyond Eop-Bok, who can likely only remember the touch of Cho-Bok's warm hands on this cool autumn night. Even with the thousands of stars out shining bright in the night sky, there is none can match the glow of an incandescent Cho-Bok. I think the character of Cho-Bok is quickly elevating to match Seol-Hwa in energy and brilliance. I'm totally sold on Cho-Bok at this point.
Under the same night sky, Dae-Gil and Seol-Hwa have camped out before sleeping the night. Seol-Hwa still doesn't know why they left Choi and Wang-Son, as Dae-Gil isn't saying. Seol-Hwa stretches out, both satisfied with her life (not being forced to dance and and not satisfied with her life (bored) at the same time.
Seol-Hwa tries to bait Dae-Gil into conversation, starting with an outrageous statement that she might want to just up and become a slave hunter like Dae-Gil and his merry band. That hits a nerve with Dae-Gil, who responds.
Dae-Gil: Now you've gone off the deep end. Is this something that you would think worthy of being your calling?
Seol-Hwa: Then why do you do it?
Dae-Gil pauses and unconsciously traces the length of the scar he got from Un-Nyun's brother, the slave who killed his whole family and ruined his planned life with Un-Nyun.
Dae-Gil: …because they [the runaway slaves] need to be caught. The slaves who betrayed their masters must all be caught and returned to the way things were.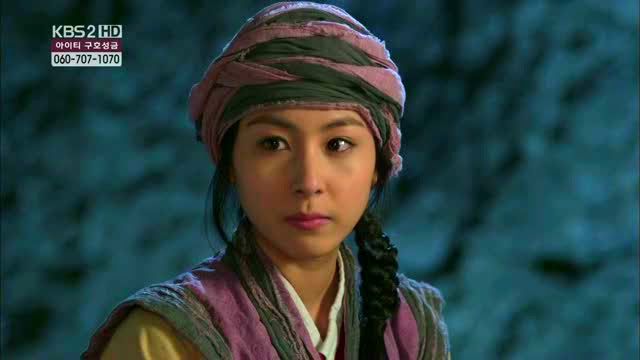 It is more than a little ironic and tragic that Dae-Gil is the most feared slave-hunter around, since in his past life, he wanted nothing more than to become a person of high enough influence, so that he might change the world and get rid of slavery altogether. All Dae-Gil wanted to do was change the whole world so that he would be able to marry his slave-girl Un-Nyun. And now Dae-Gil enforces that order.
The next morning, Dae-Gil and Seol-Hwa find themselves in Baek-Ho's home-town, and Dae-Gil instructs Seol-Hwa to go ask questions and find out where Baek-Ho lives, who his master is, whether people know of Un-Nyun, etc. Seol-Hwa responds by asking whether Dae-Gil is just going to abandon her once she goes off looking.
Seol-Hwa: If you abandon me again, I won't let it just pass. Even if I don't have any faith in any man in this whold world… you know that I have faith in you, right? And you know what that means, when a woman says to a man that she has faith in him?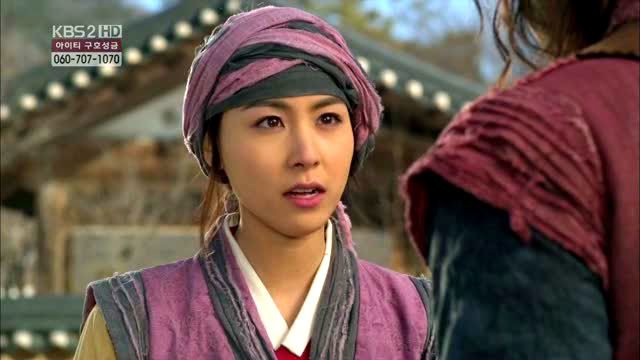 As if Dae-Gil didn't have enough to think about at the moment. He is perhaps just a few moments away from meeting up with the man who killed his disfigured his face, killed his whole family, destroyed his whole clan, and stole his love away from him, and who knows, perhaps Un-Nyun will be there as well, and where Un-Nyun is, perhaps Tae-Ha will be there too. Seol-Hwa has just admited that she likes Dae-Gil – but what can Dae-Gil do with that information, where would Seol-Hwa find room in Dae-Gil's heart?
Back again to Tae-Ha and Un-Nyun. They have found passage on a cargo ship heading to Jeju Island, and on the overnight passage, it appears that Un-Nyun has started to develop feelings for the former General. After a rather fitful night in the cargo hold where each of them took turns gazing at the other, Un-Nyun and Tae-Ha meet on the deck in the morning. Un-Nyun thanks Tae-Ha for lending her his cloak as a blanket, and hands it back. But there is meaning in every action, and Tae-Ha looks at his jacket, which has been folded neatly with the draw ribbons also folded. Tae-Ha has been married once before, and knows a gesture like this means that Un-Nyun is offering more than just the return of his cloak.
Ahead of the newly-formed couple, at the village where the last surviving son of the late Crown Prince is residing. The Constable Kwok (that rat bastard fink who betrayed his fellow soldiers and his General Song Tae-Ha, thereby escaping a lifetime of punishment as a slave) is gambling with his peers. After losing a bit, Constable Kwok takes a breather and heads over to a water barrel to drink. But then Constable Kwok takes out a blank piece of paper which he sets into the water. It's Minister Im's secret message!
Wow, I did not expect this. It appears that Constable Kwok did NOT betray Song Tae-Ha after all, but was part of the counter group headed by former Minister Im! Constable Kwok pales as he reads the secret message. Constable Kwok realizes he has little time and must take the little prince out of danger immediately. And in fact, he has even less time than he could have imagined, as he peers down the village path and sees his nemesis Commander Hwang approaching!
Constable Kwok must act NOW. Quickly Constable Kwok takes out all of his peers, killing five men in an instant. The noise brings out the nurse / lady for the prince, who is shocked by the blood-drenched Constable Kwok. She has no idea how close things are to being a disaster. Constable Kwok literally yanks the infant prince from the lady and makes a dash for it out the back way just as Commander Hwang and Chun Ji-Ho, alerted by the sounds of battle and screams, run in through the front.
Commander Hwang quickly surveys the scene. He orders Chun Ji-Ho and his lieutenant Man-Deuk to run after the escaping infant prince and whoever is carrying him. But Man-Deuk, egged on by Chun Ji-Ho, chirps up and asks for more money. Slice! Commander Hwang has no time for games and kills the man. Chun Ji Ho runs off as Hwang attacks him as well, but Hwang has no time to play around. He must find where the escapees are heading! Despite the danger in remaining in the place where soldiers have been killed, Hwang enters the hovel to search for clues. Hwang realizes that there is an organization at play that must have gotten there ahead of him, and looks for markings that might say where they have gone. And he finds them. They went north!
Only a mile or two away, Tae-Ha and Un-Nyun are on their way to that same hovel, not knowing that they are a bit late. When they arrive, they see the carnage of now 6 dead people (5 soldiers + poor Man-Deuk)!
Tae-Ha searches for and finds the same clues as Hwang did less than an hour before. But late to the party means they are stuck with the tab. When Tae-Ha leaves the hovel, he finds that he and Un-Nyun have been surrounded by 12 soldiers, including 10 men with bows! Poor Tae-Ha!
And finally, Seol-Hwa returns to Dae-Gil with the information about Baek-Ho's location, teasing Dae-Gil at first. But Seol-Hwa's mirth turns to a bit of dread, given the strange and determined look on Dae-Gil's countenance. But she gives Dae-Gil the information, and Dae-Gil wastes no time in entering a yang-ban's house to search for answers.
As night falls, and Dae-Gil brazenly enters the Lord's house. Dae-Gil loudly asks the Lord of the house whether Baek-Ho lives in this place. Startled, the Lord turns to face Dae-Gil. Surprise surprise, it is Un-Nyun's brother! Dae-Gil takes out his dagger and lets out a scream as he begins to charge…
Comments:
Well, I actually feel a lot better now, knowing that Constable Kwok is one of the good guys and was not a betrayer after all. Jo Jin-Woong, the fantastic actor who plays Constable Kwok, and Min Ji-Ah, the moon-beam smile actress who plays the perky and intelligent slave Cho-Bok, really stood out in this episode. I hope that Constable Kwok with his humor and understated emotional energy, gets to continue on in this drama and not get killed off somehow. And I like how Cho-Bok, despite being a slave and a woman, has the liveliest spirit and the most common sense and intelligence among all of the people she is with. But when two relatively minor characters are the ones that I am raving about, and it's Episode 9 already, then something is not quite right.
Inasmuchas I am intrigued by the storyline and I am enjoying the martial action and beautiful cinematography, after this episode I am left with an itch that I just can't scratch when it comes to the main characters of Tae-Ha, Dae-Gil and Un-Nyun. Tae-Ha is kind of tragically gentle. Un-Nyun is tragically helpless. And Dae-Gil is tragically angst-y. There is an over-abundance of tragically delicious characters, while positive characters like Seol-Hwa and Cho-Bok are in short-supply. I'd really like a main character or two to root for, but right now, me rooting for Constable Kwok, Seol-Hwa and Cho-Bok doesn't quite do it.
Still, Episode 9 was just about right in terms of balancing story and characters. The main characters are now starting to be fleshed out, and with Episode 8, we are starting to see elements of the Un-Nyun character that we've not seen before. Episode 8 showed Un-Nyun's despair at her lost love, and in this Episode 9, Un-Nyun is becoming more steel-hearted, giving up on love in exchange for respect, comfort and safety. But I wonder what will happen to those warm toasty feelings she has toward Tae-Ha, once a tragically shaggy Dae-Gil shows up?
RELATED POSTS
Tags: Chuno, Jang Hyuk, Lee Da-hae, Oh Ji-ho