Family photo of Life Is Beautiful cast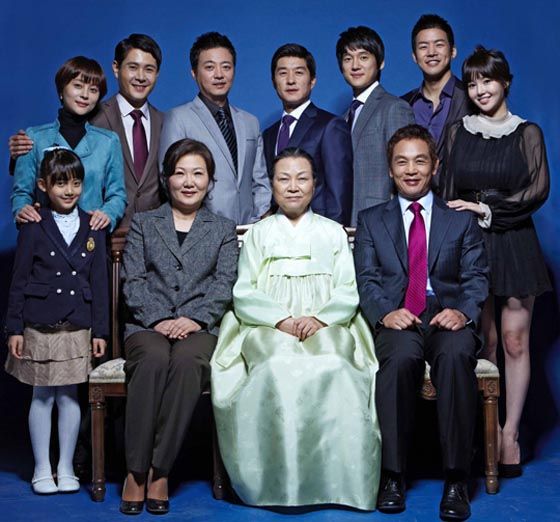 Cast photos are out of hitmaker writer Kim Soo-hyun's new SBS weekend drama, Life Is Beautiful. In a Brady Bunch-esque move, a second marriage for a couple brings together their children, creating a large family comprising multiple generations.
This cast features a bevy of familiar faces from Kim's previous dramas, among them "Korea's Mom" Kim Hae-sook. Mom's Dead Upset actress Jang Mi-hee is another returning star, although she's not in these photos (her character is in another of the families featured in the drama). (Also not pictured: Nam Sang-mi, who leads the younger set. That generation includes Song Chang-eui as well as former pop singer Nam Gyu-ri in her drama debut, both of whom are pictured above.)
At the center is the matriarch of this family, Kim Yong-rim, who has held everyone together over the years despite a philandering husband who neglects his own family. Flanking her in the above photo are Kim Hae-sook and Kim Young-chul in the middle generation, who come together in a second marriage. Woo Hee-jin, at top left, plays Kim Hae-sook's daughter from the first marriage and works at a resort, while Lee Min-woo plays her husband.
Song Chang-eui, meanwhile, is the son of Kim Young-chul and plays a 34-year-old doctor of internal medicine. Lee Sang-yoon and Nam Gyu-ri, top right, are children of the second marriage.
Confused yet? Well, you'll have 50 episodes to figure it out. The drama takes place on Jeju Island and premieres on March 13.
Via Segye
RELATED POSTS
Tags: Life Is Beautiful