IRIS: Episodes 19-20 (Final)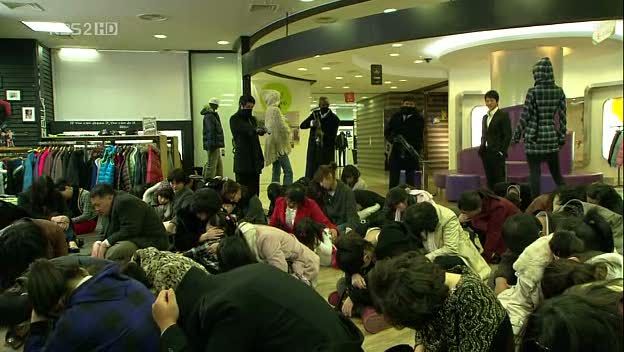 I thought a long time about how I wanted to start off this last recap for IRIS:
First off, I want to thank javabeans for giving me this opportunity to write a recap and contribute to her site. I am eternally grateful for the opportunity as an avid fan of her site and as a Korean drama lover.
Secondly, I'd like to thank everyone who has followed this series or read my recaps. I know I had a rough start, so I'm very thankful for those who stuck through with me on this.
And now, mushiness aside… the last episode ended with the death of Secretary Jung, and Hyun Joon and Sun Hwa chasing after Vic.
Episode 19
Vic manages to get home to his spic and span, glossy apartment safely, shower, and pour himself a glass of wine. He clearly unwinds by savoring excellent wine, but just before he can fully relax, he senses a presence behind him.
Hyun Joon is pointing a gun behind his head. They stare at each other for a tense moment, and finally Vic gives him a smart-ass smirk. Hyun Joon kicks him full in the face and knocks Vic out of his chair. He takes out a photo of Yuki and says that he will take his vengeance for Yuki.
Throwing away his gun, Hyun Joon demands that Vic beg for his life. Vic just smirks again, inciting Hyun Joon's anger.
Hyun Joon kicks him again, and prevents Vic from reaching for a gun. He continually punches Vic to a near pulp, saying that it's all for Mi Jung. All the while, Vic doesn't utter a single word, but just smirks. (Really? You couldn't give T.O.P. any lines to make the fight a little more interesting?)
Hyun Joon asks for information about Baek San's whereabouts, but Vic doesn't answer. A bullet goes into Vic's arm. He finally replies, "The one that will end my life is not God, nor you. The one that will end my life is me only."
That smart-ass answer deserves a good solid punch in the head, and then Hyun Joon orders Sun Hwa to go search the house. He turns his back for a moment to make a call, and Vic takes the opportunity to pick up his own gun. Good thing Sun Hwa turns around just in time to see this, and she yells out, "Hyun Joon!"
He shoots Vic in the heart.
Advisor Hong reports to the president that she will make a full investigation into Secretary Jung's death (yeah right!) while Director Yoo berates the NSS agency for their lax protocol, which led to Baek San's escape and Mi Jung's death. On the other side, Chul Young reports in that the Chairman of the Labor Party will arrive in Seoul for the summit with the South Korean President. Even though it's dangerous, because clearly IRIS is on the move, the chairman doesn't want to postpone. Chul Young appeals to the President then, but the President refuses. Stubborn, stubborn leaders.
Now, we reach the incredulous part of the series that makes me laugh even though it shouldn't. We have a bilingual dialogue between Sa Woo and his IRIS mercenaries – they speak in English, while Sa Woo and Baek San reply back in Korean. And they all understand each other. It kind of reminds me of the movie Seducing Mr. Perfect where Daniel Henney and Uhm Jung Hwa have a bilingual relationship throughout the movie – and that was stretching it a bit for me. Here, it's as though Baek San and Sa Woo can't expend the effort to at least respond a few lines in English, and so they speak in Korean to all these mercenaries who look like they can't understand a word, but somehow miraculously they do. Sa Woo's delivery of his one line in English is SOOOO laughably funny, though – hm, maybe that's why they decided to stick to a bilingual conversation. Ok, rant over and back to the story.
A mercenary (played by toughie Korean American David McInnis) informs Sa Woo that they can hold 150 hostages and kill the rest. That disturbs Sa Woo, which leads to the mercenary and the female version of Hyun Seok to report to Baek San. Baek San defends Sa Woo by saying that their doubts show they have no faith in him. That shuts up the complainers.
He meets with Sa Woo, and he gives him a little life lesson. With this mission, he is facing the greatest opportunity in his life to reach an even higher position than Baek San, and to wield more power than others on the team.
Chul Young grabs a drink with Hyun Joon and tells him that they need to defeat IRIS before the summit meeting takes place, especially since both leaders are so bullheaded about going through with it. He says:
"I have faith in the Democratic People's Republic of Korea. I always believed that one day, just like the name, the people, through their own efforts, will make Korea truly the People's Republic. And I determined that no matter who the opponents are, if anyone dirtied the name of our nation, I would not tolerate it."
That elicits a chuckle from Hyun Joon, but not meant to offend. Hyun Joon is just amazed that someone could be so patriotic because he never felt that way – he just wanted excitement in his life.
Back at NSS, Tae Sung reports to Hyun Joon that they located the supplier of the expensive wine in Vic's home. It came from a golf course where their exclusive clubhouse serves that particular brand of wine. The golf course's background is murky, and clearly run by IRIS operatives, and so Hyun Joon goes to check it out. True enough, the golf course is "closed due to construction."
Hyun Joon calls for backup from an attack team, then sneaks up the hillside towards the clubhouse. He chokes one of the guards to death with string and takes the poor guy's weapons. As he breaks into the building, he is seen by another guard. The guard informs everyone quietly through his earpiece, but before he can do anything, Hyun Joon picks up on his presence and shoots him down. His position found out, he rushes through the lobby with guns ablaze.
Two other guards are deleting all of their data in their computer system, and Hyun Joon takes them out. Meanwhile, the attack team arrives at the location and takes out the guards patrolling the outside perimeter of the clubhouse. Baek San knows that it's Hyun Joon, and he walks out of his private room completely calm towards Hyun Joon.
They meet at the front staircase. Hyun Joon forces Baek San to throw down his gun and asks for Sa Woo. Baek San replies that he sent Sa Woo on a vacation. Hyun Joon can't stand the smarminess that runs through all IRIS agents' veins, and he shoots at the ground by Baek San's feet. He demands that Baek San beg for his forgiveness for killing his parents. Baek San replies, "If I asked for forgiveness, what will that change? Aren't our lives too twisted and our relationship beyond repair?"
Hyun Joon shoots Baek San in the leg and brings him down to his knees. He demands to know what IRIS is, where the root of evil lies. Baek San says that Hyun Joon still needs to be punished for taking in the forbidden fruit, and that Hyun Joon will die just like how his parents did.
Sang Hyun manages to intervene in time, and he tells Hyun Joon to put his gun down – living will be a greater punishment for Baek San than dying. When Hyun Joon finally puts his gun down, Baek San falls back – as though he wished he had died instead.
Director Yoo reports back to Advisor Hong and another advisor that they've successfully recaptured Baek San. Advisor Hong tries to find out more information about Baek San's whereabouts, but Yoo wisely tells her that he can't do that. More and more, her expressions of happiness and worry when IRIS succeeds or fails are becoming more obvious.
Advisor Hong meets with Sa Woo, and tells him that he has to go meet the person who will now protect him. He enters a church and sits inside a confession booth. On the other side sits Mr. Black.
Mr. Black tells him officially that Sa Woo will now take Baek San's place in the organization.
Hyun Kyu calls Hyun Joon down to his lab to show him something he found at the clubhouse's CCTV cameras. Hyun Kyu has no idea how to break it to him about his discovery, but knows that he ought to show it to him first. He plays the video.
It shows Seung Hee in a private meeting with Baek San and another mysterious figure whose face we don't see. Seung Hee is clearly distraught and angry in the video. But the more important thing is, she was with Hyun Joon's mortal enemy.
Hyun Joon invites Seung Hee out to dinner (at a restaurant that looks SUSPICIOUSLY like the one Shin Woo brought Mi Nam to in You're Beautiful). Seung Hee isn't hungry because she's more worried about what Hyun Joon is going to say to her. She finally breaks down her defenses and tells him what she avoided to say for so long.
Hyun Joon interrupts her first. He says that he saw the video, and he believes that she has been approached by Baek San and IRIS to perform a mission, like he was approached in Hungary. He wants to help her get out of it, and so he asks that she spare no details.
And then we switch immediately to Sun Hwa putting a little bit of butter in her coffee (awww for memories!). She is called in by the security team, and reports to Chul Young that they are missing four cylinders of Soman gas (a nerve toxin gas) from their North Korean bunker. Who else but IRIS could have taken it?
Ok, back to the restaurant. Seung Hee tells Hyun Joon that she was approached by Baek San to join IRIS, but she refused. It turns out her father was the founder of NSS under former President Park. When President Park was assassinated, her father was held responsible and executed.
Baek San helped her and her mother continue living, even providing for her education all the way to college. She was even able to work for NSS because of him (hence his fatherly affection for her). She thought that she was benefiting from Baek San upholding his respect for her father. When she discovered his ties to IRIS, she realized that she was a puppet for their organization and that ultimately, Baek San wanted her to work for IRIS.
Hyun Joon stops her – why didn't she tell him this earlier? She explains that she suffered from leading lady's angst: how could she tell him that the one man who was like her father killed his parents? And so she felt guilty about being in a relationship with him. She would rather suffer silently than talk it out with him.
Sa Woo tells the remaining mercenaries and IRIS representatives that he is now in charge. One of the mercenaries says that he refuses to work for Sa Woo – it wasn't in the contract. Sa Woo replies by shooting a few bullets at the wall right by that mercenary's head. Disobeying him means disobeying the head of the organization.
Hyun Joon meets with Chul Young and Sun Hwa to discuss the recent incident of missing Soman gas. However they have no clue about where Sa Woo could be. When Sun Hwa walks Hyun Joon out, she asks him about Seung Hee's situation. He quells her concerns by saying that she has no reason to worry about Seung Hee anymore, and then leaves. Translation: Seung Hee comes first and you can butt out now, please.
The IRIS team moves into a large shopping mall. They put on their masks and fire bullets in the air, forcing all the shoppers to go down on their knees. They shoot all the security guards dead, close down the mall, and gather all 107 hostages to one area. Most of the hostages are women and their children, and the mercenaries take everyone's phones and electronics.
As they set up their traps and the Soman gas in the ventilation system, Hyun Joon meets with the SWAT team on location and Tae Sung. The leader of the SWAT team has already acted on the situation without telling Hyun Joon though.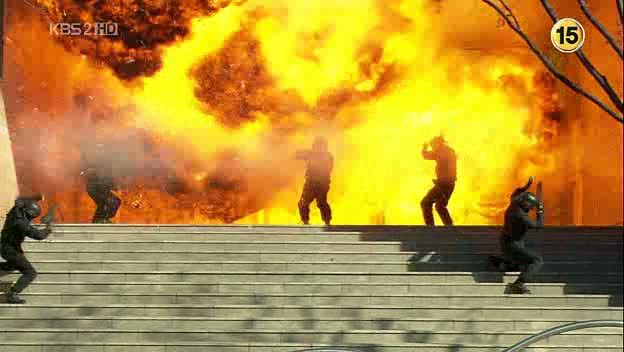 Three SWAT Team members rush up the stairs, and one of them trips on the wire. A bomb explodes.
Episode 20
Hyun Joon. Is. Pissed. He berates the SWAT team leader for acting rashly then gets permission to take over this operation. Seung Hee phones in to Sang Hyun and tells him that she is going over to the site, whether anyone likes it or not. Tae Sung manages to connect to the CCTV inside, but since they are getting a live feed, it's clear that IRIS wants them to see through that particular camera. And that camera shows all the mercenaries guarding over about a hundred hostages.
Chul Young is notified of the situation and has CY Sidekick (who is finally named!!! He's Joong Bum, but I'll call him CY Sidekick to the end) check over the leader's schedule again. They don't want the leader to come, but the summit is not likely to be cancelled anyways. He also sends Sun Hwa to the operation site.
Seung Hee joins Hyun Joon, who's surprised to see her. She tells him it's easier since she'll be worried about him if she's back at NSS.
They receive a live video of one of the IRIS leaders making his terms for negotiation. It is very simple: they want the President to cancel the summit by 7:00 pm the next day. All economic and unification talks must end. If they don't acquiesce, the Soman gas in the ventilation shafts will be released.
He takes one of the male hostages and says, "This is the penalty for attempting to break in," and he shoots the hostage dead.
Everyone at the operation site, NSS, and even the other IRIS members witness this murder. Sa Woo is angry with him – he was not ordered to kill hostages. The IRIS leader argues that it is part of their business in terror – to instill fear through killing. Sa Woo points his gun at him, saying, "According to you, the fear these guys will have towards me will dramatically increase if I kill you." Point taken.
After getting Director Yoo's permission, Sun Hwa appears at the operation site, much to the shock of Hyun Joon and Seung Hee. No jealous looks exchanged though! Hyun Joon wants to understand what is happening inside the mall, so he offers himself up to go negotiate with Sa Woo. Seung Hee isn't too thrilled that Hyun Joon is risking his life, but he says that Sa Woo is in there, and he will not harm anyone during a negotiation.
Hyun Joon is thoroughly patted down and escorted to meet Sa Woo. On the way, he observes the guards and the hostage situation. When Sa Woo sees that NSS sent Hyun Joon, he sends everyone else to get out. But he's all business.
Hyun Joon is all sentimentality, however, telling Sa Woo that he was right – he knew nothing about him. Sa Woo tries to stop him, but Hyun Joon plunges on:
"When I thought about it, I really did have a lot of things I didn't know about you, like you said. Stuff like being closer than blood brothers is just another vague emotion. I really had a lot of things I didn't know. A long time ago, when we went out to Itaewon after finishing our 1000 li march, I didn't get the tattoo with you because the thought of tattooing a little bird and calling it a phoenix was so childish, but if I think about it now, I wonder why I didn't do it then. I should've done something like that to engrave our memories…of being together."
Sa Woo gets increasingly incensed by Hyun Joon's speech. He says, "You and I have come too far to bring up such things as past memories now."
But Hyun Joon counters that holding hostages is not Sa Woo's thing. Sa Woo just tells him his side's demands rather than negotiating – he wants all IRIS associates being held in North Korea to be released and sent to China and Syria.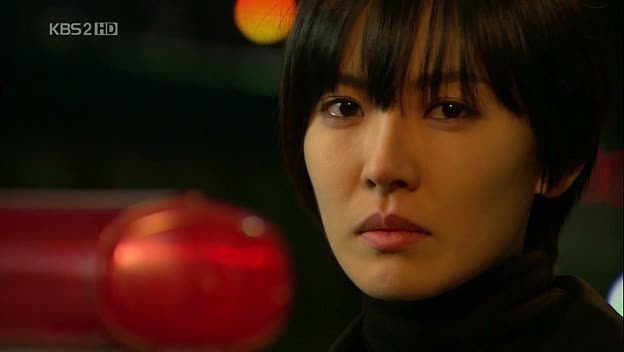 While Hyun Joon performs a risky negotiation, his two lady loves wait anxiously outside. It's interesting that Sun Hwa first notes Seung Hee's facial expression, and then from afar, begins to show that same exact emotion. It's as though she needed to see if it's ok to feel like that for Hyun Joon.
The President is informed of the new demands, and he wonders if canceling the summit will mean the hostages will be released safely. Hyun Joon says there's no guarantee on that, so the President gives NSS the power to infiltrate the mall, but to minimize the inevitable casualties.
Hyun Joon returns to Sa Woo and agrees to their terms. However, he insists that all women and children be released first.
Sa Woo relents, and orders the mercenaries to let the women and children go, but one of them raises his gun at Sa Woo and says he won't obey. He was ordered to kill all the hostages, and by Mr. Black no less. All of the IRIS members point their guns up at Sa Woo and at Hyun Joon. Sa Woo's sidekick defends his man and raises his gun to shoot. He is shot down first by another mercenary, but that is enough distraction for Hyun Joon and Sa Woo to overpower the others and grab weapons.
They team up for the last time against the IRIS members, managing to slowly pick off all their enemies. They manage to finally grab a respite behind some display cases and walls to reload and regroup. Sa Woo gives Hyun Joon a look, and then a nod; Hyun Joon gives him a small smile in return. And they go back to shooting off the baddies.
It's nice to see Sa Woo initiate this camaraderie, especially since he broke it off first by choosing to kill Hyun Joon. His look shows that he has finally returned to his roots and what he naturally knows is best, which is to work alongside a friend. He just needed a lot of prodding and reminding before he could go back to being good ol' Sa Woo.
They continue their gunfight (while the SWAT team begins to enter the mall), and are pretty much winning when Hyun Joon runs out of bullets. Sa Woo doesn't have much left himself, and he sees Hyun Joon struggling. He yells, "Hey idiot!" and slides his handgun across the floor over to Hyun Joon.
They smile at each other, and then Sa Woo goes completely out in the open and shoots at the remaining IRIS mercenaries. They shoot back, and they don't miss.
Right in front of Hyun Joon's eyes, Sa Woo is hit repeatedly with bullets that tear right through his body. Hyun Joon kills the remaining mercenaries with a vengeance, then catches Sa Woo as he falls.
Sa Woo: Hey man…you've…made me…hell of a lot lonely…
He struggles with his next words, but Hyun Joon tells him to save his strength. Memories with Hyun Joon flood Sa Woo's mind, and next thing you know, Seung Hee is running towards them. She grabs Sa Woo's hands, and when he registers her presence, he thinks back to the time when she said she would never forgive him. Surrounded by his two beloved friends, Sa Woo struggles for life, but also looks like a poor child who's lost his way, his eyes widely innocent and scared. He was misguided by a bad man, and has paid dearly for it.
Hyun Joon and Seung Hee grieve over this loss, and Sang Hyun feels it keenly as well. He regrets bringing Sa Woo into NSS, but Hyun Joon says Sang Hyun is to blame for not letting him kill Baek San.
Seung Hee mourns in the privacy of her car. Jung In comes over and rushes her to return to NSS, but Seung Hee says she'll go in a bit. Once alone, she calls someone and tells the person that she refuses to carry out the task.
She hangs up, and puts her head against the wheel, torn and unhappy.
Hyun Joon goes to the Blue House to talk to the President. He asks if all this is worth it for the summit – so many have died and they've had so many threats to deal with. The President replies that for such advancement to happen, pain must follow. He hopes that Hyun Joon will be with him at the summit.
At the location of the summit, the North Koreans check the facilities to make sure it's clear before Chul Young brings in the Comrade Chief – who's a woman! (Honestly, was not expecting that). Seung Hee also arrives, and she questions a guard about the exact route of the President for the press conference.
Back at NSS, Hyun Kyu rushes to find Sang Hyun – they have a BIG problem – the bodies that Sang Hyun brought back (which were supposedly the terrorists) were actually the hostages. The mercenaries had disguised the hostages, and managed to escape on their own. Sang Hyun immediately notifies Hyun Joon.
Those said mercenaries actually enter the press conference site with the help of Advisor Hong. Several of them are stationed above the press conference as snipers.
The President arrives and he meets with the Comrade Chief to enter the press conference together. Chul Young and Hyun Joon act as bodyguards, and keep a sharp eye looking about. What they don't see is Seung Hee, dressed in black with a sniper, watching them from above.
The two leaders manage to get on stage and greet the reporters. Seung Hee looks through the rifle-scope and aims at the President. She spots Hyun Joon phoning her cell phone and hesitates, but does not release her finger from the trigger. The two leaders extend their hands for a shake…Seung Hee's finger tightens around the trigger…suddenly, two shots ring out.
The bodyguards immediately cover the two leaders, and the IRIS members in the back start to head out into the open where the action is. Turns out though, that Seung Hee did not shoot the President – instead she shot the two IRIS snipers dead.
Sun Hwa and Hyun Joo begin firing at the IRIS mercenaries hidden in the crowd of journalists. Chaos ensues as they try to remove the leaders from sites. Advisor Hong waits in an outside hallway in anticipation, and suddenly Hyun Joon leaves the President and two other guards to Advisor Hong's care. They go back to the site of the action and begin to shoot all of them down – casualties on both side remain fairly equal though.
The SWAT team arrives a little late but starts shooting the remaining mercenaries coming into the building. Sun Hwa, Chul Young, Hyun Joon, and CY Sidekick manage to kill everyone, and they survey the area for more. But just when there doesn't seem to be anyone left, David McInnis comes out from behind a car with guns ablazing.
Who sees him first? Why, Sun Hwa of course! She jumps in front of Hyun Joon to protect him from the line of fire.
Chul Young mercilessly shoots McInnis dead – you don't mess with Sun Hwa, without messing with him. Seung Hee rushes down to see Hyun Joon holding Sun Hwa in his arms – much like he did with Sa Woo – and she asks about the President.
The President's two bodyguards lead him to a safe room with Advisor Hong trailing behind. Just as they reach the door, Hong shoots the two guards down and then points her gun at the President.
President: What, you?
Hong: No, it's not me. It's the ideals I embrace. They were too big for someone like you. For someone with greater capability to take its place, I need to break the small one.
She readies to shoot him, but is shot first by Hyun Joon. (Count that as the ten millionth time Hyun Joon saved the President)
A new day arrives in Seoul, and Hyun Joon carries a bouquet of flowers to a hospital. He's there to visit Sun Hwa, whose arm is still in a cast. Chul Young is standing by her bedside. Hyun Joon lays the bouquet by her side and smiles awkwardly for a moment before finally saying, "Thanks."
Chul Young: Isn't a bundle of flowers and saying thanks a little lacking when the Republic's greatest warrior saved your life?
Hyun Joon (sheepish): Well I kept thinking about it on the way but nothing would come to mind so…
Chul Young (leaning into Hyun Joon's ear): I'll leave so think about something good to say.
HEHEHEHEHEHEHE!
Sun Hwa asks, "Is it really just these flowers?" And they share a giggle. When she's left alone, she smiles tenderly and smells the flowers. Hyun Joon meets with Chul Young, and they part as friends.
Later that night, Seung Hee tries to confess to Hyun Joon about what happened the night of the press conference, but he doesn't let her continue. Instead, he tells her that all he wants to do is comfort her so that she can quickly escape her dark past.
Three months later:
Hyun Kyu invites everyone for a meal – his treat – because his stocks managed to go up 5x than normal. He boasts that he has fingers of gold and wishes to treat Hyun Joon and Seung Hee too. But Sang Hyun holds up their IDs – they've both quit.
Seung Hee and Hyun Joon are on an extended vacation in Jeju Island – and Seung Hee is starving. Hyun Joon continues to sleep, but she slaps him in the back and tells him to hurry up and feed her. He calls her a single-celled organism, because all she thinks about is food – she whines when she's hungry and is happy once he feeds her.
As they walk through the hotel, they spy children playing around a Christmas tree. Hyun Joon proposes that they have 5 kids. He gets down on his knees and says, "Just give me five of them."
Seung Hee (and I) ask, "What kind of a proposal is haphazard and without a ring? Oh my God – I can't recognize this at all" – and she walks off.
Later, she sees an invitation on the bed to meet him at a lighthouse; meanwhile Hyun Joon is driving to that location with a new ring in his hand. She happily waits for him, listening to her mp3. (I can see why she's a CF queen with this montage)
On the road, Hyun Joon's car suddenly swerves off course and comes to a stop.
The windows in the car are blasted through. Hyun Joon's head lies against the car wheel, blood streaming from his temples. His eyes are faced towards Seung Hee, and he sees her waiting for him in the distance, completely unaware of his situation.
Another last flashback of his happy memories with Seung Hee elicits tears in his eyes, before he finally succumbs and dies.
THE END.
My Eulogy:
In the beginning, a tiny seed was planted into the writers' minds to create a series that would surpass all other productions in budget and scale. And no, it would not be another historical drama or a fusion sageuk – instead, it would be a modern action tale about loyalty and betrayal. And so IRIS was born – and it came out looking a lot like 24. As it progressed, it changed into Alias with a hint of its predecessor Shiri. It was very, very cute when it was young, and showed plenty of promise.
But as children age, they lose their cute factor, and the same goes for IRIS. IRIS grew older and seemed a little more lost with each episode. It peaked at (episode) 18 and then, it totally lost its way. The poor writers could not get it back on track, and so they decided to finish it off – lamely – at the ripe old episode/age of 20. Had they finished it off at 18, IRIS would have lived a good life and died while still memorable.
So basically, this is what I have to say about the end:
ARE YOU FREAKIN' KIDDING ME?
Ok – I understand that Lee Byeong Hoon would not return for the sequel, so the writers' solution was to kill him off. However, I think they still could have ended differently, as in they could have sent him and Seung Hee somewhere very far away and never to return, and just start IRIS 2 with the same background cast but new lead. This ending had a very James Bond Casino Royale feel, when Vesper Lynd died instead of living happily with Bond. Here, they killed off "Bond" and it did not seem necessary at all. For Casino Royale, it was necessary because Vesper Lynd is the reason James Bond is the way he is now. Perhaps, the writers are hoping to develop Seung Hee further and show her change in the sequel. But that is putting a LOT of faith in her acting skills and saying that she can totally play a conflicted, ruthless spy seeking revenge for her loved one. (If she even shows up in the sequel!)
I would love it if it were T.O.P/Vic who killed him, but that's wishful thinking. I'm sure the mystery of who killed Hyun Joon will be for IRIS 2.
I liked the questions that were raised in this drama, such as the running theme of loyalty. Are you loyal to your country even though it will bring a lot of suffering to your own life and conscience? Or are you loyal to your conscience and what YOU know is right or wrong (thus viewing sacrifices for the country as pointless)? And then, to wonder: is it worth it to lose everything you know for the greater good (historical advancement)? It is a conflict between selfishness and selflessness, but what if that selfishness is because one wishes to save some lives? The treatment of the North Korean characters were done well and done lightly – no one was made to seem worse than the other; everyone was human and acted on human emotions. It's all nice and dandy and sounds nice on paper for a treatment.
But I think in the end, the drama didn't really deliver these themes and make these issues more poignant. It got muddled by the whole love triangle/square and by the dragging pace it was going. I think the directing and editing left much to be desired because there was so much that felt like filler scenes. I mean really, how many flashbacks do we have to see? Those really detracted from the series. And then I thought the writing got a little careless (one of them being, how could they have let the terrorists just escape and kill all the hostages? Didn't they realize they were killing women and children, who were the majority of the hostages?!)
I'm glad I saw this series, and I can sort of understand the pull of this series. However, the ending was completely anticlimactic and not worthy for a drama that pulled in such high ratings. It was different because of the exciting backdrop, but it was still a clear-cut Korean drama – predictable and somewhat angsty.
I'd give it a 6 out of 10.
RELATED POSTS
Tags: IRIS, Jung Jun-ho, Kim Seung-woo, Kim So-yeon, Kim Tae-hee, Lee Byung-heon, TOP