Press conference for A Man Called God
February 25 was production press conference day for MBC's new weekend series A Man Called God, starring Song Il-kook, and was held at Seoul's Sogongdong Lotte Hotel.
The entire main cast was present: Song as main character Choi Kang-ta, a billionaire and spy also going by the names "Peter Pan" and "Michael King"; Han Chae-young as a reporter and his primary love interest; Han Go-eun as a sexy femme fatale; Kim Min-jong as a sharp special agent with the National Intelligence Agency; Yoo In-young as the precious daughter of the man who killed Kang-ta's parents; and Jo Jin-woong as a villain.
At the press conference, Song was asked if he felt any pressure playing this character. He answered, "I've seen comments asking, 'Are you so tired of playing kings now that you're playing god?'" (This refers to his past record of playing kings in historical dramas.) "Rather than feeling pressure, I'm really into this project. I'm immersed more fully than I've been in previous dramas. It is a little stressful to be on set and worry about every little thing, but on the other hand I'm really happy." He added, "This is a role every man has dreamt of playing. The process may be difficult, but I feel extremely happy doing it."
In order to get into character and get fit, Song even gave up vegetarianism — which he has maintained for the past 15 years — and opted for a diet of lean protein. He has prepared for this role for two years, and even adopted the sharp speech patterns of his character during the press conference. He acquired a motorcycle license and collected props and accessories befitting his character and compiled two scrapbooks. To come up with the new hairstyle, he consulted with the stylist he's been with since his rookie days and by mutual consent found a new stylist.
I know we've commented extensively on Song's dramatic weight loss so I won't belabor the point here. I actually do like the hairstyle — it could look goofy but I think it's got a retro cool about it — and the whole drama seems to be going for old-school glam, like classic noir meets the original Batman. I still really (really) prefer his old look as a person, but as a character I'll go with it and assume that the sunken cheeks and sharp angles are better suited for the character.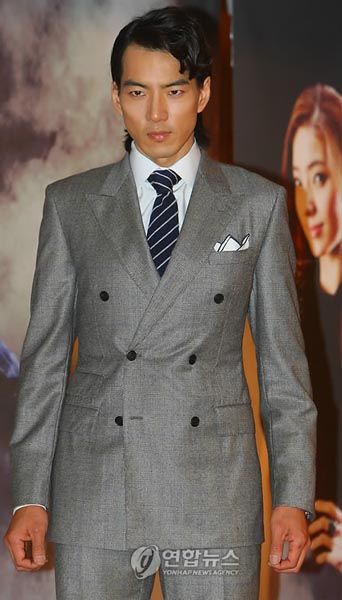 Song Il-kook, Han Chae-young, Han Go-eun
The drama includes an underwater kiss scene between Song and Han Chae-young, which has already been shot. Han explained that she found it difficult as she's not much of a swimmer, and it was filmed at a depth of 5 meters. However, she said that she felt from the first day of filming that the drama shooting process would be easy to endure because of how much care Song showed for her during filming.
The story of A Man Called God is described as "a modern-day hero story where, through love, the hero comes to realize what justice is and reforms into a warm man, while taking on powerful people to avenge his parents' deaths." It premieres March 6.
RELATED POSTS
Tags: A Man Called God, Han Chae-young, Han Go-eun, Jo Jin-woong, Kim Min-jong, press conferences, Song Il-kook, Yoo In-young