The Woman Who Still Wants To Marry: Episode 8
Aw. Poor Min-jae? Actually, as much as I find Kim Bum cute, I liked seeing his character taken down a peg or two.
With this episode, we start to get a little more weighty with the relationship issues, but not so much that it feels out of step with the drama's pacing. The characters have been drawn so realistically that I find the developing relationships really easy to follow (and get behind and root for).
SONG OF THE DAY
The Woman Who Still Wants to Marry OST – "이런생각" (These thoughts). The mood of this song doesn't reflect the drama's mood all the time (more like 5% of the time), but this is the vibe I love most about it — a little pensive, but lilting and upbeat all the same. [ Download ]
Audio clip: Adobe Flash Player (version 9 or above) is required to play this audio clip. Download the latest version here. You also need to have JavaScript enabled in your browser.

EPISODE 8 RECAP
Da-jung drops the bomb about Min-jae's motives. Stunned and humiliated, Shin-young blows out her candles angrily and holds her head in her hands.
To Da-jung's credit, despite the bickering between the ladies in the previous episode, this time she faces her friend with concern. She asks whether Shin-young made an embarrassing confession to Min-jae, such as saying she loved him or something equally mortifying in retrospect. And you know what I love about that? She's not just looking out for Shin-young feeling duped, she's also concerned about her friend preserving her pride. Lemme tell ya, girlfriends who think to consider such things are not so common, but they sure are appreciated.
Shin-young imagines a scenario where Min-jae faked his feelings and was only doing everything for the bet. In her mental image, he crows to his friends like an arrogant douchebag about getting her to fall for him.
Ever wise, Bu-ki offers that Min-jae may have developed real feelings — hasn't she seen the way he looks at her? But Shin-young is not having it — she isn't just feeling hurt by the bet, she's ashamed of herself for momentarily allowing herself to be arrogant. For feeling that she's still attractive enough to transcend that detractor, Age. (It sucks that she DID transcend that barrier, but now will not have that faith in herself because of this misunderstanding.)
When Min-jae calls, the girls urge Shin-young to take her "scorned woman has pride" moment, i.e., to answer the phone and skewer Min-jae alive. But instead, Shin-young merely takes out her phone battery. An understandable reaction, but one that disappoints all of us who were rooting for her to have her snappy, empowered comeback to a classic Douche Move From A Guy.
(Don't get me wrong; Min-jae is sweet, but from Shin-young's vantage point, he's looking like an asshole right now.)
As suspected, Sang-mi is in fact Min-jae's mother: She walks into his spacious apartment with a grim face and accuses him of lying to her. He'd promised not to keep pursuing music (as a career), but she saw his appearance on television. She orders him to pack up his stuff and move out, since his nice apartment was provided by his parents (and probably contingent upon an agreement that he quit music and go back to school).
Min-jae treats her with the respect one would expect of a good son, but also defends his case: He says gently that he's done everything she wanted thus far. He loves her, but wants to live his own life.
Sang-mi argues that Min-jae is all she has left, and she's pinned all her hopes on him. She wants him to be successful. I would have argued that he IS going to be successful — just in a different way — but Min-jae asks why it matters what other people think of him.
It pains Min-jae to hear his mother trivialize her own existence, and he reminds her that she has her own life. At 44, she's still young and beautiful. Why does she talk like she's unimportant? Instead of seeing his point, Sang-mi nods, "Yes, I'm insignificant."
Min-jae replies, "I'm tired of hearing that. I love you too, but I can't become your life's dream. Don't block my path." Furthermore, "I wish you could be happy regardless of what I do."
Sang-mi grows angrier and lashes out: "You're not my son anymore. I want to leave you and your father behind now. Fine, I'll live. Why aren't you packing? I told you to get out." She's going to rent out this place, so he'd better get out asap.
Shin-young mopes, impervious to Bu-ki's attempts to cheer her. She wonders glumly, "If something leaves you, shouldn't something come to you, too? If someone leaves, shouldn't someone come? I think I've been abandoned by the universe." She's embarrassed "for getting excited about a child's game."
Bu-ki tries to get her to look at this as a fun experience — they've all gone out with losers before, right? At least Min-jae's much cuter, so she should consider the brief "relationship" as fun and move on. That's the good part about aging — it gives you the ability to move past these things with greater ease.
Bu-ki is still convinced that Min-jae is for real, and that he loves her. However, she doesn't mean to prod Shin-young into embarrassing herself, which is why she and Da-jung chase after her when Shin-young storms out of her room purposefully.
No doubt Bu-ki is recalling Shin-young's Episode 1 determination to confront her cheating ex and make a scene in the middle of the night. They follow her frantically down the street, on a bus, and end up, surprisingly, at a park area.
As she looks out at the cityscape, Shin-young explains that years ago when she'd been studying to become a reporter, she took the bus everyday to the library, where she looked out at the Seoul skyline and swore to become a reporter. She vows now to make a new start, without the distractions of unimportant men.
She quotes Jane Eyre: "The more solitary, the more friendless, the more unsustained I am, the more I will respect myself." Shin-young declares that she's done with blind dates, but she's not going to die an old maid, either. She shouts, "Because I'm valuable!"
(I love that this is a solemn moment that is broken when she shrieks that last bit a little too emphatically. This IS misguided-but-lovable Shin-young, after all.)
Her solution: She's going to take Sang-woo back and make it work.
As Sang-woo's ally, Da-jung calls him to alert him to this window of opportunity. Explaining that Min-jae was all a bet and Shin-young is looking favorably on Sang-woo, she tells him this is his chance to make his move.
Sang-woo exults, particularly when he hears that his competition was based on a bet. He agrees to Da-jung's advice, to approach Shin-young naturally, without letting on that he knows she has had a change of heart.
Shin-young has far more patience than I, because I'd be ready to verbally castrate backstabbing Myung-seok at every opportunity, but she has settled into a tentative stalemate with him. They still trade barbs, but now the sting is gone and they've started to interact with an amusing vibe. (I hope they don't de-fang Myung-seok too much, though, because he's a guy who's fully capable of being vicious and ruthless.)
Shin-young spots Min-jae in the UBN hallway, and he perks up to greet her. However, this time she's the one who ignores him and walks on by.
Puzzled, he follows her into her office, where he sees her reacting to a lovely bouquet of flowers sent by Sang-woo. When he asks for a moment alone with her, she treats him with friendliness but pretends they're nothing more than social acquaintances.
Min-jae takes her aside and proposes a dinner date, since he has secured dinner reservations. She declines cheerily, answering that Sang-woo asked first. Uncertain at her sudden change in mood, Min-jae mopes in his studio, wondering, "If I was born ten years earlier, how would things be?"
His mood takes another hit when he sees Sang-woo walk into the lobby cafe to meet Shin-young. She makes the most of the moment by acting purposely close to Sang-woo as they leave. It's all for Min-jae's benefit, since we can see below how she REALLY feels about her dinner date with Sang-woo, calmly looking over work papers while he tries to make conversation. I admit to feeling bad for both men, until I remember that they've both wronged Shin-young. (And given the chance, wouldn't we want to do the same?)
Sang-woo's far from clueless: When Shin-young proposes in a businesslike way that they marry, he comments, "I see you did like Ha Min-jae." He knows that she's acting like this to try to make herself feel better. Shin-young admits there's truth to that, and asks if he can accept that. She's tired of wandering and wants to settle with someone — "I think you'll be okay."
He picks up on her wording: Rather than saying "I want that person to be you," she has said, "You'll do." But he doesn't make that into An Issue, and agrees. They've had their share of tribulations, so now that they're back together, they should be happy.
With that, he leans in to kiss her forehead… and pauses to comment, "You didn't wash your hair, did you?" (Does Lee Pil-mo have a thing with clean hair?) Shin-young sighs. It's nice to be comfortable together, but there are downsides to losing all sense of romantic tension.
When Sang-woo drops her off at home, she imagines for a moment that Min-jae is waiting in front of her apartment, and is duly disappointed to find that she's imagining it. She reminds herself that Min-jae doesn't know where she lives, and asks herself, "Should I have told him?" She's not even trying to fool herself about not liking him anymore.
Da-jung presents Ban-seok with cookies that spell out his name. He's so touched he looks like he's about to cry, and asks, "Are you really human? You're not an angel?"
Despite both of their idealized visions of dating and marriage, Da-jung and Ban-seok really seem like a good match. For instance, she enjoys doing cute little domestic gestures — she doesn't want to stay home and cook and clean all the time, but she likes making a gesture out of it, and Ban-seok sincerely appreciates it.
They head to a museum, where Ban-seok steals looks at her hand, trying to work up the courage to take it. How adorable is the pinky-streeeetch? He's unsuccessful there, but has better success that night at a drive-in movie. Again, he spends a lot of time trying to make his move, but Da-jung clues into his intent and takes the initiative. (The first attempt is hilarious — he's so tense that he barely manages to touch lips — but Da-jung takes the lead in the second effort.)
Da-jung bursts into Bu-ki's apartment that night to exult. (Bu-ki and Shin-young are together, but Shin-young is not up to this conversation and hides before Da-jung enters.) In fact, she is going to meet Ban-seok's parents on the weekend.
Bu-ki comments that she's moving pretty fast, but Da-jung feels that everything is right, and predicts a marriage within the year. Da-jung unfortunately picks Shin-young as an example of how more time doesn't always equal more success, and that causes a pissy Shin-young to barge into the room and pelt her with pillows.
After Bu-ki runs interference, Da-jung apologizes; she's just so happy to finally have someone to see movies with or eat with. She used to be so sad to eat out alone — say, for instance, if she wanted agu-jjim, or spicy monkfish stew, which never comes in single portions but comes in a minimum of two servings. In fact, portions are so large that even if she took home leftovers to eat at home, it was still too much. She had therefore prayed to find someone to eat with, and now offers to pray for Shin-young to be happy with Sang-woo. Shin-young reluctantly drinks to that.
Shin-young worries, "I couldn't even imagine in my dreams that my heart would flutter and I would feel Ha Min-jae as a man when he's so much younger than I am. I felt love from someone who was born when I was learning the alphabet." She's afraid of more things happening to her without warning, like with Min-jae.
Bu-ki answers reasonably: "Accepting that is what life is about. Do you think you're the only one? Everyone's like that. We understand, grow wise, and grow old."
Hilariously, Da-jung's contribution to this conversation is to burst out, "I don't want to grow old!" Shin-young looks up desperately: "What eye cream works well?" (I love them.)
When Sang-mi returns to Min-jae's apartment, it has been cleared out per mother's orders, and she starts to clean. Min-jae, meanwhile, presents himself at Ban-seok's apartment, promising to leave when/if Ban-seok's girlfriend ever comes over. (Oh, THIS won't get complicated, will it now?)
Ban-seok asks if Shin-young mentioned anything to him. Min-jae doesn't know what that means, but it all starts to become clear when he hears that Ban-seok may have dropped a hint about Min-jae's bet to make Shin-young fall for him. Although Ban-seok hadn't told Da-jung any details or mentioned names, the ladies may have put facts together. Yet far from being upset, Min-jae actually is relieved — at least now things make sense — and he smiles, "I'm feeling better all of a sudden."
So. Cute. (And just as I type that, Ban-seok comments, "Hey, when you smile like that you look really sexy." But instead of meaning it as a compliment, he adds, "Should I try smiling like that in front of Da-jung?" and practices.)
Min-jae gets out his phone and texts, "Shin-young, you must really like me. I've found you out!" That cryptic message both irritates and confuses her.
Shin-young continues working on her "News & People" program, which finally makes its broadcast premiere. Min-jae's reaction is pretty endearing as he anxiously checks the online ratings, then exults to see that News & People pulled in a top 10 finish with 15.9% ratings.
Myung-seok, feeling threatened, tries to downplay the results, but nobody is fooled. Their rating is damn good, and the deputy director is pleased, particularly since he received a lot of compliments on the program. Therefore, he gives Shin-young a fixed timeslot on the schedule for Wednesday nights.
Shin-young's reaction is just as cute as Min-jae's. She holds her own mini-celebration in the bathroom stall where she had previously cried — she tosses around streams of toilet paper as though she's doing the traditional Korean ribbon dance
That evening, Sang-woo joins her team for drinks, where they cheer this positive upswing in her life. Job, check! Cute new/old boyfriend, check! Yet she remains distracted and checks her phone for messages from Min-jae that don't arrive. Even when friend Hye-jin is in raptures over how great a boyfriend Sang-woo is, Shin-young keeps an eye on her un-ringing phone.
Sang-woo walks Shin-young home and starts to reminisce on old times, taking her hand. It's so clear she's not into him (as she removes the hand) that I'm glad that at least Sang-woo seems well aware of it: He thanks her for including him in the celebration, "But why do I feel like I'm a puppet? It feels like waiting for a train that won't come."
She explains that she's trying, and asks for some time. He understands that he shouldn't push it, and answers encouragingly that "I'm thankful even for this much." But after she leaves, his smile starts to fade. He's trying, too, he's no dummy.
Sang-mi continues to be slightly aloof with Bu-ki, but this doesn't fool the latter, who knows that Sang-mi's starting to see her as a friend. If she didn't, she wouldn't continue to come to her restaurant.
Sang-mi says that during the cooking class, she had heard Bu-ki's friends (Shin-young and Da-jung) and wanted to warn them not to marry, that they should remain free.
In the wake of her disagreement with her son, Sang-mi is more down today. Bu-ki senses that mood, and takes a ring from her own finger and gives it to Sang-mi, saying it's her lucky ring. Now luck is on its way to find her.
It sure works fast: Sang-mi answers the door to Min-jae's apartment to meet a prospective new tenant, and the instant she locks eyes with Sang-woo, they both feel a spark. Sang-woo feels the attraction particularly keenly, completely smitten with her. He agrees to take the apartment so quickly that even Sang-mi entreats him to be more prudent and think on it overnight.
He mentions an upcoming business trip to Paris, which catches her interest. She's always wanted to go to a particular cafe in Saint-Germain that Sartre once mentioned… Sang-woo knows the cafe and offers to help be her guide if she ever decides to go to Paris, and promises to take a photo of a particular locale on his upcoming trip.
As they discuss sights in Paris, a bond starts to form between them, which is as troubling as it is exciting. After they part ways, both wonder what just hit them (HORMONES!), and ask themselves, "What's wrong with me?"
Ban-seok and Da-jung meet his father at a restaurant, and his father is far from gracious. He's not overtly rude, but he's blunt in an aggressive sort of way. For instance, when Da-jung tries polite flattery by saying that Ban-seok's good looks come from his father, he replies that she's a good liar. When they try to make conversation, Dad cuts them off and seems to think he's wasting his time. In fact, that's why Mom didn't even bother to come.
Ban-seok has to take a work call, which leaves Da-jung alone with his father, who gets right to the point. He assumes she's pregnant and orders her to marry in a month — and even when he finds that she's not pregnant, he doesn't apologize. Rather, this makes things easier, since he doesn't want them together. He doesn't want a daughter-in-law who worked herself up from humble beginnings to achieve success, nor does his son need a working wife. Rather, he has always seen his son marrying within their level; his in-laws should be people within his (lofty) social circles.
He leaves immediately after delivering those harsh words, and Da-jung is so stunned that she loses all her energy. Ban-seok asks with concern what happened — did his father say something while he was out? Not comfortable with making the explanation, Da-jung answers no — she was merely overly stressed out about meeting his parents. She asks to be left alone for now, and Ban-seok obliges.
That night, Shin-young is working in her office when someone ducks into the room to shut off her lights. She chases the figure out into the hall, and is greeted with quite the romantic sight: a corridor lined with candles, some of which form arrows that point her down to the end of the hall.
She must have an idea of whose doing this is, but her smile fades when she recognizes Min-jae, who tells her, "I missed you."
Min-jae explains that she misunderstood the situation: "You don't understand when men are sincere. That's why you've been single till now." When she starts to argue, he cuts her off with a firm tone: "Lee Shin-young. I started that bet because I was interested in you, and came to like you more. Can't you tell from my eyes? Don't be angry, and don't misunderstand. I like you for real."
She admits, "It's true I was briefly attracted to you. But we're different in that I have to go into a relationship weighing everything. Please put a stop to your feelings. Why do I have to like someone like you—"
He cuts her off, then leans in, slowly…
…but as with the party kiss, he pulls back at the last minute. With a laugh, he plucks out a white hair, saying she stresses herself out too much. "You must have been worrying a lot about me."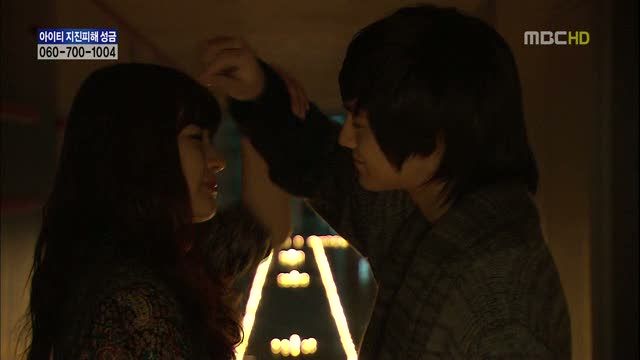 Min-jae reaches over to pluck out another, but she grabs his hand, not in the mood to humor him. This may be amusing for him but she has been taking the moment seriously, and this has spoiled the moment and her patience.
She says, "There's another reason we can't be. This is proof. You're in your youth when you can play around immaturely, while time is valuable to me. Don't play around with me anymore."
She stalks off, leaving Min-jae looking after her, bummed now. In a nice detail, she walks counter to the direction of the arrows on the ground.
The vibe is understandably glum that night. Bu-ki pulls Shin-young's white hairs while Da-jung lies down, listless and quiet.
The next day, Shin-young is back at work, talking about possible directions to go with their program. They can use university students for VJs, for example, and have a lot of people interested in the position.
Just then, the door opens and in steps Min-jae — sporting a full head of gray hair. Everyone gapes as he announces that he's here about the student VJ position.

COMMENTS
Da-jung: In a throwaway comment in Episode 1, she had mentioned that coming from a shabby background and working herself to success was her insecurity. Is it fitting, then, that this should prove to be her obstacle in a relationship where everything was progressing perfectly? Ban-seok has a good job, good family, is a second son, is handsome, and adores her. After rejecting so many men for various frivolous reasons, she finds herself being the one deemed less than worthy — and it's for a reason she can't control. Well, she can control being a successful careerwoman, but that's hardly something one should throw away to win over an in-law. Not being born to a higher social circle is, however, something just as uncontrollable as being bald or born a first son.
I recall reading a few comments from viewers who disliked Da-jung for being so materialistic and selfish, and I can understand why. However, I had a hunch she was going to get her big setdown, and that's why I felt free to love her for her silliness — I was pretty sure she was going to be slapped upside the head (figuratively) and have to reevaluate what makes a relationship true.
Bu-ki: At first, I thought that Bu-ki was this drama's cautionary tale, back in her twenties, because she had been walking proof that conforming to a man's expectations would only lead to misery. But now, I think that Sang-mi is the real cautionary tale, because she and Bu-ki had similar trajectories early in their lives, but while Bu-ki was able to walk away, Sang-mi wasn't. It also explains why Bu-ki feels a particular pull to Sang-mi and sometimes pushes past her boundaries when another polite stranger would stop.
This isn't to say that Sang-mi can't have her own second coming — and it looks like she will — but her life is a more extreme example of what happens when you lose oneself and build an identity entirely around other people. That's a fact that Sang-mi herself acknowledges, and without shame — she has diminished her own ego to such an extent that she doesn't even feel its loss. Sad, huh?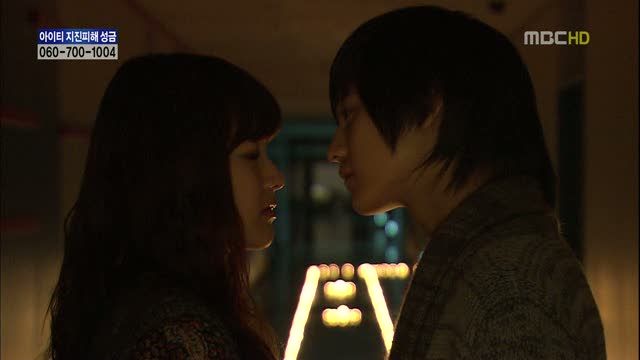 Shin-young: I like that Shin-young didn't wallow in self-pity when she believed that she was the target of a cruel joke. She moped for a night, then pulled herself together and got back to her career. Granted, she's acting on misconceptions about Min-jae's true feelings, but imagine if it really had been purely based on a bet. Shin-young's response is realistic but also calm and not hysterical.
As cute as Min-jae can be, I really liked the hallway scene because it did hammer in Shin-young's point that he's too young. Not in age, but in mentality, because while one can forgive him for teasing with the kiss at the party, it's a different thing here. Back then it was a public moment to make a point; here they're in private, and this is in conjunction with an apology. In a moment where he's actually trying to prove his sincerity, he breaks that trust by playing a joke. I thought Shin-young was entirely justified in walking away, because the very fact that he would play with the moment shows that they're not on the same page.
Therefore, the gray hair gesture at the end doesn't even seem like a Grand Gesture to me — I thought it was the least he could do. He messed up his own Grand Gesture earlier, so now he's gotta put something on the line. Another similar candle moment would not have cut it — he had to up his game.
RELATED POSTS
Tags: Choi Chul-ho, Eom Ji-won, Kim Bum, Lee Pil-mo, Park Jin-hee, The Woman Who Still Wants to Marry, Wang Bit-na