Wish Upon a Star: Episode 12
(Awwww. And look at the little-boy slippers next to the grown-up ones!)
A very good episode for Pal-gang, I thought. Is it strange to feel proud of fictional characters for making mature decisions and being levelheaded? That sounds like it ought to be boring stuff, but on the contrary, it's really satisfying to watch her grow and actually be the voice of sense.
SONG OF THE DAY
Serengeti – "Hello, Bye…" [ Download ]
Audio clip: Adobe Flash Player (version 9 or above) is required to play this audio clip. Download the latest version here. You also need to have JavaScript enabled in your browser.

EPISODE 12 RECAP
As Kang-ha leans in to kiss Pal-gang, she cringes in shock and bursts out nervously, "What are you doing?!"
Kang-ha stops and pulls away sharply. He grumbles/roars (groars?) in frustration, angry with himself for this lapse of judgment. He staggers in the house to his room, where he stews in self-loathing.
Unable to sleep, Pal-gang heads to the kitchen to get some housework done, where she runs into Jun-ha. She explains that working is the best way to settle an uneasy mind.
Jun-ha asks why her mind would be troubled, and she hedges, not feeling comfortable sharing. He prods her — aren't they secret-sharing buddies? — so she lies that it's work-related. Jun-ha knows there's something more, so he requests, "Don't keep secrets from me. It discourages the person trying to come closer."
In the morning, Kang-ha acts normal — well, normal for himself, which is stiff and cool. Saying that he drank too much last night, he asks Pal-gang if they had met in front of the house. Seeing that he doesn't recall their almost-kiss, she answers no — they didn't meet.
It's the answer that is most comfortable for both, but Kang-ha is uncharacteristically upset by it. It makes him so angry as he drives that he has to pull over with a sudden dangerous swerve.
Kang-ha's mother finds him at the office again, berating him for being so rude as to hang up on her. She promises that this is really the last time she'll ask for his help, which is probably what she said the last time.
Kang-ha ignores her and walks on by, but his mother calls after him in a veiled threat, "Lawyer Won, we'll be seeing each other frequently."
Jae-young asks Chairman Jung for help marrying Kang-ha. She's embarrassed to resort to begging for Grandpa's interference, but she has only ever loved Kang-ha and doesn't want to lose him. The chairman holds sway over Kang-ha, and surely he could talk on her behalf.
The chairman feels that this is a matter best left for the two to figure out on their own, but gives it a try for his granddaughter's sake. Calling Kang-ha in for a chat, he asks how he feels about Jae-young, suggesting that they'd be a good match and wondering if he could be persuaded to agree. Kang-ha is polite but firm: He's sorry, but he's never seen Jae-young as a woman.
After being assured by Kang-ha that the wage garnishment would leave her with minimum living expenses, she anxiously checks her bank account to see how much she has been allotted. She half-expects there to be nothing, so it's shocking to see the full amount: 1,649,574 won, or about $1,400. Pal-gang protests that this isn't right — it's too much. Something's wrong.
Jang-soo diverts their attention with something even more interesting. He had looked into Pal-gang's parents' car accident and found something curious. Although the accident wasn't caught on CCTV, footage does show that the car was being tailed by a truck. Jang-soo doesn't think it's as simple as a hit and run — considering that this accident happened in a location where there were no CCTV cameras, there may be more behind it.
Meeting with her creditor, Pal-gang finds out that her wage garnishment has been canceled. Since the creditor promised Kang-ha not to say anything about his role in this, the man has no problems making himself sound heroic, explaining that he pulled some strings at his office. After seeing Pal-gang caring for a baby, he felt moved by sympathy — after all, is he not also human, with warm human emotions? Therefore, he told his office that this was not right, that she was trustworthy enough to pay back her card debt reliably if they but gave her the chance.
Moved, she jumps to her feet and bows in gratitude, thanking him with tears in her eyes: "I won't forget this for the rest of my life!"
On her walk back, she's filled with new energy and vows to herself, "You've got to do well, Jin Pal-gang. With everyone helping you like this, you've got to keep a clear head and do a good job."
But of course, Murphy's Law dictates that just as her future brightens, she must be hit with a big obstacle. An angry policyholder calls her, outraged at the company's response following the death of his wife. The company says that the signature on the policy does not belong to the (deceased) policyholder, and therefore they refuse to pay out the life insurance. Pal-gang apologizes earnestly and promises to look into it, but the man is not appeased. He warns that he has been badly misused and will take this to court.
In a dither, Pal-gang bursts into Kang-ha's office. (He gripes, "Has it become a habit for you to burst in like this?") Pal-gang gets right to the point: The company paid for the patient's hospitalization, but because the patient's handwriting wasn't on the contract, they won't pay the life insurance. How can they pay one but not the other?
Kang-ha answers that the first scenario doesn't require an investigation of the signature. He asks sharply who it was that signed the contract if not the claimant. With trepidation, Pal-gang answers that she did. But there was good reason for it — the deceased client had hurt her hand, so she had held the patient's hand and helped sign the form.
Jun-ha starts to speak up, but Kang-ha (already feeling short-tempered in matters relating to Pal-gang) barks at him to butt out. He says that Pal-gang should have known better, and that such a signature wouldn't hold up legally. Pal-gang swears that she's telling the truth, that the client had signed — what was she supposed to do in that situation when the signer had hurt her hand? Kang-ha fires back that she shouldn't have made the contract, or waited until the client could sign.
He says coldly, "You feel like you're doing this all for the client's benefit, don't you? Coming to the company lawyer and demanding the impossible — it's all for the client, right? Don't mistake the matter — one small mistake on your part can yield a cruel result for the client. Now leave."
Jun-ha consoles her, offering to look into possible alternatives. But dully, she replies that Kang-ha is right: "I'm always doing this. He's right that I don't think from the client's perspective. I was just thinking of my record. I did briefly think that a problem might arise because it was a big insurance policy, but I ignored it. The client asked whether it would be better to wait until her hand healed to sign, but I insisted. I said it would be no problem, that I would take care of it."
With self-recrimination, she remembers that she had been thinking of going to the hair salon afterward to give herself a nice hairdo, like the one worn by the woman Kang-ha was with.
Jun-ha eyes her sympathetically, saying, "The problem is my brother, then." She says, "No. The problem was always me."
Chairman Jung tells Jae-young that he had spoken with Kang-ha, but doesn't have the news she was hoping for. He tells her philosophically that it isn't meant to be, and that she should let go. Jae-young protests, "But I can't let him go." She doesn't even know how to turn her affections to someone else, having only loved Kang-ha for so long.
Tae-kyu had told Pal-gang that he will gather his friends for another policy pitch session, and he calls her to the bar that evening. Kang-ha sits alone in silence when, suddenly, a glass of water is thrown into his face.
It's Jae-young, angry that her grandfather was placed in the demeaning position of becoming her emissary. For some reason, in Jae-young's mind this justifies taking it out on Kang-ha rather than herself. Even Kang-ha has to give an incredulous laugh — why'd she make that happen, then?
She insists, "Because I can't be without you! Did you have to go that far and be that cruel? You had to say that you wouldn't want me even if we were the last two on earth? You couldn't just say you'd think about it?"
Kang-ha replies, "I didn't want to say that to him. I can't lie to an elder who cares for me."
Kang-ha leaves the bar, but Jae-young doesn't know when to quit and follows him up, ignoring Jun-ha's attempts to hold her back. She's so persistent that she pushes Kang-ha into shouting, "Stop it!"
Kang-ha: "No matter how much you act like this, I won't change."
Jae-young: "What do I have to do?"
Kang-ha: "There's nothing you can do. No matter what you do, I can't make myself love you! Do you know why? Because I don't have a heart. So please don't just waste time. I'm saying this for your benefit, since I think of you as a sister."
Jae-young: "Should I die? Should I take pills and die? Then will you change?"
Kang-ha: "Don't mess around with a valuable life. Not for a man like me."
Kang-ha walks away, and Jae-young calls after his retreating back — fine, she won't make demands of him, so can't he just stay with her? Jae-young slumps to the ground: "It's okay if I'm just your sister, if I'm not a woman to you." She doesn't want to live without him.
Jae-young seeks comfort from Jun-ha, who holds her as she cries. She asks him sadly to do something about Kang-ha, because "I feel like dying."
Jun-ha answers, "I'm in the middle of trying. I'm trying to do everything I can for you."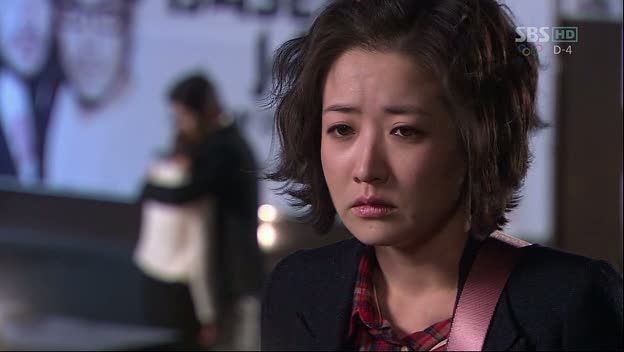 Pal-gang had turned the corner (on her way to meet Tae-kyu's friends) in time to catch the end of the Jae-young's exchange with Kang-ha, and now watches Jun-ha holding her.
Jun-ha's admission explains Episode 11, and thankfully, Pal-gang has now seen him with Jae-young. (I'm hoping this means she won't harbor any confusion about his feelings in the future, despite his nice words. Her reaction suggests that she feels hurt — not because Jun-ha likes another woman, but because she feels used.)
At home, Tae-kyu scolds Pal-gang for not coming to meet his friends. She's feeling conflicted and confused, and tries to answer him calmly. However, he continues to complain, not noticing her mood, and she loses her patience, raising her voice: "Woo Tae-kyu! Stop it." First off, stop calling her "jagi" — she's not his girlfriend, and she's told him that over and over again. "I'm not your toy!"
Tae-kyu is taken aback at her sudden outburst, and says he's never seen her as a toy.
Pal-gang tells Tae-kyu that his treatment of her is insulting to her, just as Kang-ha walks up the pathway outside toward the front door. As he approaches, he can hear the raised voices just inside as Pal-gang asserts, "I'm not someone you can just treat carelessly. I'm a person too!"
Poor Tae-kyu, who has been caught in her anger without any warning. Bewildered, he asks, "When did I not see you as a person?" Pal-gang warns, "Don't use me in your emotional sport." Tae-kyu slips and calls her "jagi" again, so she returns, "I said don't call me 'jagi'! At the end of a month, I'm going to leave this house if it kills me. So please don't grab onto me, and just leave me alone! No matter what, I'm going to take my siblings and leave!"
Kang-ha doesn't realize Jun-ha is standing there, also overhearing this exchange, until he turns and comes face to face with him. In the wake of Pal-gang's hurt outburst, he tells Jun-ha, "I'm warning you. Just leave that woman alone." Jun-ha challenges, "And if I don't want to?" Kang-ha replies, "You heard her. Even if she appears dumb, she knows everything worth knowing. And she's moving out in a month. So until then, don't do a thing to her."
Jun-ha answers, "She may leave this house, but I won't let her leave alone with her siblings." This provokes Kang-ha's anger, and he grabs Jun-ha's shirt: "Do you think I don't know why you're doing this?" The implication is that it's because of Kang-ha, and Jun-ha admits that at first it did have something to do with Kang-ha. However, now it's turning into something of its own.
Even if Tae-kyu has never meant anything harmful, Pal-gang's words have a ring of truth, and he asks Jun-ha if the way he treats her might make her feel bad. Could it look like he's just playing around?
Jun-ha: "Do you know what the most loving way to treat the person who doesn't love you? Not loving them either."
In a friendly tone, Jun-ha asks Pal-gang to join him for coffee. However, she is feeling tired from the night's events and answers in a cool, detached voice, thanking him for taking her side and helping her: "There are many things I'm grateful enough to cry about. I may be thankful to tears, but I can't be your source of amusement."
Jun-ha turns more serious as he says, "I've had a lot of girlfriends. Because I couldn't be harsh, I couldn't reject the women who approached me. But I've never approached a woman first." Perhaps he thinks this will make him more believable, but Pal-gang is skeptical: "Why do you have to go that far for a nobody like me? Why would you? Don't you think it's strange? I don't have enough time to spend stopping such odd behavior. I'm so busy with the work that I love that I don't have the chance to worry about other things. So please seek out someone who does have the time."
This is a clear rebuff, but Jun-ha isn't going to give up. He just answers, "I'll need a lot of time, then. I can't be harsh, but I'm patient."
Pal-gang takes out the trash, and sees Kang-ha sitting outside in the cold. She tells him to go inside and passes by, whereupon he grabs her wrist. She flinches, as though bracing herself for his words.
Kang-ha tells her, "I'm sorry. For last night's mistake, and acting like I didn't remember." She replies, "What's the big deal about that? I know that last night I was nothing more to you than a girl sitting next to you in a room salon. So don't worry about it."
He insists, "I may be mean but I'm not that bad!"
This is the first time I felt that Pal-gang may be starting to feel for Kang-ha as well, because she looks back at him and answers, "You're making a mistake. You should have just pretended you didn't remember." (It's as though she would have felt better — more able to leave in a month, as she reminds herself she'll have to do — if she could ignore the moment and think that he doesn't care for her at all.)
As she continues on her way, Kang-ha bursts out, "It bothers me. It just… keeps bothering me. Because of you, I keep feeling bothered." While this isn't the same thing as a confession of feelings, it's the first step — the word used ("bothering") refers to a preoccupation with thoughts you can't get rid of, or a feeling of uncomfortable awareness.
However, Pal-gang chooses to deliberately misunderstand the usage of "bother" and addresses him politely: "I guess so. You have a strange housemaid like me, so it's natural that you would feel bothered. Just for a month — no, there's not even a month left — please put up with me, even if I get on your nerves."
Aww… I'm simultaneously proud of Pal-gang and sorry for Kang-ha — it's the first time he extends a hand, and it's rejected. But we get another sign that she doesn't actually mean her words fully, because once she's out of sight, Pal-gang lets tears fall.
Tae-kyu approaches hesitantly, this time addressing her by the more appropriate "Pal-gang-sshi." She tells him to call her noona instead, and apologizes for getting angry at him — she was upset with something else and had taken in out on him.
Tae-kyu tells her what Jun-ha had said about not loving one who doesn't love you back: "But I don't think I can do that. I wanted to tell you that."
While Kang-ha broods alone, Pa-rang sleepwalks into the room. It's adorable how he remains asleep and heads right for the bed, and this time Kang-ha pulls back the covers to allow Pa-rang to climb into bed.
Patting Pa-rang on the head, Kang-ha wonders, "What kind of people were your parents? If I was born to parents like yours, I wouldn't be like this now, would I?"
Kang-ha covers him with the blanket, then lies down on his side, facing the boy. He adds, "If I showed my feelings, I was always hit. So after a certain point, I couldn't show them anymore."
True to her threat, Kang-ha's mother is once again in the lobby waiting for Kang-ha the next morning. She notes that he's stronger than his father, who would always cave immediately whenever she threatened to come by to the office. Seeing that her methods aren't working, she manages to break through Kang-ha's stoic demeanor by asking, "Doesn't your brother work here too?"
He grabs her arm, asking if she really wants to see her only son dying. Airily, Mom answers that she understands business well enough to know that she'd better not mess with his Achilles heel. Still, a person can become awfully unpredictable when backed into a corner: "Don't put your mother into that position."
Next, Kang-ha's mother breezes into the office of Min-kyung, and it's clear they're very familiar with each other. In fact, Kang-ha's mother had once taken in Min-kyung, although the latter had to do the laundry and menial chores to earn her keep. (This makes me think they were both bar hostesses or some such.)
They both harbor a mutual disdain for the other woman, which manifests in the form of passive-aggressive barbs at each other. I swear, it's like Smug and Smugger with these two. When Kang-ha's mother threatens to go around to all of Min-kyung's usual haunts to chat about her past (a veiled attempt to extort some cash, perhaps), Min-kyung replies that everyone already knows about her. It's a nice aspect about living with your past in the open — there's no reason to feel nervous.
Jae-young walks in and recognizes the woman, following her out to ask why she came looking for Kang-ha. Min-kyung leads her daughter away, but Jae-young keeps pestering her mother about the woman until the latter finally says, "She's Kang-ha's birth mother, okay? Do you know why I hate Kang-ha so much? It's because he's the son of a woman like her."
Chairman Jung had heard from Pal-gang about her client's problem, and now makes the executive order to settle the case. He tells Kang-ha to pay out the policy because the company's employee made the mistake. Therefore, the company should take responsibility.
Pal-gang remains unaware of this and busily works at the funeral wake, doing the only thing she can think of to help. The widower is still furious and orders her to leave because he doesn't even want to see her face. However, his mood changes when he answers a phone call informing him about the insurance company's decision. He hangs up and asks Pal-gang what she had told her company, because they've agreed to pay the policy without additional investigation.
Ecstatic, Pal-gang bursts into Kang-ha's office (he mutters, "This really is a habit now") and thanks him.
He informs her that he had nothing to do with it — a higher-up made the decision and he was just following instructions. Pal-gang doesn't buy it, saying he's just being humble, and thanks him anyway.
Kang-ha repeats that he didn't do anything, but Pal-gang is undaunted (no doubt used to his brusque ways). She leaves the office in a giddy mood, chuckling to herself.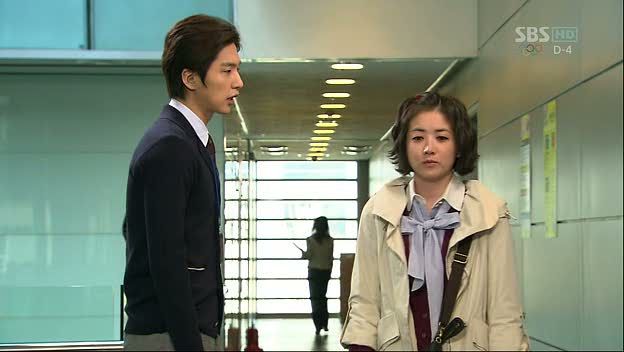 Jun-ha catches her in the hallway and comments that she must have good news. Pal-gang's smile fades and she avoids his eye as she tells him the case worked out.
Jun-ha notices her avoidance and asks why. Pal-gang responds, "It's because I think of the lawyer, you, and Tae-kyu only as my employers."
Suspicious, Jun-ha asks his brother if he took care of Pal-gang's client — does he want to be some benevelent Daddy Long Legs figure? That's not really his thing, and he should refrain from such acts in the future.
Kang-ha: "And if I can't? If I don't want to?"
Jun-ha: "What are you doing?"
Kang-ha: "What do you think?"
Jun-ha: "Has your competitive spirit come out again? Have you been provoked into playing the game of who will win over the lovely girl first? But Jin Pal-gang isn't enough of a great catch to inspire you to feel competitive. I'm not interested in playing a game, so back off this time."
Kang-ha: "You said yourself that this was the first time you've seen me speaking so much because of a woman, or getting angry."
Jun-ha: "So?"
Kang-ha: "I wondered why I was like that. I want to find out the reason for it — so why don't you back off?"
Jun-ha: "You have Jae-young, who loves you to death."
Kang-ha: "Then she'll need your comfort."
Jun-ha: "Wake up."
Kang-ha: "I think you're the one who needs to wake up. Think carefully why you've turned your attention to Jin Pal-gang."
Eun-mal and Jin-ju come by the house, and Eun-mal teaches Pal-gang how to make kimchi, which is a big hit with everyone. When Eun-mal goes to use the bathroom, she runs right into Grandpa Jung — and she, unlike Pal-gang, immediately recognizes him as the chairman of JK.
He speaks with her in private to ask her to cooperate (i.e., keep his identity a secret). He's watching over Pal-gang to make sure she's getting along okay. When she and Jin-ju leave the house, Eun-mal says that Pal-gang will be fine now (though she can't explain why to Jin-ju).
That evening, Pal-gang prepares a lavish dinner spread, wanting to thank Kang-ha for helping with her insurance case. After sitting down and being served, the family digs in. Seeing that Pal-gang is still standing, he invites her to sit down. She declines politely, saying that it's about time for Nam to wake. Kang-ha suggests that if she leaves the door to her room open, they'll be able to hear when he wakes.
This is much more solicitious than he has been in the past, and Cho-rok asks her sister, "Doesn't he seem a little strange today?" No-rang replies (loyal to the last!) that Jun-ha must have rubbed off on him.
That evening, Pal-gang brings Kang-ha his tea (and is proud of herself for knocking for once). Hesitantly, she asks if she can change the bedsheets now because she'd forgotten earlier. With uncharacteristic politeness, he tells her to go ahead. As she works, Kang-ha watches with a curious expression on his face, although he turns away quickly when she faces him.
Pal-gang bids him good night, but Kang-ha stops her by mentioning her contract, which gives her a month to stay in this house. Kang-ha proposes, "I'd like to extend the duration of the contract. Would that be possible?"

COMMENTS
As I said, I felt proud of Pal-gang for sticking to her professionalism. She's being approached by Tae-kyu, then Jun-ha, and now even Kang-ha and her life is difficult enough without all of these complications. In order devote herself to motherhood, she has to stick to the lines she's drawn, and they keep stepping over them and smudging them without a care for her feelings, as she points out to Tae-kyu. I like that she is firm with Jun-ha even though he seems to be the worst offender in disregarding her feelings. (Tae-kyu can be inconsiderate, but he's harmless and Pal-gang recognizes that. Jun-ha is more of a danger, because he knows exactly what he's doing and is smart and manipulative.)
I don't know if Pal-gang has feelings for Kang-ha yet, because it could just be that she's exhausted from all this emotional toying. It's probably easier for her to lump all three men together and to consider their so-called affections as either false or fleeting, rather than trying to deal with each difficult man one by one. But her reaction after brushing Kang-ha off suggests that he affects her more than the other two.
I'm okay with Pal-gang not knowing for sure, because neither does Kang-ha, and I appreciate that he doesn't jump to conclusions and decide he must be in love with Pal-gang. Instead, he's feeling his way around his emotional reactions, and he tells Jun-ha that he's trying to figure out the reason for his response to Pal-gang. He has a clue, but he's testing things out carefully.
Kang-ha's moment with sleepwalking Pa-rang confirms that he feels a connection to the boy, and I wonder if Kang-ha sees himself in Pa-rang. He wonders wistfully if he could have turned out like Pa-rang with loving parents, but conversely, I think he also wants to prevent Pa-rang from turning into himself.
As for Jun-ha….
I think some will disagree with this, but I actually think that in light of this episode, Shin Dong-wook has been doing a very good job keeping tabs on what his character should feel and convey, which are not always the same thing. Episode 11 had us all confused about his motivations, but I think we were supposed to wonder until this episode cleared things up.
Example: We all felt Jun-ha was being shifty and scheming in Episode 11, because his dialogue was delivered with that faux-sincerity that made us wonder what his real deal was. If he was supposed to be sincere, I think he would have acted it a much different way, rather than deliberately evasive and suspicious. Even when he told Kang-ha that he's for real — and said so fervently — his little side smirks to himself told us that he wasn't quite on the level.
THEN, in the scene with Jae-young in this episode, those ambiguities fell away and all of a sudden he seemed sincere; I immediately believed that THIS is the real Jun-ha. Perhaps your interpretation will be different, but his acting showed such a stark contrast in that scene that it left me no doubts.
I think Jun-ha is an inherently nice guy, but right now Jae-young is his Number 1. Therefore, if he hurts other people, that's regrettable but not going to stop him from doing what he can to make her happy. So I interpret Jun-ha's actions to mean that he is trying to woo Pal-gang to keep her out of Kang-ha's way, and if he can prevent those two from bonding, Jae-young has a better shot at realizing her love. (If Tae-kyu won Pal-gang, that would have suited him fine, too, but once that fizzled, he had to make sure to keep Pal-gang wrapped up with someone else. Hence his advances.)
However, I do suspect Jun-ha will fall victim to his own machinations — a sort of Dangerous Liaisons twist.
RELATED POSTS
Tags: Choi Jung-won, Kim Ji-hoon, Lee Kyun, Shin Dong-wook, Wish Upon a Star