Wish Upon a Star: Episode 9
In earlier episodes, I really hated the Jae-young character and found the actress pretty awful on top of that. I felt we were supposed to feel sympathy for her — she loves a man who treats her with disinterest, how sad — and in that, she failed. However, now she's turning into an outright hateable character, and that's something I can get onboard with. If I'm not supposed to feel sorry for her, then second-best is if I can love to hate her. And THAT, I can do.
SONG OF THE DAY
Wish Upon a Star OST – "별을 따다줘" (Pick the stars) by KARA [ Download ]
Audio clip: Adobe Flash Player (version 9 or above) is required to play this audio clip. Download the latest version here. You also need to have JavaScript enabled in your browser.

EPISODE 9 RECAP
Pal-gang talks with Grandpa Jung, worrying over his well-being. Grandpa has always acted like a man of humble means, so she thinks he's a poor vagrant. It's easier to let her think that than to come up with another story that doesn't reveal that he's the JK group chairman, so he doesn't set her straight.
She's comfortable enough with him to take him to task for droppng out of contact after her parents died, but he says he collapsed and only awoke recently. She also scolds him (gently) for living so hand-to-mouth, without worrying for his future.
Checking first to make sure the men aren't home, Pal-gang brings Grandpa Jung inside the house, where he is enthusiastically greeted by the kids. They show such worry for his well-being that it brings tears to his eyes.
Concerned for Grandpa's future, Cho-rok asks if they can hide him in the house — what if he collapses again, and he's outside and alone? He says it's quite all right, but the kids plead with Pal-gang. She's torn: on one hand, she doesn't want to leave Grandpa to roam the streets, but if she gets caught hiding him, it would really be the last straw.
The grandma from the previous episode gathers a group of her elderly friends and urges them to sign insurance policies with Pal-gang. But Pal-gang has learned a few things, and tells them to think it over carefully, assuring them that they don't have to sign with her.
In the end, she signs three new people, which moves her to near-tears — this is the first time she's sold a policy. The grandma can't believe she hasn't had any success since she seems so knowledgeable, but Pal-gang explains, "Until recently, I was the Useless Miss Jin."
(As I explained previously, her nickname literally means "The Miss Jin who may as well be gone, for all the good she does here." For ease of referral, I'm shortening that to Useless Miss Jin.)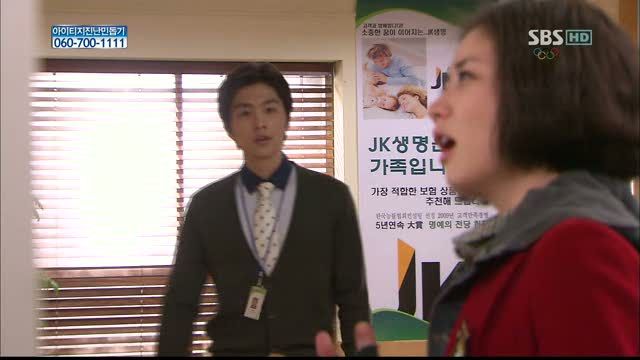 Back at the JK office, Pal-gang asks Jin-ju hopefully if she'll get a bonus for her three policies. Jin-ju reminds her that her wages are being garnished until her card debt is paid off. This seems downright unfair, so she heads to Kang-ha's office to ask his legal advice. But she can't quite bring herself to knock, fretting that she'd look truly pathetic to reveal another embarrassment.
Jun-ha arrives just before Jae-young walks out of the office. Assuming Pal-gang has something to ask Kang-ha, he suggests they visit Kang-ha together, but Jae-young informs them that he isn't in the office today.
Jun-ha inquires after Nam, since Pal-gang doesn't have him with her today. This surprises Jae-young (why would he bother to know the baby's name?), who warns him that "people like that" will latch on to his slightest interest and leech off him. Jun-ha says that Pal-gang isn't that kind of person, but Jae-young remains suspicious.
Kang-ha is out running his errand for Chairman Jung when his phone rings. Pal-gang's voice enthusiastically launches into a greeting, thinking she's talking to a client, and he cuts her off to tell her she's got the wrong number. She apologizes profusely for interrupting his day, and he starts to grumble about it. But she talks right over him, apologizing and hanging up while he's mid-complaint. He's left to mutter about her etiquette, but bursts into a little chuckle.
This leads into a flashback montage (already?) as Kang-ha recalls his interactions with Pal-gang, such as when she tended him while he was sick. He remembers these scenes fondly, even when she had called him a heartless bastard and had begged to stay at the house.
The kids brainstorm for ways to make money, led by the business-minded Cho-rok. She has noticed that this is a fancy neighborhood whose trash contains salvageable items that they can sell. When Grandpa cautions that this will take time out of their studies (note that they'll be returning to school soon when winter break is over), they answer that they've got bigger worries than schoolwork.
Grandpa Jung stays with them that night, and when he wakes up at a late hour, Pal-gang is studying on her own. He gives her some words of support: "Living may be tough now, but in life sometimes brings good things too." He needs to use the bathroom, so Pal-gang helps him sneak out, avoiding the notice of Jun-ha. Grandpa recognizes him, so when they're back in the safety of the room, he asks Pal-gang about the people she's living with. She explains that they work at the same office, and his eyes widen to hear that all this while, she has been an employee of JK.
The next day, Grandpa visits the tombs of Pal-gang's parents and promises to keep watching over the family a little longer. He assures them that Pal-gang has changed a lot from her former flighty self, and thinks that perhaps she might even be able to help him realize his dream (of setting up the free hospital). Although he's still looking for his possible lost grandson, he's already thinking ahead — maybe he can set him up with Pal-gang, thereby doing right by both kids.
Pal-gang, meanwhile, has to deal with another problem — her cell phone is shut off by the company. She has barely enough money for baby formula, much less enough to pay for a phone plan. Her job is dependent upon her constant availability to her clients, which means this is quite a problem. She begs the phone company to understand, but they can't bend the rules.
The kids embark on their plan to scour the neighborhood for discarded items, but first they'll need some kind of cart. To buy a cart, they'll need to earn money by doing odd jobs. Since the ajummas in their old neighborhood already feel sorry for them, they should be willing to give them little tasks.
Therefore, the kids all pile onto a bus heading for their old neighborhood. It's quite far, so they all doze off during the ride. Ju-hwang wakes up just in time to get the driver to stop, and they disembark… only to realize that one of them didn't make it. Pa-rang must still be asleep in his seat.
The kids hurry to a police station to ask them to track down the bus quickly, before Pa-rang wakes up and gets off. Unfortunately, they're too late and by the time the officer calls, there's no boy on the bus.
Pa-rang wanders the busy street alone, crying, "I'm a real orphan now." He begs a woman for her phone so he can call his sister, but Pal-gang's phone is not in service. The kindly ajumma assures Pa-rang that everything will be fine and takes him to the nearest police station. Sobbing even harder, Pa-rang has by now become convinced that his siblings ditched him on purpose. Only 7 years old (6 by Western count), he thinks they got sick of him because he sleepwalks and causes trouble.
A little while later, Pa-rang remembers something — the name of his sister's company. The officer says he'll ask for his sister at JK, but Pa-rang tells them to call their lawyer Won Kang-ha instead.
Kang-ha takes the call, bewildered to hear that Pa-rang is at the police station. The boy starts crying, begging Kang-ha to tell his siblings that he's okay going to the orphanage: "Tell them I understand if they abandoned me." Kang-ha rushes to the police station.
Jin-ju lends Pal-gang yet more money to reinstate phone service, which makes Pal-gang feel terribly guilty — she's not sure she'll ever be able to repay her. Jin-ju is more worried to hear Pal-gang talking like this (as in, realisitically) because she usually talks so big. She'd feel better if Pal-gang spoke confidently like she used to. Pal-gang sighs, "I can't do that. In the past, I had nothing to be afraid of, but now there's nothing I'm not afraid of."
Her phone starts to ring, and when she picks up, Kang-ha scolds her for not picking up earlier. She hurries to the police station.
Shortly afterward, a police car pulls in carrying the other kids from the other station. When they all meet in front, Pa-rang asks, "You didn't really leave me?" Ju-hwang scolds, "Are you crazy? Didn't I tell you that even if noona did, I'd never leave you guys?"
The kids explain that they were on their way to the old neighborhood to earn money to buy a handcart so they could collect junk to sell with grandpa. When Kang-ha asks in puzzlement who this grandpa is, everyone blurts in unison, "Nobody!"
With everyone's moods restored, the kids look around Kang-ha's car, commenting on how nice it is. (Of course, No-rang has to pipe up for Jun-ha, saying his car is nice too.) Nam starts to cry, and Pal-gang tries to hush him, promising to fix him some formula as soon as they get home. Pa-rang starts singing a song to keep Nam's mind off his hunger.
Kang-ha grimaces at the noisy chatter around him, bearing it all with resignation. And takes them to a Chinese restaurant.
This gesture makes quite an impression on the kids, who haven't ever eaten at such a nice place:
Pa-rang: "You make more money than the Team Leader ajusshi [Jun-ha], don't you?"
Kang-ha: "Why do you ask?"
Pa-rang: "Mr. Lawyer ajusshi makes more money so he can take us to a place like this. Team Leader ajusshi probably can't afford to bring us here."
This brings disgruntled looks to No-rang's and Cho-rok's faces. A bit later, Ju-hwang hushes Pa-rang for being noisy.
Ju-hwang: "Be quiet. Mr. Lawyer ajusshi will feel ashamed."
Pa-rang: "Are you ashamed of us?"
Cho-rok: "He probably is, which is why he's not answering. But our Tae-kyu oppa wouldn't be. He'd never be ashamed of us."
No-rang: "Our Team Leader ajusshi isn't, either."
Pa-rang: "If you talk like that to the ajusshi buying you food, you're a bad person!"
BWAHAHA.
Kang-ha even requests warm water for the baby's formula, which Pal-gang appreciates. An elaborate dinner spread is brought out, and the kids cheer. Kang-ha tells them all to eat up because they've had a hard day, then adds (in a pointed tone), "Although, if your sister had just kept her phone on, you wouldn't have suffered."
Too bad Kang-ha doesn't get to enjoy this moment of superiority (he's got to be feeling pretty proud of himself right now), because Pa-rang plays with the lazy Susan on the table. That causes tea to spill all over Kang-ha's leg, and the others look wide-eyed in horror as Pa-rang moves to help, dropping plates in his haste. Glumly, Pa-rang apologizes. Kang-ha sighs.
And that's not all. Another round of food comes out, and Pa-rang excitedly cheers. In so doing, he knocks the waitress's arm, and she drops the bowl of food… into Kang-ha's lap.
Kang-ha tamps down his reaction admirably, gritting out (again) that if she had only answered her phone…!
Jae-young comes to the house with dinner for four. Aware that Pal-gang's family may come home at any moment, he tries to encourage her to go home, but Jae-young is happy to wait for Kang-ha. She wants to show him her gesture so he'll appreciate her effort.
Tae-kyu talks on the phone with Pal-gang, then complains to Jun-ha, "They all went to eat jajangmyun!" Jun-ha shuts him up, covering: "Who cares if your friends went to eat jajangmyun?" Jun-ha furtively instructs Tae-kyu to meet up with Pal-gang and her siblings, and not to return home until Jun-ha gives the okay.
Unfortunately, Tae-kyu can't get in touch with her. Since Jae-young won't leave, Jun-ha thinks fast and suggests that they eat quickly, then, but that she's better head home early because it's supposed to snow tonight. After they eat, he again tries to urge her to go home, using the snow as an excuse.
The arrival of Kang-ha diverts Jae-young' attention, and she greets him enthusiastically…
…until she registers that he's not alone. What is the meaning of this?
Pal-gang is immediately nervous, knowing Jae-young dislikes her. Jun-ha fumbles to answer, saying she's their maid. Kang-ha's the only who doesn't seem affected by this situation, and just heads up to his room.
Pissed off, Jae-young bursts into his room and demands to know why Pal-gang is here. Does it make sense that she's their maid — or that he's such a mess because of them, for that matter? Kang-ha sighs, "It doesn't really make sense, but it just happened."
Jun-ha joins them and tries to placate Jae-young, saying that this was his idea, and it's only for a month. But Jae-young knows Kang-ha's personality — he's the kind of person who'd never agree to something he disliked. Kang-ha answers, "I thought I wouldn't be able to put up with it either, but I can, so I'm putting up with it."
Downstairs, Tae-kyu explains to Pal-gang that Jae-young loves Kang-ha, and that even though Kang-ha's not interested, they'll probably end up marrying in the end. When he says sympathetically that it must hurt Pal-gang's feelings to hear this since she used to like Kang-ha, she answers no; she understands that lofty people marry their own kind.
Jae-young demands a private talk with Pal-gang. Opening her purse, she takes out a banknote (for 1 million won, which is about $850), saying, "It seems like you're mooching off the pity of kind people. How about you stop annoying them and move out?" Plus, how dare she think to mingle her family with Kang-ha's? (The implication being that she's far beneath them.) Seeing Pal-gang's hesitation, Jae-young says she can offer even more money, and Pal-gang can take her family to a hotel.
Pal-gang thinks for a long beat, and admits that once she would have been thrilled, "But now, I'm scared of my siblings' gazes so I can't beg for money. I'm sorry."
Jae-young smirks. "Living like you are right now is begging."
Kang-ha walks in and sternly asks Jae-young what she's doing. Jae-young answers, "Oppa, don't do anything. I'll handle your unsavory business."
Kang-ha warns, "You've overstepped your bounds." Addressing Pal-gang, he requests a cup of coffee, then asks Jae-young pointedly, "Aren't you going? It's late."
Jae-young fixes a resentful gaze on Pal-gang, then starts to follow Kang-ha out of the room. Jun-ha holds her back, saying this is enough for today.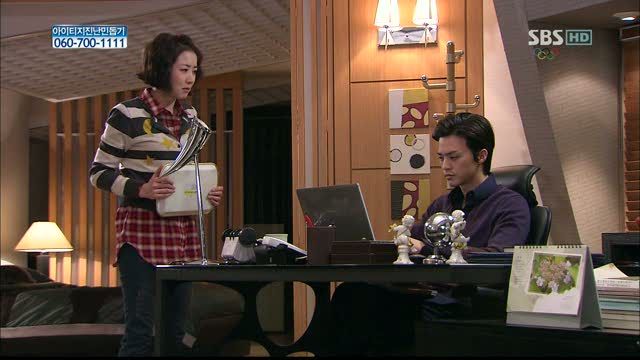 Pal-gang knocks on Kang-ha's door, bearing the coffee. Kang-ha mutters to himself, "When did she ever bother to ask before coming in?" Then he catches himself and scolds himself, "I told you to stop talking to yourself!" (HAHA.)
Pal-gang apologizes for angering Jae-young, then adds, "I'm really really thankful for today, and really really sorry." Kang-ha answers that Jae-young isn't her worry, then dismisses her.
Pal-gang pauses on her way out, deciding to ask Kang-ha for his advice on something. Her "friend" is in debt and her salary is being garnished — does this mean that she won't be able to receive any part of her pay?
He's quick to perceive that the question is about herself, and answers that her "friend" can keep enough for living expenses, and the rest will be garnished by the creditor. Excited at this positive news, Pal-gang thanks him.
Jae-young asks Jun-ha to drive her to a bar since she's planning on getting dead drunk. Jun-ha doesn't really understand why she's this upset — she can't be threatened by Pal-gang, right? She retorts, "I don't have so little pride."
Jun-ha suggests that she think of Kang-ha's behavior as helping the needy, but Jae-young counters that one does that with money, "not by enabling a person to endure what he couldn't previously endure." She doesn't understand what the latter means, "and that makes me angry." Shedding angry tears, Jae-young adds, "I don't know why my man insults me in front of such a pathetic woman like her. It's so ridiculous."
This gets Jun-ha's temper going — why does she cry over this? She's stronger than this.
Promted by that anger, Jun-ha storms in on Kang-ha and demands to know why he's so mean to Jae-young. Kang-ha asks, "When have I not been mean to someone?"
Jun-ha insists, "She's crying because of you. … Even if you're mean to every other woman on this planet, don't do that to Jae-young. Just marry her. She even says she'd divorce you if you wanted!"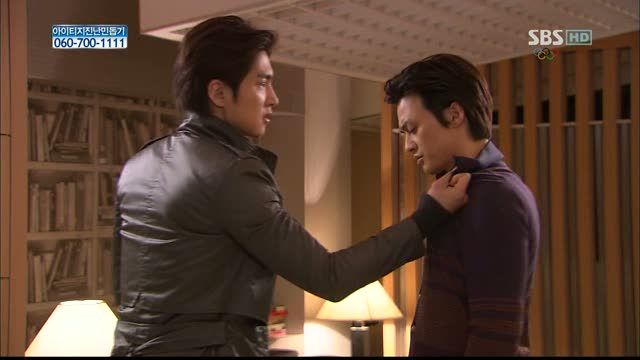 Kang-ha is unmoved by this, and fires back, "If you feel so bad, then you marry her." Jun-ha first grabs Kang-ha with one arm, then with both, and yells, "How can you even talk like that?!"
Kang-ha finds Jun-ha's reaction suspicious. He shoots Jun-ha's words back at him: "Do you think it makes sense for you to talk like that?" Jun-ha insists, "She's my friend. She's the most valuable friend I have!" Kang-ha returns, "Is that really all it is?"
Even angrier now, Jun-ha grabs Kang-ha's shirt and gets in his face.
(Kiss! Kiss! Kiss!)

OTHER PLOTLINES
Kang-ha investigates the issue of Chairman Jung's lost grandchild. Twenty-five years ago, the chairman's elder son did volunteer medical work in a small island community, then a university student. After his departure, a single woman on the island had a baby, and people speculated that the medical volunteer was the father. The gossip was difficult to handle, so the woman ended up leaving.
The records of her whereabouts only go so far, and there's no current information. Chairman Jung urges Kang-ha to find her no matter what — he has to make things right and repay his (and his son's) old debt.
The curious thing is, the woman's name is Oh Jung-ae (which is not the name of Pal-gang's mother), and the child was a son.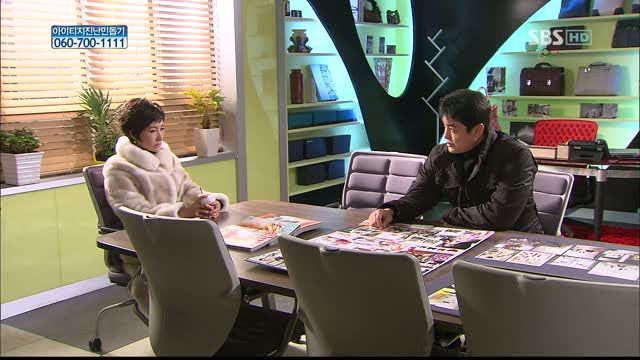 Hearing about the grandson from her informant, Min-kyung decides she must find him first.
She warns Jae-young to give up on Kang-ha, because he may become her enemy in the future. In fact, right now he's working behind their backs to find a possible cousin, and thus Jae-young must act quickly to secure her future. Min-kyung is pushing her daughter to marry another rich man, and to prepare for the worst-case scenario.
Jae-young offers up a counterproposal. Even if Kang-ha finds the truth, if he keeps his mouth shut, they'll be fine. Wouldn't it be perfect to marry the man who might otherwise turn into her enemy? Min-kyung asks, "Do you think Kang-ha would keep his mouth shut for you?" Jae-young vows, "I'll make him."

COMMENTS
I still think Shin Dong-wook is too cool for this role, which translates into awkward moments when Jun-ha gets all angry and excited, as in the last scene. He plays Jun-ha with so much feeling that it's jarring, given the general apathy around him — Kang-ha's is intentional, but the apathy surrounding Jae-young is more on the viewers' part, since I find her utterly boring. I love Shin Dong-wook, but he could dial it down.
I'm ready to switch teams from Jun-ha to Kang-ha, so it's nice that the drama gave Jun-ha his hero moments early on. I suspect those will diminish as time goes on, since his desire for peace is inadvertently making things worse and his perfect-nice-guy image shows signs of cracking.
Plus, now we start to see that Kang-ha's coldness has a rhyme and reason. Yeah, it's partly because he can't be bothered to be polite (so he's still on the hook for rudeness), but he isn't malicious. Even back when he'd wanted to throw Pal-gang out, he'd argued that it was for her own good that she wise up and stop acting so recklessly. It was like a form of tough love — only, you can argue that tough love wasn't appropriate then, when she was already so downtrodden. With Jae-young, however, she's so persistent and clingy that giving her the tiniest encouragement would end in greater headache.
I don't actually feel a romantic chemistry between Pal-gang and Kang-ha, so I thought the flashback montage was premature. Their vibe is more of an odd couple, and I actually find that really amusing so I don't mind. When it does turn romantic, however, I hope the transition stays believable.
RELATED POSTS
Tags: Choi Jung-won, Kim Ji-hoon, Shin Dong-wook, Wish Upon a Star