At the auditions for campus drama What's Up
What's Up — the upcoming campus drama set in a university musical department — has finished its open auditions with 10 new discoveries. These fresh faces will join the main cast, which features Im Joo-hwan (Tamra the Island), Im Joo-eun (Hon), Big Bang's Daesung, Jeon Hye-jin (Smile), and model Lee Hyuk-soo.
The auditions for this drama have garnered a lot of interest for several reasons. For one, it's one of a few university-set dramas in recent years, and as such it offers more opportunities than normal for newcomers to get small roles as supporting cast members or even as extras. Furthermore, this is a quasi-sequel to the 1999 campus series KAIST, which was the launching pad for many of this generation's famous faces, including Chae Rim, Ji Sung, Lee Eun-joo, Lee Na-young, and Kim Min-jung. In addition, Song Ji-nah is one of the top writers of the industry with a number of top dramas to her name, such as Sandglass (also Story of a Man, Legend).
Hence the first round of the audition process attracted more than 10,000 hopefuls. Producers had originally planned to cast six out of the open auditions, but ended with ten. They range in age from 21 through 28.
Writer Song has had an active say in the casting from the start, and said, "Those who made it to the final round are all outstanding. The final decision wasn't based on who did better or worse, but who fit the drama's roles best." She added that she would write every one of the 24 finalists into the scripts for Episodes 1 and 2, so they would at least appear once.

As 10 Asia describes the scene:
This is the scene of auditions for drama What's Up by writer Song Ji-nah, set in a university musical department. Ten minutes before results are announced, the staff members walk with hurried steps. They ask their colleague to make a script so as to "not give hurt, and not disappoint," and with concerned expressions the producers finally convey the news with unexpectedly shaking voices.

"Today we were going to pick 20 candidates, but we picked three more." Even before the hall starts to fill with happiness and agitation, a larger hope bites its tail. "And if you don't make the cut today, please don't be too disappointed. Even if you aren't right for our drama, you were friends we'd like to work with again another time." A few auditionees with confidence in their singing start to smile in satisfaction, but alarmingly, another subtle explanation is tacked on: "Ah, but that doesn't mean to keep waiting for a call, either." At this extra consideration, stiffened shoulders eventually relax, and soft laughter fills the waiting area.

They are not weak of heart, and neither are the directors who are judging. Whether the applicant performs a song or a dance, there are disappointed reactions; at pleas of "Can I sing one more song?," okay signs are freely given. There are constant renditions from the male applicants of Jekyll & Hyde's "This Is the Moment" and Harmonium in My Memory's love theme, just as there are multiple performances from the women of Kim Yang's monologue from Radio Star and "Congratulations on the Wedding" from Singin' in the Rain, but that's not something you can change midway through. The assistant director even reads script lines with disappointed applicants who beg to be allowed to read. As a result, the auditions drag on and on for six hours, and when they are finished it seems even the assistant director's acting skills have vastly improved.

However, no matter how generously chances are given to these applicants, they cannot all be judged at the same level. After a secret meeting, applicants are selected from this third round of three-day auditions to pass through to Round 4. And the final winners will take on roles with some importance alongside Im Joo-hwan, Daesung, Im Joo-eun, Jeon Hye-jin, Lee Hyuk-soo, and Jo Jung-seok. Let's try foreseeing the future to see which new faces will ultimately join this dance-, song-, and youth-filled drama. The faces you look on today may become the stars of tomorrow.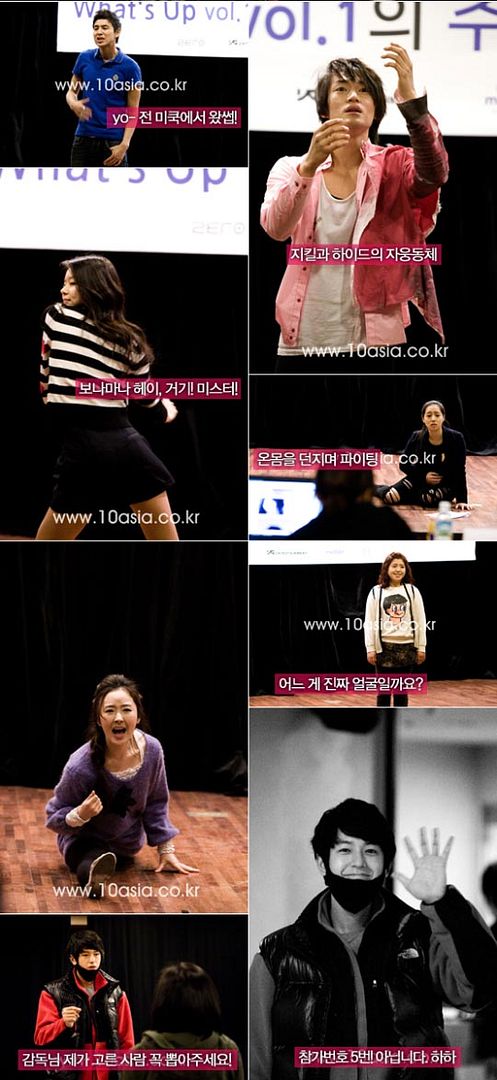 RELATED POSTS
Tags: Daesung, Im Joo-eun, Im Joo-hwan, What's Up