Chuno: Episode 13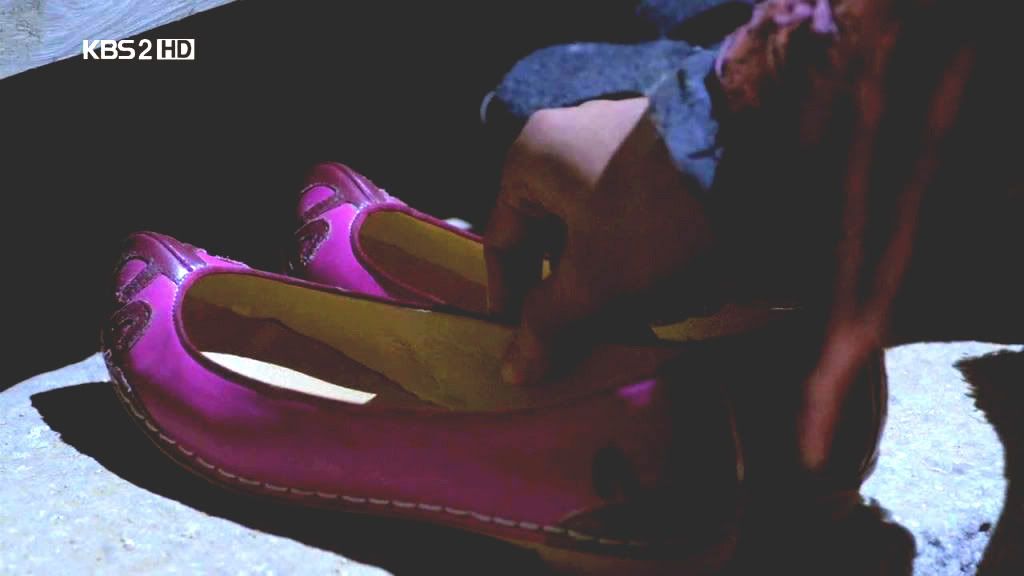 Well, this is the episode! It took 10+ years, thousands of miles, scores of drawings and over a dozen episodes, but this interminable story line of near-miss after near-miss has finally come to an end. Dae-Gil has found his beloved Un-Nyun. But this Un-Nyun is not the beautiful and carefree slave girl of Dae-Gil's memory. No, this runaway slave has gone and turned herself into a noble woman named Hye-Won and on top of that, and on this day of discovery, she is marrying someone else. On this day of days, Hye-Won is dressed in her wedding finery and is marrying another runaway slave – former General Song Tae-Ha. A day late and a nyang short, Dae-Gil takes out his blade.
SONG OF THE DAY
"Here Without You" – by 3 Doors Down [ Download ]
Audio clip: Adobe Flash Player (version 9 or above) is required to play this audio clip. Download the latest version here. You also need to have JavaScript enabled in your browser.
Episode 13 begins with Dae-Gil crouching behind a building in the compound that serves as the temporary headquarters for the conspiracy that seeks to protect the toddler Prince and to one day enthrone him as the true ruler of Joseon.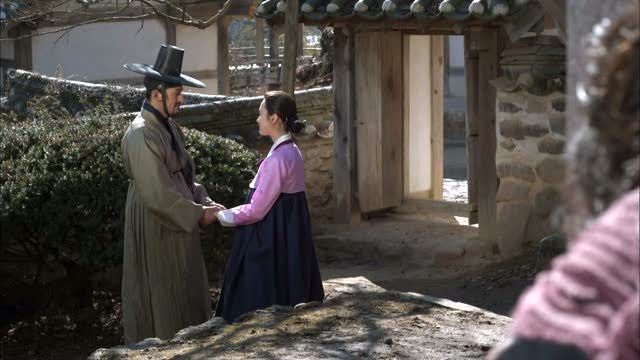 Dae-Gil watches the happy couple and struggles to come to a decision as to what to do next. I know he had vengeance on his mind against Un-Nyun initially, but talking and doing are two entirely different things. Dae-Gil finds himself in a weak position. Rather than coming in with absolute authority (with a legit government order to capture Tae-Ha) and righteousness (Un-Nyun is his runaway slave after all), Dae-Gil has instead taken the role of a lurking thief, jealously watching as one runaway slave marries another, the latter slave being the very one was involved in Dae-Gil's family's massacre.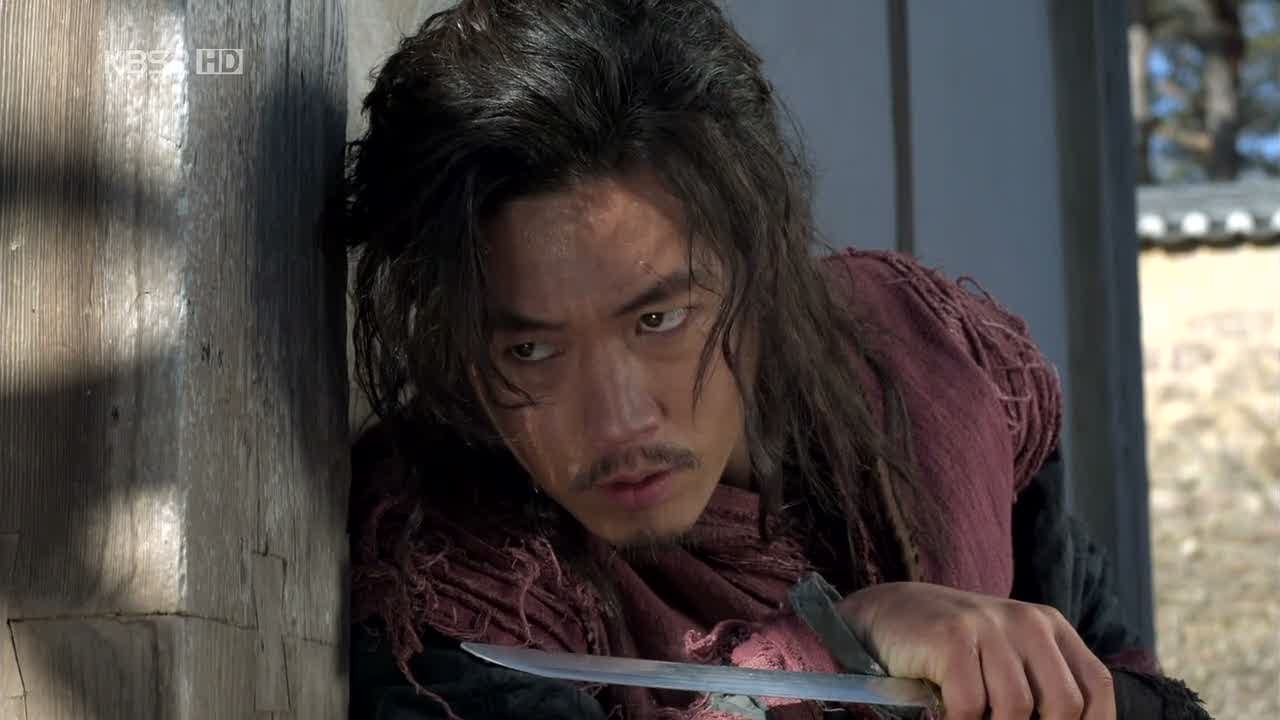 Dae-Gil has found his beloved, but she has apparently forgotten about him. Un-Nyun looks so radiant in her han-bok! But she is radiant and glowing at Song Tae-Ha… it is almost time to make them pay.
Dae-Gil hesitates for a brief moment, steeling himself for the inevitable sorrow to follow. There is no way that Dae-Gil can let them go. Dae-Gil has given his oath to Left State Minister Lee Gyeong Shik, the second most powerful politician in Joseon, to bring Song Tae-Ha back dead or alive, or Dae-Gil will pay with his own neck. But even more than that, how can he live his life if Un-Nyun is never brought to face what monstrous consequences she had left Dae-Gil in?
But then just like that, Dae-Gil's decision is turned upside down. Dae-Gil watches as Un-Nyun lifts a baby boy to her shoulders. A baby boy! Dae-Gil falters and retreats. What can he do now, if he takes Song Tae-Ha, he will destroy not only Un-Nyun, but Un-Nyun's baby boy as well. Somewhere in the recesses of Dae-Gil's mind, a code has been set in stone and he cannot harm this child. It is over. Tae-Ha senses a presence and moves to check it out but Dae-Gil has already gone.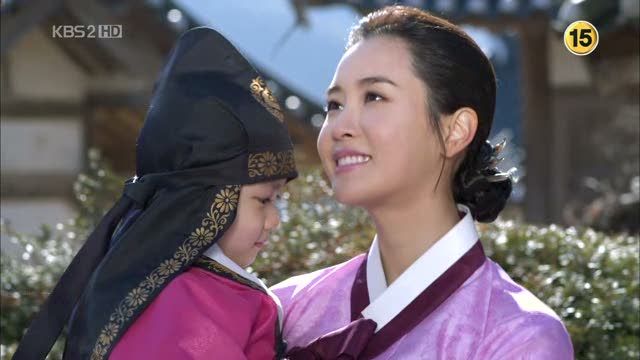 Dae-Gil trudges away as Hye-Won begins the ceremonial marriage rites. As Hye-Won slowly lowers herself to the ground, bowing deeply in ceremonial fashion, Dae-Gil collapses in a heap just yards away. It is all too much for this man who has spent 10 years chasing after a dream, now gone forever.
Hye-Won and Tae-Ha complete their marriage ceremony as Dae-Gil has made it back to the marketplace square. Dae-Gil takes out a drawing of Un-Nyun that he carries with him, and cries his tears for this cruel twist of fate. The tears drop down onto the drawing of Un-Nyun as Dae-Gil holds his life in front of him.
Seol-Hwa, strolling through the marketplace, happens upon Dae-Gil but she almost doesn't recognize him. This broken man is not her orabeoni. Dae-Gil cries like a man possessed by a ghost, pounding the drawing against his chest. Seol-Hwa is stunned by his passion. She backs away and leaves him be, unable to bear witness. To Seol-Hwa, each of Dae-Gil's passionate cries is a confession of love for someone other than herself. Dae-Gil may never become someone who loves her.
And back in Han-Yang (Joseon's capital city), Chun Ji-Ho has finally returned home from his brutal trip that saw him lose two of his men to Commander Hwang Chul-Woong's blade. Chun Ji-Ho collapses on the table and calls out for his remaining boys, but no one is home.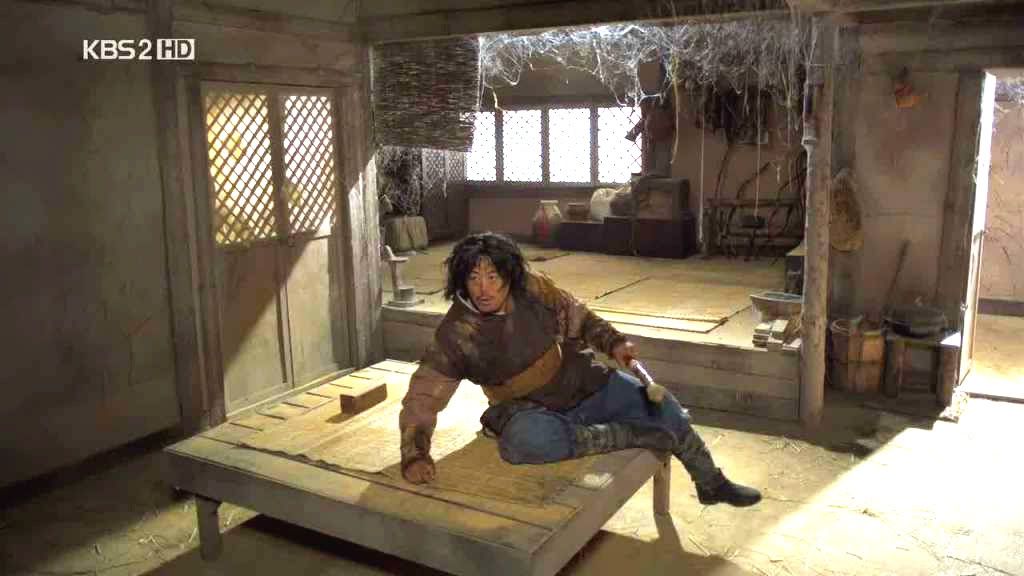 Chun Ji-Ho seeks out the Artist Bang, who knows trouble when he sees it. At the point of a knife, Bang relates the awful details about how Chun Ji-Ho's men were found hung in Ap Gu Jung Dong. Chun Ji-Ho at last realizes what has happened, that he and his men were set up from the beginning. Bang gives even worse news. Chun Ji-Ho's men were not even given proper burials, and their bodies were probably just dumped. Commander Hwang, you just made a life-long enemy that won't hesitate to stoop the lowest levels of degradation to see you killed.
That same day, Dae-Gil has made his way to the Buddhist temple to make peace with the cruelness of his life.
Dae-Gil: Buddha unni. You know… life… is quite a fucking hassle. But you know what else, Buddha unni, they say that you are one who has figured some things out in your life. So, you tell me, what do I do now?

So tell me, what the hell am I supposed to do NOW!
At that moment, unaware of a Dae-Gil at his wits end, Hye-Won has approached this same Buddhist temple. Hye-Won left a note for her husband Song Tae-Ha, that she is going to lift up her burden of unrequited love that she has been carrying all these years, and then return to Tae-Ha to be his alone. And Dae-Gil is still conversing with the Buddha statue, asking for some direction. Dae-Gil bows once, and then gets up. Feeling like that wasn't enough of compensation, Dae-Gil bows again. This is, of course, as much honor and reverence as Dae-Gil has given anyone his whole life. What Dae-Gil is seeking is no longer Un-Nyun, but a way to live without Un-Nyun.
It is interesting how both of these fated people have come to the same temple to figure out a way to let go of the other. But before Hye-Won makes her way into the temple, she is accosted by the leader of the conspiracy to enthrone the Crown Prince. The leader asks Hye-Won to leave Song Tae-Ha's side, at least until this conspiracy reaches a maturing point. Hye-Won refuses outright, gazing directly into the eyes of the noble without flinching.
Hye-Won is a new woman, far stronger and more confident in herself than Un-Nyun would have been. Unlike her slave self, who fled with her brother the night Dae-Gil's life was destroyed, the noble woman Hye-Won will stand and fight for her new man.
As Dae-Gil leaves the temple, Hye-Won has taken a walk around the back to wait for the temple to clear. They miss each other (again), but each takes a look towards the other, though their line of sight is blocked by the temple itself. For whatever reason, they can still sense each other's presence.
At one of the Royal garden pavilions, the Imperial Emissary to the Emperor of the Qing has finally met up with the King of Joseon. Despite titular differences, the attitude and talking between them is extremely plain, and this is for good reason. Joseon had lost its war to Qing, and the King had to bow before the Qing Emissary in a humiliating fashion. From a practical standpoint, the Qing Emissary is really a higher rank than the King, even though under any other circumstances the reverse would be true.
As predicted by the wily Left State Minister Lee, Qing Imperial Emissary Yong presses the issue of the large importation of water ox horns before the King, to force the real issue – that Emissary Yong wants to bring the last surviving son of the late Prince So-Hyeon back to Qing to raise as the Emissary's own son. This is an obviously delicate issue for the King, who merely wants this child to be murdered and not brought outside the country where he might grow to forment a revolution of his own. The King demurs on the issue of the importation of water ox horns, and Emissary Yong is left with nothing further to add.
Back in the Qing pavilion, Emissary Yong is pissed and orders his men to go to Jeju Island and find General Song and the child Prince. If the King won't do anything, then Emissary Yong will just have to do it for himself. This is a dangerous game that the Qing Imperial Emissary is playing here. Regardless of whether Joseon is a vassal state to Qing, Emissary Yong is still on Joseon soil. And threatening the King with the one thing that might bring down Joseon's Royal Family is more than a little risky because the King would then have nothing to lose. Pressed into a corner, there would be no limit to what the King would do to protect his throne – including killing everyone who stands in his way.
The next scene we see Chun Ji-Ho with a crazy look in his eyes, entering a garment store. The dialogue here is amusing and a bit instructive:
Chun Ji-Ho (bowing as he enters): Ah-yooo… Hello there sir.
Store-Keeper (very rudely): What?
Chun Ji-Ho: What is this, starting off with a rude "What"? What is with the half-speech, did someone cut your tongue in half? (Note: speech that contains no honorifics is generally referred to as 반말, ban-mal, or literally, "half speech").
Store-Keeper: Aigoo, starting out the day damned like this… ya, if you want to beg for money, go to a different store!
Well, that Store-Keeper has gone and pissed off Chun Ji-Ho at pretty much the worst possible time. Chun Ji-Ho beats up the Store Keeper and his two assistants, even tearing off a tuft of hair from one of the assistants with his teeth. Chun Ji-Ho has all three kneeling before him like a teacher with three truant students.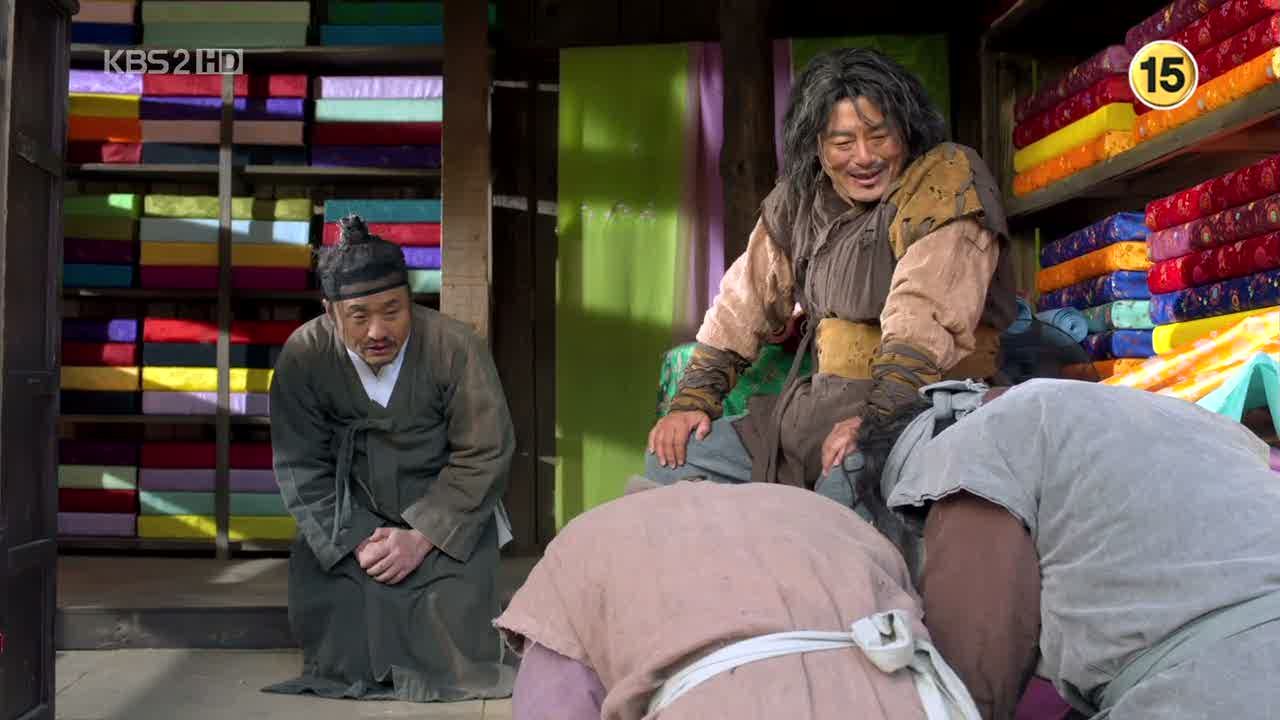 Store-Keeper (very politely): Err… Elder. If I may ask, what brings you here…?
Chun Ji-Ho: You don't know who I am, do you? I am Chun Ji-Ho, Chun Ji-Ho!
Store-Keeper (ingratiatingly): Aigoo, and I was unaware of this! You are the second-best fighter around, after Dae-Gil…
The Store-Keeper gets kicked hard, and Chun Ji-Ho gives a self-bio:
Chun Ji-Ho: I am the guy who mothered Dae-Gil from when he was little, I am THAT Chun Ji-Ho unni!
It is so interesting to listen to Chun Ji-Ho's language choices. Like in an earlier episode, when he was giving an eye-witness account of the first battle between Song Tae-Ha and Dae-Gil, Chun Ji-Ho uses quite a bit of onomatopoeia. In this case, he pantomimes the holding of a baby on his back, as he tries to describe how he was the one who taught Dae-Gil everything he knows. Chun Ji-Ho, like most of the uneducated commoners and slaves, half-speaks and half-charades his way through normal conversation.
Finally, Chun Ji-Ho gets to the point. He takes out a picture of Commander Hwang drawn by the Artist Bang and notes that this is the place that makes the uniforms for the military soldiers under Hwang's command. He wants a name. He wants an address. And he wants it now.
That night, Chun Ji-Ho pays an unannounced visit to Commander Hwang's home. He sits across from the Left State Minister's daughter, Lee Seon-Yeong (even though she is married to Hwang Chul-Woong, she keeps her maiden name as tradition dictates; even though a wife "enters" into the house / family of her husband when she marries, she is still not of her husband's blood line and thus her surname does not change). Lee Seon-Yeong's palsy does not make Chun Ji-Ho any more sympathetic, however, as Chun Ji-Ho is here to kill Commander Hwang.
Chun Ji-Ho wants to know the whereabouts of Lee Seon-Yeong's husband, and in a rather cruel fashion, relates how her husband is a rather excellent cold-blooded killer of men. This upsets Seon-Yeong greatly, and her spasms increase. Seon-Yeong is nearly a blur, spastically shaking as she learns of what her husband has been doing at the behest of her father. Tears are literally flung from her eyes and she rocks back and forth.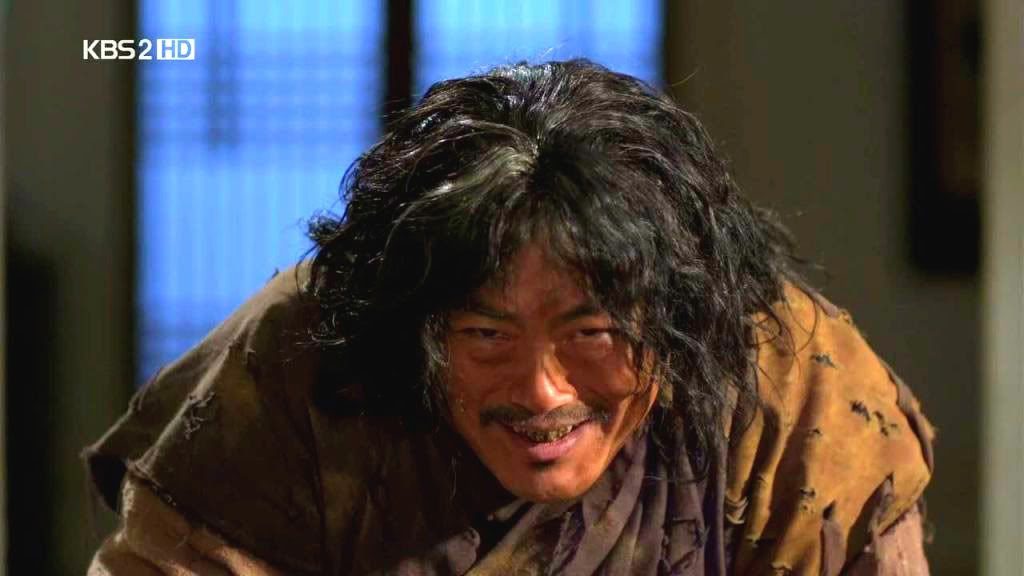 Chun Ji-Ho: Guys like me, well, we don't repay kindness much but… we always repay vengeance. Where's your husband?
Chun Ji-Ho has nothing but revenge on his mind, and he eyes Seon-Yeong, deciding whether to kill her or not. Seon-Yeong is devastated, and has nothing but sorrow in her heart. She responds, articulating her words carefully as she can:
Lee Seon-Yeong: Kill me. Please go ahead and kill me.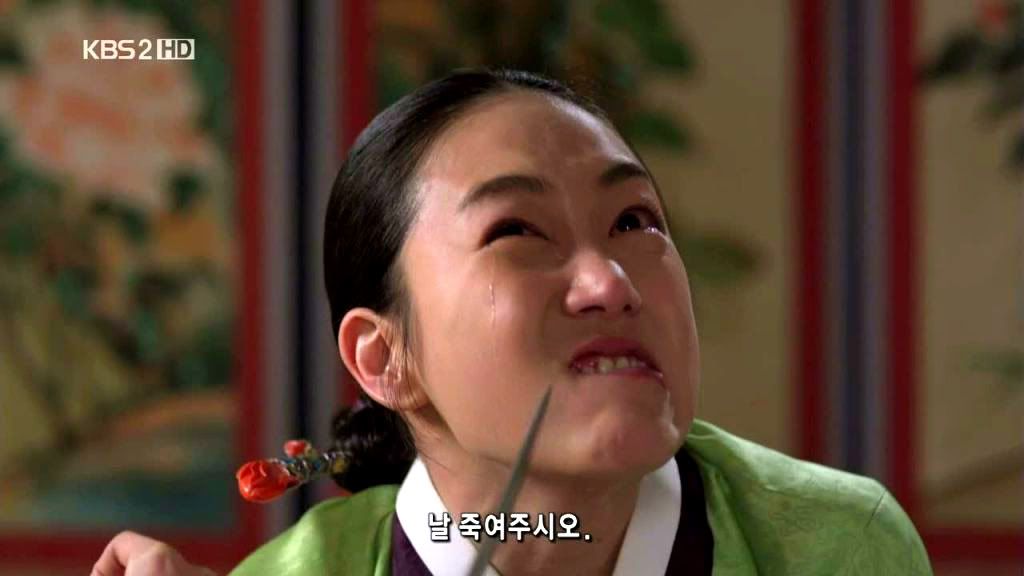 Begging for death is probably the one thing that saves Seon-Yeong from being stabbed. Chun Ji-Ho is disgusted, not by Seon-Yeong's palsy, but that he realizes that he can't hurt Commander Hwang this way. On his way out, Chun Ji-Ho unnecessarily adds a kicker that he is letting her live because killing her would be an act of kindness to her husband. Then he tells her to live for a long time, another slap in her face and her tortured existence.
Back to the main plot!
Over dinner, Choi and Wang-Son discuss what they have learned, and it appears that Wang-Son has found the place where Song Tae-Ha and his band are hiding out: at some seo-won / great hall for scholars. They agree to check it out in the morning. Seol-Hwa is in the room but for the first time, she is not hungry. This alone should be a cause for alarm, but Choi and Wang-Son don't seem to get it. Seol-Hwa has been crying to herself the entire time.
Seol-Hwa: I saw a man crying, and I thought to myself that "indeed a man can cry like that." And seeing a man like that, made me feel so happy, and… that's why I feel so sad.

And I had thought there couldn't be a man like that in this world. But even if there is, there's no way that I can be close to a man like that.
For those who are shipping Seol-Hwa and Dae-Gil, this is a sorrowful scene indeed. Seol-Hwa has found a man in this world who loves so passionately that he spent a third of his life searching for his love. And this man cries with a pain so deep that the echoes still stir inside her own heart. This kind man who saved her life twice. This ruthless man who can never be hers.
Dae-Gil has returned to the compound, to say goodbye. He stands outside of the bedroom chamber where a shadow silhouetted Un-Nyun is pledging her life to another man. Dae-Gil looks down and sees Un-Nyun's shoes, apparently the very same shoes he gave her so long ago. In his last act of kindness, he turns the shoes outward so that it would be easier for her to wear them once she arises in the morning. As the lights go out in the bedroom, Dae-Gil leaves, never to return.
Back at inn where Dae-Gil and company are staying, the four are finally back together, planning their moves. Dae-Gil asks what Wang-Son would do with his share of his reward money. Wang-Son says that he would buy a tavern for drinking, gambling and wenching. The same question is posed to Choi, who responds that he just wants a farm where he can grow enough food to last through a winter and have enough land so that his kids can run around and play.
Rather surprisingly, Dae-Gil then asks Seol-Hwa what she wants for her life. It is a very surprising question, and not just because Seol-Hwa wouldn't share in any reward. From Seol-Hwa's perspective, Dae-Gil asking about her dreams is tantamount to inquiring whether Seol-Hwa would be a match for him. Seol-Hwa's head floods with the memory of how Dae-Gil rescued her from life as a dancing prostitute.
Seol-Hwa: Me? I just want to meet a good man, be loved by him and not have to worry about where my next meal would be coming from. That's it.
Wang-Son laughs at Seol-Hwa for thinking that a girl like her would be able to meet a guy who would treat her like a woman. Dae-Gil silences Wang-Son but Seol-Hwa storms out anyway. Dae-Gil reproaches Wang-Son for his callousness; Dae-Gil seems to care what Seol-Hwa thinks, but the question is why.
In the morning, Dae-Gil orders his band to get up and go back home without checking out the compound where Song Tae-Ha probably is hiding. This infuriates Wang-Son and confuses Choi. Wang-Son lashes out at Dae-Gil, who then physically strikes him. After a brief fight that could have escalated very badly, Wang-Son demands out. He wants his share of the money that has been handled by Dae-Gil, and he will go on his own way. Choi yells at Wang-Son to shut the heck up and stand down. Wang-Son yells in frustration but complies. Choi and Dae-Gil take a walk outside to talk.
Choi asks Dae-Gil if he has seen Un-Nyun, and Dae-Gil denies it. Choi asks again, but Dae-Gil just changes the subject. He tells Choi that they should all just stop this slave-hunting life.
Dae-Gil: I don't want this anymore. Spending my life searching all of Joseon for a woman, listening to this slave or that slave crying and begging me to spare him. Putting my life on the line every single day… I'm tired of it all.
Choi: You.. so you have seen Un-Nyun.
Dae-Gil: By the by, I bought about 20 acres of land.
Choi (stunned): What?
Dae-Gil: So that we can build a home for ourselves. Yours will be there, and then I will have mine next to yours. And Wang-Son can have his tavern there too. Of course, we would still have to pay for a lot of that down the road.
Choi: Where did you get that kind of coin to do that?
Dae-Gil: Where do you think? You guys thought I was only taking a few pennies from you? Seeing how you guys handle money, I knew you guys would just squander it all. We can't do this for the rest of our lives, can we. Just like other normal people, even if it is just for a single day, we deserve to sit back and straighten out legs, rest and live like human beings, no?
Choi: Is that your true heart?
Dae-Gil: It is my true heart…
Dae-Gil (screaming it out): And how awesome is that??!!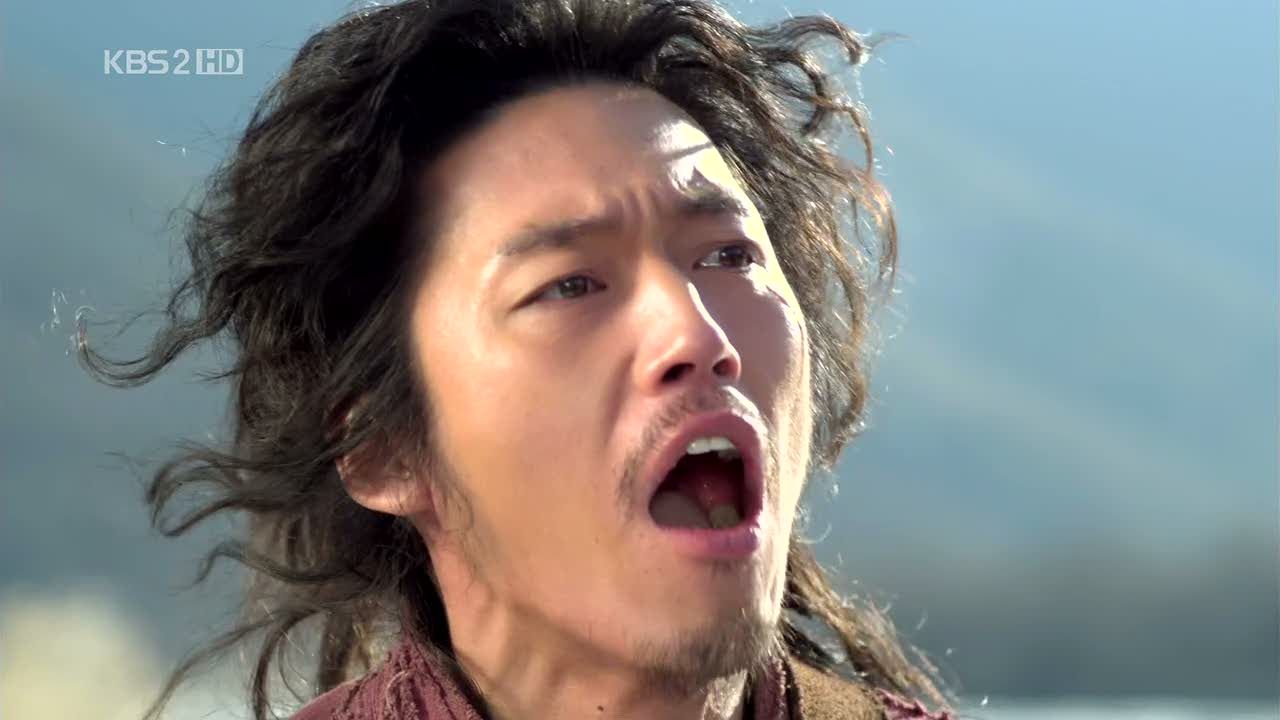 Dae-Gil screams this last part, saying how they will all be happy and live together. There's no doubt that Dae-Gil is talking to Un-Nyun, hoping she would hear him saying that he has moved on, will be henceforth happy and will no longer be hurt by her.
Dae-Gil adds something strange though, adding that in this perfect dream, he will still find Un-Nyun and bring her home (why?). Choi seems to understand however, and agrees to go. They turn around to head back to Han-Yang but they find Seol-Hwa in front of them.
Choi asks why she is there, but Seol-Hwa responds by telling them not to ask "why she is there" anymore – in her eyes, she has earned the right to be part of the Dae-Gil family. But then Dae-Gil says to Choi that he will meet Wang-Son and Choi back at the inn, but first he has to send Seol-Hwa away, and to do that he should at least buy her something nice first. (As if a gift of clothes will make it alright to send Seol-Hwa away? It is obvious now that Seol-Hwa is not in Dae-Gil's vision, and even if Dae-Gil has let go of Un-Nyun, he still has no room for any other woman in his heart. But why does he have to send her away again?)
Seol-Hwa and Dae-Gil stroll through the marketplace. Dae-Gil tells her that he wants to buy her some clothes, since it has got to have been hard on her, she who has been looking for her mom all this time. Seol-Hwa responds curiously, that her mom is dead. Dae-Gil replies back that then, who else would buy her clothes, a motherless wench like her? Seol-Hwa pauses with a frozen smile; I'm not sure whether she realizes that Dae-Gil is trying to send her off with a last gift, or just trying to be nice.
And in true Chuno fashion, coming in the other direction is a happy Hye-Won, who has arrived to buy food and sundries for the little Prince. Is this now the hour of their meeting?
Mi Ah (미아) – by JeA (제아) [ Download ]
Audio clip: Adobe Flash Player (version 9 or above) is required to play this audio clip. Download the latest version here. You also need to have JavaScript enabled in your browser.
But a single glance down the street, and suddenly Hye-Won's world collapses into a smoldering ruin. Everything that she has known about the world, everything that she has believed. Everything that she has based her present and future life upon, everything comes crashing down. Her oath to be Song Tae-Ha's wife and woman, her promise that she would never leave his side, her intention to care for and take up the fight to save the little Prince, all that was based on Hye-Won's assumption that Dae-Gil had died on that awful day 10 years ago.
Hye-Won looks and finds that in front of her is a dream come back to life, a dream that had been dead in her heart for so long. She staggers toward Dae-Gil like a woman drawing on her last breath. Un-Nyun cannot help but draw close. Un-Nyun's eyes are wild and wide, unable to comprehend what she is seeing. Dae-Gil died that night! Her love had died, she had seen it!
But Dae-Gil is alive. Dae-Gil is alive, and Dae-Gil is 40 feet away. And then their eyes finally meet. It took 10+ years and an epic trek across Joseon, but each has now seen the other.
Un-Nyun sees Dae-Gil, and now Dae-Gil sees Un-Nyun staring at him. All of the memories, all of the shame and pain of her beloved murdered before her eyes come flooding back to Un-Nyun. The tears of remorse start flowing and the horror of it all comes unbidden and with full force.
Dae-Gil is alive!
Comments.
Of all the episode-ending Chuno cliff-hangers, I think the last 90 seconds of Episode 13 is the most breathless moment I've had. If there were any doubts as to the acting ability of Lee Da Hae, they are erased. Lee Da Hae utterly rocked this scene – just wonderfully done. If only they had given her character this kind of depth earlier on! Still, better late than never, I cannot say enough how awesome her acting was in the last part. I am more than stoked to see what happens in Episode 14.
Structurally though, I see nothing but sadness for upcoming episodes, because why else would they set up the characters with their happy dreams (if not to dash them). There are 11 episodes left of this drama, and I am both excited and dreading what is to come.
One last point. Hye-Won represents a transformation for Un-Nyun in more ways than just in her personality and outlook on life. Hye-Won also represents her ability to love a new person, in this case, Song Tae-Ha. I debated this quite a bit both with others and with myself, but my thinking is that if Un-Nyun is in fact becoming a new person (Hye-Won), then for relationship purposes, it is irrelevant as to how or why or under what circumstances that she became a new person.
In other words, it don't make a hill of beans difference that Un-Nyun assumed incorrectly that Dae-Gil died in the fire 10 years ago. It is tragic, it is sad, it is sageuk-y, but it is irrelevant for the purposes of determining relationships. If Hye-Won has chosen Tae-Ha, and by her acts it looks like she has, then that makes the original OTP of Un-Nyun / Dae-Gil obsolete. The reason is simple: the OTP was Un-Nyun and Dae-Gil. But Un-Nyun doesn't exist anymore except in Dae-Gil's memories.
To put it a third way, if Un-Nyun has become Hye-Won, then in order for Hye-Won and Dae-Gil to be the OTP, then Dae-Gil has to start over and woo Hye-Won and win over Hye-Won's heart, because that pretty slave girl who was dependent upon Dae-Gil to save her from slavery is no more. And THAT will be pretty darn hard to do, since Hye-Won has already married Song Tae-Ha.
So the question NOW is whether Hye-Won has a new heart, or, whether she is still Un-Nyun on the inside. If her heart is new as well, then that new heart is probably not for Dae-Gil. But if her heart is still Un-Nyun, then the OTP probably remains the same, which means the One True Pair will remain Dae-Gil and Un-Nyun. Whew! Stay tuned!
RELATED POSTS
Tags: Chuno, Jang Hyuk, Lee Da-hae, Lee Jong-hyuk, Oh Ji-ho