Wish Upon a Star: Episode 17
I liked this episode — it was a little mellower than the previous ones. Given the prominence of Jae-young's dramatics in those prior episodes, I consider this a good thing. (Also: hardly any Jae-young today!) As we head toward the drama's finish, we're dealing less with the crazy bitchy rival lady and getting back to some of the initial conflicts, and I welcome this shift.
SONG OF THE DAY
Urban Zakapa – "떠나는 사람, 남겨진 사람" (The one leaving, the one left behind) [ Download ]
Audio clip: Adobe Flash Player (version 9 or above) is required to play this audio clip. Download the latest version here. You also need to have JavaScript enabled in your browser.

EPISODE 17 RECAP
Pal-gang is stunned to learn that the raggedy grandpa she has known all these years is in fact the chairman of JK. The chairman is very disappointed to hear that Jung-ae and her son abruptly moved last night, as though fleeing something.
The chairman assures Pal-gang that he'll still give her the money he had promised in exchange for tracking down his daughter-in-law. However, this gesture angers Pal-gang, who feels hurt at his lie. Does he think she went through all this just for the money? She did it because she'd felt sorry for him, and wanted to do everything she could to help.
The chairman hurriedly says he understands, but she cries, "What do you know? Were you afraid that I'd ask you to help me out if I found out you were the chairman of JK? Did you lie to me because you thought I'd beg you to help me out since we had no place to go?" And here she was, thinking that after she set her family up in their own home, she would live together with Grandpa and his daughter-in-law. But no, she went through all this trouble and even got Nam sick, only to realize he'd been lying to her: "Forget it. Now I'm truly sick of rich people." She shifts her glare to Kang-ha briefly before walking away.
As Grandpa and Kang-ha wait for Pal-gang outside the clinic (where she had left Nam), Grandpa explains that he understands why Pal-gang would be angry with him. He should have told her the truth once they'd reconnected, so it's natural that she feels betrayed.
She emerges with Nam and registers the two men waiting for her, but ignores Kang-ha's suggestion that they ride in the car back to Seoul together, giving her some time to overcome the misunderstanding. She's not going to let this lie slide as a mere misunderstanding, and coolly tells the chairman that although they could have lived together back when he was the shabby Grandpa, that's no longer possible.
Pal-gang walks along to the bus station, wondering bitterly, "Why am I so stupid, Nam?" All the while, Kang-ha's car drives slowly behind them, both men watching in concern.
Chairman Jung reminds Kang-ha of the dream he had wanted to pursue Jin Se-yoon, and explains that Pal-gang and her siblings are the man's children. He values them like his own grandchildren, and tells Kang-ha they must find Jung-ae and her son.
When Pal-gang arrives home, she's in a grim mood. Calling her siblings together, she orders them to pack their things. The siblings are bewildered at this sudden decision, but Pal-gang is in no mood for complicated explanations and insists that they pack immediately. She'll figure out where they'll go.
The kids don't want to leave, but they recognize that she's serious and grudgingly comply. Just as they're about to leave, Kang-ha comes home. In a flat voice, she gives him a perfunctory thank-you and goodbye. Pa-rang clings to Kang-ha, not wanting to leave, and the other kids are confused at the sudden change in their sister. When Kang-ha asks where she's intending to go, she tells him to mind his own business.
Frustrated that Pal-gang is letting her hurt propel her into a hasty decision, Kang-ha pulls Pal-gang aside to talk to her one-on-one. Does she have to go this far? Didn't she consider that maybe the chairman had a reason for his lie? Furthermore, she's got kids with her — it's more important to think rationally than to let her emotions drive her actions.
For the first time, Pal-gang drops the formal address and talks to Kang-ha in familiar speech:
Pal-gang: "Because of you, my parents died. Thinking you were my prince on a white horse, thinking you would turn Useless Miss Jin into a princess, I wanted to look good to you and to come here as your housekeeper. Even though Nam was sick, I wanted to look just a little prettier to you so I went to get a perm. Because I wasn't home, my parents worried about him and hurried to come home. It would have been better if you told me from the start that you were marrying Jung Jae-young. Then I wouldn't have dreamed stupid dreams and would have come to my senses. I'm so sick of this, I can't live in this house anymore. If I live here, thinking of how pathetic I was for dreaming those stupid dreams, I won't want to keep living!"
What can Kang-ha say to that? There's nothing he can do to rid Pal-gang of her guilt, so he has to let her go, albeit reluctantly. After she leaves with crying kids in tow, Kang-ha growls to himself, "Don't grab onto her when you can't do anything for her, Won Kang-ha. Just let her go." He bangs his fist angrily on the desk, repeating, "Just let her GO!"
Jun-ha comes home to an empty house and asks his brother what happened. In a resigned tone, Kang-ha says, "They all left." Jun-ha doesn't understand why, but Kang-ha continues dully, "She said she was sick of living here, so she left."
Jun-ha demands an explanation. Kang-ha says in a hard voice, "Figure things out yourself now. Finding them is up to you, and figuring out what to do after you find them is also up to you." Jun-ha asks what pushed Pal-gang to leave, and Kang-ha returns, "Ask her yourself when you find her."
Jun-ha asks if her reaction was in reaction to Kang-ha's marriage announcement — perhaps she realized she wasn't over him and found it painful to stay. But Kang-ha says no, that's not it. However, he's not going to entangle himself: "I've got no right to interfere, so you figure it out yourself!"
Thankfully, Pal-gang can take the kids to Eun-mal's place, small though it is. (She couldn't do this at the outset because Eun-mal moved into this rooftop room recently.) Eun-mal worries that the kids will find it stifling to live in such cramped quarters after they have gotten used to the nice big house. She's right, and the kids sulk, but Pal-gang answers that they'll be fine.
Jin-ju can't stand to see the kids in such glum spirits eating their meager dinner of rice and soup, and goes with Pal-gang to the store to buy them side dishes. Pal-gang protests — even though it's a thoughtful gesture, her family has to forget all about living in a nice house with big rooms, "Because living will be tough from now on."
Jin-ju reads between the lines, sensing there's more to Pal-gang's reaction. She wonders, is Pal-gang still in love with Kang-ha? Did she leave because it hurt to live in the same house? Jin-ju supposes that after five years of liking someone, it's natural that she would develop feelings again.
Pal-gang insists it's not it, but Jin-ju isn't convinced and prods Pal-gang to confess her feelings to Kang-ha. The reason she's struggling now is because she can't confess her feelings and it's bottled up inside. Once more, Pal-gang says, "I don't have any lingering feelings for him, not at all." Jin-ju doesn't believe her, but lets it drop.
Tae-kyu is frantic once he discovers that the family is gone. He pesters Jun-ha for answers, but Jun-ha is still reeling from the news himself and barely pays any attention to Tae-kyu's distress. Misguided again, Tae-kyu blames himself for driving Pal-gang away — after rejecting him, she must have seen him suffering and felt that his love was too much of a burden. (Sigh. It must be nice living in Tae-kyu's world where everything is about him! Still, at least he's the nicest egomanic around.)
That evening, Kang-ha gets a call from the chairman, who asks hopefully whether things worked out with Pal-gang. He wants to come over right away, but Kang-ha has to explain that Pal-gang left the house with her siblings. Stunned, the chairman collapses again and is taken to the hospital.
That night, Eun-mal awakens to the sound of Pal-gang moaning softly in pain. She's feeling the onset of an illness, but insists that she took medicine and will be fine in the morning. Eun-mal sighs that Pal-gang was probably due for an illness, given all she's been through.
Pal-gang starts to cry as she remembers her last confrontation with Kang-ha, and has to struggle to keep her sobs quiet. Meanwhile, Kang-ha drinks alone in his room, thinking of her.
At the JK office, Pal-gang's friends are shocked to hear that Pal-gang has quit her job. We know that it's because she's cutting ties with the chairman, but they don't understand why she has given up on her determination to be a good FC.
Pal-gang begs for work at a restaurant, which is tough because she has two children to look after (the other kids, at least, can go to school). She promises that it won't be a problem because Pa-rang can watch after the baby, and the owner is persuaded to let Pal-gang start working.
Pa-rang sits in a side room quietly with Nam, and is struck with a brilliant idea. He fishes for his sister's phone and calls Kang-ha — who, rather cutely, is flummoxed to see Pal-gang on his caller ID and has to calm himself before answering. He's a little disappointed when he hears that it's Pa-rang, who has called to tell Kang-ha where they're living so he can come by.
But that night, it's Jun-ha who drops by, to the excitement of the girls. He waits there while Pal-gang walks home with Pa-rang, and she praises her brother for being so well-behaved all day. Single-minded Pa-rang says he misses Kang-ha, so Pal-gang urges him to forget all about him: "Just grit your teeth and say, 'I won't think of him.'" Pa-rang wonders, "What if I still think of him?" Pal-gang answers, "Then think of something else. No, sing that song." So Pa-rang starts singing (LOL!):
Pa-rang (singing): "The goblin's underwear is dirty
He flips it inside out
He hasn't washed it in 2,000 years
It smells and has holes"
Once home, Jun-ha takes Pal-gang aside for a talk, worried and still a bit confused. She thanks Jun-ha for all the help he has given her, but says it in a flat, detached tone. He urges her to come back home, to which she replies firmly, "I won't go."
Thinking this is because she doesn't want to be around Kang-ha, Jun-ha assures her that his brother will marry and move out. But Pal-gang answers, "What does that have to do with me, whether he marries or lives in that house?" She gets up to go back inside, cutting this conversation short. Jun-ha says, "Because that's why you left." After a brief pause, she answers, "That's not it."
Jun-ha accepts that she doesn't want to return tonight, but promises to return tomorrow and the day after, until she changes her mind.
That night, Pal-gang has trouble sleeping and steps outside while the others are in bed. Stirring, Ju-hwang follows her outside, where he tells her that Mom and Dad didn't know that Nam was sick. He must have heard her argument with Kang-ha, because he explains that on the day their parents died, when Pal-gang had ditched the kids just as Nami was starting to come down with a cold, Ju-hwang hadn't told on her. Therefore, they weren't rushing home to check on the baby when they got into their accident: "So don't think it was your fault."
Ju-hwang leaves his sister to her thoughts, and this revelation brings Pal-gang to tears.
The chairman asks Kang-ha to bring Pal-gang so he can beg for her forgiveness, which is why Kang-ha appears at the restaurant as she is working (and doing a pretty good job, to the owner's satisfaction).
Pa-rang had given Kang-ha the directions, and when Pal-gang starts to scold her brother, he ducks behind Kang-ha. It's cute how Kang-ha helps by pushing the boy behind himself, as though anticipating her reaction. He asks her not to be angry with Pa-rang, because he was the one who had asked for the information.
Despite Pal-gang's efforts to be distant and cool, she's not immune to the news that the chairman collapsed and is looking for her. She therefore accompanies Kang-ha to the hospital, where he steps aside to let her speak with the chairman alone.
Kang-ha sits with Nam and Pa-rang outside where the latter, still thinking about his sister's advice, asks Kang-ha, "That doesn't make sense, right? Saying not to think of something that you keep thinking about." Isn't it strange that his sister can do that?
Kang-ha is in the same boat, and answers, "Pa-rang, I'm trying to do that too. There's something I keep thinking about a lot, but I'm trying not to think about it." He admits that he's been drinking a lot lately in order to keep his mind off it, "But you know, like you said, it doesn't make sense trying not to think about something you keep thinking about. That's really impossible. But sometimes you have no choice."
Pa-rang doesn't really understand all this grown-up rhetorical talk, and excuses himself to go to the bathroom, so Kang-ha continues talking to Nam:
Kang-ha: "Maybe… yes, it might even be that I love your sister. It's the first time with such a strange woman as your sister. But you know, I love my brother as much as your sister. I've given Jun-ha ajusshi a lot of pain, so I couldn't hurt him even more. That's why I can't tell your sister that I love her."
Chairman Jung explains the entire situation to Pal-gang, about his dream of building a hospital with her father. After her father died and he saw Pal-gang's impressive transformation, and saw how she reminded him of her father, he'd been intending to transfer that dream to Pal-gang. That's why he hadn't told her the truth, because he wanted to see how things turned out: "Will you forgive this mean grandpa for thinking of himself too much?" He offers to get on his knees to beg her forgiveness.
Her anger mollified, Pal-gang recovers a bit of her former tone, scolding him about overreacting in his condition. He takes this as a positive sign: "Then are you forgiving me?" Not ready to go that far yet, she answers, "I just said not to overreact. When did I say I'd forgive you?" But their old dynamic is back.
The chairman requests to see Kang-ha, so she steps out to call him in — and finds Pa-rang regaling everyone with a rendition of the goblin underwear song. Pa-rang explains, "Ajusshi says he has something he's trying not to think about too, so I'm teaching him this song."
The chairman's reason for calling Kang-ha is to ask him to find a new home for Pal-gang. She declines his offer, but this time it's not out of pride; she's thankful for the thought, but doesn't want her problems to be automatically solved like this — it'll make her return to being Useless Miss Jin. "That's like winning the lotto." Most of us would probably consider that a good thing, but it's not for Pal-gang, who has only recently discovered what it's like to take care of herself.
Grandpa suggests that Pal-gang go back to school since she never went to university, but she balks at that suggestion. She was never a good student, so that isn't really a viable option. Kang-ha butts in to say that studying is something you can cultivate with a little effort, and this spawns a cute bickering exchange (which Grandpa watches with amusement):
Pal-gang: "Are you bragging that you were a good student?"
Kang-ha: "When did I brag that I was a good student?"
Pal-gang: "A studious person who became a lawyer may not know that there's another world out there, one where some things are impossible even if you try."
Kang-ha: "Is that something to brag about?"
Pal-gang: "Why do you and Grandpa keep saying I'm bragging?"
Kang-ha: "You're chattering on about not being a good student like you're proud of it!"
This circular argument is going nowhere, so Pal-gang makes a concession with Grandpa. School is out of the question for her, so she'll go back to the company and work at being a great FC.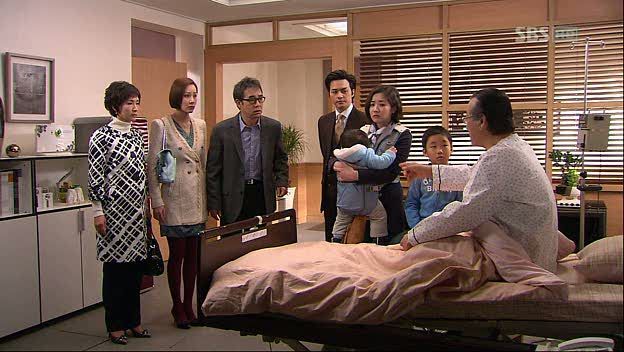 Things become awkward (as they always do) with the appearance of the Jung family. In-gu and Jae-young, who recognize Pal-gang, are particularly surprised to see her here, talking to Grandpa. Min-kyung manages to control her expression, but it's clear that she's alarmed when Grandpa introduces Pal-gang to his family as Jin Se-yoon's daughter, adding that "she's like a real grandchild to me."
Kang-ha leads Pal-gang away to accompany her home. Jae-young starts to follow, but her mother holds her back, reminding her that this is Jin Se-yoon's daughter, whom Kang-ha found at the chairman's request. She sees her as a distinct threat to their family — Grandpa had introduced her as practically his own granddaughter, which suggests that he's going to pass along to her what he was intending to pass to her father.
This fear is confirmed by the chairman himself, who says he wants to make Pal-gang an heir. In-gu is shocked, because she's a complete stranger to the family.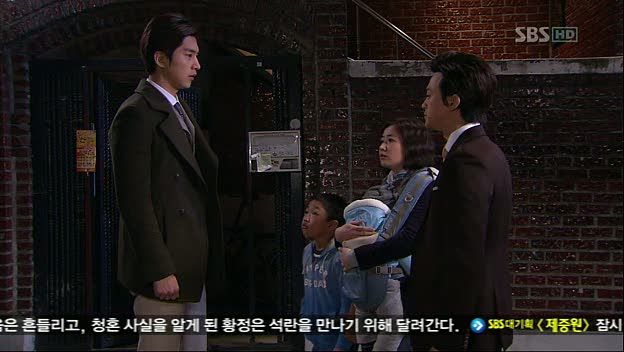 Jun-ha loiters outside Eun-mal's home that evening, ready to persuade her to come back home again, and therefore sees her arriving home with Kang-ha and Pa-rang. This is not a happy sight for him.
After explaining that the Jin family is acquainted with the chairman, Kang-ha leaves the group and walks off alone, and Pal-gang turns to watch his departure. At Jun-ha's insistence, she drops the kids off inside, then rejoins him outside to talk.
At his repeated request for her to move back, Pal-gang answers that she's more comfortable living here.
Jun-ha tells her earnestly, "For the first time in my life, I want to steal something from my brother. I've never once felt that, and so I always hid my feelings. But for the first time, even if my brother were to say he loves you, I don't want to concede to him this time."
Pal-gang isn't interested in having this conversation and starts to head back inside, but Jun-ha holds her back. He pleads, "Just as I've gotten rid of that tedious one-sided love and started over, I'm begging you to do the same."
His suggestion unleashes the dam, and tears fill her eyes and start to spill over. Pal-gang had been trying to insist all episode long that she doesn't feel anything for Kang-ha, but now she bursts out:
Pal-gang: "How can I? I remember everything. On days he has trials, he stands in front of the elevator and lets it go by twice. When he eats, he always drinks water first. When he passed papers in the classroom, he always started from the left. When he's frustrated, he speaks with his hands in his pockets. I remember all of those things — how do I forget it all?"

COMMENTS
I like that the conflict shifts in this episode, away from Jae-young's crazed jealousy to the issue of Pal-gang, her parents, and the chairman's inheritance. The jealousy issue was wearing itself pretty thin, so I liked the change in tone in this episode. It was a little more thoughtful, and also accounts for milder confrontations; those scenes were more emotional than in recent episodes, and less hysterical. For instance, the last scene was actually quite nice even though Shin Dong-wook has been pushing Jun-ha past credible levels of angst in previous episodes. But today, he dialed it down and the result is SO much better. Same with the confrontations between Kang-ha and Pal-gang.
I'm also glad that Pal-gang's anger toward the chairman was given its moment to breathe, and then resolved by the episode's end. In a lot of other dramas, this conflict would have been stretched for episodes, but this show tends to pace itself pretty quickly, which I welcome. It's not a great big grand betrayal, so after Pal-gang has her initial reaction, we see her return to her usual self. She's not one to hold grudges anyway, so I love that they resume their bickering dynamic right away.
Speaking of bickering, she and Kang-ha are at their best when they're arguing about nonsensical things, so the hospital scene was a fun moment to lighten the mood before we got back to the angst.
And finally! Dual confessions of loooove!
(Of course, neither confession is made to the actual object of his/her affections, but hey, I'll take it where I can get it.)
RELATED POSTS
Tags: Choi Jung-won, Kim Ji-hoon, Lee Kyun, Shin Dong-wook, Wish Upon a Star