April Movie Releases
(waterleaf has compiled a list of films releasing this month, the trailers for which you can watch below. Enjoy the sneak preview. —javabeans)
"폭풍전야" (Stormy Night aka Lovers Vanished)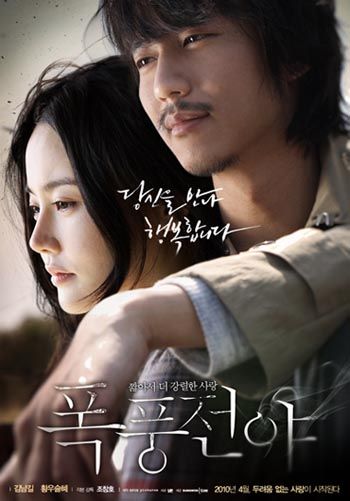 This is a story about a man (Kim Nam Gil), who after being betrayed by love is falsely accused and put in prison. He escapes with the help of an inmate and sets out on the path of revenge. Yet his desire for revenge starts to fade as another women (Hwang Woo-seul Hye) starts approaching his heart. In a lone restaurant on the beach, the two start a sad "lie-like love story".
Watch trailer:
"작은 연못" (A Little Pond)
This is an anticipated remake of an popular 20-episode drama which aired in the 1970s by KBS. A documentary with a political bent, it is an uplifting overview of modern Korean history. Not much energy was put into the visuals but rather on the message given through various incidents and actors/people within the documentary.
Watch trailer:
"구르믈 버서난 달처럼" (The Moon that has escaped the clouds)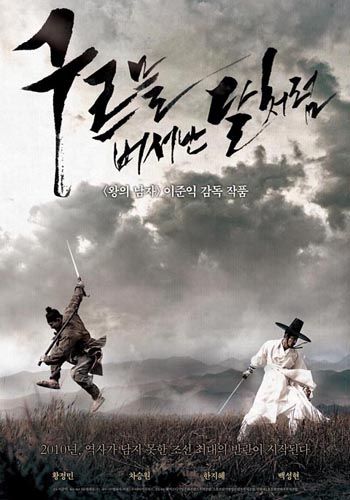 Javabeans has already gone into depth about this movie, which is set in 1592, under the reign of King Sunjo staring Cha Seung Won, Hwang Jung Min, Han Ji Hye, and Baek Sung Hyun.
(You can read more about the plot here and here.)
Watch trailer:
"집 나온 남자들" (The Men who Left Home)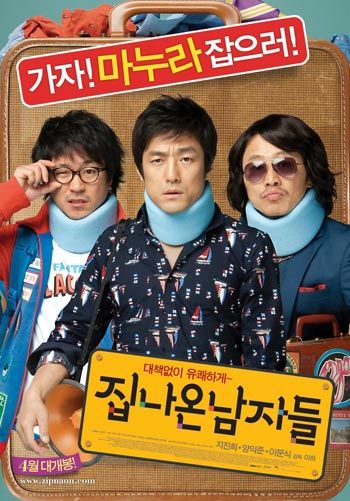 This movie stars Ji Jin Hee as Sung Hae, a music critic with perfect looks and a sexy voice. One day, he unilaterally announces a divorce on the radio without any consultation with his wife and he and his friend of ten years, Dong Min (played by actor Yang Ik Jun) go away together. However, the very next morning, Sung Hae feeling guilty and remorseful calls his wife and returns home only to find out that his wife left him a day before he did! Feeling betrayed, the two friends tap into his wife's cellphone to find out her location and goes about enacting revenge.  Lee Moon Shik stars also as Ji Jin Hee' s wife's new "oppa". The trailer has a very light and comic feel. One scene which made me laugh was when Ji Jin Hee remarks "How can I call my family at such a time?" to which his friend replies: "Then, when your wife is missing, do you call you're in-laws?"
Watch trailer:
"베스트셀러" (Bestseller)
The final release Bestseller seems to be cross between horror and thriller, staring Um Jung Hwa, who for the last ten years enjoyed life as the best author in Korea. However, after she is accused of  plagiarism she and her daughter escape to the countryside. There, Um Jung Hwa does not find the calm that she searched for, but rather a house full of mystery. From the strange sounds that echo through the house, to the strange "unnie" that her daughter talks to, and the spreading blackness on her ceiling, the house becomes a fascination to its two inhabitants. Um Jung Hwa eventually writes about the house and the stories that "unnie" tells her child and publishes yet another bestseller. However, she is again accused of plagiarism as it turns out another book with the exact storyline was already published ten years ago. Um Jung Hwa then goes back to the house to figure out the mystery surrounding the house and her novel.
Watch trailer:
(source: http://www.bada.us/common/app/movie.html?act=listbody&ct=28&page=1&no=67901,
http://www.bada.us/common/app/movie.html?act=listbody&ct=5&page=2&no=66191)
RELATED POSTS
Tags: Cha Seung-won, Hwang Jung-min, Hwang Woo-seul-hye, Ji Jin-hee, Kim Nam-gil, Uhm Jung-hwa