Cha Seung-won with director Lee Jun-ik in Elle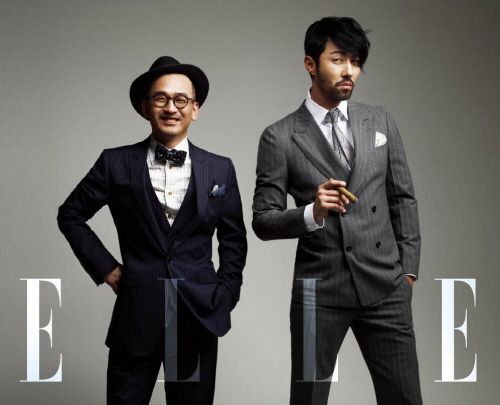 Lee Jun-ik and Cha Seung-won, the director and star of historical action-film Like the Moon Escaping From Clouds, pose playfully for an Elle magazine spread in promotion for the upcoming release. The fashion shoot will be in the magazine's May issue, while the film opens at the end of April.
The movie has been attracting buzz for its splendid visuals (watch previews here), Lee Jun-ik's directorial flair, and the performances of its leads, Cha Seung-won and Hwang Jung-min. The title has been the source of some commentary in recent weeks, as it is written in deliberately misspelled hangul (the letters spell out the words phonetically, rather than in its correct forms). The writer of the source material has defended the choice as being true to the times; in the Joseon era (which is when the film takes place) before the widespread proliferation of hangul, words were often written as they sounded.
In any case, Like the Moon Escaping from Clouds releases in theaters on April 28.
Via Newsen
RELATED POSTS
Tags: Cha Seung-won, photo shoots