Chuno: Episode 15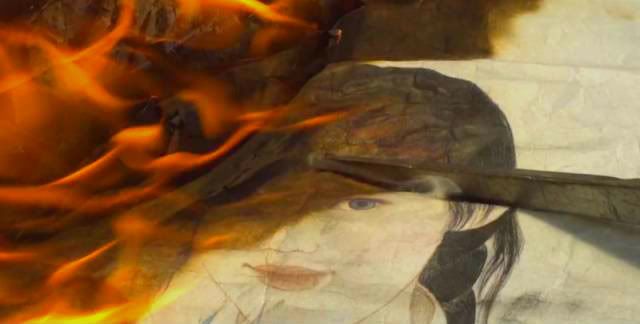 Chuno has taken a very serious turn, and I was extremely surprised by what happened in the last episode. It is as if PD Kwak gathered together all of the Chuno writers, and announced, "Well, I don't know about you guys, but I think we can make Dae-Gil's life even more brutal…" and then all of them started chanting in unison, "blood, blood, blood…" If you don't know what happened in Episode 14, I suggest you hit that recap first (wonderfully written by thundie), and then come back here.
SONG OF THE DAY
Long Long Way To Go – by Def Leppard [ Download ]
Audio clip: Adobe Flash Player (version 9 or above) is required to play this audio clip. Download the latest version here. You also need to have JavaScript enabled in your browser.
Fire, smoke and ash rise from ground as the flare arrows that used to be held by Wang-Son have gone off in every direction. Bad-ass Commander Hwang has just whacked Wang-Son, and dragged his body away. General Choi has tracked Commander Hwang to this desolate spot, and there's about to be another killing. If you can feel the desperation in General Choi's voice, it is not because he knows he is outmatched, but that he knows he is probably too late to save his little brother Wang-Son.
Hwang Chul-Woong: I am the one asking questions. Now, who ordered you here?
General Choi (crying out): My little brother, where is he?!
What's more than a little ironic is that both Commander Hwang and Dae-Gil's crew were ordered to service by the same guy, Minister Lee. But as so often happens in k-dramas, nobody bothers to just answer simple questions that would otherwise make everyone's lives so much easier.
If General Choi had only been polite enough to take turns! If Choi had answered Commander Hwang's question, and THEN had asked his question, I'd bet 100 nyang that Commander Hwang would have stopped fighting and shown Wang-Son's body. Commander Hwang wouldn't have apologized, since black hat bad-asses seldom do. But of course, a frantic General Choi ignores the question, fights, and gets beaten. Badly. Nooooooo!!! Wang-Son I can stomach losing, but not General Choi!
Crawling around the ground, a despairing General Choi finds the poor body of Wang-Son and at that moment, Commander Hwang lands the killing blow. This makes me sick to my stomach. I am as helpless as Dae-Gil is, who of course arrives too late to save either Choi or Wang-Son.
Dae-Gil immediately finds that he has arrived at a scene of a battle. Dae-Gil searches the area, and only finds Choi's broken spear. No bodies, as Commander Hwang dragged them away.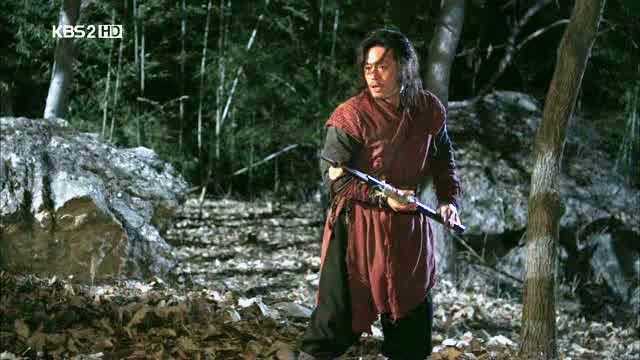 Miles away, Un-Nyun is feeling her past catch up to her and she struggles mightly as to whether to tell her new husband, Song Tae-Ha, about what's on her mind.
Song Tae-Ha sits up from his resting log position to face Un-Nyun. This is a scene that has got to go down as downright puzzling with Tae-Ha's utter lack of emotions (dude, your wife looks like she's about to tell you that she's carrying Commander Hwang's baby or something, and you sound like she's asking whether her hanbok makes her look fat). Tae-Ha in his soporific indoor voice tells Un-Nyun that she doesn't have to tell him anything. Despite Un-Nyun's hyperventilation, tears, extreme discomfort and facial tics, Tae-Ha smiles at his own thoughts and then launches into his own issues with what to do with the rest of his life, pretty much oblivious to what's on Un-Nyun's mind.
And I'm sensing a pattern here that I find more than a little annoying. The pattern is – "to extend dramatic tension, let's have the main characters stop communicating to one another." It is a k-drama staple, to create confrontational situations based on misunderstanding and ignorance of facts. But if this device is used too often, then I feel like I'm being played and so I'll watch cynically – which I don't want to do. And perhaps just as importantly, the other issue is Song Tae-Ha's lack of character development. Dialogue is what drives character development. No meaningful dialogue = no meaningful development. This is perhaps a big reason why I find Song Tae-Ha's character so incredibly difficult to root for. I have no idea why he does anything.
Still, there are some major plot points to note here:
1. At first, I thought Un-Nyun was burdened with whether to tell Tae-Ha that her long lost love, Dae-Gil, is still alive, and so her marriage to Tae-Ha was a mistake. But based on a few scenes from Episode 14, I think that her heavy burden is whether to tell Tae-Ha that she is a runaway slave, and that's a whole different mindset altogether.
2. Now that Choi and Wang-Son are dead, any semblance of a happy future for Dae-Gil is gone. He had already given up on love, having let Un-Nyun get married and not bothering to capture Song Tae-Ha. But Dae-Gil's plan of just living as a normal person with his remaining family is now destroyed. This is a very odd development.
3. And finally, Tae-Ha is a person without a clear mission, and this is notable because he's a military guy and military people need objectives. It was easy to rescue the baby prince, but once rescued, now Tae-Ha has to decide whether the moral justification of regime change is worth the bloodshed that will follow.
Back to Dae-Gil. After a bit of searching, Dae-Gil has still found nothing more than Choi's broken spear. Hiding from behind a boulder, Commander Hwang unsheathes his blade but then Dae-Gil cries out asking if Song Tae-Ha is responsible, and of course, this gives Commander Hwang an idea.
Now, pretty much immediately, I figure I know what Commander Hwang is going to do. It is one thing if people say, "oh, well Commander Hwang isn't really doing any of this under his own free will; he's just as much of a slave to Minister Lee as any of the real slaves that Minister Lee has." But Commander Hwang seems to be enjoying the fact that he is hurting other people. And, I can't justify that or set that aside or white-wash it. Commander Hwang might be cool and interesting, but as a person, he sucks. Big time.
Back in town, at the home of a yang-ban who owns both Eop Bok and Chobok, we find that a young daughter of one of the slave couples has been summoned to the bedchamber of the master, the night before she is to be bartered to another slave owner for livestock.
In heartbreaking scenes, we see how the parents of the daughter deal with this nightmarish scenario. Herein lies the heart of the issue that goes to a lot of the moral issues that surround not only Chuno, but the time period as well. Joseon's prevailing societal justification was based in large part on the twin mountains of Confucianism and Buddhism. But while the former sought primarily to instill an ordered society and the latter concerned itself with purifying the individual, neither directly dealt with moral issue of slavery.
In fact, Confucianism was probably a great boon towards protecting the institution of slavery, because Confucian tenets work to protect ritual, tradition, and societal order. Thus, it would have been seen as moral, to uphold the following: ritual (which would include the master's right to bed slaves, much like the European Middle Ages tradition of ius primae noctis which was seen in the movie, Braveheart), tradition ("there has always been masters and slaves") and societal order (protecting the sanctity of the master / slave relationship).
Eop Bok goes outside to talk with the father of the slave who is being raped that night and sold off in the morning, to offer encouragement and some resolve, perhaps, to escape.
Eop Bok: Just don't sit here like this, but rush in, get your daughter out of there and flee!
Slave Father: You, with your garbage ideas again? You know, you have to fix that twisted thinking of yours. We who are at least able to subsist and survive like this, if we overturn this relationship mandated by heaven, then we would worse than beasts.
Eop Bok: Are you saying that living like THIS is better than living like beasts?
Slave Father: Must I take a rod and beat you until you get it? You are a slave, you punk. Empty your stupid head, and just do as you are ordered to do!
I think this scene is powerful, as it explains why it took so many centuries for slavery to be abolished in Joseon. The people who who benefited from the "relationships mandated by heaven" were the ones with the brains, money and power who thought up and dictated the prevailing moral and religious guidelines. If you didn't know any better, how could you challenge the laws of heaven?
Back to the main story. Scholar Jo and his cohorts grow anxious as it seems that General Song Tae-Ha may not merely follow orders and do as he is told. And, they have judged correctly, as Tae-Ha has indeed wondered as to why he is doing what he is doing – given his mandate. A soldier's life is merely to follow orders and not to question why, but in this case, Tae-Ha has to first choose whose orders to follow, and to do that, he needs justification.
And that justification he finds in a principle that his master, the late Crown Prince So-Hyeon had tried to bring back to Joseon from Qing. He must try to change Joseon for the better. This alarms Scholar Jo, whom by now we recognize merely seeks to put the infant son of So-Hyeon on the throne to act as the power behind the throne. Tae-Ha's announcement that he is acting to change the world is tantamount to saying that mere regime-change is not good enough.
The scene switches to Eop Bok and his trained slave insurgents who are targeting various upper class people. What is a little surprising here is that Eop Bok doesn't really seem to care too much that he's being given orders by an unknown person with an unknown agenda to kill various people. For him and his cohorts, killing higher-ups is far more than they could have ever dreamed, and so killing, any killing, gives them power that they never had before.
But this time around, it looks like the gig is up. Eop Bok's next directed target has actually done some counter-insurgency work, using decoys to feret out the assassins. Eop Bok and his partner kill the decoys, and are thus found out. It looks like the end of the road for Eop Bok's murky journey towards a better world.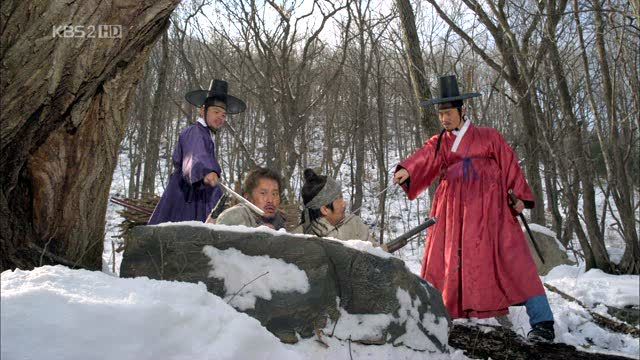 But just before Eop Bok is killed, a new character to Chuno arrives in a very timely fashion. Park Ki-Woong, who played the bespectacled and jumpy Ahn Kyung Tae in the 2009 drama, Story of a Man, is back but this time, his character is quite different. Park Ki-Woong plays a slave who has no master, a confident young man skilled in both the books and in martial arts – an interesting character who has no name, only referred to in the series as "That Guy." With effortless slashes of his sword, That Guy kills Eop Bok's attackers and Eop Bok and his partner have no idea what to do next. Who is this guy? Or rather, who is… That Guy?
Back at the inn where Dae-Gil and his company have been staying, Dae-Gil staggers back, utterly exhausted after spending the whole night searching the mountain for Choi and Wang Son. Dae-Gil collapses from the effort, passing out in Seol-Hwa's lap.
But a few nightmares and a half-day's sleep later, Dae-Gil awakes with equal determination to find his lost family. He might have lost Un-Nyun, but he can't lose Choi and Wang-Son too! As Dae-Gil gets up to go out and look again, Seol-Hwa tries to go with him, but earns a rather severe slap to the face instead. Dae-Gil bends over close to Seol-Hwa, almost as if he was intending to kiss her, and whispers for her to leave.
At this point, I would like to sympathize with Seol-Hwa, but I really can't. She knows that Dae-Gil doesn't love her, can't love her. She knows that Dae-Gil has deadly serious business to attend to, things where she would slow him down and burden him. I would submit that Seol-Hwa's behavior now is bordering on selfish as well as a little crazy. She is a free woman at this point, and while it is true that she would likely not find the security that should would, being partnered up with Dae-Gil and his crew, she has no affiliation and far too little history to demand of Dae-Gil anything.
As Dae-Gil is about to leave, he finds on his door step a package. It is Wang-Son's armband and Choi's hair stick thing, along with a note purportedly from Song Tae-Ha. Dae-Gil goes ballistic and rushes off, leaving Seol-Hwa with nothing.
Dae-Gil heads off to a secluded spot, and prepares for the battle of his life. He wears Wang-Son's armband and Choi's stick in his hair, and then sets fire to the last of the drawings of Un-Nyun that has been carrying around. While he has let Un-Nyun go for the sake of her happiness, now, with Song Tae-Ha's murderous rampage destroying Dae-Gil's new family, Dae-Gil has no choice but to take revenge. Dae-Gil prepares his heart and sheds his last tears for this woman who has torn his heart now three times – the first when she betrayed him 10 years ago, the second when she married Song Tae-Ha, and the third time, being the marital support for this monster named Song Tae-Ha.
On the other side of town, Song Tae-Ha's men are splitting up and leading their scholar escorts out of town, to handle their duties outside of the compound for a month's time. This is just the kind of circumstance that Commander Hwang needs to pick apart the men one by one. Commander Hwang has been keeping watch and intercepts each tandem as they leave the compound, killing them one by one.
Even the fierce Gwang-Jae, Song Tae-Ha's closest friend, falls to Commander Hwang's sword. Poor Gwang-Jae!
Finally, Song Tae-Ha leaves for his journey, apart from everyone else, keeping the Prince in Un-Nyun's hands. Unbeknownst to him or to Un-Nyun, Scholar Jo has other plans and has secreted the Prince away with his own partner, leaving Un-Nyun guarding nothing. Song Tae-Ha reaches the spot where Gwang-Jae has fallen, and gets nothing from him. Song Tae-Ha, fearing the worst, does an about-face and runs back toward the compound.
I Want To Love You – by Wax [ Download ]
Audio clip: Adobe Flash Player (version 9 or above) is required to play this audio clip. Download the latest version here. You also need to have JavaScript enabled in your browser.
At the compound, Un-Nyun is pacing back and forth, wondering how everyone is doing (no need to wonder, they are all dead except for Han-Seom, who didn't have a scholar escort and left on his own). And perhaps with the same sixth sense that made her pause at the Un-Joo Temple when she was so close to Dae-Gil a few episodes previous, Un-Nyun stiffens and clutches her heart when she senses a piece of her soul nearby. Could it be? She very slowly turns around, and there is no mistake this time around. It is Dae-Gil, and he is about 12 feet away.
Dae-Gil has finally appeared in the flesh before Un-Nyun, but so wrapped in rage is he, Dae-Gil does not even look at her at first. And then, finally, he burns Un-Nyun down to nothing with his stare.
As he closes the distance to Un-Nyun, Dae-Gil starts to smile. But it is a smile that lacks all compassion, as the last of Dae-Gil's compassion went up in the fire that burned the drawing of Un-Nyun.
Dae-Gil: Did a runaway slave think that life would be so easy?
Un-Nyun: Has it been me… that you have been searching for?
Dae-Gil: Slaves, you know, have no right to ask questions to their masters.
Un-Nyun (shattered): Could it be… that even once… you thought about me?
Dae-Gil (laughing a mocking laugh): What kind of a lunatic would have space in his heart for a crazy bitch like you? Now it is time for me to ask the questions.
What makes this scene so awesome, beyond the superlative awesomesauce acting of both Jang Hyuk and Lee Da Hae, is that Dae-Gil finally gets to say what he feels, and he is utterly honest and utterly dishonest at the same time. Can it be that a person can say both truth and lies using the same words at once?
Dae-Gil: As the heavens bestowed upon us all the order of relationships, how can you cast aside the laws of heaven and betray your keeper?
Un-Nyun: Who is it that thought up that order, and wherefrom did those laws originate? Is a person, trying to live as a human being, not in keeping with the intent of heaven?
Dae-Gil: And still, you have in your head that you are a person?! What your kind is, what your kind are nothing but… slaves. Song Tae-Ha, where is he?
Un-Nyun (resolute): Knowing that my husband would be in danger, I cannot give up his location.
Dae-Gil looks at Un-Nyun with incredulous eyes. This is not the same person that he knew 10 years ago. This woman has strength inside of her, far more than he had ever witnessed, and while still holding onto the desire to be a person free of bondage, now with a will to undertake any measure of pain to achieve that goal. Un-Nyun has become much more than the woman Dae-Gil pledged to protect and love for his life. And now, this woman has become someone that Dae-Gil may not have, for the remainder of his life.
Un-Nyun (falling to her knees): Now you have found me. For breaking the order of the ruler to the ruled, take my life. Would a runaway slave have the right to beg for her life?
At this last hour, may you strike me down. Simply knowing that you are alive, it brings me happiness.
Dae-Gil: You are happy? What is it that brings you happiness? That I am living like this, makes you happy? Or if that isn't it, it is that we are meeting in this God-forsaken manner, that makes you happy? With each and every day, with me feeling like I am tortured for a year's time, is that what makes you happy? What is it that makes you so happy!!!
Un-Nyun (despairing): ohhhhh…
It is the best and worst of times. Finally, Dae-Gil gets to say exactly what he feels inside, in exactly the manner that he wishes to say it, to the person whom he mosts wishes to say it. Of course, Dae-Gil cannot have hoped for a worse set of circumstances than now – 10+ years of a tortured existence after his blood family was murdered, his home destroyed, and his love betrayed… all to find this woman who is now married to the man who has killed his last chance for a happy life with family. Dae-Gil is counting his life in hours now, because he has nothing left to live for. All because of this woman kneeling before him, whom he still loves. But the same cannot be said of Un-Nyun, for she does not see the same man that she knew and loved. That gentle and loving man she killed 10 years ago.
Of course, Song Tae-Ha shows up at this very moment. Tae-Ha holds his sword against Dae-Gil's neck. Dae-Gil doesn't flinch but smirks again, his make-shift weapon of Choi's broken spear remaining against Un-Nyun's neck. Luckily, Dae-Gil has said everything he has to say, leaving no misunderstanding to brook. At long last, it is time to fight.
Un-Nyun's eyes wander from man to man, but Dae-Gil's eyes remain fixed on Un-Nyun, the woman who butchered his heart. Tae-Ha is also focused, his eyes staring at Dae-Gil, the man who likely butchered all of his men.
No more talking, no more running. It is time.
Comments.
Clearly, we will have an epic battle on our hands. Sure, they might be some chit-chat. Like, Song Tae-Ha wants to know why Dae-Gil had to murder Gwang-Jae and the rest of his men, and Dae-Gil wants to know where Choi's and Wang-Son's tags are (in Korean, the word is pyo 표 (湧 in Chinese) – the wooden ID tags that Dae-Gil needs to give his second family a proper burial and send-off). But really, this fight was coming regardless of whether Gwang-Jae, Choi and Wang-Son were dead.
And while every sageuk series seems to have a low point like this, I am left with an odd after-taste. The deaths of Choi and Wang-Son are a killer blow for Dae-Gil's hope for a life more ordinary. While I am stoked to see the mother of all battles between equally motivated Tae-Ha and Dae-Gil, I am a little confused at the direction of the series. The WHOLE series thus far has been about Dae-Gil, and now that Dae-Gil's life is destroyed, where do we go from here?
RELATED POSTS
Tags: Chuno, Jang Hyuk, Lee Da-hae, Lee Jong-hyuk, Oh Ji-ho