Cinderella's Sister: Episode 6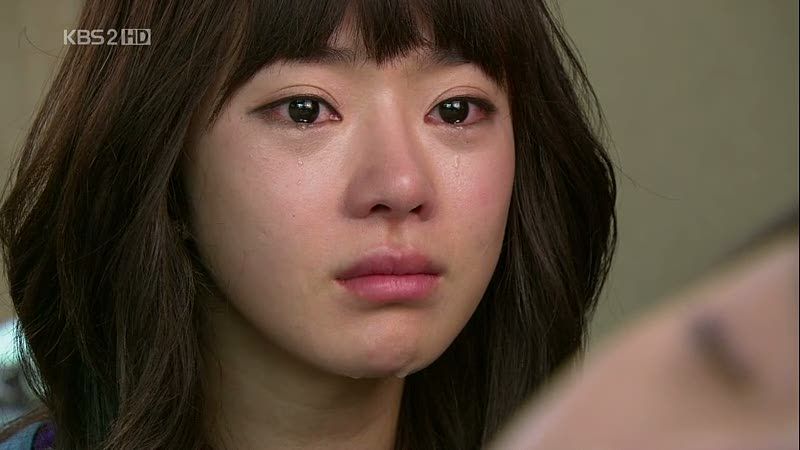 Seo Woo turns out a stellar performance this week in back to back episodes of Cinderella's slow turn to the dark side. It's like watching how Lex Luthor got to be…Lex Luthor. The love quadrangle starts closing in on our main characters, and Ki-hoon's return throws a wrench in just about everyone's day. Jung-woo steps up, Hyo-sun goes mad, and Eun-jo and Ki-hoon drink till they pass out. That's what happens when you go away for eight years to a country with no phones. Wait…are there phones in America?

EPISODE 6 RECAP
We backtrack again to pick up a few details along the way from the last episode. Are we always going to be starting episodes with Hyo-sun's B-side? Back in the car, Ki-hoon turns up the volume on the record he once played for Eun-jo, but she's not in the mood for memory lane. At her coldness, Ki-hoon muses that it's so simple for her. That she just forgets and walks away. He betrays a bitterness, like what he really wants to say is: "How dare you forget me."
Hyo-sun is awake in the backseat, picking up on all the tension and reading between the lines. Once they've tucked her in bed, she sneaks back out, and sees Ki-hoon dragging Eun-jo out by the wrist. Can't the hero ever just politely ask a woman to follow him outside? Must there always be a barbaric show of male dominance with an undercurrent of "I want you so badly, but I'm gruff and out of touch with my emotions, so I'm taking it out on your tiny tiny wrist"?
We pick up with the pair outside, just after Ki-hoon calls out, "Eun-jo ya" again and again, making her stop in her tracks. She cries for just a moment, with her back still towards him, then wipes away her tears and braces herself for his approach.
Eun-jo spins around and spits out her venom, fast and furious: "Whoever you were, however you laughed, whatever your name was, none of it matters now. Less than dust, less than a bug, you're nothing to me now. Call my name or laugh, just try it. Then I'll just…kill you."
It's harsh, to be sure. But it betrays her vulnerability to two key things: the way he laughed, and the way he called her name. It's her way of keeping her guard and not losing face in front of him (lest he think she was pining away for him like a naïve schoolgirl), but for Ki-hoon, the words cut like a knife. Not for nothing is she the evil stepsister, I'll tell you that much.
Hyo-sun has heard everything, and I'm not sure if her tears are poor-me tears or ones out of empathy. Despite the fact that her inclination is poor-me, she's also very aware of both Eun-jo's and Ki-hoon's feelings, seeing as how she so desperately wants to be loved by them. My guess is it's a mix of both, leaning heavily on the feeling of "but oppa is MIIIINE."
Hyo-sun goes back inside and sees Dad with little Jun-su on piggyback, and she smiles sadly, thinking in voiceover: "Everyone went on a picnic…leaving me behind…leaving me behind…leaving me behind." It's interesting to see how things have turned around for the two sisters since their teenage years. I like that this drama confirms my theory that spoiled brats turn out to be useless sorts of people as adults, and it's not hard to see how the princess ended up adrift and feeling left behind. But I think that it makes her a more interesting character, to have lost something, by way of Eun-jo gaining something for the first time. They will forever be at odds, because they both so desperately need to be loved, but are encircled by the same four people their whole lives.
Dae-sung calls Eun-jo in for a meeting, where he tells her that she can leave (as per his promise eight years ago, and her admission of waiting for the opportunity). He tells her that he never thought she had stayed with the intention of leaving someday. He praises her for being diligent, smart, hardworking, and adds sweetly that if she wanted to fly, he would've pinned her some wings. Dae-sung says that he's never thought for a second that she owed him anything (referring to her very calculating business-like statement that she wanted to repay him for his kindness).
Eun-jo replies that she knows. But Dae-sung shakes his head, "No, you don't know. You don't know. You couldn't know. If you did, you couldn't say those things." I think Dae-sung is right here, as he usually is. He doesn't mean this statement in a hurt way; he means that she thinks she knows, but can't actually fathom the love of a father. I agree, only because Eun-jo still sees the world from a very limited perspective, and although she has experienced Dae-sung's care for eight years, she still doesn't believe herself worthy of true love, fatherly or otherwise.
He says that he's never thought of her any differently from Hyo-sun…then concedes that maybe he has, but only in the very recesses of his heart, where no one could understand why. He adds that even if that's the case, he is not ashamed (he can stand honorably with his love for Eun-jo as his daughter). It's a very honest answer, and another glimpse into why these two get along—Eun-jo responds well to Dae-sung's fastidious honesty and his steadfastness as a person—he is still the same man who punished her fairly and then tended to her wounds all those years ago.
Dae-sung says (breaking my heart) that he thought Eun-jo felt the same way about him. He tells her to give him a proposal for her departure, aka Life Plans and Such. An Excel spreadsheet for her life…does anyone else want to take this girl out for a drink? Dae-sung says that as the father who changed her surname to his, he has the right to make sure she's got a real plan, means to live, and ways to achieve her dreams. Eun-jo says she'll draw up the plans, making Dae-sung sad and resigned.
Just then…Kang-sook appears, having heard the tail end of their conversation, and flips out. She breaks down, wailing at the top of her lungs, thinking that she and Eun-jo are being kicked out. She faints in Eun-jo's arms, leaving Eun-jo and Dae-sung dumbstruck. Even though I'm assuming that Kang-sook is doing a bit of acting here, I don't know if it's because the actress is so good, but it feels real, like the histrionics are exaggerated, but based in real fears deep inside.
In another part of the house, Hyo-sun explains very cutely to Ki-hoon that she's decided to marry him, so he should follow suit. He's like, what's the what, now? The cute thing is that she's totally serious, without knowing how ridiculous she sounds. It shows that she's still a stunted child in many ways. Ki-hoon just laughs and says "okay," the way you'd answer if a kid asked you to go to Mars with her someday. You'd answer "okay, sure thing." This isn't the response she was looking for. She may be a kid, but she ain't no dummy. Hyo-sun says glumly that she knows he likes Eun-jo, but that can never be. If he goes to her too, then who does she have left? She gets up abruptly and adds that anyway oppa is hers; he's been hers since forever and a half ago, so that's the way it is, and that's that! Haha. Your logic does not resemble Earth logic. But it's cute just the same.
The doctor has come and gone, and Eun-jo sits by Mom's bedside, telling her to rest and take it easy with true concern. Mom asks if they're alone, and when Eun-jo confirms that they are, she hilariously pops up and rips Eun-jo a new one for thinking of leaving. She fumes that she's set up everything for her and Jun-su to inherit the kingdom, but she dares to throw it all away? Eun-jo goes mad before our very eyes, as it dawns on her that her mother has put on a show for the umpteenth time, and she has fallen for it yet again. And you wonder why she has a hard time TRUSTING?
Eun-jo's soul turns inside out, as she struggles to keep her tears in. Kang-sook tells her to use the ailing mom defense and not even think about setting one foot outside. Eun-jo, shaking in disbelief, says quietly, "I should have just died then. There were so many times I could have died. So many times I could have disentangled myself from you." Damn.
Kang-sook doesn't understand what she's going on about, and warns her not to ever speak of leaving again; then she'll really put on a show. Hyo-sun comes running over, fawning over Mom, and Kang-sook goes right back to her angelic invalid pose in a heartbeat. Ha. Evil genius.
Eun-jo walks outside in a teary stupor, where Jung-woo is waiting for her. He silently turns her shoes around (a recurring motif and such a beautifully simple and selfless visual gesture). And the way he looks up at her, expectantly…just about kills me. I feel like the less this kid says, the better—not because I have a negative judgment about his acting, but more because I like the impact of this character as the silent bodyguard type. He could turn out to be the reincarnation Lee Jung-jae in Sandglass, if he keeps this up.
Eun-jo is lost in her own world, as she walks slowly to the riverbank. Jung-woo follows ten steps behind her, wanting to reach her but unable to get close. He stands guard as she sits by the river and finally decides that this is his moment. He tentatively takes small steps, his face breaking out in a smile at the thought of approaching her. But the second he sits down next to her, Eun-jo pops right up to leave. It's the same thing she did to Dae-sung when he first tried to get close to her—she's got a lot of built-in defenses, this girl.
Jung-woo gets right back up, ever doggedly pursuing her, and it makes Eun-jo finally turn around and acknowledge him, though not in the way he was hoping. She asks if he's on an errand or if her father is looking for her, and I'm getting the impression that she knows this isn't the case, but is offering him an out so that she doesn't have to deal with his advances. Jung-woo just nods, reading that she doesn't want to be bothered right now. His undeniable adoration of her is written all over his face, and it's priceless.
She turns and walks away, just as he utters out, "noona," but she doesn't hear him because Hyo-sun's uncle is honking at the kid. He takes Jung-woo on another nefarious delivery, this time even giving him a cut of the hush money.
In a quiet moment, we see Hyo-sun clinging to Mom as they sleep, and the depth of her loneliness as she gets passed up for Jun-su. She feels that Mom's love for her is empty, but clings to it desperately anyway, which breaks my heart.
Later that night, Dae-sung tells Eun-jo that he won't fire Ki-hoon; that he's an unfortunate kid, and he'll only let him go if he chooses to leave of his own accord. Dae-sung tells Eun-jo that she's arrogant (he says so matter-of-factly, not unkindly) for wanting to get rid of Ki-hoon. He asks for her Life Proposal, but she doesn't have it. He supposes she changed her mind because of Mom, and breathes a sigh of relief, saying that he didn't know what he would have done if she really went through with it. Aw.
He adds that he knows that she can take care of herself full well; what he wanted was for her to find a warm place to rest her heart, and until that time, he wanted to take care of her. Double aw. He says that her insistence on repaying her debt to him means that she doesn't know his true heart, and that he's been torn up the last few days. Okay, stop being so damn perfect, Dad. You're making me worry for your well-being. But Eun-jo, ever the heartbreaker, throws down one of her patented, rip-open-a-vein-why-don't-you honest confessions:
Eun-jo: "This house is…arduous. Don't give your heart to me. If you've given it, take it back. I'm an unbelievably horrible person. How awful…you can't even imagine. If you knew the thoughts I live with every day, you wouldn't want to look at me, even for a second. For now I'm stuck because of my mother, but I will leave. Whether I repay my debt to you, or marry that man my lab sunbae wants me to meet, I will leave. So don't dote on me. I'm not the kind of kid who will stay here forever, thankful for your grace, just because you trust in me."
Because she doesn't understand…that love can be unconditional, forgiving, and stronger than pain…she can't let anyone love her, just as she can't let herself love anyone again.
Ki-hoon goes to meet his father at a hotel, and he tells him that the current project (read: acquisition of Dae-sung's makgulli company) isn't worth his time and effort. Daddy Hong thinks Ki-hoon's gone soft because of his feelings for Dae-sung (well, that's a close guess…), but Ki-hoon corrects him, saying that he's not the same Ki-hoon of eight years ago. When he left that place he left all those feelings behind. (Ah, some insight into his self-imposed exile away from his looooove.) He says it might have been different had he never left, but once he did, he forgot it all.
Dad doesn't understand; what's the problem, then? Ki-hoon starts to laugh, which is exactly the sort of chuckle down the road to madness that Eun-jo does with her mom. It's not hard to see why Ki-hoon saw right through her pain as an adolescent.
Ki-hoon muses that this whole charade is right out of a Joseon-era history book: a father betting on the darkhorse prince to topple the king and usurp the throne. He goes further with the analogy, saying that he's drawn his sword in battle, but has found that his opponent is too young (which we can read as both Dae-sung's company being too young and small-time, but also as Eun-jo being too young and mismatched an opponent for him to fight fairly). He says he's retreated his sword; Dad shouldn't worry about small-fry Dae-sung being a worthy adversary. He plans to just rest there a little while and think of other ways to help his father.
Dad scoffs that Ki-hoon knows nothing. He hands him a document, while the chimes of evil masterminding ensue. Ki-jung has apparently bid on Dae-sung's company and has not given up making advances. Dad refuses to lose this to Ki-jung. And for good measure, he adds the requisite Tragic Twist of Melodramatic Proportions: Do you want to know how your mother really died? OH, JEEBUS.
From the looks of Ki-hoon's walk of stunned dismay, the answer isn't good for Dae-sung and Co. As he walks out, Ki-hoon sees Eun-jo walk past, wearing a dress and high heels, which is probably a very surprising sight for him. He follows her into the café, where she is on a mat-seon with that guy her lab sunbae wanted her to meet. It goes hilariously badly, as Eun-jo picks a thing, anything, (happens to be height) to pick apart the poor guy's attempt to get close to her. When he asks how tall she is, she responds accusingly, "How tall should I be for you to marry me? If I'm 170(cm), will you marry me? 172?" Haha. Who on earth thought this girl would be good on a blind date?
Ki-hoon looks stricken as he listens to her talk about marriage with another man, even if it is in her over-my-dead-body Eun-jo-esque way. He meets her outside, and asks if she's on a mat-seon, adding snottily that she must not have liked the guy if she's leaving so soon. She just ices him with the silent treatment and drives away.
Ki-hoon follows her, and catches up on a windy mountain road, where he races to try and stop her, and she speeds up to try and lose him. You silly kids and your cat-and-mouse games. Although, if someone loses an eye or gets amnesia from this, I will hurt you, Show. He calls her to tell her to slow down, which is just hilarious, since YOU'RE CHASING HER, but whatever. He finally cuts her off, leading to an almost collision, and tells her to slow down, and he'll stop chasing. Uhh…it would've worked the other way around too, and you wouldn't have had to cause a near-accident, but what do I know?
Oh, NOW I get why this scene is here—Ki-hoon starts telling her that it's unsafe and that he'll stop chasing her, but his insistence on those words have a secondary meaning. He ends up saying: "I won't chase you. I'm not going to try and hold you, and I'm not going to ask you to hold me. So you don't have to run away. You got it? Anyhow, I'm also…" But he trails off, unable to complete his words. I'm also…what? Moving on? Denying my one true love for the sake of my family? Frustratingly stubborn when it comes to you? What?
Eun-jo arrives at home, and Jung-woo follows a few steps behind her in silence. She finally acknowledges him and asks if he has something to say to her, but he simply smiles and shakes his head. When she takes off her shoes to go inside, he turns them around for her, and she looks at him like, what's your deal with my shoes, dude? He says it's a pledge of allegiance (much like an army salute) for the person who feeds him. So nicely written, these spare scenes. She understands it as she's the boss and he's grateful for the job; he means that he's grateful for all the times she made him food when they were young and she was the only one to ever take care of him.
Late that night, Ki-hoon broods on his pavilion, then makes a call to Daddy Hong. He says that if Dad can promise that once they acquire Dae-sung's company, he'll give Ki-hoon full control, then he'll agree to start the work. I'm assuming from the chimes of evil masterminding that there's going be some nefarious corporate espionage or something at work. Either that or he's going to drink up all the makgulli before they can bottle it up. Can I help with that?
The next day, Hyo-sun has been put to work with the other laborers, washing rice. She's terribly bumbling at even the most menial of tasks, but to her credit, she does it with a song in her heart, mostly because she's determined to get Eun-jo and Dad's approval. Dad chastises her for spilling even a kernel of the very precious organic, hand-picked rice. At this, she wonders aloud, "Am I useless?" But she gives herself a pep talk, saying that she can do it, and continues to work.
Eun-jo comes by, making Jung-woo stand up at the sight of her. She asks to see Hyo-sun when she's done, and walks away. Jung-woo salutes her as she walks past, hopeful, then deflated when she just blue steels him.
Eun-jo has Hyo-sun try on dresses for the commercial, and Hyo-sun asks what this is all about. Without answering her, Eun-jo just says offhandedly that she's pretty, but this time rather than being earnest, I think she's using it as a way to throw Hyo-sun a bone. Hyo-sun replies that being called pretty doesn't work on her anymore. She calls Eun-jo a liar, calling her pretty just to boost her ego and get her to do whatever she wants. She won't be fooled twice.
Eun-jo doesn't bat an eyelash; that's fine with her, so long as that's what she wants. If Hyo-sun doesn't want to do it, she'll just use Dad's money. (She says here, "Your Dad," purposely distancing herself in her snotty way.) Hyo-sun declares her evil. Eun-jo just taunts her, saying over and over, "You're not going to do it, are you?" until finally Hyo-sun stops her. Next thing you know, Hyo-sun's dancing around in a tutu for the commercial. Ha. I almost feel bad knowing that Eun-jo is so much smarter than her. But they pretty much know how to push each other's buttons equally.
During the filming, Eun-jo notices Ki-hoon smiling at the monitor, and shoots him the sidelong death ray of jealousy, which he doesn't notice. But then he sees her walk away from him and has the pouty face of why-doesn't-she-love-me? Oh, you two.
The three of them go out to eat afterwards, where Eun-jo thinks only about work, and Hyo-sun blissfully eats away. She pulls the classic I'm-going-to-feed-my-boyfriend-in-front-of-you move, driving Eun-jo to drink. But she apparently can't hold her liquor very well. So Ki-hoon, instead of stopping her, matches her drink for drink. It's like a hilarious pissing contest, neither of them knowing why they're doing it, but just fueled by anger and hurt feelings. And yeah…if I had to look at this…
I'd be drinking till I blacked out too. The two of them end up vomiting by the river, with Hyo-sun looking on in amazement. She can't win…these two will always be in sync, whether in bliss or in misery, and they'll always leave her out.
Hyo-sun calls her uncle, who sends Jung-woo out to fetch them. By the time he comes running, Eun-jo and Ki-hoon have passed out on the ground. Haha. Jung-woo drives them all back, and Hyo-sun catches him stealing glances at his beloved Eun-jo noona in the rearview mirror. She asks his name, and finds out that he's a recently discharged soldier, nay marine, which he insists is not just any solider. Hyo-sun laughs at his earnestness.
Jung-woo puts Ki-hoon to bed, and Hyo-sun brings her sister's purse in, noticing that the strap has torn off. The look on her face is that of genuine sadness; I bet she would love more than anything to give her unni one of her many pretty purses, but Eun-jo would never accept that sort of gesture from her.
She meets Jung-woo back at the car to bring Eun-jo in, but when they get there, she's not there anymore. They run around the house looking for her, and Ki-hoon wakes to hear them say they can't find her. But he knows where to look. He goes over to the factory, to their makgulli cellar, to the place of their unfulfilled love. Their eyes meet, over the sound of bubbles, and Eun-jo passes out. Ki-hoon reaches his hand out to touch her, but pulls back, unable to reconnect with her.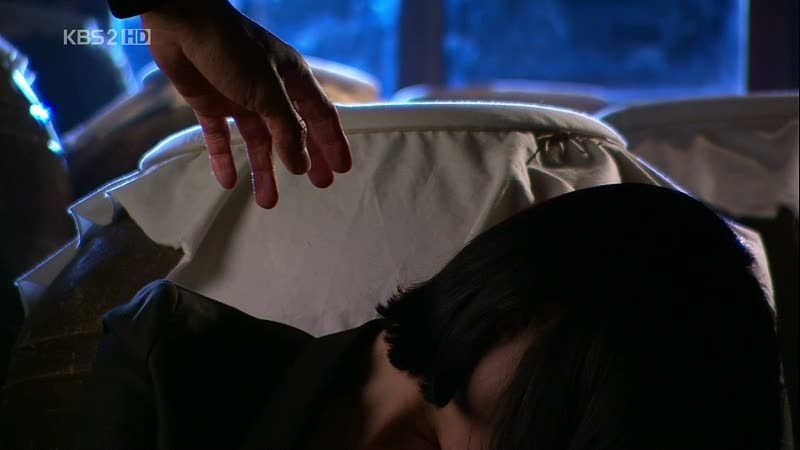 He leaves, and in walks Jung-woo. Symbolic, that Jung-woo replaces Ki-hoon in the cellar, just as he has taken over shoe-turning duties; he can traverse that icy barrier that Ki-hoon dare not cross. He carries Eun-jo home on his back, wondering what on earth is going on with her.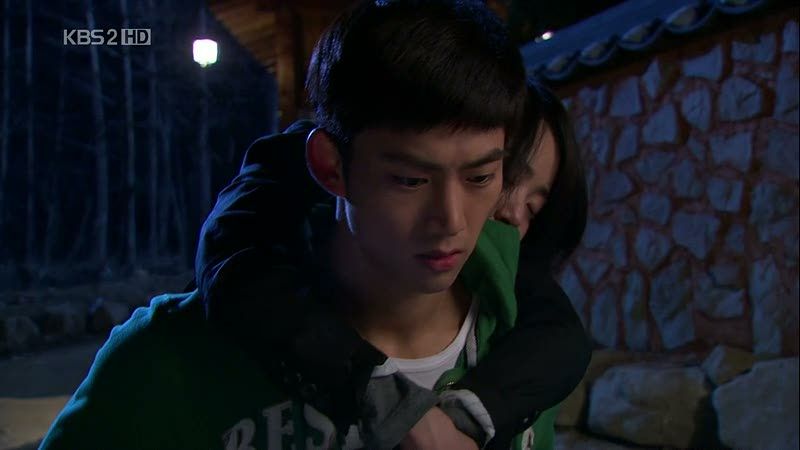 Then we get a commercial break…wait…oh, it's Hyo-sun's commercial debut, complete with cheesy changeover from what…hooker on the run?…to pink ballerina? It's intentionally funny, and cute. Apparently the media exposure did the trick, because the orders are coming so fast that they have to turn some away. Eun-jo saves the day though, securing a way to increase their production, so they take all the orders that come in.
They celebrate, but then stop in their tracks when they notice that Eun-jo's got a bloody nose. She's been pulling all-nighters at the lab, and ends up collapsing to the ground in Dad's arms. Ki-hoon rushes her to the hospital on his back, and we catch up with her in the hospital, Hyo-sun at her bedside.
Hyo-sun (voiceover): "Wow. Song Eun-jo, no, now Gu Eun-jo. I can't even imitate her. I can't be like her. If I try to be like her, my legs would split. As soon as the thought that I can't keep up with her enters my head, I want to cry. I'm not at all worried about her, but the tears won't stop. I swear by the heavens and the earth, every word I've spit at her is 100% a lie."
She calls out loud, "Unni ya. Unni ya, don't die. Unni ya, I'll do well. I'll adore you. Don't die, unni ya." This is one of my favorite things about her—the way she calls Eun-jo "unni ya," which is a contradiction. You can't call someone "ya" if you're younger, and you wouldn't call one person both "unni" and "ya." But it's the perfect thing for their relationship, as they're two girls of the same age who were thrown together as sisters. It also mirrors the heartfelt way that Ki-hoon calls her "Eun-jo ya;" it's her own moniker for her love/hate sister/not-a-sister.
She thinks to herself, "Your nose bled because you picked it, didn't you?…is what I really wanted to say." She breaks down in tears. And then Eun-jo wakes up, telling her to shut up. She shocks the tears away from Hyo-sun as she asks, "Am I dying? Did they say I was going to die? Or do you just wish I were?" Haha. Damn, you're cold. And hilarious. She tries to get out of bed, but Hyo-sun throws her back down.
Hyo-sun: "You're an unparalleled weakling. I've never seen a girl like you in all my life. You want to make me pathetic, don't you? That's why you showed up at our house, isn't it? Where are you going? Don't move a muscle. I can't stand to look at you move. I can't stand to hear you talk. You're just trying to impress Dad so you stay up all night at the lab, and get a bloody nose. Even if you don't do that, I'm always being compared to you and becoming a pathetic person. And next to pathetic me, you're becoming a faithful and decent person. Just try and move again. Just try and collapse again! I wish a thing like you would just die!"
And of course, that's the moment when Mom and Dad walk in. Oh, crap. Dae-sung can't believe the words out of Hyo-sun's mouth, and she runs away from him, scared to get scolded yet again for being the bratty sister. She jumps into Ki-hoon's car and begs him to drive her away.
As if one crazy hospital visitor wasn't enough for one day, Kang-sook has sprawled out on Eun-jo's bed (just like her to take the sickbed from the sick girl), saying that Eun-jo will be fine, and that she's lucky to be sick in such a conveniently melodramatic way. She tells her not to try so hard; even without all the all-nighters and nosebleeds, it'll all be hers anyway (the company).
Eun-jo asks Mom if that time that they lived in Gunsan, when she made herself a noose…did she intend to die? Kang-sook scoffs at the idea. "Why would I die?" She explains that sometimes you have to go to the extreme to get what you want. Eun-jo asks if that means this time, she'll make another noose if Eun-jo tries to leave. Mom answers, "Of course," without so much as a second thought. Eun-jo: "For me? Because of me?" Mom: "Why, do you think I'm lying?" Eun-jo: "I wish that it were a lie."
Mom slyly checks to see if the door is closed. She walks over to Eun-jo and says:
Kang-sook: "I carried you on my back and dug through trash. Because I thought it would be better than not feeding you. When I fed you, and you got sick, when your eyes rolled into the back of your head and all I could see was the whites of your eyes, I said, 'God, Buddha, Lord, just try and kill my baby. You think I'll leave you be? I'll chew you up and spit you out until there is no heaven.' That night I gave up the notion of love as holding someone close. Do you know who I am? I'm the bitch who challenged God and Buddha to the death and won…to save your life. A noose? I could tie one a hundred times, you bitch."
She tells Eun-jo not to be moved. Betraying a tear, she says what mother wouldn't do that for her child? Eun-jo asks if she loves Dae-sung. Kang-sook is surprised at the sudden question. But Eun-jo needs to know: did she ever love Dae-sung, or is he just another man who has something she can rip him off for? Mom's like, what the hell with this line of questioning?
Eun-jo cries, desperate to find some bit of humanity left in the dark corners of her mother's heart. She asks her to please tell her that he's not just another man to rip off, that she loves him. If she can say that, Eun-jo will forgive her for everything. Kang-sook replies that she does like him…she likes him a lot…because he's got so much for her to rip off.
Just then, Dae-sung opens the door, having heard the desperate query from Eun-jo and the startling answer. He walks in, just as Eun-jo goes stark raving mad. She screams like a wounded animal, trying to shut out the horrifying truth of her birthright. No matter how good she tries to be, she can never wash off the sins of her mother, and her own position as the rationale for it all.
This episode was family-heavy, which I don't mind, since the time leap has changed the family dynamics in interesting ways, and I'm fascinated by the changes in each character, both small and large. I'm most intrigued by Hyo-sun, who has become quite desperate and much closer to Eun-jo's wounded teenage state than either of them realize. I love Eun-jo's relationship with Dae-sung, and the growing complexity of her character, as someone who both loves and loathes her mother, hates herself because of that, and doesn't believe she deserves to be loved by Dae-sung because of her mother's sins.
The time leap actually hasn't found them as fully formed adults yet either, so I don't mind it as much as I anticipated. Both girls are still young and searching for their place in the world, so I find that I'm as invested in their motivations and their journey as I was in the beginning. What makes this drama so watchable for me (besides the deliciously compelling character studies) is the nimble balance of light and dark, of comedy and melodrama, and its offbeat sense of humor, even in the darkest of characters like Kang-sook. It's a difficult line to tread, but this show manages it with a stroke of whimsy.
RELATED POSTS
Tags: Chun Jung-myung, Cinderella's Sister, Moon Geun-young, Seo Woo, Taecyeon