Prosecutor Princess: Episode 2
Hello all! I'm baaaaaaack – along with aberdeen_angus – to write up the recaps for Prosecutor Princess. With the first two series of the Wednesday-Thursday line up are already being recapped, we couldn't let the third one be left behind!!
I initially watched this for my love of Kim So Yeon – but after watching the first two episodes, it's not just her that impresses me anymore. It's the entire cast. I feel that they casted right for the roles, as each actor brings something to their characters that makes them that much more three-dimensional.
Last episode ended with Hye Ri making a fool of herself in front of Se Joon and In Woo – so just how far does she go?!
Song of the Day
This song is a little better than Fly High. 😉 I also think it's role in the drama is similar to that of Dash Girl from My Fair Lady, where it plays whenever Yoon Eun Hye/Kim So Yeon are shopping and such.
Prosecutor Princess OST: Give Me by Nine Muses with Seo In Young [download]
Audio clip: Adobe Flash Player (version 9 or above) is required to play this audio clip. Download the latest version here. You also need to have JavaScript enabled in your browser.
Episode 2
Hye Ri screams at the sight of In Woo and despite Se Joon's protestations, she drags In Woo out of the office to confront him. Nice move in trying to keep her personal life separate from business – not so nice when it turns out he's a lawyer there to represent a guy she just put in jail. Lesson 1 for Ma Hye Ri: Prosecutors don't just go by the facts, they also consider the circumstances surrounding the crime.
Hye Ri hides outside a pillar waiting for In Woo, and he appears sneakily behind her instead to insist she pay him back. She quickly brings up her defenses and says she will pay him back immediately – but he rips right into her and says, "Are you a loan shark? Or are you a money man? Do you always carry tens of thousands of dollars around? Or do you want to pay by credit card? I don't have a card terminal with me."
(I love how he just completely talks right over and won't give her a chance to speak – he's definitely not like the stiff Se Joon, and would be easily likable…if only he weren't so mysterious!)
He tells her he wants it in cash, and she promises to give it to him the next day at lunch.
In the office, Se Joon's assistant tells the assistant lady (and us viewers) that In Woo is a top lawyer who wins most of his cases, but he chooses only the cases he's interested in regardless of money. When Hye Ri returns from her spat, Se Joon hands her a new case file about arguing ajummas and tells her to reconsider her decision on the robbery case.
And then we have SHINee telling us to Flyyyy Hiiiiigh! as In Woo returns to his fancy glass office. We meet Jenny Ahn, who turns out to be a lawyer along with In Woo. Rather than wondering about how well he convinced Se Joon to retract the decision, she asks how his meeting went with Hye Ri.
Jenny: How do you feel after meeting her for real?
In Woo: I met the person I was supposed to meet.
Jenny: Then things are going to start now. Do well.
Hye Ri being Hye Ri, at exactly 6 0'clock she packs away the police reports and says her goodbyes. Se Joon asks if she ever plans on staying overtime, and Hye Ri says no – why should she if she is only a public servant who won't get paid overtime? Se Joon, with his sense of justice, comments, "Do you think the other prosecutors end up working overtime because they can't say that? Or they don't think that?" Hye Ri says to each his own – the other prosecutors choose to stay overtime, and if it's because the number of cases are too much, then the government should hire more prosecutors.
Hye Ri shows that she has very good logical sense – not common sense, but really good logical sense. It's what makes her a good lawyer, technically. She can definitely weasel her way out of a speeding ticket.
While Hye Ri vents to her best friend Yoon Ah at a yoga session, Se Joon and Jung Sun are staying overtime eating take-out jjajangmyun (and my stomach growls YUM). They ask what to do about Hye Ri – complaints are coming in regarding her performance. After the chief leaves, Jung Sun practically begs Se Joon to talk to Hye Ri and just give it to her. But Se Joon wisely notes that Hye Ri is not going to change just like that. He even agreed with her arguments earlier, even if he doesn't believe in them. It's just too bad that she has no sense of moral justice… yet.
The next day, Hye Ri rushes out to meet In Woo at the arranged restaurant and time with a large apple box full of cash. She hands him a receipt – a grand total of US$8,015 – and the box, filled with 1000 Won Korean bills (or basically, $1 singles). She wants him to count it in front of her – and he agrees.
Voila! He produces a cash counting machine and starts stacking the bills through the counter. Foiled again! Hye Ri won't have the satisfaction of watching him laboriously count the bills. She asks how he knew – did he follow her? Of course, Creepy In Woo did no such thing! He just explains it as, if he had been her he would have done the same thing – except bring it all in dimes.
They have a civil lunch, and In Woo asks why she didn't go to her workshop after graduation. Hye Ri is shocked that he found out and begs him to keep it a secret. The workshop is a bigger deal than it sounds – every newly graduated prosecutor must attend it to understand the basics of the job and the regulations they must follow. Hye Ri offers him money to keep quiet, and In Woo just laughs (he likes to laugh a lot at her…)
After lunch, In Woo does some shameless flirting with her and says that he knows they'll see each other again. But Hye Ri doesn't buy it, calling him corny, and she drives off. (Ooh she's gonna regret that – he's offering friendship and you just throw it back in his face!)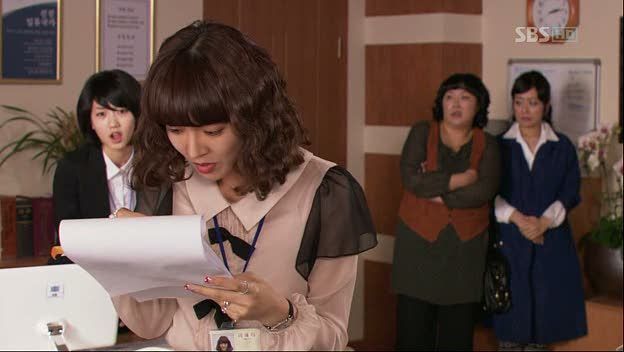 When Hye Ri returns to the office, Se Joon is gone to teach a lecture. She finds the file she was working on on his desk, and also finds a file that is about a famous celebrity suing another celebrity for assault, and there's a juicy love triangle that started it all… Yes – of course Hye Ri gets sucked into it. She takes the file to read, but in comes her ajummas.
The ajummas have differing stories about who struck who, but Hye Ri works solely off the evidence rather than their testimonials. It's clear that the victim is a liar (who gets a full-on red handprint on their cheek after being slapped ONCE!? it's make-up I tell ya, MAKE-UP!), but Hye Ri says the slap is evidence and awards victory to the supposed "victim".
The "attacker ajumma" refuses to give up, so Hye Ri pretends to use the bathroom in order to read up on the salacious case of the celebrities. She overhears three other co-workers making fun of her outfit, her supposed boob job, and her wide face. Hye Ri puts the bathroom-read aside and confronts the three ladies. They shouldn't trash talk just because they're jealous that she is just honestly prettier and more womanly than they are!
Se Joon returns, and he can't find the file on the celebrity case. Hye Ri freaks – it's not in the bathroom anymore – and it leads to a massive search inside the office as they all overturns shelves and drawers looking for the papers. The other prosecutors crowd the front door, watching amusedly as Hye Ri makes her first MAJOR MAJOR mistake. Good thing Jung Sun passes by the elevator and sees "victim ajumma" reading something that looks suspiciously like a case file…
Outside, Se Joon reprimands Hye Ri privately. Did she not get any security lessons during the workshop? (Uh no – she wasn't there.) He tells her to be careful – she may not be sympathetic to the people or enjoy bonding with the senior prosecutors, or even staying overtime, but she has to be careful with her actions because her decisions can ruin or save a person's life. Hye Ri says that she thinks she acted responsibly based on her standards. Heh – how low are her standards? Se Joon realizes he can't get through to her and leaves.
Se Joon drives Jung Sun home, and we see Jung Sun's family for the first time. Her mother reprimands her for always coming in during that crucial time in a drama (which I can totally relate to) and a young girl, Bin, tells Jung Sun to start taking care of herself or else she'll never get married. Wise words coming from such a young girl…
Jung Sun's mother comes into her room that night and says Bin has a point – Jung Sun isn't getting any younger and the offers for blind dates have ceased. It doesn't help that people think Bin really is Jung Sun's daughter (wait – she's not!?!?) Either make Bin a real granddaughter, or give the mother a real granddaughter. Too bad Jung Sun has someone she likes – he just don't know it yet!!!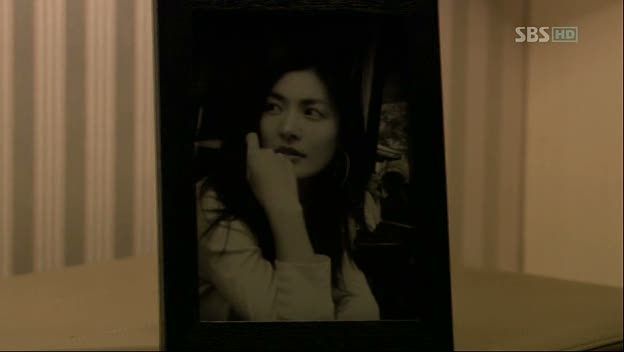 And then we see Se Joon's awesome muscles – thank you Chuno – as he stares into the picture of his dead wife by his bedside. We find out why he's so fixated with Hye Ri – because she looks so much like his dead wife it's as though the same actress played both roles! I'm not even kidding. It's an old photo of Kim So Yeon when she still had long hair.
Despite what Se Joon said, Hye Ri still clocks out at 6 on the dot and goes shopping or to spas while the rest of the prosecutors are killing themselves over the work that's piling up. They need to do something about Hye Ri, and Se Joon requests that they find another training prosecutor for her. An assistant sends a mass email to Jung Sun and Prosecutors Lee Min Suk and Chae Ji Won – they understandably dread this and refuse to take her on.
What's worse, Hye Ri decides to take them all out to lunch at a reaaaaaaaally expensive buffet restaurant. No one can afford this luxury – they're just government workers. Hye Ri thinks it's an excellent idea – they can come here twice a week! It'll just cost an additional $200-$300 a month for lunch money. They all balk, and so Hye Ri has enough sense to offer to pay this meal.
Jung Sun has a talk with Hye Ri – how could she suggest something so expensive? When Jung Sun did lunch duties, she never spent over $10 for the total cost of food. Hye Ri doesn't agree – she doesn't have the same taste as everyone else, and it would be unfair for her to subject herself to such (low-class) food. Jung Sun says the lunch ritual is so everyone can get to know each other better and ask for advice – it's not about the food. But Hye Ri clearly doesn't understand what "bonding" means, so Jung Sun takes over lunch duties. Yay for Hye Ri – she can now eat lunch with whomever she wants.
Se Joon's assistant finally figures out what's been bugging him about Hye Ri – he sees her necklace and remembers that she's the one who prevented Se Joon from capturing the long-sought criminal Kim Dong Suk. He whispers this in the other assistant's ear, and the word spreads like wildfire. Soon everyone catches on that Hye Ri was at a fashion auction instead of at the workshop after her graduation. Word finally reaches the Chief, and he totally blows his top.
Solution: Hye Ri is getting her own office and her own cases. Hye Ri cheers at the promotion, while Jung Sun and Min Suk's assistants (Sang Hyung Soo and Lee Jung Hee, respectively) look like they'd rather go to hell than Hye Ri's office. When Hye Ri tells her family, her father exults at his daughter's success (is he really blind to all her flippancy?) and the mother says that if she marries her politically-connected blind date, then they would become a "financially, socially, and politically perfect family." What a dream. But the mother goes back on her words when she privately tells Hye Ri that she should experience a passionate love first. Hye Ri says that real love doesn't exist – all a person can do is love him/herself. (I feel like that's gonna bite her in the ass…)
Hye Ri moves into her new office – bringing all things flower-y and frilly with her. Jenny informs In Woo that Hye Ri's gone independent, and the look of shock on his face can only mean that he can't believe it (this is going way too ahead of his plan!!!) While all the other prosecutors are getting truckloads of cases, Hye Ri only gets a couple, and they're all minor ones. It's clear they don't believe in her ability, but Hye Ri innocently thinks they're trying to ease her into the job. In general – her office is usually doing nothing.
In Woo visits her by bringing flowers to congratulate her. He asks if she's been a good prosecutor, and she wonders if he's interested in her. He says yes – but not in that way. He just thinks she'll be needing him REAL soon.
Thankfully, Hye Ri isn't too dumb, and she realizes that it's odd her office is left with nothing to do. She hides out in the bathroom to listen to the local gossip – and she finds out that everyone knows about her skipping on the workshop – and everyone can't believe that Hye Ri is too blind to see that the chief and all the seniors gave up on her.
Hye Ri takes the flower basket and rushes into In Woo's office – how dare he tell everyone about her skipping the workshop! He insists he never told a single person, but she doesn't believe him. She says she's going to sue him for defamation. She storms out, but he chases after her. It's not his fault at all – and he tells her to fix her flippant attitude first. Hye Ri says that if he ruins her status she will come back and kill him. (And I go, WTH!? Status!? How about your own dignity!?)
Hye Ri goes to the chief and asks to be assigned proper cases. She is sorry for her mistake in missing the workshop, but that's only one. That sets the Chief off (and everyone can hear his yelling) – how can she not be aware that she made more mistakes than that? She has no sense of responsibility and was rejected by all departments. Yeah! Finally – someone REALLY giving it to her! Hye Ri leaves the office shaken, and pretends that the Chief has gone mad, but her audience of prosecutors all know better.
She goes to the club that night – and ends up dancing with two young boys (both members of ZE:A). She and Yoon Ah party it up with the boys – until undercover cops come in and catch the boys. They say that Hye Ri is his girlfriend and brought him to a club – he's just there to make money, like a young gigolo. WOOPS – that gets everyone's butts in jail, and a reporter just manages to take a picture of Hye Ri…
Comments:
I love how fun this drama is. It moves along fast, because even though Hye Ri's antics are a little repetitive, they don't dwell on it for long (thanks to quick edits). It also shows that she's not that dumb either, which is really comforting to know. It gives me some hope that she can change a little sooner. Kim So Yeon is great at eliciting sympathy when Hye Ri needs the audience on her side, and at making her such a dim-witted selfish prosecutor at the same time.
What's interesting is In Woo and Jung Sun's characters. In Woo is downright mysterious – but he's coming off more like a benevolent, omnipotent presence in her life. I can't help but dread what he is going to do, but at the same time I really really want to like him! I thought he was going to be this stiff, cold guy but he's actually quite charming. It's interesting because the supposed "bad guy" seems to be nicer than the supposed "good guy" Se Joon. It's put me in a state once again where I don't know which love interest I should root for! (similar to Wish Upon a Star)
As for Jung Sun – it's curious how and why she's taken it upon herself to adopt this young girl. It makes me like her character even more, since she's not the typical hateful second lead character (actually, no one seems to be taking on that role, unless Jenny Ahn all of a sudden goes downright evil on us and claims In Woo for herself…?) However, it's clear Jung Sun is going to be the passive second female lead where she can't even tell Se Joon that she's madly in love with her and that's going to be frustrating.
The pacing seems to work well so far, and the writing can't be written off as frivolous. The arguments that Hye Ri makes are completely legitimate and logical, and so it's not like the writer decided to make a completely two-dimensional character. In fact, the arguments are well thought out. Since the writer also did Shining Inheritance I'm putting in more faith into this drama. The writer is doing a good job in rounding out the female characters. Now all I'm waiting for is some more dimension to In Woo and Se Joon.
Last comment of all: People definitely need to give this drama a chance!!
RELATED POSTS
Tags: Han Jung-soo, Kim So-yeon, Park Shi-hoo, Prosecutor Princess