Prosecutor Princess: Episode 5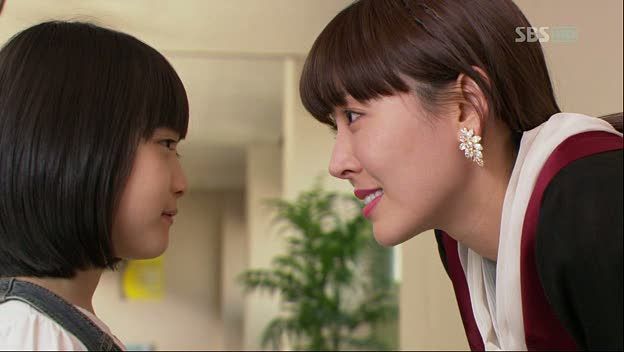 Ooookay, guys! Hello to you all, Prosecutor Princess lovers and haters (and indifferent lurkers as well!). Here we are, after that fantastic catch in the airport, with the cutest stalker in the world, grabbing Hye-ri's hand. What will happen next? I'll grab all of your wrists and say "Let's go for Episode 5's recap"!
SONG OF THE DAY
Park Hyo Shin – 화신 (Flower Letter) [Download]

Audio clip: Adobe Flash Player (version 9 or above) is required to play this audio clip. Download the latest version here. You also need to have JavaScript enabled in your browser.
Episode 5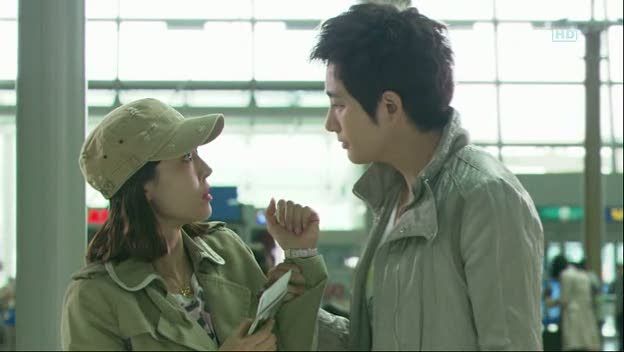 In-woo tells Hye-ri that she can't go anywhere, ever, ever, ever, to her shocked face. But what does he mean? Why can't she go? He won't tell exactly why, in order to keep his entire mysterious aura alive; instead, he states that she can't go to Japan, or anywhere outside Korea. All of these restrictions start annoying the hell out of Hye-ri, who, once again, has to ask why.
In-woo: Because I won't let you.
Clear as water. Hye-ri isn't satisfied with this ambiguous prohibition and looks a bit puzzled. In-woo, far from tranquilizing her, steps closer to her face, her wrist still in his hand, tightly grabbed. And then, taking advantage of her inferior position, lets her wrist go and…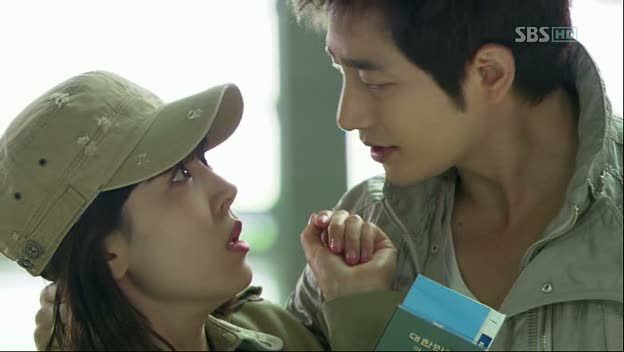 Yes! Grabs her neck's nape, approaching her face to his. Talk about sudden surprises! Obviously, she doesn't receive the gesture as one devote of love or passion, she is freaked out by his insolence.
In-woo: Ma Hye-ri, do you want to be like this?

Hye-ri: When did I ever say to Lawyer Seo that I wanted to do something like this?
He definitely doesn't want her to run away from her problems, and is about to scold her a bit more, when an annoyed person asks if they're going to be like this all day. Some sort of queue formed behind them, and she says that the situation in which he put her into, was absolutely embarrassing.
If one wrist grabbing wasn't enough, we have a second one, but it includes the "Let's go" moment, which is usually full of win (it must hurt a little, since the girl usually doesn't want "to go", and ends up screaming and being forced to follow the male lead) (shut up, common sense!). Hye-ri tries to resist, but In-woo is stronger and they end up talking.
In-woo: What were you going when you return, after hiding from your dad? And what if your dad doesn't agree with it? Didn't you say that your dad doesn't allow you to live recklessly? What are you going to do, then?
Hye-ri says that she would work as a lawyer, but In-woo doesn't buy it – she always looks down on lawyers. Also, she was a prosecutor, and was fired, who would hire her? She doesn't care, she would find a way to survive, without his help or anyone's; she just doesn't want to return, after all the humiliation she has been through.
In-woo's second attempt at trying to convince Hye-ri, involves the little girl's case. What about her, what about her defense? Will she leave her without second thoughts? Yeah, she is determined to leave, and what's more, the girl's mum hates her, so it would be a win-win situation for both of them.
Final and hurtful attempt is to make her think about Prosecutor Yoon. But, she refuses to stay just because of him or what he'd think, he already hates her. In-woo replies furiously, saying that Prosecutor Yoon will have to take care of her failure, even when he gave her a chance and support – that's dirty. Does she want him to have that nasty image of her? Hye-ri is still playing her mule act, she doesn't want to be a prosecutor, she didn't want to become one in the first place!
In-woo: How many people are there who do it because they like it? They do these things to feed themselves, to live and not to die. Living is just like that. Who are you to do the things you like or find funny?

Hye-ri: Who are you to tell me what to do? You go and live like that. But why are you being like this to me?

In-woo: Because I'm embarrassed! I thought you had something. A prosecutor who skips out on her workshop to buy designer stuff, even though is called stupid, it's okay. Even if you don't want to, even if you don't like it, I thought that at least you had some pride. I thought you were going to show them all. The fact that you were going to show them that you weren't a talentless prosecutor… That, wasn't your pride? That's why you should show them and then leave. For me, who believed in you; for Prosecutor Yoon, who gave you a chance; for the injured Ji Min… Show them your pride.
Hye-ri is teary, but unconvinced, she doesn't care if everyone else sees her as a useless person, and ultimately, boards the plain, after In-woo's dismissal with a sad and disappointed face. She forces herself to feel unmoved by his words, but they echo in her mind, as she dreams of Ji Min and the (nasty?) professor. When she thought she was awake, she experienced another vivid dream, this time, of her coworkers forbidding her to stay. Dreams and In-woo work in mysterious ways, so she leaves her plans of running away and prepares herself to confront reality.
(In this drama, mysterious people pop up at least one or two times per episode, so I'll just mention an out of nowhere presence of a man, as Hye-ri is leaving the airport. Who the hell is he? First, the reporter, now The Follower)
Back at In-woo's head quarters, "friendly" talk with Jenny. Some director Kang called, and what's more important, we get to know that if Hye-ri leaves, "the case" could be in danger. In-woo isn't worried and plays the cool guy, he knows that HR has some pride, and eventually will come back. Jenny and her sharp tongue ask why he didn't wait for her; if he was soooo sure she wouldn't go. He doesn't want her to form bad habits (LOL). Jenny's sharp tongue bothers our In-woo again – he is nervous, he is afraid that she won't stay, he isn't that confident about her. But Jenny won't enjoy her psychological attack abilities for long, since The Follower turned out to be In-woo's secretary, who is now confirming that Prosecutor Ma got off the plane. Yay!
Meanwhile, Hye-ri returns home (without her bags), to his father delight.
(In a car scene involving Jung-sun and Prosecutor Yoon, we get to see that Se-joon has a new hairstyle! Why does this guy keep doing things to make me hate him?)
Anyways, when Hye-ri returns to work undercover (still with her cap and dressed informally), at the entrance, her horrible coworkers are giving a lecture about her "tomato ajumma incident" (can these guys be more childish?). When she gains their attention, they just look at her, WITHOUT A SINGLE HAIR MOVED by their rudeness.
This girl has some good luck, though, and arrives to her boss' office only a few minutes later than her resignation letter, allowing her to beg for a second (third, fourth…?) chance. Her boss just throws away the letter, and lets her continue with her duties. But he's not the only person who is helping Hye-ri, Prosecutor Yoon and Chief Lee are forcing every "tomato ajumma incident" video uploader, to delete all the files in the internet. Let's say together: Aww.
Hye-ri must prove herself worthy of all the love her sunbaes are giving her, so she starts immediately her investigations about Ji Min's case. She won't be able to do it for a long time, since Se-joon calls her to have a private talk. He wants to scold-teach her, showing that it wasn't hard to tell that the slapped ajumma was lying. What's more, he smoothly makes her analyze the entire situation, insisting her on suing the innocent ajumma for assault. Hye-ri gets his point, the tomato punishment was harsh, but she wasn't fair with that woman, so she kinda deserved it. Seeing that she's being reasonable, Prosecutor Yoon enlightens the sad mood changing the subject, saying that his daughter loved her cookies, given that they had the cooker's heart in them. His smile suggests that he is trying to help her with Ji-min's case, providing her with an useful tip on achieving a kid's affection.
As Hye-ri is leaving work early, In-woo comes out of nowhere (squee), triumphant and lovely as always; offering himself to be her driver. Once again, wrist grabbing and let's go, girl! She refuses, and they bicker a bit about why did she stay and how did he know she wouldn't leave. In the end, she admits that he hold her back (he's so proud of it that he can barely restrain himself), to which he answers "So now you're mine!".
Smexy chauffeur In-woo takes Hye-ri home; she wants to bake cookies, the same ones she made for Se-joon's daughter. Their shapes are horrendous, but she puts all her heart and soul while preparing them, and they could be a good bonding instrument with Ji Min.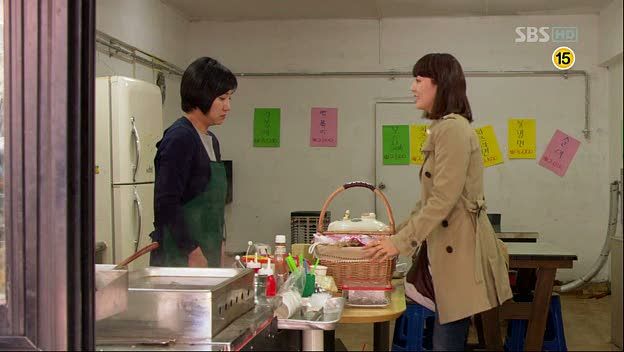 With a basket full of cookies, she goes to Ji Min's place and tells her mum that she made a lot of mistakes, but didn't intend to, she is just ignorant about child's stuff and is learning. She even tells her that she was about to leave that same morning, and that she had this dream about Ji Min and the teacher. Moved by her sincerity and apparent change of ways, mummy allows Hye-ri to sew Ji Min's dolls ripped clothes, indirectly giving her permission to continue with the case.
Something is weird, though. Every single clothe of Ji Min's dolls is ripped, teasing some kid of deep trauma. This part is really touching, since we start seeing Hye-ri's growth as a sensitive person, and her connection with this girl grows as well. Trying not to be that serious, she makes fun of herself by singing and dancing rather poorly in front of the girl. They laugh and enjoy this little moment, giving their non-existent relationship a chance to unfold.
Happy with her success, she goes home with her personal driver (who, by the way, gives us a worried, suspicious face, which leaves us wondering what the hell is going on… Again). She is truly satisfied with herself, Ji Min's trust is at hand, and alongside with that, the final confession against the teacher. While talking about the case, they realize that they didn't have dinner, yet, so they agree to go out and eat whatever In-woo chooses.
When they arrive home (no dinner!), Hye-ri is asleep and In-woo tries to wake her up, but is unable to. He takes away her cap, and looks at her ardently; she's so close, defenseless… He touches her face lightly and makes a roll with his jacket, then puts it behind Hye-ri's neck, to make her more comfortable (♪♬ it's the jacket of love! ♪♬). After that, he just takes a nap by her side. I still can't get what's In-woo's deal, nevertheless this scene was so subtle and powerful, that it spoke to us in it's very unique language. Probably, In-woo has a dark side, or yet unknown hidden tasks for Hye-ri, but we can tell that he cares about her, no matter what happens in the future. He is fond of her, in a innocent, childish, muffin-lover way; however, since he has another greater responsibility, he can't let those feelings grow or alter the course of his plans.
Hye-ri wakes up and wonders why they are there, and not eating. After realizing that her comfy pillow was In-woo's jacket, she unrolls it and covers him with it. As she leaves the car, we see that he wasn't asleep, he was just pretending to be.
The following day, Hye-ri has a personal interview with Ji-min, her mum and the child's advisor. Apparently, the teacher played "ice and ding", in which when the teacher said "ice", Ji-min couldn't move, and afterwards, taking advantage of her fear and ignorance about his intentions, he abused her. Hye-ri, respectfully and sorry for making these kind of questions, asks why Ji-min didn't tell him to stop. The fact is, she did, but he didn't listen to her complaints, and continued doing it, saying that otherwise he wouldn't give her violin lessons anymore.
After this absolutely heartbreaking interrogation, Hye-ri goes to her boss, with her arraignment, which was surprisingly remarkable. The boss looks at her with shock, when she offers herself to conduct the trial, she wants to kill this guy who would've raped that little girl if only the next student hadn't arrived early. The problem is, she has no evidence, just a statutory declaration, not enough for winning at court. Her only solution is to convince Ji-min of personally testifying, adding a huge load of trauma to her already dreadful experience. Her boss finds this situation pretty stressful and complicated, but she claims to be the best option for it; and also, she owes Ji-min's mum, who asked her to prove the guilt of Kim Yoon-shik. The boss gives her some previous cases, and wants to know how she handles them, before a final decision is made.
Once again, fate, that horrible bitch, gives Hye-ri the file of the flower shop's son (Shin Dong Ha), who is preparing a bouquet of white flowers for In-woo. Who is he giving it to? Well, it's not said, he just pays a visit to a lakeshore, and stands there, looking rather thoughtful and melancholic. After a brief moment, he leaves the flowers there, and goes away.
In her office, Hye-ri performs her questioning. She has all the facts written down in her cute notebook, and wants to know Dong-ha's version regarding a violent conflict with a guy named Lee Yong-chul. He says that he helped a girl, whose shrieks he heard to, when Yong-chul was molesting her. They wanted to ran away, but more guys appeared, making them to separate. The three guys ambushed him, and starting beating him until, by chance, he found a pipe, which allowed him to defend himself. The timing sucked, indeed, because a police car arrived the scene while he was swinging the damn pipe, leading to an enormous misunderstanding and his posterior arrest. The problem is, the girl is missing in action, and no one knows anything about her, therefore leaving Dong-ha in a delicate situation, without evidence of his heroic acts.
Just as Hye-ri was about to dismiss this guy, In-woo appears, saying that he's Dong-ha's attorney. Hye-ri is thrilled – what a coincidence! If you knew, girl, if you knew… He is in no mood for joking around, so he gets to the point – he wants a time extension to be able to recollect the evidence he needs to prove Dong-ha's innocence. Prosecutor Ma is not convinced, it sounds impossible, fake and full of incoherencies, and to add to that list, they have no evidence or witnesses. She won't give them the extension; the reasons for it are not powerful enough. In-woo trusts his client, so he is willing to make a bet: he will find the evidence and put it in front of her beautiful eyes. He is positively sure that she'll regret her decision.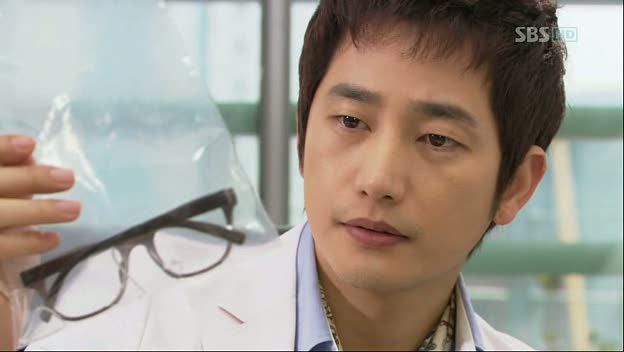 Later on, we find out that he has a clue about the girl's whereabouts, his secretary has discovered that she ordered new glasses after the assault. Now, In-woo has contact information, photographs and a won bet with Hye-ri. What else could he ask for?
D-day has come and both Prosecutor Ma (with her shiny robe) and In-woo are getting ready for that big day at court. Unexpectedly, Hye-ri's assistant enters her office with a letter containing relevant information about Yoon-shik's past. It seems that he had an assault record in the Academy in which he used to work in USA. Who sent this envelope? She doesn't know, but we sure do… In-woo.
The trial starts, but Ji-min refuses to talk, she has closed her mind and mouth, endangering its proper development. Outside, at the waiting room, lots of people are watching the process, and among them, is In-woo; but they seem worried and nervous, since the girl won't say a thing. Prosecutor Ma, takes a drastic resolution: she'll have to make fun of herself, dancing an imaginary Swan's Lake melody, just as before, when she was at Ji-min's house. This tactic proves to be a successful one, and Ji-min admits that the director hurt her, using the violin lessons as an excuse.
Everyone is touched by her sudden confession and senses that the girl is abandoning her childhood in a premature, violent and unfair way, and not even the teacher's lawyer can control himself, looking disgusted and outraged. Prosecutor Ma has to make her final statement:
Hye-ri: A child's ability to imagine is abundant. Especially, a 7 years old child like Ji-min. But, for a 7 year old, the pain, fear and horror of being sexually abused is unimaginable. Do you remember Ji-min's tears? There is a sense of fear… Do you think it was an act? Evidence… Ji-min… Kim Yoon-shik… It only exists in their minds. For the defendant, he may only have the memories, but for Ji-min, she doesn't have only memories, she has a heart full of the scars from the events which she doesn't even want to remember.
Then, she presents her additional evidence, which proves that Yoon-shik wasn't as innocent and well behaved as he pretended to be: he returned to Korea because of an arrangement he made with the school in which his previous "incident" took place.
With Yoon-shik's doom secured, Hye-ri and Ji-min have a talk, and they end up in a full of devotion hug between two courageous girls who are growing up together.
(As they hug, mysterious woman from the court appears and looks with an envious glance the scene. She'll make her official appearance later)
This episode was so good up until now.
SO. GOOD.
BUT.
Fly high! (nooooo)
I'm in a forgiving mood, today, so I'll just continue as I cover my ears saying LA-LA-LA I can't hear you SHINee!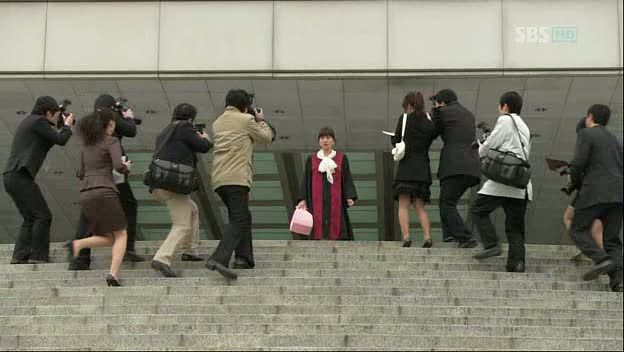 The media is waiting for Prosecutor "tomato" Ma, and compliment her on an impressive handling of every obstacle she encountered. A change in Hye-ri's attitude is shown: while she is thankful at first, she says that she's not the first prosecutor who wins a case, and that they're all superficial bastards, because they centered their attention in her beauty.
In-woo has seen it all and is really proud of her, but I don't think that Hye-ri even cares about muff-in-woo, she goes directly to Prosecutor Yoon, and tells him, in a few words, that she was awesome at court (I have never seen such an unexpressive face while telling "Oh, you frightened me!", as Prosecutor Yoon's).
I'm so glad that in the end, Hye-ri went to her dad, demanding her car and cards; I know that I wasn't the only one who was a bit too afraid of an unbelievable, fast change in her ways. Her dad, though, wants the final verdict. At work, the boss assigns a small pile of cases to her office, starting to feel that she will become a good prosecutor, eventually.
Hye-ri calls In-woo to talk about Dong-ha's case. Why doesn't he tell her that he has the evidence he was looking for, huh, huh? The fact is, he doesn't, and instead he tells her that she owes him a dinner, so they should meet in the evening. Bad day for flirting, darling, she was invited to a gathering with the sunbaes, and not only that, Chief Lee reveals that Se-joon was the one who called the press to stop the publication of the videos about the "tomato ajumma" incident. Hye-ri can't avoid a fangirly squee, frustrating In-woo, who was still at the phone, listening.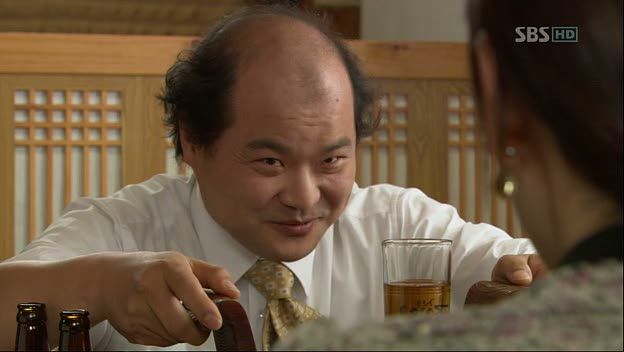 That night, she goes out with her sunbaes, while In-woo drinks with Dong-ha's father. Instead of being supportive and friendly, he's almost rude, asking him if he was always a good person or if he made other people suffer. Mr. Shin admits that he wasn't perfect, and perhaps his son's difficult times are his punishment for all those past sins. Good news arrive, though, the girl involved was found.
When the prosecutor's gathering ends, straightforwardly, Hye-ri asks Se-joon to take her home, a request he can't deny. In the car, Hye-ri demands for a little attention, and guess what? Yes! He refuses. But! Hye-ri, a bit too drunk, starts making fun of his full of hatred statements about drunken people and what he had previously said about her liking him. He smiles, at last! One more time, one more time! Prosecutor Yoon says: NO. Boo.
Stalker In-woo is outside Hye-ri's house, and he can witness his fiancée and that stiff guy arriving together. He actually has to watch how bluntly Se-joon talks to Hye-ri, when she degrades herself confronts him, wondering why he is avoiding and rejecting her open love.
Se-joon: I do have an interest in you. I want to have a one night stand with you. To make me think that way, isn't that why you're acting like this?
What the what? Ok, guys, this is it. This. Is. It. I'm done with this guy.
Teary and offended, Hye-ri says that her body is special, that she's special, and that she doesn't care about what anyone says or how they look at her. With his super hearing powers, In-woo has heard everything that was said, and is visibly upset: this nobody dares to insult muffin lady! When Hye-ri enters her mansion, Se-joon has this minimum moment of dignity and tries to follow her, but In-woo blinds him with his car lights and gets the hell out of there, distracting his rival.
The next morning will be one full of interesting events. First of all, Mr. Ma announces that the guy who turned her down for the blind date, wants to meet her. She refuses, saying that she doesn't want a person who is so inconstant, but her father says that a girl's pride exists only when a man is following her. But she has In-woo, Mr. Ma!! Level of interest: 40%, for showing that Hye-ri cares about her reputation, why would she go out with this bipolar man?
Ok, let's continue.
In the bathroom, at work, she has a brief meeting with Jung-sun. She asks private questions about Se-joon's diseased wife, and Jung-sun doesn't answer them (logical). What she didn't expect was Hye-ri's confession of love: "I like Prosecutor Yoon". Bang, bang, now you're dead. Level of interest: 60%. I just love how Hye-ri is so confindent of herself: "I have everything, why wouldn't he accept me?". I'll have to take away a 10% for not being angry at his last night's behaviour.
The big announcement is about to be made, though. That court girl, with mean, envious eyes, was a former law school friend of Hye-ri, and she sent a photo of her fat past to Min-suk, who, obviously (and coherently with his previous acts), spread it.
Level of interest: 90%! But the explanation for this matter is in kaedejun's hands!
(What's the big deal? I mean, I understand Hye-ri, a person who had a rough social life because of obesity, can have lots of complexes. But her co workers? Really? Making fun of her? Because she used to be fat? Are they law officers or cheap gossip reporters?)
Personal comments
Perhaps this will sound stupid, but while watching I couldn't help but (over?) analyzing Hye-ri's hands and nails. I've been a "hands-obsessive" person since my mum told me that you can judge anyone's life by them. Yeah, she was exaggerating. However, she had a valid point of view. Just take a look at Hye-ri's hands.
They're no hard worker's hands, they're not used to heavy tasks or sewing, they're a princess' pair of hands. The director made a pretty good job, taking a close look into this aspect. Her hands are clumsy, she can't handle them; she is not gifted for others, just for herself. It's a matter of time, though, before she can get used to combine her two previously antagonist personas: the worker and the fashionista, since she's trying really hard and her efforts are beginning to pay off.
I think we got a significant character development in this episode. Granted, Hye-ri has a long path to walk, but she has proved not only her coworkers, parents and her stalker companion, but also herself, that she can do it. She can work efficiently, she can get into her cases, and be sensitive about them. No more hiding, no more running away, she can speak to Fear's face and engage into a fight with it, with her pride as her only cheerleader.
As for In-woo's role and ulterior motivations, could he turn out to be the bad guy? It would suit him, he sure has that cynical sparkle in his eyes, and the change from a cute weirdo to an evil puppeteer would be shocking, surprising an completely worth of watching. Even keeping in mind his (hinted in episode 3) hard past, he has learnt how to be subtly manipulative and his omnipotent behaviour added to his intelligence and financial means, are frightening. What's more, he has two people living inside him, the lovely guy who has this obsessive crush and the Machiavellian jerk who's hiding something, making him a contradiction in himself. I'm eager to see how this aspect of his personality will be hadled, and how it will affect Hye-ri. What will happen when the bomb explodes and things get out of control? The sole thought of me shipping Prosecutor Yoon makes me shiver in delight!
And, talking about him, what bothers me is the the lack of development in Prosecutor Yoon's character. I love In-woo as much as most of you do, but that's not only because he is absolutely charming, but also because Se-joon's screentime is always used as a mere plot device, not showing any actual depth, feelings or connection with any of his partners (Hye-ri, Jung-sun or even his daughter); while In-woo is showed like a versatile, cool, supportive and mysterious man (mystery is usually hot). As we reach half of the drama's runtime in episodes 7 and 8, I hope we'll spend some more time with him.
Prosecutor Princess is the first drama in this year that honestly hooks me, after some disappointments (Wish Upon a Star, i'm looking at you). It's not overly angsty or superficial; it's balanced and suspenseful, without neglecting the funny and romance bits. It's not a typical rom-com, with the happy-go-lucky girl and the at-first-sight-bad guy, who have no true depth and they just have some fights and a third wheel and that's all (not that I don't love them!). Despite being a comedy, some dark issues are at hand, and approaching quickly, particularly regarding In-woo; and you know what? I can't wait.
RELATED POSTS
Tags: Han Jung-soo, Kim So-yeon, Park Shi-hoo, Prosecutor Princess