Prosecutor Princess: Episode 7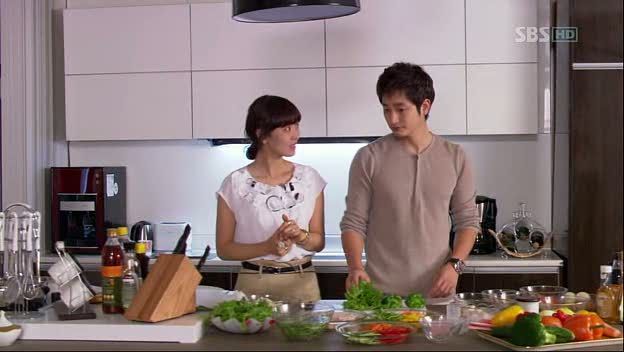 Prepare yourselves for episodes 7 and 8, which are a new beginning in this drama's dynamics, giving not only more clues about In-woo's doings, but also the so needed Prosecutor Yoon's backstory. Remember this time, when everything was smooth, because we're not coming back to this quiet phase of the story. No more talking, it's episode 7's recap, and there are many things to be said about it!
SONG OF THE DAY
Yozoh & JP – 좋아해 (I like you) [Download]
Audio clip: Adobe Flash Player (version 9 or above) is required to play this audio clip. Download the latest version here. You also need to have JavaScript enabled in your browser.
Episode 7
We get started with In-woo's surprised face. What should we do? Believe him or not? My choice is not to, since he's very capable of doing this kind of crazy things, but I have to admit that he seemed genuinely surprised. Why can't he be more straightforward and trustworthy? This is so frustrating!
Hye-ri has her good share of doubts about this sudden encounter of the third kind. So, they meet in a common area to have a chat about, well, the actual fact that they live one next to the other. In-woo keeps on playing his innocent boy part, saying that he has no reason to move right after her, and that he hadn't the chance to tell her that he was moving. What's more, she never told him where she was going to, could it be that… She was following him?
He wouldn't such a crazy thing as following her (Ha!) not even considering that he used to like her. Hye-ri's face is priceless, why doesn't he like her anymore, destroying her feminine pride in the process? The cause of this is simple: he wouldn't fall for a girl who goes shamelessly after some man she met at work. Was this new neighbor situation a mere coincidence? No, no, no. Evil destiny? Even worse! We have to call it in a more… specific, lovely way. In-woo names it fate.
Hye-ri's mum calls her, wondering if she's scared. No, not because of crazy stalker boys who move right after you, but of living alone. She answers that she is clearly not, and her father insists on installing a CCTV system, allowing them to control her day to day life. Now we know why Hye-ri doesn't find In-woo's attitudes strange: she is used to that behavior, her father is a stalker too.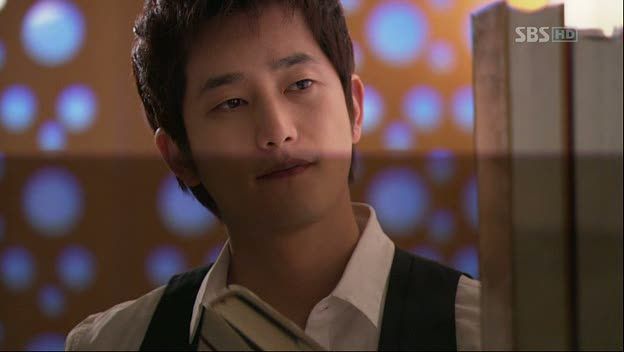 Meanwhile, we get to see that smexy dude is unpacking. Should we still wonder if this was all just fate?
It's the following day, and In-woo is the nice guy next door who wakes you up in order to tell you that your platonic love is leaving, so you might be interested in bothering him with your annoying presence. That's not exactly what he said, but we all know that Hye-ri in between Jung-sun and Prosecutor Yoon's in the latter's car, was super duper upsetting. You know, I usually try to be forgiving with this clutzy girl, but this was too much for me. She didn't even pretend that this was some kind of coincidence! In-woo, teach her how to be a pro!
Obviously, the air is so tense that I assume they could barely breathe. Jung-sun tries to have some conversation (why is she so cute?), and Hye-ri gives her explanation regarding why she is there. After that, she just compliments Jung-sun for her wonderful skin and eyes, telling her that she should take off her glasses. That carpooling situation was like some Inquisition's torture for both Jung-sun and Se-joon, but Hye-ri doesn't see it that way, and is happy as a kid with a new toy.
At her office, it's interrogation's time. A woman has rented a place in a rural region at a low cost, she used it as a collateral to take out a loan, and now failed to pay it back. Even the money for the rent was borrowed, which puts the woman into "Fraudulent Ahjumma" territory. But there's a catch. Bang unni, who we still don't know and is missing in action, promised her that she would take care of everything and made her sign the contract for money.
Hye-ri lets the ahjumma go. Her assistant asks why she is being so bland with this person, and she answers that she can't tell if she's been genuinely wronged or not. What if she makes a character's misreading again? She can't continue rambling about this situation for much longer, her Chief asks her to go to his office and he tells the bubbly princess with Sleeping Beauty's pen that she'll have to attend an autopsy examination. Eeeewww. Jung-sun will go with her, and I can't imagine Prosecutor Jin's happiness! Autopsy Examination + Hye-ri = Highway to hell (we could replace "Autopsy Examination" for almost anything, and the result would be the same).
The victim is a 26 years old female, soon to be wed and with a history of hypotension called Min Jung Hee. At first, the only thing that Hye-ri wants to do inside the examination room is to get out of there, but after Jung-sun's scolding, she accepts to touch the ribs zone. As a result, our lady prosecutors find out that they're completely shattered.
It's lunch time, and the girls can chat about yummy topics: dead bodies and Prosecutor Yoon. Jung-sun starts the conversation being really nice, teaching Hye-ri the fundamentals on talking with the dead, professionally speaking. Prosecutor Ma can't help it, and has to alter the course of the conversation by accusing Prosecutor Jin of understanding better the dead than the living.
Jung-sun: What do you mean?

Hye-ri: You know I like Prosecutor Yoon sunbae. How can you carpool with him everyday, especially going from home to work?

Jung-sun: What?

Hye-ri: Why else would I have moved?

Jung-sun: You moved because of Prosecutor Yoon sunbae, right?

Hye-ri: Working overtime had some influence… So, sunbae please help me. At least, when going home from work.

Jung-sun: You're more dim-witted than I am! I like Prosecutor Yoon too!
KA-BOOM.
We knew it already, but Hye-ri obviously not, so it was a pretty powerful H-bomb. Instead of bitch-fighting, Jung-sun admits that it's a one sided love and now they share each other's secrets of love towards Prosecutor Yoon.
BUT.
Hye-ri can't give him up just because Prosecutor Jin saw him first. She despises that hateful race of girls called "the boyfriend thieves" but, however, it's too late, and now her feelings are really strong. What follows is so ridiculously ridiculous! Hye-ri says that she won't intrude Jung-sun carpooling privileges and tells her "Fighting!". Ha-ha-ha. Right, Hye-ri is awesome.
Jung-sun, as she takes a cab in a state of confusion generated by Hye-ri's motto, tells Hye-ri about a prosecutor's legend: if you go home before noon on your first autopsy exam, a ghost will follow you. Not only that, if you show your house to this ghost, it'll live with you forever. Prosecutor Jin, you are so mischievous taking advantage of your rival's gullibility! Love it.
Hye-ri gives a lot of credit to Jung-sun words, and tries to go to her parents' home for the night, but her mother hangs up – it will become an habit, learn to live alone! Which are her options now? Her first option is Prosecutor Yoon, but she remembers about her motivational talk with Prosecutor Jin, so she doesn't call him.
At Mysterious Lady's house (Ha Jung-nan), In-woo is hearing from the outside, that a big fight is taking place. We get to see what's happening on the inside, and apparently, a man is trying to get her back and she's furiously refusing, even giving him some cash to leave her alone once and for all. Right as he's taking it all and going away, In-woo enters and comforts her, saying that she's better off without him.
Hye-ri's second option at trying to confuse the ghost is to go to Yoo-na's work, inviting her to go to a spa for the night. Generic friend can't do it, she has a 100th day anniversary with her boyfriend and is really sorry she can't get on her Ghostbuster's mobile. Hye-ri comes up with a fantastic (?) plan to waste some time before arriving home, so she can get rid of that prosecutor's legend; and she'll need Yoo-na's sneakers to do it.
In-woo is driving and looking at a spherical clock that seems like a gas bomb, when… Surprise! Hye-ri is footing in the middle of the night with a miniskirt and sneakers. He is about to stop and have a talk or something, but he thinks better of it, he is wearing his trench-coat and glasses, it would be suspicious (also, that's not cool at all; he has an image to take care of). He goes away, and returns a little bit later, appearing from nowhere, pretending to be exercising, too (thus giving us a laughing out loud moment in which he moves really funnily).
It's midnight, and Hye-ri is happy with the legend's time out, until In-woo tells her that being a ghost is an all night business. He even says that it followed her! Why can't you forget about your revenge, In-woo? You're just amazing when you let yourself be.
Ok, fangirling over In-woo aside, Hye-ri can't sleep, even with the lights on, so she calls In-woo, making up an excuse for him to come to her house (she needs water). But he doesn't! Instead, he uses a fishing rod with a cute empty flowerpot as a stuff transportation device. The things he comes up with!
So, the first attempt fails, and Hye-ri now feels scared and disappointed. Second attempt involves antacid, but her enemy the fishing rod appears on stage again. Annoyed and despaired, Hye-ri takes a third and final resolution; she goes and shouts at her Romeo's balcony. Unexpectedly, he asks if she's hammered nails in her house. That's it! In a few minutes he is there, with her and the ghost, but without the nails… Is In-woo planning something? Oh, dear, In-woo? Never!
As a result of all of these legends, fishing rods, nonexistent nails and ghosts, In-woo and Hye-ri spend their second night together. While Hye-ri is asleep, he is thinking, probably about his scheme and how it will affect her in the future, when everything is discovered.
Next morning is introduced to Hye-ri by one of the most amazing gadgets in the world. That gas bomb thingy was an alarm clock, in which you can record a personalized message to wake you up (I guess that In-woo made up the hammer situation in order to be able to leave that intrusive clock in there).
In-woo (recorded): Wake up, Ma Hye-ri! Ma Hye-ri, you need to carpool! Ma Hye-ri! You need to meet Prosecutor Yoon! What are you looking at it for? Go wash up!
Imagine you had a time machine. Imagine that you travelled thousands of years in the past. Imagine that you take a computer with you, and that you put it in front of a caveman's face. Now, that's the same face Hye-ri has when she looks at the clock, completely puzzled.
Lawyer Seo visits an apartment building that after only six years of being sold, is full of cracks and tells Jenny that it's within the statute of limitation, so there's no problem with their plans. They have no time to waste, but Hye-ri still is an issue – will she be able to do it? (Whaaaaaatttt?). In-woo will make sure she will.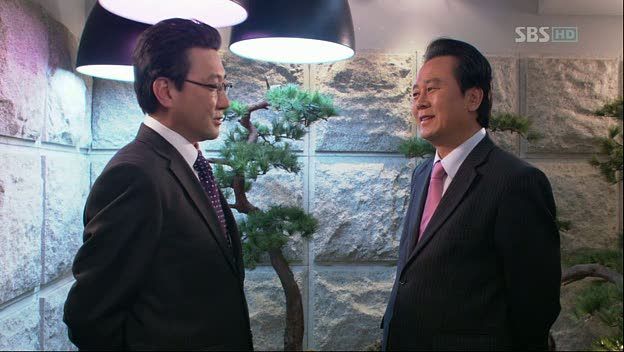 Mr. Ma meets a person who tells him, with a strange smile, that making her daughter become a prosecutor, is a decision befitting him. It seems that this man was once close to Mr. Ma, since he helped him, but hasn't contacted him in a long time. They give each other some indirect accusations, until Mr. Ma says that thanks to this man's help, he could provide of the money for the campaign. So, what we can get from this brief encounter, is that Mr. Ma probably had some dirty help from this guy, who, in return, got the money to become an important figure in the political scene.
While looking at a new case which involves a celebrity versus netizens, Hye-ri gets a call from her dad, who is visiting her house with her mum, so she has to get out from work. Her mum brings her healthy, non caloric food, and her dad asks if she's scared or having tough times. He also forbids the presence of men into the house, leading to a nervous smirk from naughty Hye-ri "A man? Hahaha, I would never let them in!". They go out to the balcony, where Hye-ri pretends not to know her neighbor ("Oh, yeah, dad, Lawyer Seo is living there, the person who is constantly stalking me and who came to sleep last night. Lovely, isn't him?"). What they are not aware of, is that her neighbor is the very person who will make them face their doom, and he's currently watching and listening.
In-woo is in a dark mood, as if Mr. Ma's presence would have triggered really bad thoughts and memories. He goes inside and looks at a pair of soccer shoes with a rather depressing air. Who was the original owner of them? Which is the story behind them? This show keeps on giving us lots of unanswered questions.
Back at the prosecutor's office, Prosecutor Yoon, knowing the copycat's current location, is pulling a big operative to catch him once and for all (he has his two girls waiting for him: Hye-ri at the office and Jung-sun at her house, while looking after his daughter). The cavalry arrives and a messy fight ensues, including all of the workers, assistants and investigators.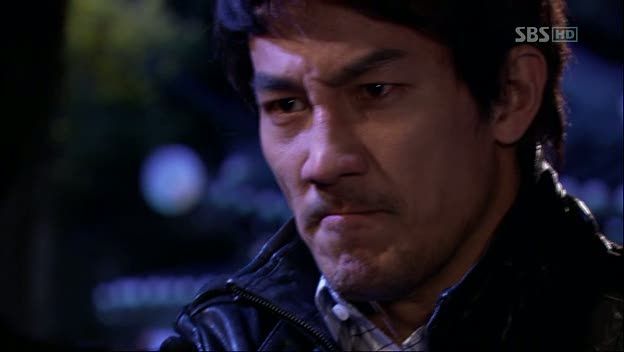 Prosecutor Yoon, though, won't be bothered by the pawns, his mind is fixed in the king of the counterfeiters, he wants a straight check mate. If we call In-woo a stalkerish cutie, Se-joon is our Hulk: when he's angry and concentrated on an objective, he is a crazy beast. In conclusion, Prosecutor Yoon follows Don-suk and gives us a taste of his fighting skills, which save the day and assure this man's arrest.
At the office, Hye-ri has fallen asleep and spent all night waiting for her knight to return. When he finally does, is received by an improvised parade, his satisfied boss and… Hye-ri (duh), who congratulates him as if she was a 5 year old and offers a ride home. His face says "What an annoying girl" and afterwards, he accepts, but he will drive.
At last, Se-joon breaks his strong front and takes it all outside.
Se-joon: Three years ago, my wife passed away from cancer. Because I liked being a prosecutor so much, because it was so much fun, rotating within the Special Investigation Unit, I lived with excitement. I went to every arrest scene. During that time, my wife's stomach cancer progressed to the last stages. She went through cancer on her own; she went through the last stages on her own. I didn't know anything; I didn't see my wife's passing. Because I was out in the field, trying to catch Kim Dong-suk. I was a crazy man, I thought that if I wasn't there, my wife wouldn't leave. But… She left. And I… couldn't say goodbye.
He is honestly opening his heart and talking with his soul, bringing tears to their eyes. Thanks to this explanation, we can see why he was so fixated in this guy, he's taking care of his unfinished business and putting an end to his grief and guilt. His conclusion is that she can't do well with him and he finds her uncomfortable because in his mind, he's still with his wife. Three years have gone by, but he never saw her leaving, and while thinking about Dong-suk, he could pretend that she was still with him, waiting, with the time frozen. Now, he'll have to face reality, she won't be there, and it must be heart-rending.
Hye-ri feels genuinely touched by his eternal love confession towards his wife, and arrives home crying, where In-woo approaches her, asking why she is in that miserable state. She tells him that Prosecutor Yoon was so cool, not forgetting his wife after three years. In-woo doesn't find this amusing at all, but Hye-ri explains that a man who doesn't forget his wife for three years, is really cool. This response is pretty ironic, since the man who is standing in front of her, has thought about her since he was a kid.
Later in the morning, In-woo can't see Hye-ri sunbathing while thinking about Se-joon or whatever she's might be thinking about, without actually knowing for sure what's on her thoughts. He would love to have a mind reader machine but he doesn't, so he needs her to talk to him like crazy. Therefore, he grabs his fishing rod and passes some unasked for refreshments to her, catching her attention. He succeeds at making her talk, and after a brief discussion, she affirms to be in a bad mood to drink alone. Magic words! Abracadabra and you have In-woo drinking by your side!
In-woo asks what she would do with Se-joon, in case he likes her too. She has changed her previous resolution, the one that stated that she wouldn't love a widower with a child; now, she's embracing her ambiguous feelings, with no particular reason. If she's serious about her intentions and is willing to take responsibility for the package that includes both Se-joon and his scars from the past; he'll help her to catch his heart.
That night is a particularly difficult one for Hye-ri: she must decide whether she'll fight for Se-joon or if she'll give up.
The next day, Hye-ri finds it awkward to look at Se-joon's eyes, partly because of his confession, and partly because she's trying to find out the real answer in her heart regarding In-woo's proposal.
(Just a random cute parenthesis)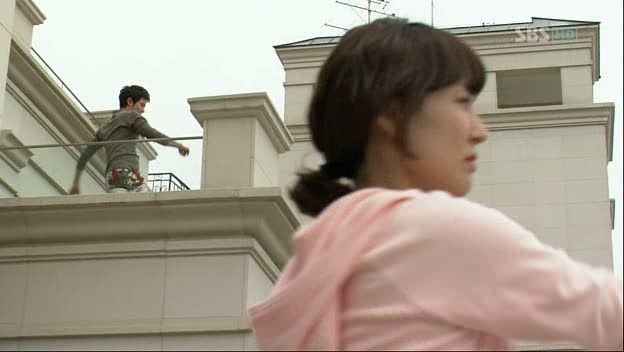 (Okay, In-woo, you know I love you, but that mirror gym class is frightening as hell)
When the time for the celebrity's online defamation case arrives, Hye-ri must interrogate the defendants from it: a minor who was wasting her time on the web, a woman who was having fun reposting news and an ahjumma who found a resemblance between the actress and her husband's lover. She recites the diverse accusations they've made, and tells them that those kind of rumors can provoke a suicide – are they aware of that? After making them think about their actions, she asks them to write letters about their thoughts and reflections (and the mum of the minor must promise that she'll guide her daughter). Prosecutor Ma will read all of these to arrive to her final conclusion. Before dismissing them, she tells the ahjumma that she needs to let go of the past, for the future to come. She's quoting Se-joon's words, and at the same time, finally deciding which path she'll take.
Since Hye-ri is completely dependent on In-woo, she accepts his help, calling him from her balcony and showing the Superman coupon. So, she delivers personally an envelope with her coupon and afterwards goes to In-woo's house to receive cooking lessons from her almighty neighbor, but they're not free.
Hye-ri: I think I'm very thankful.

In-woo: Not "think", but "I'm very thankful".

Hye-ri: I'm very thankful.

In-woo: How are you going to pay back this gratitude?

Hye-ri: How can I pay you back?

In-woo: Write me one, too.

Hye-ri: What?

In-woo: A Wonder Woman coupon.

Hye-ri: Wonder Woman coupon?

In-woo: Since Prosecutor Ma is a woman, let's use Wonder Woman. When Seo In-woo needs her… You have to come no matter what.
Uh-oh. I would never sign anything when In-woo is involved.
Hye-ri is either a smart girl or has read the script for upcoming episodes, because she adds two restrictions to her contract: no requests that take advantage of the prosecutorial position and no requests after 2 AM. In-woo finds no problem with these clauses and is satisfied with his piece of paper signed with a lipstick fingerprint.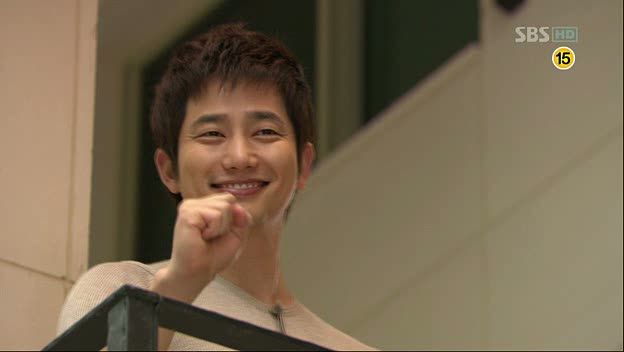 As Hye-ri's leaving for her date with Prosecutor Yoon, In-woo cheers her up, but she mutters to herself that he's a pitiful person… Ungrateful woman!
At Se-joon's house, his daughter is checking the mailing while he's cooking, and runs into Hye-ri's letter, the one and only that contains a little nice map showing where they're supposed to meet. But, alas! The girl doesn't tell her father, unleashing with this minimum dishonest gesture, a crucial chain of events that no one can imagine nor control!
Just after Hye-ri leaves, In-woo meets with his accomplice, Jenny. I don't know what her role in all this is, but she is truly intrigued about his relationship with Hye-ri – does he really want her to succeed with Se-joon? He says that he wants to be good to her, letting her have some great times while she can, and if Prosecutor Yoon means happiness to her, so be it. What the hell is happening here? Will he be the responsible for her destruction or something? Because if he had a pair of trumpets and horses, I'd think he is a Horseman of the Apocalypse.
The picnic ends in a complete and utter failure, and Hye-ri's words turn against her, since she's the pitiful person now. Prosecutor Yoon's daughter will confess her sin, but it'll be too late: Hye-ri is feeling stood up and returning home, previously leaving her food basket at his house.
In-woo has anxiously been waiting for her, and when he sees her in her condition, they go out for a talk. She admits that now she knows how it feels to be "achingly waiting", but he gets a bit angry and tells her that waiting for a man for four hours is not enough to say that she knows how it feels (hey, In-woo, not everyone must endure 20+ years like you to have that sensation!). He gets even angrier when she says what she's done with the food, but then… Prosecutor Yoon is arriving, unseen by Hye-ri. Quickly, In-woo makes up a sudden plan.
In-woo: Starting now, I'm going to do something.

Hye-ri: Do what?

In-woo: First, I'm going to hug you.
In-woo: Then… This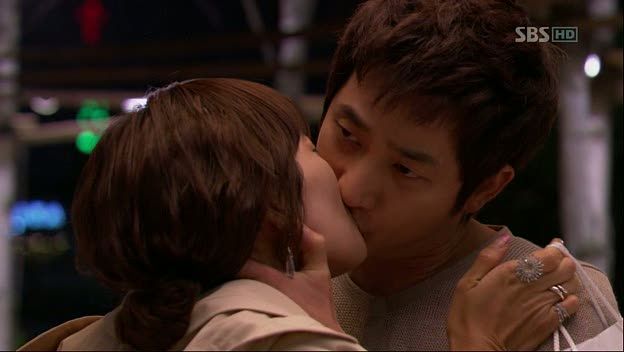 Personal Comments
This episode wasn't particularly strong or spectacular (the last 5 minutes don't count!), it showed us that Se-joon has a soul and that a female second lead can be endearing without being annoying and clingy, but nothing else in the development field (just setting up the ground for Episode 8, which will be the real turning point).
Can I say that I'm getting pretty tired of all the clues and no solid ground? Before you throw grenades at me, I'll accept that we're in episode 7, so it's very soon to be "tired", but hell, there are so many speculations out there! The fact that lots of thingys and people are popping up every episode ain't helping me, either. I can't keep up with my inventory! We've got the woman who thinks that In-woo is a writer, the flower shop owner and his son, mysterious President Kang, the lake shore, Hye-ri's house (including the muffin story), that deadline for their plans, the soccer shoes, the apartment building, the politician who knows about Mr. Ma's shady deals… Am I missing something? I'm hoping all of this stuff wraps up in a proper way. Every chat between In-woo and Jenny, are like hieroglyphics that we must decipher word by word. I want my Rosetta Stone, now!
At this point of the recap, all of my words must have turned into only one repeated ad infinitum: kiss kiss kiss kiss kiss kiss.
Confess! How many times have you seen the kiss?
I'll have to say that many times, and to be fair, it was really mind-blowing in both good and bad ways. The pro is basically that In-woo rocks, and his smile before kissing Hye-ri was a total winner. +10 points for being an awesome kisser and making me hyperventilate and go all spastic in front of my computer, reaching a point in which, if this recap had been written in real time while watching the episode, it would've come out like an intelligible accumulation of letters without any sense. The cons are his wide eyes while looking at Se-joon. I get it, he was totally pwning his opponent and wanted to see his dirty face, but still, his glance killed the mood for me (it doesn't take away his previously well earned points, though 😀 ). This is not the perfect and ridden by love kiss, because, let's be completely honest here, and when I say honest, I mean brutal: he started the process to make Se-joon jealous and by chance, he found himself enjoying it a lot (look at his smirk for further evidence!). Why is he throwing Hye-ri right into Se-joon's arms? Won't this be a decision he'll regret in the future?
Since I can't make up my mind about this ending and can't wait for kaedejun to explain me what the hell will happen next, the poll is out. Was it cool or not?
RELATED POSTS
Tags: Choi Song-hyun, Han Jung-soo, Kim So-yeon, Park Shi-hoo, Prosecutor Princess