Cinderella's Sister: Episode 10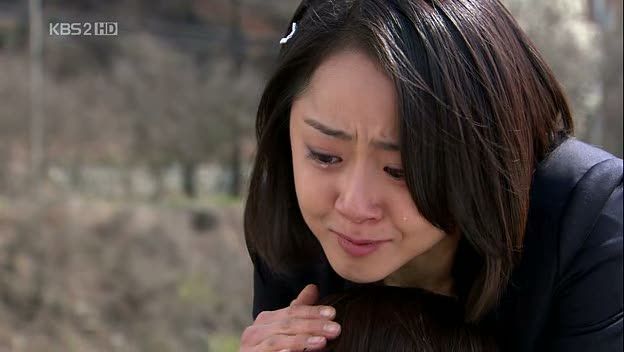 Dang, I know I said Dae-sung should have died, but now that he has, I feel kind of bad about it. It's just that this is the angst I was expecting in Episode 8; it's been delayed one very long week, which explains why I agree with some of javabeans' general lack of enthusiasm for Episode 9. (More on this below.) For the record, I am firmly in the column of "Thinks Eun-jo LIED About the Goddamn Letter Because Her Heart is a Stone Wrapped in Thorns Encased in Ice" and NOT in the "Because She Lurves Her Sister" column. Because c'mon. Who're we kidding here?
I have no illusions about Eun-jo being a nice girl, or good-hearted deep down. That oversimplifies her. So I'm not in her camp because I have some hope of her becoming some redeemed saint. I think she's dark, damaged, and now…verging on becoming the antagonist…which is why I dig her. Call me sick or twisted, but I am so with this girl, and I'm riveted by her attempts to resemble a human being with a heart. That said, I've got more than a bone or two to pick with where we're going storywise, especially in the department of how fast we're getting there. Because pace? Is not thine friend, Show.

EPISODE 10 RECAP
Eun-jo is busy fielding work calls, even in her mourning clothes. She's got the thousand-yard stare going on, grasping at anything work-related to keep her busy, and her mind off of reality. Jung-woo tries to get her back in touch with the present—they've got a funeral to attend, but she's clearly not mentally with us.
At the funeral, Jun-su and Kang-sook stand vigil, as Jun-su bows to all the mourners. (In Korea the patriarchal system is very rigid for ceremonies like funerals. The eldest son is the chief mourner, who stands by the deceased night and day for three days, while daughters are relegated to the background, which is why neither daughter is standing here.)
Jun-su is confused, as a child of his age should be, while Kang-sook is genuinely upset. That is, until Auntie Shaman/Priest shows up, out-mourning her, and oh my goodness, are we really going this route for the funeral? To the funny place? I did not expect to be laughing…
But here we are. Kang-sook throws herself onto Dae-sung's aunt, not to be outdone at her own husband's funeral. She flails about, half-choking the poor woman, who in return can't get free from Kang-sook fast enough. They wail side by side, still hating each other, and it's funny because the whole funeral's got this dark comedy bent to it, with the wife who's more concerned with keeping up appearances, and the son who just looks at everyone quizzically.
In Hyo-sun's room, things aren't quite so light. She drinks straight out of a large makgulli jar, trying desperately to get drunk. Ki-hoon watches her from a distance, then finally intervenes to try and stop her from drinking anymore. She spits out: "You won't let me lean on you! Why are you taking away my liquor?!" Damn straight!
Hyo-sun tells him to get out and take Eun-jo with him, blaming her for pushing the deal and causing Dae-sung's heart attack. Ki-hoon's heart breaks as he thinks to himself in voiceover: "It wasn't Eun-jo. It was me. I did that." But he can't bring himself to say it, of course. Hyo-sun lashes her hurt towards Eun-jo, as Ki-hoon embraces her, saying, "Let's send ajusshi off well." She cries out: "I can't do that. How? To where? How can you send him off, oppa?" Oouff. I feel like someone punched me in the gut.
Eun-jo and Jung-woo make their way to the funeral, but she can't bring herself to face it. She turns back around, making excuses about work…but Jung-woo grabs her by the arm, saying, "Noona, get it together!" Love this kid. And here their dynamic has a pronounced shift, if even for a tiny moment. Eun-jo is the vulnerable child, not knowing how to deal, and Jung-woo tells her what she needs to do, every step of the way.
He appeals to her family pride, saying that Gu Dae-sung's funeral is a mess, which works to give her something to focus on (she's a taskmaster at heart) and keep her tethered to reality. It also forces her to say the words: "Gu Dae-sung" and "funeral," letting the truth sink in.
He asks one last time if she's got it together, and then smoothes the hair out of her face. It's a touching gesture because he's calling her noona, but acting like the oppa here, and he's looking for nothing in return but the chance to be there for her. She looks up at him, but says nothing. She braces herself, and walks inside.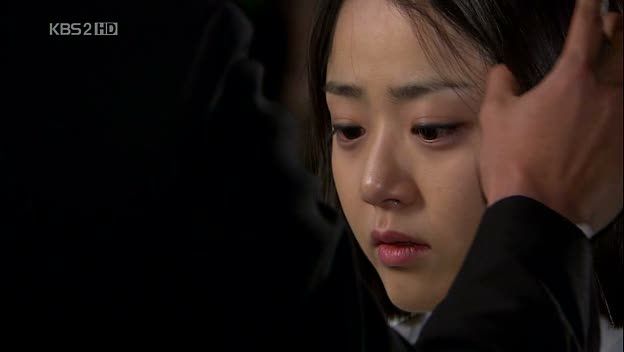 Presumably days after the funeral, Ki-hoon goes to see big brother, and in turn doles out some of the blame onto him. Not all of it, mind you—he still feels very much the one responsible for Dae-sung's death, but he's come to tell Ki-jung that his plan was just to stop Ki-jung from acquiring Dae-sung Co., not take it for himself. He knows no one will believe him now, but his plan was to give it back once he had gotten it. Uh…then what's all that with your father? And does that mean you're not in hostile takeover mode anymore? Because I don't think that's the case…
Ki-hoon then switches gears to blame Ki-jung for his own mother's death. Wait. Daddy Hong told you that Ki-jung, who at the time was also just a child, made your mother run (when she wasn't supposed to), causing her to die? Who would blame a child for that? Not that Ki-jung isn't a baddie now, but how can you hold him responsible when he was just a child? Daddy Hong might be the devil.
But now Ki-hoon knows what that feels like—because in trying to keep Ki-jung from getting what he wanted, he caused the death of a man. He says that he won't forgive Ki-jung or himself: "Now I really can't ever go back to who I was before." Oh dear. I know I'm not the only one who was hoping you'd drop the corporate espionage and black suits and go back to the flannel-shirt-wearing oppa who used to jabber on about your favorite artists. Is he dead now?
Ki-hoon challenges his brother that Dae-sung Co. won't die like this—it'll survive, and he'll ensure that Ki-jung never gets his hands on it. It's basically like, thank you for the wake-up call; now you've awoken a monster. Ki-jung asks what he'll do if he doesn't lay off. Ki-hoon: "I'll take you down with me…and we'll die together."
At home, Kang-sook is in the throes of schizophrenic grief. One second she's rifling through her bank statements and marriage papers, in fear that it'll all disappear, and then the next second she's in tears thinking of Dae-sung and feeling all alone.
Eun-jo meets with the town elders who had lent money, and tells them that half the shipment to Japan was sold to another buyer, while the rest got shipped back, and half of that turned into rice wine vinegar, while the rest…she drank. Haha! No one laughs at her joke, not knowing that she's ever said a humorous thing in her life (this may be the first).
They get upset when she tells them they won't be paid back right away. She tries to assure them it won't be too much longer, but they worry what Dae-sung Co. will be without Dae-sung, especially since the whole brand's distinction is its particular taste, which is something only Dae-sung could produce. Eun-jo tells them that they've graduated from lenders to shareholders—now they'll own a part of the company and reap profits when the company turns back around.
Jun-su has been running from room to room, looking for someone to play with him, and wakes up Hyo-sun. She's not in the mood to play with him either, until he says: "Big noona doesn't play with Jun-su. Little noona plays with Jun-su a little. Mommy doesn't play with Jun-su a little. Daddy plays with Jun-su a lot. When's Daddy coming home? Why isn't Daddy coming home?" Aaaack! I think that kid just sporked my heart out. Is there anything sadder? Hyo-sun hugs him close, and agrees to play with him.
On their way out, they run into Eun-jo, and the three of them go down to the river together. Hyo-sun sits down next to Eun-jo and says: "I was under the impression that you honestly liked my dad. But you didn't cry. Everyone from the cooks to the day laborers…there wasn't one of them who didn't cry." She asks again whether she ever had true feelings towards her father. Eun-jo of course doesn't answer, aggravating Hyo-sun even more.
Hyo-sun basically blames her for Dad's death, while Eun-jo goes on the defensive, asking what she's supposed to do about it. Hyo-sun cries out: "Bring my Dad back!" She slumps down in tears, and Eun-jo's cold façade starts to crack, as she tears up.
And then Hyo-sun reaches out to her halfway. She gets down in front of Eun-jo, leaning her head on Eun-jo's knees, saying: "I'm scared, unni ya. I'm scared to death. I feel like I'm standing outside with no clothes on. I'm cold, and I'm scared." Eun-jo reaches out her hand…oh, she's not going to do it. There's no way. No way. Oh my god, she does it!
She pets Hyo-sun on the head, sweetly telling her that it's going to be okay. She calls her by name, "Hyo-sun ah," which we know is something she almost never does. She holds her, gently comforting her, and letting her own tears fall as she tells her not to cry. It's heartbreaking, earth-shattering, and such a tiny ripple too.
I can't believe it. A breakthrough of monumental proportions…
…and then? They take it all away. NO! I KNEW IT! Gah, why so cruel, Show? Must thou see me dead and bloodied to be satisfied?
It's all in Eun-jo's mind, as her hand stops above Hyo-sun's head, hovering there in the vast space between two sisters, at once an ocean and an inch.
She gathers herself, then pushes Hyo-sun off of her, screaming at her to stop her crying. And here's where I'll be in the minority: my heart breaks for Eun-jo in this moment, because it's such a tragic juxtaposition between what she could be, and what she is. I sort of hate you, Show, for making me experience it, but I love it nonetheless. Like I've said before, I'm kind of a tv masochist.
Eun-jo rips into Hyo-sun for crying all day, every day, when there's so much that needs to be done to try and save the company. Hyo-sun, still on the ground, asks quietly, "Can't you comfort me, just once? I'm so scared and lonely. Couldn't you show me a little affection? I think I'd be less frightened." Oh, you poor lonely girl. I wish that for you so much.
She looks up at Eun-jo, desperate for a tiny morsel of love and affection. But Eun-jo already has her needles raised, in full-porcupine mode. She shouts: "I'm sick and tired of your childish whining! Stop it!" And she turns and walks away.
Little Jun-su, who sees this interaction, runs up behind Eun-jo and throws a rock at her, shouting, "Evil hag-witch! I'm gonna tell Daddy on you!" Eun-jo pauses at the mention of Dad, but keeps on walking.
Eun-jo goes to check on the workers at the winery and finds them all sitting around. She asks them why they're not working, to which they pretty much say: what's the point? Eun-jo lays into them, saying that they've always been paid, even in the hardest of times, and that they need to keep working. She overreacts, as she usually does, shouting at them to quit if they're going to be like this. But in the middle of her rant, Dae-sung's hand comes to rest on her shoulder, calming her down. In that one gesture, she remembers all the times he comforted her all these years, and what his hand on her shoulder meant to such a girl who never had a home or a father.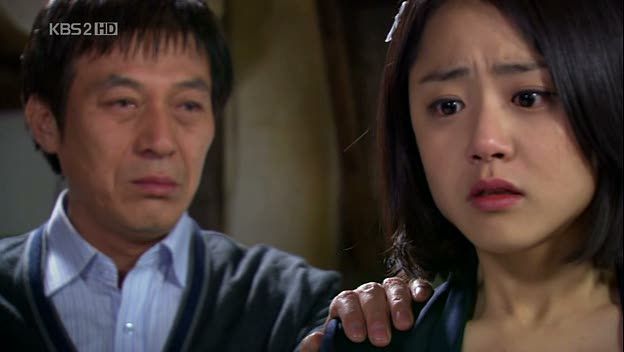 Out of her reverie, Eun-jo turns around, and sees that it's Ki-hoon's hand. Oh, I sincerely hope this is symbolic of the place he will start to take in Eun-jo's heart because I'm over the petty letter-lying and such.
In her office, Ki-hoon tells her calmly that she needs to take a different approach with the workers. (And with people in general, ha.) He also offers another company's story as a model for their company's problems, and assigns Eun-jo to do a write-up about it as a contributing article, for a magazine, I'm assuming. Oh, he's assigning her homework! Are we going back to the tutoring days?
The winery workers interrupt them, saying they quit, mainly because their egos are wounded by Eun-jo's lack of respect and all that. Yeah, I know she's not a people-person and I'd be pissed if my boss yelled at me like that, but be a grown-ass man and consider she's a young woman who just lost her father. Were your tiny feelings hurt, wittle guy?
Hyo-sun and Jun-su come home, and Mom has a freak out at Hyo-sun for not telling her where they went, and keeping Jun-su out when he has a cold. Hyo-sun doesn't understand why she's suddenly being treated so coldly, while we all know—Kang-sook has finally dropped the nicey-nice mom act. And this? Can I tell you…is the ONLY major plot point in the entire episode. Mythology-wise, this is a biggie, as Kang-sook becomes the evil stepmother and Hyo-sun becomes Cinderella, as it were. But it's kind of the only thing that happens, which you'll hear me gripe about below.
Kang-sook has her own gripe session with the gods (or as we might find out later, her other personalities) about ending up a widow with but a hundred thousand dollars to her name. Well eight years ago that would've meant a whole lot more, before you became the wife of someone with status. Hyo-sun interrupts her to apologize, desperately trying to get back in Mom's good graces. Her only mode of relating to people is: to be loved, or not to be loved, and this is vexing her sorely.
Mom shakes her off violently, saying she hates her sticky pawing. It dawns on Hyo-sun that Mom might not be mad at her…that this is just how she really feels. She's been so blinded by her desire for a mother and Kang-sook's well-honed act, that this is actually a revelation for her. She realizes that she's all alone in the world. Now that Dad's gone no one's in her corner, and her home just became foreign soil.
She lingers in Eun-jo's doorway for a moment, wishing that her sister would reach out to her, just once. But she's been hurt too many times to try going down that road again, especially in one day. She looks next for Ki-hoon, who is busy trying to win back the workers with a little drink.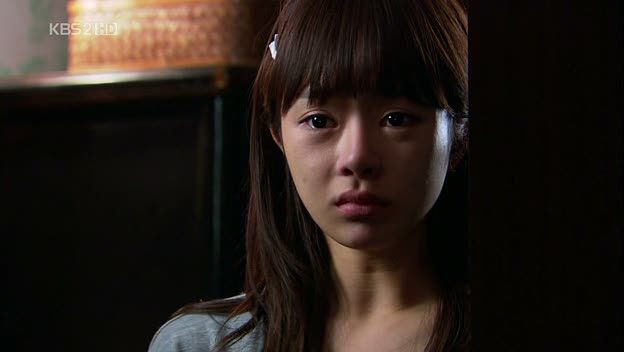 The next morning solidifies what she's been feeling: Mom dotes on Jun-su and gives pieces of fish to him and Eun-jo, Eun-jo buries her head in work, and Hyo-sun gets squarely ignored.
Ki-hoon looks over Eun-jo's article, criticizing it openly. But that's good, because it gives them something else to be mad about than just being mad at each other over their broken hearts…FOREVER. Ki-hoon tells her to rewrite it and to apologize to the winery workers, which she of course refuses to do. She says they can just quit then, while Ki-hoon challenges her to try and find anyone else who's devoted twenty years to Dae-sung Co. and has as much experience.
Ki-hoon goes to the winery to find Daddy Hong in the cellar, looking over the battlefield thinking he's won the spoils. Ki-hoon is quick to tell him it's not his place to be here. Au contraire, son. Daddy Hong fronted Daesung Co. all the money it needed to get back on its feet, so now it belongs to him. He'd like his money back, or he'll be taking over, thank you very much. Ki-hoon is taken aback by his father's brazenness (what, are we surprised?) and realizes that now Daddy Hong is as much the enemy.
Ki-hoon tries to reason with him and ask for more time, but Daddy Hong feels like Ki-hoon's turned his back on him, so he'll collect the money and cut his losses, or just take over Dae-sung Co. in his stead. Ki-hoon fills the girls in on the issue (without mentioning that it's his own father, of course), and tells them he'll figure out a way around it. Eun-jo digs a knife in: "Why would you care? What are you, to us?" She's basically challenging what his loyalty is to the family, now that Dae-sung is gone. It's a question I'd like to know the answer to, but only because I know of his backdoor family dealings, and Dae-sung Co.'s place as the pawn in all of it. But Eun-jo is pretty much out of line here, and Hyo-sun tells her as much.
Eun-jo goes straight to Mom, demanding all of the money that she's squirreled away all these years. Mom denies having any, which Eun-jo knows is a damn lie. There's no way in Hades she hasn't got a small fortune to her name, what with all that Dae-sung had, and she shouts at her to hand it over. Mom tells her she's crazy: even if she had any money, she's got to think of how to feed herself, Eun-jo, and Jun-su in the future, not hand it over to a failing company. "It's the money I traded for my dirty fate in life. What right do you have to tell me to hand it over? I won't give it. I can't!" She shakes Eun-jo off and storms out…
…Running right into Hyo-sun, who's been listening the whole time. Kang-sook betrays a moment of shock, but then realizes that she's got nothing to be afraid of anymore. It's a nice little beat that plays across her face in an instant.
Hyo-sun looks hurt and utterly betrayed. This is a truth we, even Dae-sung, have all known about Kang-sook, but she has not been privy to. She comes in to ask Eun-jo, even still with a little hope wavering in her voice: "Is that how it was? Mom…is that how she was? It's a lie, right? I heard it wrong, right?" So sad that she just wants someone to lie to her and keep her worldview from shattering.
Kang-sook kicks it into high gear and begins her tirade as evil stepmother. She fires the kitchen staff, the two nice ajummas who have been working for the family their entire lives. They quiver in fear and plead, but she kicks them out of the house without an ounce of sympathy.
Hyo-sun chases after them in tears, and Eun-jo sees what her mother has done. Hyo-sun kneels before Mom and pleads with her that the ajummas aren't just workers; they're family to her. Kang-sook just looks down at her coldly, saying: "Then follow them. You say she's like your mom; then go follow your mom." Damn. Ice, ice, baby.
Hyo-sun asks why Mom is being like this all of a sudden. Mom's like, time to grow up, princess. She yells at her to get out, and Hyo-sun cries her heart out down the halls of the empty house.
Eun-jo comes into her room to give her the only kind of comfort she knows how: she's moved the ajummas over to the winery, since she needs workers there. Aw. Are you really just a marshmallow? I sense something soft and fluffy under the glaciers! Eun-jo even makes a small fist with her hand, mimicking her movement to try and comfort Hyo-sun earlier, but again she just pulls back and walks away.
Hyo-sun asks her unni why Mom is like this, all of a sudden. Eun-jo disabuses her of any delusions she might have about her mother.
Eun-jo: You are not the princess of this house anymore. If you make a wrong move, you might get kicked out on your bare feet. My mom? Can do that and then some. You think she won't? My mother? Get it together, Gu Hyo-sun. I'm begging you. Get it together and be smart, for god sakes. Stop crying like an idiot. Find a way to live by your wits in this house where no one will take your side! You got it?
I know it's no hugs or teddy bears, but it's a heartfelt plea from Eun-jo, who wants to see her sister be a stronger person and fend for herself. Obviously, it's like the blind leading the blind as far as her own emotional growth is concerned, but hey, she's not wrong about her mom here. She yells at Hyo-sun to get up.
Kang-sook continues her reign of terror, kicking out Hyo-sun's uncle next. Who didn't see THAT coming? She tells him he's got balls, living off of her when he's the one who killed Dae-sung, and when he goes, "What?" She answers with her own hilarious version of: what's what in the what now? Ha.
Jung-woo is eager to give Eun-jo a shiny bauble that he bought for her, but she's too busy with Hyo-sun to notice him. Ki-hoon calls his father because he's come up with a solution: he'll just sell his stock in Hong Ju to repay the loan; how 'bout that? Well played, Ki-hoon. Daddy Hong freaks out, and Ki-hoon knows he's won this round.
But now there's another kink, as Jung-woo has heard the conversation. He asks if Ki-hoon is affiliated with Hong Ju, which Ki-hoon denies vehemently. But Jung-woo's antennae are up and he knows there's something not right here.
Eun-jo leads Hyo-sun to the makgulli cellar, asking her to taste from a jar. Hyo-sun does, not knowing what this is all about. Eun-jo asks her whose liquor that is, and Hyo-sun replies that it's Dad's, of course. And Eun-jo, stunned, asks if she's sure. Turns out she's made it, and she was able to faithfully recreate the taste.
Both sisters are stunned. Eun-jo turns to the jar, repeating over and over: "I…I did it. I didn't think I could…I thought I wouldn't be able to…" She shakes, tears brimming in her eyes. Okay, I suppose this is the one other thing that happens in this episode. But did anyone doubt this would come to pass?
Eun-jo, rather than sharing a nice moment with her sister, uses it to challenge her in her usual bristly manner. She says this is going to be the new hope for Dae-sung Co. What will Hyo-sun do to stake her claim and keep Eun-jo from taking it all? Would it kill you to show her ONE tear? Just one teensy one? I know, it would. Gah.
She lays down the gauntlet: "My mother is no joke, and I'm my mother's daughter. I might even surpass her. I'm a lot smarter than her, you see. Don't get burned. Even if you do, I won't save you. You've been warned." Oh, snap. It's ON, bitch!
Eun-jo hugs the makgulli jar tight and walks out. Jung-woo tries to tell her about Ki-hoon, but she tells him not to follow her. And in a nice lyrical moment, Eun-jo walks through the compound with the jar, going from empty space to empty space, sending Dae-sung off in her own way.
She ends up in his office, placing his picture next to the jar, and putting a bowl of makgulli in front of him. (Offering alcohol to the deceased is a common practice in Korea, but here the meaning is twofold because it's also an offering of the makgulli she's made to save the company.) She tells him that she's gone over it a thousand times, how she could have done things differently for it to not end up this way. Suffice it to say, she blames herself as much as Hyo-sun blames her.
She offers the makgulli to him, saying that she made it. "Hyo-sun said it tastes the same, but I want to be praised by you…" And then, she strains with the first few syllables of "Father," the thing she couldn't bring herself to call him when he was alive: "Ah….Ah…Ah…beo…" Tears fall as she searches for the word, and then it comes out: "Daddy." Ack! Stab. (Appa can be Dad or Daddy, but coming out of Eun-jo's mouth, consider it the difference between calling your dad "sir," and then "daddy.") I knew she would never say "Father" when Dae-sung was alive, and I knew she'd finally say it when it was too late, but I did NOT expect "Daddy" to come out of her blackened heart. She cries, pouring out her regret, asking for forgiveness, calling out: "Daddy, Daddy!" Dae-sung's death didn't move me very much, until this moment. Sniff.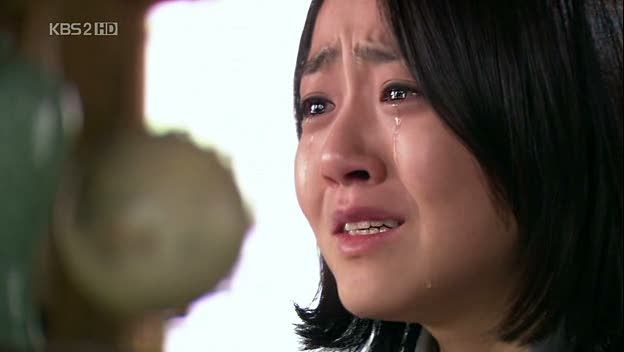 The thing I'm struggling with in this episode and the last two, is that I saw all of the narrative elements coming, so the wind was already knocked out of them. This episode, while containing beautiful moments of reverie and sadness, are not at this show's height of narrative tension, while, let's be frank, at ten episodes in, it should be.
In response to javabeans' comments on Episode 9: In general, as I mentioned above, I agree with her frustration in relation to the story, while disagreeing that it comes from the lack of finding anyone to root for. Does Eun-jo frustrate me? Hell yes, she does. When she lied about the letter I wanted to smack her to high heaven. Do I feel like the characters are stunted adolescents who need to grow up? Uh-huh. Do I hate the weenie that Ki-hoon has become? Yup.
But call it the power of the dark side, or whatever, but I've always been interested in villains. And in their own way, EVERYONE—Eun-jo, Hyo-sun, Ki-hoon, Kang-sook—is on the road to hell, paved with all manner of self-important good intentions. And while that makes for a much grayer scale on the wheel of morality, it also makes for delicious drama.
The problem? There's so much drama to be mined that they're not doing, because we're still mired in the same one-two conflict between the sisters, and the as-yet-to-be-executed hostile takeover. Just do it already. I want things to move faster—twenty episodes is not an excuse to languish in pace. If I had to fill twenty episodes, I'd cram it full of so much story that moved so fast people got whiplash from it.
Because I feel like the current love story is between the two sisters, I don't find too much fault with all of the tension and the snowballing angst between them. But just because Ki-hoon/Eun-jo/Jung-woo are the secondary romance, as it were, doesn't mean that we should just let all the love fizzle out. Why hasn't anyone been caught making out yet? I mean this in a narrative tension way, not that I don't mind some smoochies, as you might know. I just want someone to DO SOMETHING. Something crazy. Involving lips would be better, but whatever.
I get why everyone's guarding their hearts and being all, "I DON'T love you! Really!" But too much of that leads to…people staring at each other meaningfully…which is boring the seventieth time around. If we get one more episode where there is only ONE major plot point the entire hour…I'm going to start writing letters. Because just as javabeans gets angry about characters—I'm a plot-monger. If I feel like the train is at a standstill, I will get my ass off and walk home.
So put me down for both agree and disagree, because I think this show is doing something very interesting tonally (like the funeral, and other moments of oddball hilarity), and something awesome with characterization. The problem for me is that it's moving at the pace of "It's a Small World" when I want to be on "Space Mountain."
As for all of the love/hate of Eun-jo out there…maybe for me, it comes down to this: I've been her, or some shade of her, in my youth. And while people say things like, "Eight years…get over it," this kind of darkness isn't something that gets washed clean with time—you have to learn to dig yourself up out of it. I think we've picked up with Eun-jo as she's learning this, and for better or worse, she kind of stinks at it. But I love that she's on this journey, as flawed and twisted as she is, and I would have been sorely disappointed if we had picked up with her eight years later and she was already a perfectly well-adjusted adult. Where's the fun in that?
RELATED POSTS
Tags: Chun Jung-myung, Cinderella's Sister, Lee Mi-sook, Moon Geun-young, Seo Woo, Taecyeon