It's finale week for Birth of the Rich, Jejoongwon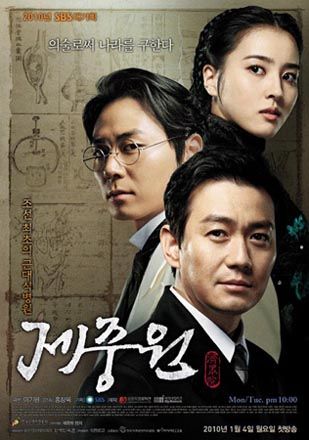 This week saw the finales of two Monday-Tuesday dramas, KBS's comedic Birth of the Rich and SBS's medical-themed period drama Jejoongwon. The former enjoyed enough of a response to extend its series by four episodes, for a total of 20. The latter began in January and wrapped up its four-month-long broadcast with Episode 36.
Both dramas have fallen in viewership behind MBC's Dong Yi in recent weeks, which has broken the 20% mark, but viewers have expressed overall satisfaction with their endings.
Warnings to spoiler-phobes: Details about the endings will be mentioned!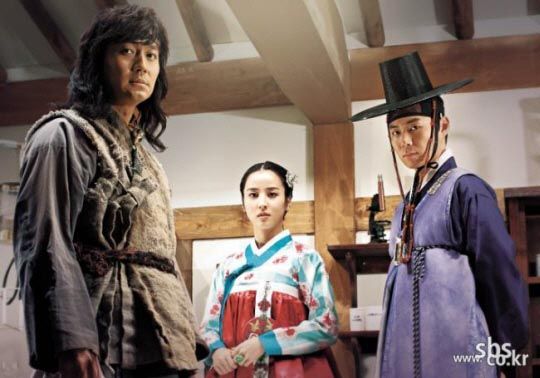 Jejoongwon started out strong with ratings in the mid-teens, and although its numbers gradually slipped over the course of its run into the single digits, it has been praised for its acting and story. (Its second-to-last episode recorded an 8.8%; the finale drew a 10.2%.)
The drama wrapped with a happy ending; Park Yong-woo's Hwang Jung overcame the social barriers of being born into the working class as a butcher and became a doctor, while Han Hye-jin's character Yoo Seok-ran overcame the barrier of being a woman to become the first female doctor of Joseon times, specializing of gynecology.
The two characters also married; the couple had a Western-style ceremony that was held in a small church and officiated by hospital director Allen (Sean Richard). However, they soon were pulled apart due to their work, and tearfully separated — he left to be an army doctor for the troops in Manchuria, and although Seok-ran initially intended to go with him, she realized her place was to say with Jejoongwon. In the end, all was well as they came back together (five years later!), reconfirmed their love, and dreamt of building a new home and school together.
Meanwhile, Yeon Jung-hoon's acting has been met with some mixed reviews, compared to his colleagues' solid performances; his character was named chief doctor of Jejoongwon in place of Hwang Jung.
Following Jejoongwon starting next week on May 10 is the period epic Giant, which is planned for 50 episodes and stars Lee Beom-soo, Park Jin-hee, Hwang Jung-eum and Jung Bo-seok.
Meanwhile, Birth of the Rich also had a happy ending as Seok-bong (Ji Hyun-woo) reunited with his father. Its penultimate episode drew a 14.2%, while the last had a 16.6%.
In the finale, Seok-bong had been taking care of a sick Jun-tae when he discovered a picture of his mother in the drawer, which led him to the discovery that Jun-tae was in fact his father. After confirming this fact, he raced back to his father's bedside, but the doctor had warned him to "prepare himself" for the worst, and Seok-bong sat at his father's bedside to say, "I'm sorry for not recognizing it was you." And thanks to his father, Seok-bong became a second-generation chaebol after all.
A year later, his father has recovered his health and Seok-bong, who now lives with him, has set up his own company. The love relationships ended happily for Seok-bong and Shin-mi (Lee Bo-young), and Woon-seok (Namgoong Min) and Tae-hee (Lee Shi-young).
The drama has had its ups and downs, but Ji Hyun-woo has earned most of the praise for his acting, as well as Lee Shi-young for her portrayal of a Paris Hilton-esque chaebol. Though I wouldn't call this drama a work of art, it seems to have done its job consistently entertaining its viewers, earning mostly ratings in the mid-teens.
Following Birth of the rich will be the spy-comedy My Country Calls, starring Lee Soo-kyung, Kim Sang-kyung, Ryu Jin, and Horan.
Via Newsen, Asia Economy, OSEN
RELATED POSTS
Tags: Han Hye-jin, Jejoongwon, Ji Hyun-woo, Lee Bo-young, Lee Shi-young, Namgoong Min, Park Yong-woo, The Birth of the Rich, Yeon Jung-hoon