Oh My Lady: Episode 14
This was the first episode that made me want to reach immediately for the next episode, and then feel bummed that it wasn't available yet. (Although it will have aired by the time this recap is up.)
Let's be honest, Oh! My Lady isn't really a great drama and it doesn't succeed on several levels like plot and characterization. So when dramatic tension arrives, though late, I'll gladly take it.
SONG OF THE DAY
Mono Diary – "사랑..지난이야기" (Love… a bygone story) [ Download ]
Audio clip: Adobe Flash Player (version 9 or above) is required to play this audio clip. Download the latest version here. You also need to have JavaScript enabled in your browser.

EPISODE 14 RECAP
Yura sees Min-woo with his daughter and reacts in shock, quickly running out of the hotel. Min-woo gives chase her but doesn't get to her in time, and returns home feeling bothered. He texts Kae-hwa not to worry about it, but of course she can't help but feel anxious after the awkward encounter.
Jung-ah has decided that with the divorce in progress, it's time for her to move out. While she has known that her marriage is over for a while, Shi-joon has taken it for granted and assumed they would continue living as they've been. Thus all these changes are coming at him fast, and it's taking more of a toll than he lets on outwardly. Which, of course, is the entire problem — he never lets on what's on the inside, which drives them apart even farther.
Shi-joon asks where she's going and if she's going with her man Ho-seok, and while we can surmise that she's not, Jung-ah answers that this isn't something that concerns him. (I don't see her refusal to answer as spiteful; it's a hurt response born of his constant indifference to her life.)
With the money she has saved from her day job and playing maid to Min-woo, Kae-hwa has enough to start looking into getting her own place. She still has to take out a small loan from Bok-nim for a deposit and is looking at the cheap end of the spectrum, but she's happy to be moving forward and to be able to bring Min-ji back home.
She schedules a meeting with a realtor while at lunch, where Shi-joon also enters while talking on the phone. That means they've overheard each other's conversations, so Shi-joon asks if Min-woo knows she's moving out. She explains that she hasn't told him yet, but will once she finds a place.
Knowing that rental deposits are pretty hefty, Shi-joon offers to help. Kae-hwa turns him down, as she wants to bring Min-ji home on her own abilities.
She admits that she overheard his conversation as well — it was about legal paperwork — and Shi-joon confirms that he received divorce papers. His wife moved out, and he couldn't insist that she tell him where she was going or with whom: "Because I've always been indifferent, I wondered if I had that right." To be honest, he also felt it would have made him too pathetic to ask, although he was curious.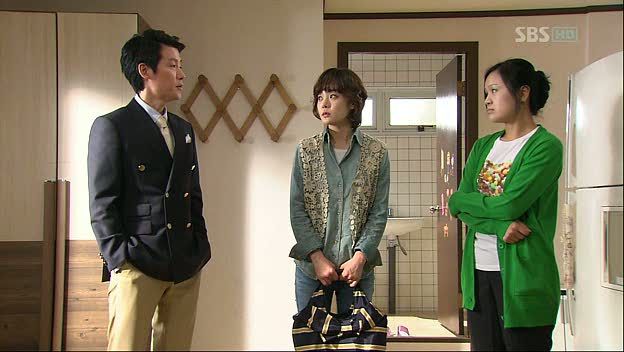 Shi-joon offers Kae-hwa a ride after lunch, and accompanies her to see new apartments. Kae-hwa's eager to see the good points about them, but pragmatic Shi-joon notices the little things that may be important later. After taking a look at several options, Kae-hwa finds a small but clean apartment that suits her, and they sign the contract.
Min-woo is on his way out of the studio after practicing his solo (the big one, which Shi-joon advised him to pay particular attention to) when Kae-hwa calls. He drives to the park where she's waiting, and laughs to see her all wrapped up in a scarf to deflect attention (which he points out just draws attention).
She asks him to pack up the rest of her and Ye-eun's belongings from his place. He suggests that they continue staying at the hotel for a month, but Kae-hwa finds hotel living to be uncomfortable (not to mention costly), and proposes that it's time for her to get her own place. Crafty Kae-hwa knows that offering up the idea first is more likely to get Min-woo to agree — this is really just a formality to get his approval — and Min-woo finds the idea favorable. However, as soon as he offers to find a place for her, she adds, "I already found a place."
Immediately, Min-woo is miffed. I'm not even sure if he knows the full reason for his pissy reaction (and it IS pissy, which is hilarious) other than the obvious one that she acted without telling him. Kae-hwa tries to smooth things over, saying she is eager to bring Min-ji home — is he reacting this way because he sad she's leaving so quickly?
Min-woo tells himself that this is a good thing, and he'll be happy to return to happy bachelorhood. He almost even sounds like he means it.
When Kae-hwa picks up Ye-eun from her day care/school to go shopping for household items, she remains unaware that she is being watched by Yoon-seok. Parked at a distance, he has been observing Ye-eun's daily routine, trying to figure out how to snatch the girl without the pesky ajumma interfering.
After the shopping trip, Kae-hwa goes to her new apartment where she finds Shi-joon arriving with tools and a cake to welcome her to her new home. He has come to help her move in, and installs basic things like blinds and nails things into walls for her. (Which is sweet of him and all, but one can't help but think that if he put just a fraction of that attentiveness into his own marriage, which should really be more important to him, he'd be a lot better off. But you also get the sense that Shi-joon sorta-maybe likes being the martyr. I don't mean he enjoys being cuckolded, but you'd almost think he wants to wallow in being the victim rather than doing anything proactive about the situation.)
Shi-joon is so good with Ye-eun that Kae-hwa is surprised, and tells him so. He confides that he'd once almost been a father, but lost the chance. It's a story of the miscarriage that she has already heard from Jung-ah, and now she hears it from Shi-joon's perspective. He'd felt very sorry to his wife, who lost the baby after overworking herself on his project, which was their first big production. He had felt ashamed for not being able to protect his wife.
Kae-hwa admits that she has heard this story before, but that Jung-ah described it differently. She had blamed herself for the loss and felt — and still feels — sorry to Shi-joon. Judging from his words, he must not have known this.
Byung-hak drops Min-ji off and tells her to be good to her mom. Just when I think he's being a nice guy, he adds that if there are any strange men hanging around, be sure to tell Dad! Min-ji finds this double standard odd, and asks why it's wrong for Mom to meet men. Byung-hak tries to explain that Mom and Dad are in different situations, but Min-ji doesn't see it, and Dad has trouble making sense (because it doesn't make sense, natch). Ha! Smart girl.
Byung-hak tries to prod Kae-hwa for gossip, and scoffs that she must not be dating Min-woo. If she were, he wouldn't let her move to such a tiny place — he'd have gotten her a much nicer one, right? Now that Byung-hak has convinced himself he's right, he's got his air of superiority back and Kae-hwa doesn't even bother arguing with him. Let him think whatever he wants.
As Byung-hak drives away, another car heads toward the apartment building, and the narrow street doesn't permit both cars to pass at the same time. In a generous mood, Byung-hak backs up to let the other car go first, and raises a polite hand to the driver… whom he recognizes to be Min-woo. Surely… he's not here… to see Kae-hwa?!
I love Min-woo's reaction upon arriving at Kae-hwa's new apartment. He has to hide his displeasure at seeing Shi-joon there, and makes a point to call Ye-eun over to himself (as she is currently sitting on Shi-joon's lap, being fed cake).
Shi-joon gets up to leave, and Kae-hwa sees him out, leaving Min-woo inside with the girls. He says hi to Min-ji and asks what she thinks of him in person, expecting some admiration. Min-ji doesn't quite disdain him, but she answers, "You look better in pictures." (The courtesy compliment is supposed to be, "You look even better in real life.")
As Min-woo steps out to retrieve Ye-eun's teddy bears from his car, he sees Kae-hwa saying goodbye to Shi-joon warmly, which makes him grumble that the man's got nothing better to do with his time.
Min-woo's attitude in this scene is a mix of disgruntlement (provoked by Shi-joon's presence) and pity/sorriness for Kae-hwa's stark new apartment. (It's not a shabby place, but it's very plain and humble, especially in contrast to his place.) He tells her again that if she'd told him her plans ahead of time, he would have found her a better place — but he smiles at Kae-hwa's pluck when she tells him that he still has to pay her half her salary because she's still taking care of Ye-eun.
After eating dinner, Min-woo complains at the lack of beverages and tells Kae-hwa to get him some. (He's not really complaining because he wants the drink, but he has learned that complaining is the easiest way — and least damaging to his pride — of initiating conversation with Kae-hwa. Of course, she doesn't see this and just takes him at his word.) So Kae-hwa offers to step out to buy the drinks, but Min-ji shoots a sharp look at Min-woo, who mumbles a retraction. Big Star just got outmaneuvered by a 9-year-old! Even Kae-hwa has to smile at this.
It's getting late so Kae-hwa asks if he's going to go home. Instead, Min-woo offers to help get her settled in. Too bad the excuse doesn't work, since Shi-joon has already helped and left there's nothing left for him to do.
Lacking a good excuse to stay, Min-woo gets up to leave, grumbling at Kae-hwa's perfunctory goodbye and how she was so much more solicitous to Shi-joon. Heh.
Arriving home, Min-woo sits back in his spacious apartment, saying, "It's big… and quiet… and nice." But his expression says otherwise, and he takes a look at the paper origami animals on his shelf, the only sign that Kae-hwa and Ye-eun were ever here.
In contrast, Kae-hwa settles in to sleep with a smile, nestled between the two girls.
In the morning, Min-woo comes out of his room yawning and asking for coffee per his usual routine before remembering that he lives alone now. Bored, he calls Kae-hwa, but she's busy getting her day going and hangs up quickly. He gripes that it sounds like they're all having fun without him.
A bit later, Min-woo calls again to ask where his new white shirt is, all the while holding it in his hand. She answers in a polite tone — she's taking the call at work and pretending he's a business contact — and brushes him off yet again.
Byung-hak, insecure about Kae-hwa dating Min-woo after all, strolls in to the office intent on more posturing. Again he uses the investment as a bargaining chip while admonishing Shi-joon for being so lax about his star dating his employee and blah blah blah.
However, Shi-joon has been busy shoring up new contacts, so he tells Byung-hak to go ahead. Perhaps the concerned investor had better put his money to projects with less problematic employees? Byung-hak hadn't expected for anyone to call his bluff, but now he's forced to agree.
Shi-joon comes up to Kae-hwa while she's sighing in satisfaction — she admits that childish as it was, she'd wished for this kind of revenge.
What's nice about this relationship is that although they could have pushed the romantic angle, they've chosen not to. It's more enjoyable seeing these two as confidants and colleagues. Shi-joon solidifies this angle by suggesting that he and Kae-hwa officially be friends. (This is reminiscent of one of my favorite aspects about Dal Ja's Spring, even if this an extremely watered-down version of that.)
Shi-joon watches Min-woo in rehearsal, and while he praises him for being much improved, he also says he's still got a long way to go. Considering that a lot of things have happened in Min-woo's life recently, Shi-joon advises him to use them to help his acting.
Min-woo accepts the advice, albeit grudgingly, but has a question of his own to ask — isn't Shi-joon crossing the line with Kae-hwa? He's married, and even if Shi-joon is right about just wanting friendship, Kae-hwa is naive enough to misunderstand his friendly impulse for something else.
Shi-joon wonders why this is a matter of concern to him, which prompts Min-woo to think fast to come up with the excuse that it's because of Ye-eun — he has to make sure that Kae-hwa isn't distracted with other things while caring for his kid.
Shi-joon finds Min-woo's behavior amusing, but his mood takes a nosedive when he comes face to face with Jung-ah's man Ho-seok, who tells him he's leaving for the U.S. Ho-seok admits that he'd asked Jung-ah to go with him, but she said no, and says that she still cares for Shi-joon.
Shi-joon bristles; he finds Ho-seok's approach inappropriate and a bit rude. Ho-seok answers that he wanted to say this before he left, but that Jung-ah isn't accepting his calls.
To Kae-hwa's surprise, Yura says she won't ask for an explanation about the child (since she already knows it). But she does have a request — she wants to become friendly with Ye-eun. Kae-hwa had expected Yura to be shocked, but Yura (wanting to earn points with Min-woo) answers that she likes kids. Therefore she offers to take Ye-eun tonight for a fun day together, all on her own. Kae-hwa's a little skeptical over whether she can handle this alone, but Yura brims with confidence, annoyed at Kae-hwa's constant stream of nervous advice.
When she picks up Ye-eun from school, little does she know that Yoon-seok is putting his plan into motion today — he instructs one goon to take care of the ajumma, and the other to grab the kid. He's surprised to see Yura instead of Kae-hwa, but that's not necessarily a bad thing.
Min-woo receives an international delivery and opens the box to find baby things inside, sent from Yeon-hee. Included is a note saying that she hopes Ye-eun has better fortune with her father than she had with her mother.
Min-woo smiles as he rifles through the items — baby toys, photos, sonograms. It's obvious that despite Yeon-hee dumping the child off with Min-woo, she did love her. However, her decision is final, and the letter signs off with a request for Min-woo to stop trying to find her.
I'm sure it's no surprise that Yura takes Ye-eun shopping at a department store as her idea of fun bonding. She dresses the girl up in different outfits and gives her a Pretty Woman montage, while Yoon-seok and his two thugs keep an eye on them from a distance.
Ye-eun tugs on Yura's hand, trying to signal that she needs something — the bathroom — but Yura doesn't get the hint and is distracted by her own desire to shop. Declaring that it's time for her to try on clothes, she slips into the fitting room assuming that the girl will wait. However, Ye-eun can't hold it and wanders off in search of the bathroom.
Even after discovering that the girl has gotten lost, Yura isn't terribly worried and has the store relay the message over the P.A. Yoon-seok hears the announcement about the lost girl and races to Yura to demand how she lost track of Ye-eun. He orders his men to find her asap.
At the end of her workday, Kae-hwa calls Yura to check in and hears the bad news. Shi-joon sees her frantic response and gives her a ride to the department store.
Her hurried departure goes noted by Reporter Han, who has been keeping an eye on the office from his car. Smelling a story, he follows Shi-joon's car to the store, where Kae-hwa and Shi-joon split up to make a sweep of the store. Not finding her, they reconvene at the information booth, where a now-worried Yura (took her long enough to care!) meets them.
Kae-hwa also calls to inform Min-woo, who races to meet them at the store. His response is particularly emotional given that he has just spent the afternoon flipping through Ye-eun's baby items, his heart softening toward her even more.
Once he arrives, he's too intent on his concerns to care about the curious looks his presence garners from the shoppers.
Min-woo asks the clerk at the information desk for the search status, and the man politely replies that they're looking. Mi-woo's frustration boils over and he yells at the employee, insisting that they find her immediately.
Yura tries to suggest gently that he wait in the car, but he shoves her arm aside sharply, then tries to get his temper under control. More calmly, he turns back to the employee and tells the man that the child cannot speak and requests that he try harder to find her. The employee is trained well enough to agree politely, but he's a little miffed at being yelled at and asks what Min-woo's relation is.
Not caring about the crowd watching curiously, Min-woo answers, "She's my daughter."

COMMENTS
I haven't been too critical about this drama because it was apparent from the start what it was, and I've generally been from the Ebert school of thought of valuing something for what it is rather than comparing it unfavorably to something of a different character and different intent. So that means that as an unchallenging, cute, and amusing drama that doesn't try to be ambitious, it's managed to hold my interest.
But let's get a bit critical for a moment, especially since this episode brought out a few issues that have been niggling at me. Perhaps this drama is trying to purposely not do what we think it will by going against our expectations for the plot, but it seems to me that it is consistently letting prime opportunities for conflict slip between its fingers. And note that I'm not equating conflict with angst; I mean conflict as a storytelling tool, the thing that drives a narrative.
For instance, as I mentioned in the previous episode, Yura finds Min-woo in the hotel room AFTER she finds out about Ye-eun. That means that her momentary shock actually has no lasting effect, and she accepts the idea of Min-woo having a child very quickly. Then there's the fact that Min-woo has never even developed feelings for Yura, which makes the romantic angle to this drama fall really flat (and that doesn't even include the non-romance with Kae-hwa, which is its own issue). There's no dramatic tension about Min-woo's relationship with Yura, and therefore there's no fallout from the Ye-eun reveal because we don't care if Yura doesn't accept her. Now, if they actually had a decent connection, immediately we get an extra layer of meaning underlying everything that adds to the suspense.
Then Yoon-seok plans this sinister kidnapping, which is problematic on a few levels. First of all, Min-woo's already told him to go screw himself and that he won't be renewing the contract, even though Yoon-seok threatened him with the DNA results. So using Ye-eun as leverage has already lost its punch. He spies on Ye-eun's school for several days and then he follows Yura to the department store, which would have been a prime opportunity to actually steal her away. But no, he doesn't do that, either.
Reporter Han is a constant hovering presence, but he actually poses little threat. (You're Beautiful's version was a little more successful, even though the reporter was just as annoying.) There have been numerous ways for him to have gotten in there and caused trouble for our characters, but in the end he's pretty inept. And even in this episode, what's the purpose of him being at the department store to score a big scoop when Min-woo makes his announcement IN PUBLIC?
It's like every chance this drama gets to increase the suspense, it actually goes and LOWERS its own stakes. I don't mean that in all these instances the drama should have gone for the obvious plot twist, but these are examples where the drama has virtually undone all its own plot coils and solved them before they even had a chance to pose problems. It's so good-natured that there are no real bad results to anything, nobody really gets hurt, and nobody's ever in danger of anything. As a result, we get very little drama.
Which is why it's a good thing that the three main characters (Min-woo, Ye-eun, Kae-hwa) are fun to watch, because otherwise there's nothing to actually care about.
RELATED POSTS
Tags: Chae Rim, Choi Siwon, Lee Hyun-woo, Oh My Lady, Park Han-byul