Personal Taste: Episode 15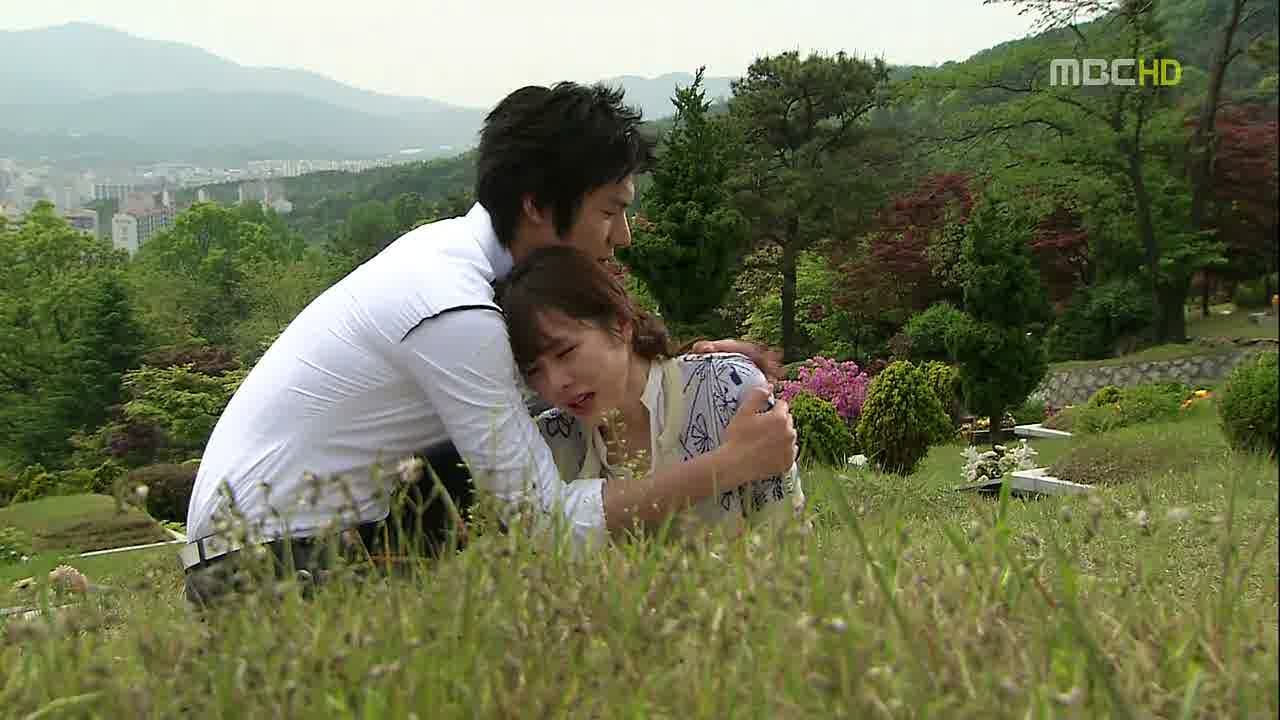 You know how there are a zillion and one romantic comedies out there, and some of the better offerings have started to get pretty creative with the meet-cute scenarios? The old standbys have gotten stale (for example, a pratfall lands one directly into the arms of the other, or a man and a woman crash into each other and pick up the other person's cell phone, or they have a one-night stand only to realize one is the other's new boss), but there are still ways writers have managed to wring more mileage out of the plot device. Like a guy hearing a girl sobbing in the bathroom after she is dumped… only to tell her to get out of the men's room. Or the girl trips and falls on top of him… then vomits in his mouth. And so on.
Anyway, point being: I really wish writers would expend as much energy being as creative with the inevitable breakup scenes. Because this episode is pretty much one big pile of Predictable. The acting is good and the reasoning actually holds up in context of our story — it's just that we don't get a single twist or curveball here, which makes for an episode that is necessary but really just makes you want to get on to the next one, already. (Arg! Am pre-emptively jealous of girlfriday.)
SONG OF THE DAY
The Film – "I'm Sorry" [ Download ]
Audio clip: Adobe Flash Player (version 9 or above) is required to play this audio clip. Download the latest version here. You also need to have JavaScript enabled in your browser.

EPISODE 15 RECAP
Titled "Trying to Erase You," Episode 15 kicks off as Jin-ho walks in just as Kae-in is having a major meltdown over her recovered memories. Jin-ho introduces himself to her father, but it doesn't really mean much to Professor Park, who has bigger worries. Namely Kae-in, whose legs give out as she says brokenly, "I… remember everything."
Dad kneels and assures her that it was just a nightmare. But it's too late, and the memory is back in full force. Now Dad sees the framed photo, which Jin-ho had so thoughtfully gotten reframed, and asks where that came from. The truth dawns on him, and he asks if the basement has been opened with a horror that seems more appropriate if he'd been hiding dead bodies down there like something out of a trashy gothic horror novel.
(Speaking of which, this whole "Let's convince my daughter that her traumatic past never happened" totally reminds me of this V.C. Andrews novel I sneak-read at the library in junior high, not that I'm proud of it, but we all have our lapses in good taste so don't judge me, okay? Anyway, it was creepy in My Sweet Audrina and it is ever so slightly hinting at creepy here.)
I don't mean that Professor Park is a creepy person, and it's like he's trying to make himself forget the past, which I can understand on a human level — it's just twisted to continue in that line of thinking when your self-delusion requires you to actually alter the memories of your child. Even if you argue the "it's for your own good" defense, which is sort of a cop-out since it's just as much for Park as it is for Kae-in's benefit.
Jin-ho confirms that Pandora's box the basement has been opened, and can sense that this is an upsetting answer though he doesn't know why. Sure enough, Dad blows up at him for being so presumptuous and orders Jin-ho out of the house immediately.
Dad looks around the underground workshop, which Jin-ho has so carefully cleaned out and restored. How sad that this should be the way his efforts are received.
At her mother's gravesite, Kae-in tells Jin-ho that her mother died trying to save her. She'd wondered all along why her father hated her, but now she understands. She doesn't blame him, because she wouldn't have wanted to see a daughter like her, either. Aw, somebody give the poor girl a hug!
Thankfully Jin-ho's there to do just that.
I'm thinkin' Sang-jun must've taken girlfriday's breakup pretty hard, 'cause he's left the fan-friendly zone of being the sassy fake-gay best friend and charged headlong into self-destructive territory by pissing us all off with some plot-dictated idiocy.
Namely: The worker who is suing their company is demanding 200 million won, and this adds pressure to their already precarious situation. So Sang-jun makes a copy of the blueprints he found in Jin-ho's office (calling them his "spade ace hidden card," hurrah for mangled English malapropisms), and feels that this is their only hope for survival.
Sang-jun is clearly wearing his bad idea pants today, as he takes the blueprints to Do-bin's office (uh-oh…), presenting them as the plans that his office has been working on (oh crap…). He asks for Do-bin's opinion on the plans, saying that if they had his input they might have a better chance of succeeding. He knows this is breaking the rules, but they really could use the help. Do-bin is skeptical, knowing Jin-ho's strictly principled attitude, and asks if he knows about this. Sang-jun assures him that Jin-ho does (threat level orange…).
Do-bin hands back the documents, but Sang-jun begs, as their office is facing a lot of difficulty. Please help!
When Jin-ho drops Kae-in off at home, he tells her that he doesn't know what to say, but asks her to remember that he'll always be with her. He concedes that his words must not be much comfort to her, but Kae-in tells him that "it's everything to me."
Dad sighs in disappointment that Kae-in has been living with Jin-ho, because he di'n't raise no ho. (Well, that last part is implied.) He tells her that they'll "talk about it later" — words that always made my stomach drop whenever a parent said them to me — and says that he has blocked off the basement, because covering over a problem always fixes it, don'tcha know? Kae-in says as much, answering that you can't make something un-happen, and breaks down once she's alone in the safety of her room.
Level Orange gets bumped up to Red Alert the next day when Professor Park meets with Do-bin, who thanks him for agreeing to judge the project. In fact, Do-bin has a particular set of blueprints he'd like to show him, and hands them over. (Yeeaaargh… all hands on deck!) Naturally, the professor recognizes the work as his own, but he doesn't get a chance to ask about them until a little later, after Kae-in enters, invited by Do-bin to join the two men for lunch.
Do-bin has done this to play up Jin-ho's talents (so sweet, yet so very unhelpful, as this is just going to backfire massively on him), and talks very positively about him, but none of this makes any difference because the instant Park hears the name, he knows what's going on.
At this very moment, Sang-jun tells Jin-ho that he showed the blueprints to Do-bin for advice, and to cut him some slack, he thought they were Jin-ho's designs. (Thus he wasn't trying to plagiarize designs; he was just asking for advice.) Jin-ho races to the museum immediately to retrieve the documents.
Ah, but timing is not on his side and he's too late. When he steps inside Do-bin's office, Park glares at him and demands to know if these are his copies. Jin-ho can't do anything but hang his head in shame while Park says that these are his designs for a Dahm museum project from thirty years ago. Did he move in to the Sanggojae with the intention of stealing them? Was it fun playing with his daughter's heart too?
Kae-in watches in confusion as Jin-ho says that he didn't mean to steal them, but that his feelings for Kae-in are genuine. Park scoffs at the idea of this thief asking him to trust him, and storms out.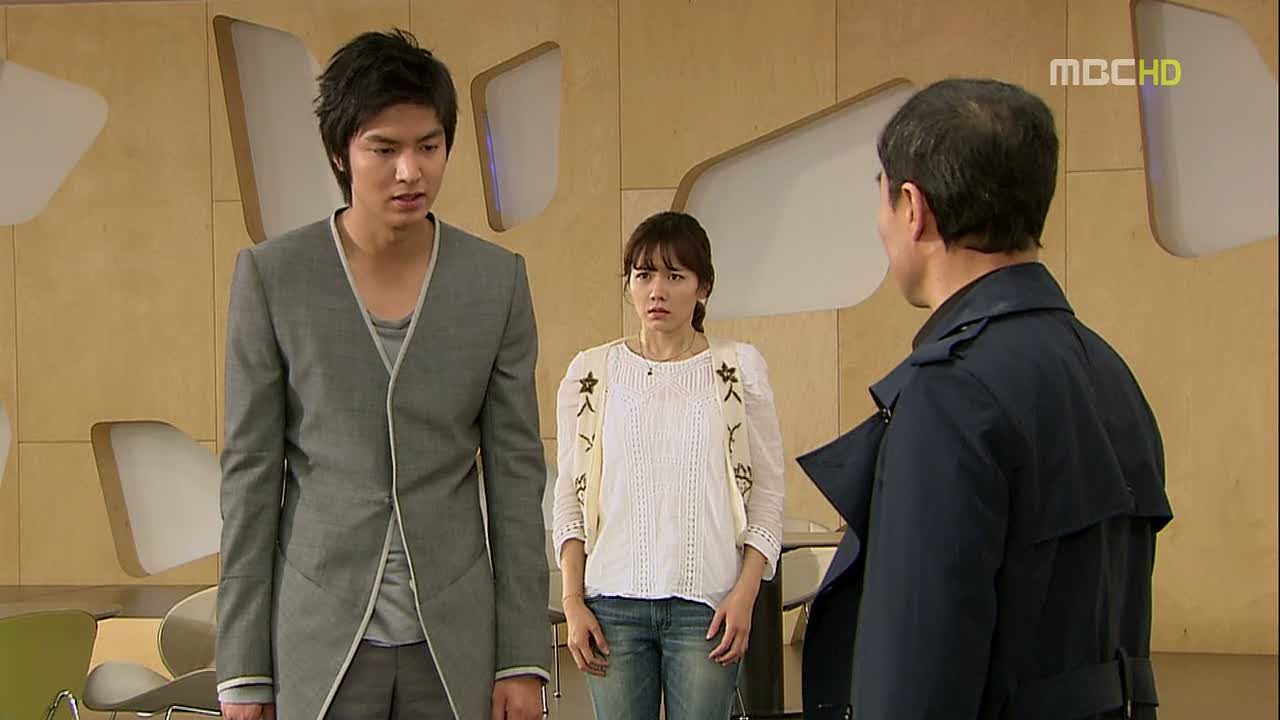 Jin-ho follows him out and calls him "Father" — which, ouch, majorly bad call there, buddy. On the other hand, it does show how seriously he thinks of Kae-in because the sane thing to do is remain his respectful distance, so aligning himself as Kae-in's man demonstrates where his priority is. For now, at least, before the Guilt Monster eats up his common sense.
Jin-ho asks Professor Park for a moment to explain, but now the man turns his anger to Kae-in, saying she's a fool for trusting anyone. She protests (a little uncertainly) that his accusation's not true, still wanting to think the best of this situation, and looks to Jin-ho for confirmation.
After a few stoic moments, Jin-ho answers, "Yes, you're right." When he first moved in, he did consider that he might be able to learn something, because he'd heard that Sanggojae was the concept for the Dahm project. However, he gave up those thoughts when he fell for Kae-in.
Dad's not having it, and leaves in a huff. Now Kae-in asks haltingly if Jin-ho really moved in because of the project.
Jin-ho apologizes, and starts to say he was going to explain it to her, but she cuts him off: "When? After you won the project? Using blueprints you stole from my father?"
He tries to defend his motives, saying that she's got the wrong idea, but she feels betrayed and isn't in the mood to give him the benefit of the doubt. That means he decided from the very start to use her, doesn't it?
Sang-jun runs to the museum to right his wrong, wanting to explain that he had really thought they were Jin-ho's blueprints — he wasn't trying to take credit for someone else's work. But after being kicked to the curb by Kae-in, Jin-ho is defeated and tells him no. This was all his wrongdoing to begin with.
And why is In-hee there? Because the actress needs screentime despite an increasingly irrelevant character? Because In-hee has a built-in chip that tracks down people in pain and came to feed off their misery?
In-hee never met a story of someone's anguish that she didn't thrive off of, so she calls Chang-ryul to congratulate him. It's like they don't even have to be her own victories anymore in order for her to gloat. Just a person being in pain is enough for her to get a kick out of it. It's like she's somehow mentally attuned to all the badness in the world, like some kind of… all-powerful… Devil-Robot. Beep boop muahaha.
In-hee says that Jin-ho will now lose Do-bin's trust, and Professor Park is spitting mad at him. Chang-ryul is incredulous, not expecting this of Jin-ho.
Dad barks at Kae-in to get Jin-ho's room cleared out, threatening to do it if she doesn't. She agrees to do it herself, but tells her father that if she weren't his daughter, she wouldn't have had any right to receive love from anyone. Which… is a really sad sentiment, and not one I'm all that pleased about, because it makes it seem like she has such low self-esteem that she believes Jin-ho would never have fallen in love with her if she hadn't been Professor Park's daughter.
The non-cynical interpretation of this is that Jin-ho did love her for real, but would never have gotten to that point had he not been motivated to move in because of the Dahm project. The cynical-er way to read it is that both he and Chang-ryul used her, but she wouldn't have even had that much if not for her parentage. The reason I don't feel happy to hear this is that Kae-in has made such big strides over the course of this drama in viewing herself with self-worth that I hate seeing her retreat to this sort of thinking. Kae-in! You are a beautiful person! You're good enough, you're smart enough, and doggone it, people like you!
Kae-in calls Jin-ho, who sees the call but doesn't answer it because he figures there's nothing he could say.
To his credit, Sang-jun takes responsibility for the mess, saying that it was all because of him that Jin-ho moved into the Sanggojae and dragged on the gay lie. Jin-ho says that no matter what Sang-jun did, he still caused all this, and making excuses now doesn't erase what he did. Why is it guys always take responsibility for crap when it's too late to make a difference? How 'bout you actually take a risk by doing the right thing when you still have something to lose, and not just because you've hit rock bottom, yeah?
Even so, Sang-jun urges Jin-ho to at least clear his name of the accusations for which he is not guilty.
Scarface makes another unannounced visit to Sanggojae, and really, I don't think we needed some faulty window-floor to tell us that this design is severely flawed when there is no such thing as a lock on the door. For a dude who has been terribly secretive about this house for the last 30 years, you'd think he'd have implemented some security measures.
Chang-ryul talks to Kae-in, sighing about Jin-ho, "And I warned him to stop seeing you." This strikes Kae-in as odd — so does this mean Chang-ryul knew about Jin-ho's reasons for moving in? He answers that he didn't want her to get hurt and reminds her of Jin-ho's transgressions to urge her away from trusting him again. But Kae-in retorts that he's the same — he started dating her again on his father's orders because of the Dahm project. Chang-ryul feels wrongfully accused (and I think we can safely establish that he did care for her genuinely), but she tells him bitterly, "You're all the same."
Scarface pretty much has no shame, foisting himself upon the professor like this, acting like they're great friends when in fact the latter's first words were "Who… are you?" Scarface wastes no time badmouthing Jin-ho, describing him as a man with a grudge who went after Kae-in knowing that she and Chang-ryul were seeing each other.
Dad asks what her relationship with Chang-ryul is, and gets Chang-ryul's answer that although they had been dating, he screwed up and they ended up breaking up. It's a pretty mature response, but Scarface can't leave that alone and tries to spin it in their favor, saying that even after being dumped, his Dear Son continued to ask her to come back and even bought a bunch of her furniture, and… uh… oh…
Kae-in hadn't known this, having believed she sold that furniture order on her own merit. Chang-ryul tells her not to get upset, as though his gesture didn't suggest that he basically didn't have faith in her ability and had to help her out like she's some sort of charity case.
Jin-ho sits in his car outside the house, and of COURSE he must see the Hans leaving the house just as he's contemplating trying to clear his name of the false charges. He hears Professor Park asking Chang-ryul if he's sincere about his daughter. Chang-ryul answers yes — he has hurt her a lot so she isn't ready to accept him, but he can wait.
Park likes his respectful address and shakes his hand, while Chang-ryul promises to do his best. Jin-ho drives away.
Dad likes Chang-ryul, especially compared to the guy who stole his designs. Kae-in doesn't want to talk about him and sticks to her faith that there must have been some misunderstanding about Jin-ho's deception. Plus, Dad doesn't know how badly Chang-ryul hurt her, or how Jin-ho helped her through it.
However, Dad argues that if she's right, Jin-ho should have come by to argue his case. Yes, perhaps if the bad timing fairy weren't working overtime today.
Kae-in says sadly, "You asked for a talk, but in the end you don't listen to me at all. And you don't trust me." She then sits and waits for Jin-ho to call, expecting and hoping for an explanation. Instead it's Young-sun who calls, having heard everything from Sang-jun. Jin-ho hadn't stolen the blueprints, and Sang-jun made merely a mistake and took them to Do-bin. Kae-in counters that it's still true he came to live with her under false pretenses.
Jin-ho goes to his father's burial vault, where he confesses that he must really be pathetic, and his father must want to scold him: "But Father, there's nothing I can do for her. I shamed her in front of her father when her only wish was to receive recognition from him."
Kae-in leaves a voicemail message with Jin-ho, saying she'll wait for him at the cafe. She's there all night, diligently waiting while Jin-ho sits in his car watching her. Finally she sees him, relieved that he showed up after all.
Her tone is vastly different from the last time they'd seen each other; she tells him that she had been so angry she'd decided not to see him anymore, but she can't really do that. She's decided not to believe anything until he explains. Yet Jin-ho remains stubbornly silent — why won't you speak? Unless you're thinking you're not fit to wipe the floor she walks on (which, okay, is true), you'd better start speaking!
Kae-in gives him an easy out, wanting him to tell her that this was all Sang-jun's doing. Jin-ho is in full self-loathing mode and tells her, "I did it all." That's why he moved in, pretended to be gay, and took her father's blueprints. Agh, now he's doing that stupidly noble thing by making himself the bad guy… to spare her the indignity… of liking a guy so unworthy… or something? I'm sure it makes sense TO HIM.
Being purposely harsh, Jin-ho tells her that she's foolish for having faith in him after he used her: "Do you think I'd like a woman that ridiculous?"
Kae-in doesn't believe him and counters, "But you love me. That's why you looked at me like that, and felt so pained because of me, and held me." He returns, "I acted like I was in love, to succeed no matter what." The only reason he's telling her the "truth" now is because while she was easy to fool, her father is not quite so stupid.
Note that he's finally talking to her (full-on, not switching back and forth) in the informal banmal speech — and while banmal is used between people who are close, it's also used to be insulting. So he finally uses it with her, only it's not to be close to her but to hurt her. (Granted, he's doing it "for her own good" in the long run, but still, hurting is hurting.)
Kae-in knows he's being mean on purpose and pleads with him to ask for her forgiveness, but he says he's not sorry for anything, "So don't show up in front of me ever again."
Oh, you stupid stubborn idiot with your stupid stubborn fixation with self-sacrifice. Korean dramas, you do kill me so.
Jin-ho drives away vowing, "I won't love Park Kae-in. I don't love her."
Jin-ho moves back home and tells his mother that he broke up with Kae-in, and she's relieved. Kae-in goes home to tell her father the same, then cries in her room.
Do-bin can sense Kae-in's mood and sees that she's faking her chipper attitude over lunch. He invites her to confide in him about Jin-ho, to which she answers that Jin-ho copped to everything, and said he never loved her.
Do-bin doesn't believe this, and points out that he gave up the gay act when it would have been better for him to keep faking it. But when he rejected Do-bin, he had explained that it was because he loved Kae-in. Therefore, can't she tell how he really feels from the look in his eyes rather than from his words?
Sang-jun's shocked that Jin-ho broke things off, but Jin-ho puts on his professional front and gets right back to work. He's not giving up on the Dahm project, and gets busy designing.
Finally, the day arrives when applications open for participants, and Jin-ho files theirs. Do-bin sees their form in the in-box and sends In-hee to bring Jin-ho in for a talk.
Basically, everybody knows that Jin-ho is lying about not loving Kae-in, and in this conversation, he doesn't even go out of his way to assert that it's true. He just says that this is as much as he could do in this situation. What difference do his feelings make now?
Do-bin has decided to trust Jin-ho one more time, but it's like Jin-ho hates himself so much he can't stand to have others cutting him a break, and he answers that he'd mis-buttoned the first button at the start, which is why it should be no surprise that the bottom ones are all messed up. Essentially he's in this "what else do I deserve" shame spiral, and he may as well just accept all the bad rather than trying to earn forgiveness that he doesn't feel he deserves. Do-bin, however, points out wisely that he could just fix the wrong button. Smart, smart man. Listen to him!
Even Young-sun says that Kae-in should forgive Jin-ho now because it's so obvious that he loves her, but Kae-in says everything is over.
Young-sun tries to ease into the topic, but Kae-in's not having it — she doesn't want to discuss him anymore, because it's too painful to talk about. With that, she falls asleep at the table, having been knocked out cold from what appears to be a half-pint of beer. C'mon, this is the girl who knocked back two bottles of soju! I am disappointed in you, Park Kae-in.
Jin-ho finds himself back at the Sanggojae, watching the front door. He's rescued from being (even more of) a creepy stalker by Young-sun, who calls him to let him know that Kae-in is passed out at the bar. He declines to come get her, but Young-sun says she's got to leave, so if he wants to leave her unconscious here, it's his call.
Of course this brings him to the bar, where he watches her sleeping for a moment. When she starts to lean off the table, he grabs her to keep her from falling, and this wakes her up.
Registering Jin-ho's presence, Kae-in decides she'd rather not see him right now, and gets up unsteadily to leave. He follows her out and tries to stop her, whereupon she shakes off his arm angrily. Why is he even here? They're over now!
Jin-ho doesn't know why he came — he only knows that when Young-sun called, he found himself coming straight over. Kneeling in front of her, he tells her to climb on his back so he can carry her home. Kae-in is still hurting from his rejection and asks if he thinks she's that easy, to come at his beck and call. "You're really the worst. I should never have met a guy like you. But I met you and everything became ruined."
She refuses to get on his back but he kneels a second time, more insistent. When she doesn't, Jin-ho grabs her onto his back and starts walking anyway, and let's just say that's ONE way to flout the piggyback-as-romantic convention!
By the time they get to her neighborhood, they're both quiet, his steps slow and steady. Kae-in narrates:
Kae-in: "After our separation, the once-clear skies have filled with torrents of rain. The tornado I see in my heart has made a mess of everything. But still, his back is quite warm. Now I won't have a reason to be carried on this back anymore, will I?"
It's a nice contrast to the first time Jin-ho carried her on his back, when she was the one who insisted and he only complied grudgingly. She'd been singing and happy then, the attraction just budding.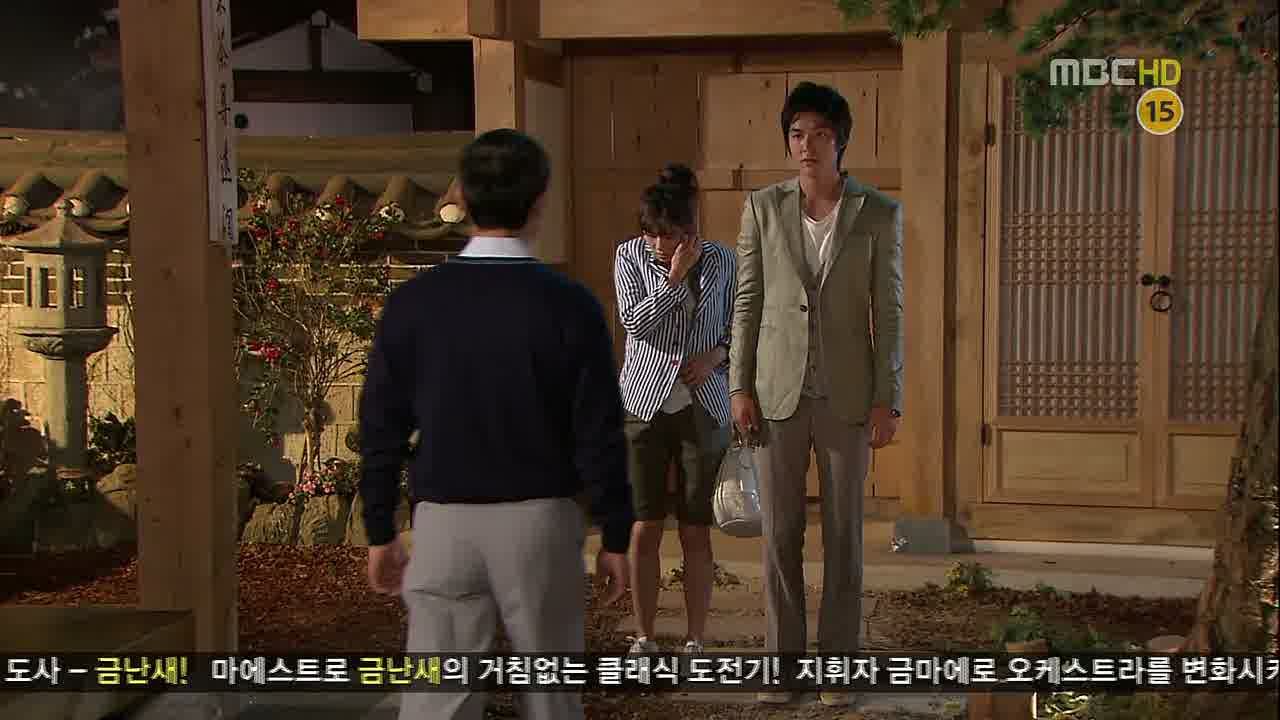 When he brings her inside, Professor Park waits like an angry dad two hours past curfew on prom night. Immediately, Kae-in jumps off Jin-ho's back and to her feet.
When he asks if they were drinking together all night, Kae-in says no, but Dad scolds her anyway, taking her to task for being so foolish and trusting. Jin-ho doesn't like seeing Kae-in treated like this and his face hardens, but Kae-in keeps her head bowed penitently and apologizes.
Finally, Jin-ho has to speak up and defends Kae-in — she did nothing wrong. Why must she apologize when it was Jin-ho who wronged them? Although he has done nothing worth bragging about, Kae-in did nothing but to trust and love him. Does Professor Park even know how hard she has worked to gain his approval?
Not surprisingly, Dad is not impressed with this display of gallantry and is offended to have this stranger butting in. Jin-ho agrees that this isn't his place, "But I'm so angry I can't help it." He tells Park how Kae-in was so hurt after realizing the truth about her mother that she'd acted like she was a criminal, saying that her father would hate her for killing her mother. Jin-ho asks, "She's your daughter. Why do you make her feel like a criminal?"
Professor Park has had enough of the upstart lecturing him and yells, "What do you know?!" Jin-ho answers, "As I see it, it appears that you have turned your own guilt back onto your daughter."
Park slaps Jin-ho and calls him arrogant. How dare he! Go!
But Jin-ho isn't done: "The reason you rejected the Dahm Museum project was because the Sanggojae was a failed project, wasn't it?"
That actually makes Professor Park turn back, startled. And Jin-ho presses, "Isn't that true?"

COMMENTS
I find the title more interesting than usual — the other titles haven't struck me as that significant, but it's ironic that this one should be called "Trying to Erase You" when Kae-in has just come into possession of an erased memory. And we saw how much good that repression did her (as in, none). Clearly this is not a winning strategy, which would be evident even if we weren't one episode from the end.
Like I said, the acting's pretty good in this episode, with Sohn Ye-jin brilliantly capturing Kae-in's broken, angry uncertainty and Lee Min-ho repressing Jin-ho's love with his overwhelming guilt. Kae-in wants to acquit Jin-ho, and she's all set to do so if only he'd say the word — but how can you acquit someone who refuses to defend himself? This is the eternal problem of dramas like Cinderella's Sister where the characters are so goddamned NOBLE that nothing ever moves forward. It's like they think that making a noble sacrifice of themselves will help everyone else, but in fact it just makes everything worse by obscuring the truth. Just be honest and let the chips fall where they may!
But then we'd have no drama, right? It's just that kdramas have this habit of trotting out the noble martyr in the late episodes, and nothing kills romance faster than a misplaced sense of sacrifice. Well, that and the In-hee Bot. We couldn't respect Jin-ho if he were a coward, so he must follow this character arc even though lesser mortals like Chang-ryul can beg shamelessly for forgiveness, and sometimes even be granted it. I just wish that there were cleverer ways to deal with this stage of all rom-coms with more narratively interesting plot turns, because we all know the drill, right? The parent puts up fierce resistance until s/he sees his/her child suffering such grave mental anguish at being separated from his/her love that said parent then experiences a change of heart in the eleventh hour, paving the way for sunshine and roses and a happy final 10 minutes in Episode 16, right? We've only seen it in, like, every trendy drama ever.
RELATED POSTS
Tags: Kim Ji-suk, Lee Min-ho, Personal Taste, Sohn Ye-jin, Wang Ji-hye