Prosecutor Princess: Episode 11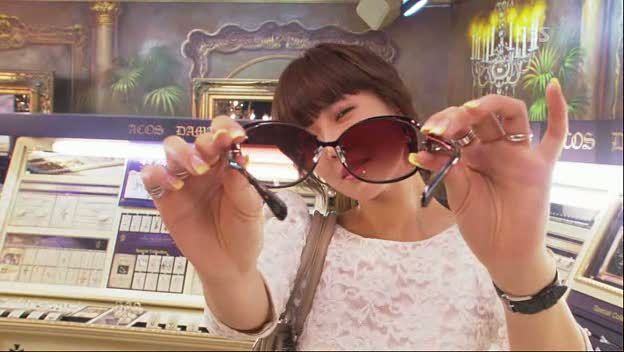 So. Cool.
What's wrong with today's episode? My heart was left in a million pieces after watching it. That can't be a good thing, right? It means "Hello, audience, prepare yourselves for nuclear disaster levels of angst. Thanks for your attention". Why don't I care, and what's more, I love it? Because this drama is great at awakening empathy. Every single character here deserves our deepest sympathy for their individual tragedies and not only that, they make us wish a happy ending for all of them. Moreover, this is achieved without overusing or misplacing the melodramatic stuff like over pouting, over shouting, over eyebrow raising, over suffocating environments, etc. The natural flow of events and the coherence of both personalities and reactions, are what keep me hooked and right in front of the screen for one straight hour twice a week.
If you're taller than the hypo's mark, come with me and ride this marvelous vengeance-prosecutorial-dead-wife's-mourning rollercoaster!
SONG OF THE DAY
Vanila City – Let it rain [English Ver.] [Download]
Audio clip: Adobe Flash Player (version 9 or above) is required to play this audio clip. Download the latest version here. You also need to have JavaScript enabled in your browser.
You don't cry / No need to shed tears for me
You don't sway / I'm on my way back to you…
Episode 11
What the frack's face given by Ma Hye-ri opens this episode. Ma Sang-tae happens to be Go Man-chul's sunbae from their hometown, but he can't continue his story about the change from a childhood friend to manipulative businessman, because of Hye-ri's shock, which makes her exit the room. Is her father involved in a shoddy construction? Last time she checked, he was a nice, career chooser man, with no shady wrongdoings. Since she's talking to herself, deciding whether reporting her father or not at her Se-joon bonding's room, the man himself appears. What is she doing? Uhm… Discovering that Sang-tae is a despicable man? Wanna join the party?! She refuses to give him the details of her current state, excusing herself for being there instead of interrogating the defendant.
Hye-ri returns to Man-chul, who was anxiously waiting for her, only to ask if they can continue the following day. Why is that? What's wrong? Obviously, she can't tell the truth, she needs to get out of there, suffocation is killing her nerves.
While going to his cell, the defendant expresses surprise at how easily she made him talk. The manipulation tips given by the master of Mind Playing worked as expected! Something is odd, though. Well, you don't have to be too smart to realize that if she has the same last name as Sang-tae and acts weirdly afterwards, surely there must be a connection. He's a bit scared for having such a big, talkative mouth, and shouts for the guards…
Jenny mentions that Go Man-chul is like a tamed guinea pig, he moves exactly as planned. This is the moment in which I hope that the huge chain of In-woo's contacts was showed, because they have a detailed report just as stuff happens. They even know that Hye-ri was surprised and left the interrogation, but In-woo affirms that this is just a momentary stage of shock.
Disconcerted by this sudden turn of events, Hye-ri runs to her father's office. He offers her something to drink to calm her down (I found this scene important, it kind off represents her father's love for her. Why wouldn't she care for him? If he was a classic kdrama villain, he would've kicked her out or mistreated her, but this wasn't the case). Hye-ri gets to the point – does he know a man called Go Man-chul? Oops. The loose end talked. Predictably, he admits knowing him tangentially and tells her to go back. Hye-ri is not satisfied – why did that man say that he lent his name? San-tae acts surprised and tells a nice story about a hometown bro relationship, in which he even gave Go Man-chul some money for his business. Then, does he know anything about Young Jin Constructions? He admits that not everything in his life is shiny and happy rabbits filled, however, he's not a bad man! Hye-ri is in so much need for him to be innocent, that she happily accepts his words. Girrrlll! Use your prosecutorial sixth sense!! Please! Poppa Ma wonders if he will be interrogated by her. Of course not, daddy! I'm a childish woman who would believe every word you'd tell me, so I can't be involved in a case that stars you! What remains unmoved is the fact that, because of Man-chul's confession, he'll be investigated.
Back to her house, In-woo is displaying all of his gorgeous self wearing a yellow sweater at the entrance. Hye-ri notices him (who wouldn't?) and goes for some In-woo fun, but he's not interested. Trying to get his attention, she fails miserably, tripping and almost falling, when…! He grabs her arm not to let her fall! He even remains holding her hand! Pervert! (?) Hye-ri notices that this is the first time they're holding hands and is beyond delighted. She asks him where he was going – they could go together, right? Okay, together to the convenience store it is!
[Extremely long flashback about their stalker training]
What Hye-ri does afterwards shows two things: one, she trusts In-woo too much and two, she has zero working ethics. Neither of them is good. How can she tell a complete outsider the details about Go Man-chul's case? ANYWAY. She tells him that while doing exactly as he told her to, Go Man-chul mentioned Ma Sang-tae's name. Wuuuttt? – says In-woo. Naughty boy, as if you didn't know.
Sang-tae is now talking to Director Min. They seem worried, and Director Min suggests disclosing Director Song, who handled Young Jin but also is conveniently dead. The fact that Hye-ri has already gone to interrogate her father makes Director Min much more stronger in his suggestion: blame it all on Director Song. But, is his family trustworthy? The one who trusts Sang-tae up to the point of faking his death, is Song Ki-joon, his wife and children probably won't keep their mouths shut. Mr. Ma should take responsibility for Nam Woo complex and compensate them; since the damage is not that much of a deal, it should be a good strategy for killing two birds with one shot. Mr. Ma is mortified because of that horrible coincidence which made his daughter the prosecutor for this case (coincidence? HA!).
Yellow sweater is still talking with Hye-ri, playing the perfect neighbor part as he has always done (up until now, sigh), wondering why Hye-ri is sad. If her father said he was innocent, shouldn't everything be ok? Well, the fact that poppa has to go to the prosecutor's office is not one nice thing to see, smart guy. He also asks about Go Man-chul's asset story. And then, that conflictive question pops up: doesn't she hate her father? Not really, he's her father, how could she? (Oh, that's too bad, thinks In-woo, we could join forces to kick his ass). Hye-ri asks if he has hated his father, to which he answers negatively, too: moreover, he hasn't ever resented him, because he was good at keeping promises. Why the past tense, In-woo? First over emotional moment of this episode, leaves us feeling his sadness and understanding a bit more the reason why he'll have to let go off his personal feelings and take his revenge path at least for some time. We shared an honest, touching bench scene that sets out how indebted he feels towards his father, a fact that has taken over his entire life.
They seem like a real couple there, making me go aaawwww
"Bla, bla, bla. Have you finished?"
Now, Ae-ja tells Sang-tae that Hye-ri has a man she likes. No, even better, a man that she loves. What's more, they love each other. She makes a quick introduction: Seo In-woo, lawyer, smart, funny, good looking and warm (stalker, Sang-tae hater, and apocalypse horseman); with that profile, Hye-ri doesn't really need to go to that appointed date, Lawyer Seo is enough. I'm not impressed, Ae-ja! Mom puts together all of her anger, frustration and loveless life, to have the courage to give her husband the divorce papers. Sang-tae, once again, is not impressed, answering a cold, devoid of interest "Fine". He's not a bad man, but Ae-ja is too weak to continue her threat of divorce; it takes him a simple, grudging "Of course I won't give up on you" to make her step down her previous indignant confrontation.
Ae-ja is genuinely excited; not only she's not divorcing, but also defended her daughter's love life. Jackpot! She wants Hye-ri to be married as soon as it's possible, to what Hye-ri answers that she's not in that kind of relationship with yellow sweater (you wish you were).
Sweeeeeet, sweeeeeeeet, squealing alert! Our Hye-ri is taking off her jewelry, when she finds that lucky crown brooch In-woo gave her before taking care of the gambling case (which nearly ended with her death. LUCKY, HUH?). He's done so much for her, the mobile phone, the gas bomb clock, he cooked for her… Oh, l'amour!
Next stop: Prosecutor's Office. Main problem: Hye-ri's dad being involved in the case. Chief informs that her father will have to be interrogated, and Hye-ri seems confident in him, so, no problemo here, Boss. Boo at the Chief for including Se-joon in the case again. Shortly after their meeting, Hye-ri sends him a huge pile of paper, which turns out to be the records for Man-chul's case. I know, it's logical for him to take this case, but I want Prosecutor Yoon nowhere near Ma-Hye-Ri!
Se-joon questions Man-chul, who takes back his accusation: Sang-tae didn't borrow his name, it was dead Director Song who did it. Then, why did you say it was Mr. Ma, rascal? He explains that he wanted to take revenge upon him for making him feel shameful for asking money in the past. This was a golden chance, since his daughter was the prosecutor for the case. Ok, everything is shiny and lovely, but why is he changing his statement now? He-he-he, well, embarrassment? In experienced Se-joon's mind, this doesn't make sense, he pointed out at someone but took it back thinking that his lie would be discovered… Why didn't he think about it earlier? Man-chul's answer is not satisfactory: he has anger management problems and Song Ki-joon is dead, he would've spit on someone's grave. YEAH, SURE. This guy truly sucks at lying. When the prosecutor asks about Director Song's death, he nervously says that it was one year ago, he even went to his funeral! Suspicion levels: mind-blowing.
Right after the fake confessions session, Se-joon informs the boss about the defendant's sudden change in his statements.
I just can't feel Ma Sang-tae's evilness, but Man-chul's reaction as he bumps into him while walking through the prosecutor office's corridor is quite revealing. Nevertheless, I'm in for gangsta and out for cold blooded murderer. Interrogation goes smoothly, twister Ma responding coolly, denying a connection between him and Director Song remained after the latter went independent. He even asks for a thoroughly investigation. It has to be one of these: either he is too confident in his scary factor or maybe he's really not guilty of anything more serious than corruption. Evidence says that his relation to Man-chul and Director Song is, as of now, inexistent.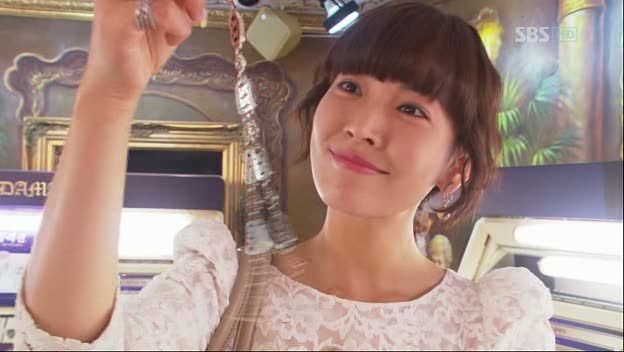 Relieved, Ma Hye-ri goes shopping. It's been really a long time since she last displayed her shopaholic tendencies, but something has changed. She's looking for In-woo related items!!! First thing she grabs, is a pair of shades. Apparently, she's noticed how yummy he's while wearing them. Yoo-na is puzzled, isn't her boyfriend somewhat stiff and serious for shades? She doesn't explain, her mind fixed on looking for something nice for stalkie. Finally, she decides for a bracelet.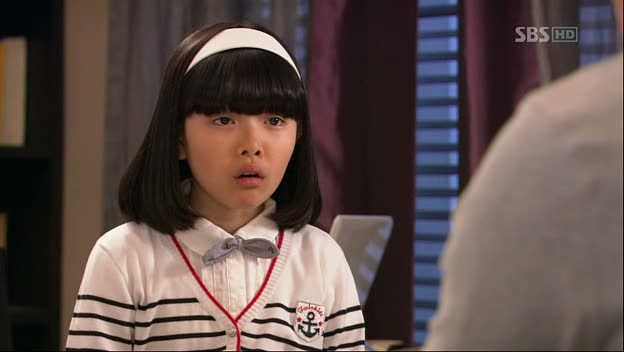 "And you're supposed to be sharp and smart? Duh."
Meanwhile, Se-joon receives via mail those cute mysteriously taken photos featuring Jung-sun (come on, what's with the angle? Wasn't she alone? In one of them, she's holding the camera in her hand). Bin sent them – wasn't him with her? Uhm, no? This frustrates Bin to the core – doesn't he know she likes him? Is this how you handle your cases, without any common sense? He couldn't see that before…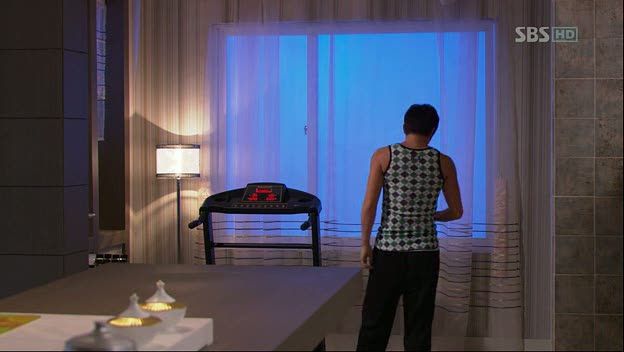 What's with In-woo's fashion sense? Puh-leeeeeez!
Anyway, while running like every sexy leading man in k-drama history must do, In-woo receives Hye-ri's call. Cute overloaaaaad! She's put her present in a bucket and now is giving it to him using a fishing rod. He tries to be cold hearted and refuse her, but it's such an extremely lovely gesture, that he curiously grabs it.
Hye-ri: My mom says that I shouldn't be greatly indebted to others. When I thought about it, I've been greatly indebted to you.
Why do I feel as if something was breaking inside me? They're so pitiful people, Hye-ri for living in this bubble created especially for her, which is about to be blown up; In-woo because, regardless of what many people may say, his need for a cold revenge is cracking so violently, that it must be a huge load for his conscience (yes, he has one!), both because of his sentiment for his father and Hye-ri.
In-woo opens the little box, which contains the bracelet and a card.
Hye-ri's card: Lawyer Seo, whom I'm always grateful to, I like you. But this is definitely not a declaration of love!
For further appreciation of this episode, let's assume that she's 15 and go on.
I'm so touched at her reassurance "this is not a declaration of love". In-woo is honestly moved by her gift, being fully aware of his importance in her life, and what's more, he's becoming aware of hers. He can't even utter a word; instead, he takes the bracelet out of its box and grabs it tightly between his hands.
In her apartment, Hye-ri is anxiously waiting for his call. Why is he taking so much time? In the end, he doesn't call at all, so next day Hye-ri waits for his hot shaded up appearance at the elevator without luck. At first.
Then! Ta-da! In-woo appears, as if nothing had happened, greeting her with a cool "Good morning". She looks for the bracelet, but he seems not to be wearing it. He looks subtly at her disappointment, and closes his hidden-behind-the-shades eyes, trying not to feel guilty for this silent-deception treatment. Before leaving, she confronts him.
Hye-ri: Didn't you like it? A person should say whether they like it or not, I can change it if you don't like it.

In-woo: What?
What? What? IN-WOO DON'T DO THIS. You're joking, right?
Hye-ri: The bracelet!

In-woo: Ah, that. Sorry, I didn't look at it carefully.
Okay, no joking.
Bad move, bro. This is gonna cost you half of your well earned points from the past; while I understand you want to draw a line, this is excessive. So, I'm officially mad at you. Boo.
Life isn't easy at Prosecutor Yoon's love life, either. Alongside Hye-ri they should open a Broken Hearts Club. Just saying. Then, he passes by Jung-sun's house, and after noting that her car is still there, her mum informs that Jung-sun is dropping off Bin at her school. Therefore, he drives there, where he finds Jung-sun piggybackriding Bin, mother-style. He's shaken by both last night's Bin's revelation and this sight – is she the woman who should be by his side? (yesss!)
While talking to her boss about some of her assigned murder cases, the chief says this phrase: "A human determining the fate of another human's life, that's quite a burden" (is he talking about In-woo or what?), which makes a click in her. Hye-ri goes to ask for Jung-sun's help in the unfair situation created for the minors involved in the husband-lover-killers case (she didn't forget about them! 10 points for empathy!) – she wants to register them for psychological treatment. After confirming that she would do it, Jung-sun is informed that our old friend Stalker #2 is waiting for her interrogation. He is with her mum, who offers some money for the fine. Jung-sun rejects it, he can do social work. What's truly important about his presence there, is that, when Hye-ri greets him, he asks about her boyfriend. It wasn't awkward. At all.
Jung-sun takes Hye-ri outside, she can't understand her relationship to either of her current interests (don't worry, dear, we're in the same situation here). Since Hye-ri can't quite explain what's up, she warns her: don't play with Se-joon's heart, don't make him cry, otherwise, she won't stand still. Hye-ri isn't taken aback by Jung-sun's words, and wonders why she can't tell him how much she likes him…? For Prosecutor Jin, love's like that, not talking about feelings to avoid making the other person uncomfortable and to protect herself from being rejected. She thought that Prosecutor Yoon wasn't ready yet, so she waited for him; she didn't expect another girl to come and take him away from her radar.
[Random guys meeting at that multipurpose room, where the prosecutors discuss about Hye-ri and Jung-sun's dynamics. The only one who appears not to know what's going on between them, is the Chief. The only thing he positively knows, is that he wants to get married.]
After a depressing afternoon, a depressing night arrives. Hye-ri is hungry, and not in the mood for tasteless veggie food. So, she grabs a ramen package and starts cooking just as In-woo told her to, imagining him by her side. Sigh. Feeling that it's not the same without his company, she calls him and tells him that she has no food at home, as in "Pleasepleasepleasepleaseinvitemeyeeesss?".
While In-woo is cooking for her, Hye-ri takes a look around his house, as if she had never been there. Oh, no, you weren't there, sweetie, at least not as a girl in love… However, they start eating and they're on completely opposite channels: Hye-ri can't-keep-her-mouth-shut asking about his relationship with Jenny but he's so quiet that it's scary. What is jealousy doing to our little girl?
Knock, knock. Who is it? Hi, I'm FRIGGING BAD TIMING. Come in, please.
Jenny calls at the most inconvenient time, giving In-woo the chance to get rid of Hye-ri, who shows disregard for her presence and invites his accomplice to have dinner. Hye-ri leaves after obviously understanding his indirect message.
Hye-ri can't quite get why she's crying because of what happened (she hasn't consciously accepted how much she likes him), but when she arrives home, she finishes her previously cooked bowl of ramen. Meanwhile, In-woo is devastated and eats the remains of her portion, with her chopsticks. Normally, I'd say "Ew, disgusting", but it was so perfect that it left me speechless.
Why am I feeling terribly suffocated here? For an irrelevant. Bowl. Of. Ramen. I don't know, I just am. Ill-fated love stories and angsty eating of ramen work every single time they're used. On top of that, Park Shi-hoo and Kim So-yeon made their unrequited love's angst (one because he finds it weird to continue developing a relationship with the girl he's supposed to betray and the other because she thinks has arrived late to his heart) go beyond the limits of those classic stifling scenes; forcing us to shed tears for their unlucky situation. They're both saying good-bye to each other while crying over their noodles.
The following day, Prosecutor Yoon discuses Go Man-chul's case with The Chief. They've reached a dead-end, all the suspects seem to be clean and Song Ki-joon is dead, so asking him is impossible. Eventually, Go Man-chul is released.
Prosecutor Yoon is not behind the same leads that Hye-ri is following: apparently, Ma Sang-tae gave lands to Go Man-chul, spoiling his claims of honesty. She asks Mrs. Ha, but she denies not only having knowledge of what Hye-ri is talking about, but also having bought her apartment with the money received for some land sold by Go Man-chul.
We get further hints of In-woo's displeasure in regards to his scheme while he talks to Jenny about it. She finds funny and exciting that it's going, surprisingly, exactly as planned; but he scolds her, saying that for him it's either fun or exciting. He is angry, he's getting flustered and anxious; it's not going as planned, Jenny, he didn't expect to become emotionally attached to his enemy's daughter.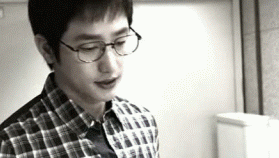 Ma Hye-ri can't stop digging into her father's fishy past. Quick internet search reveals that 15 years ago, a murder occurred at a construction site and Mr. Seo (blink blink) was accused for it. She needs more information, though, so she heads to the record room, where Mr. Flashback tells us that In-woo did the exact same thing in the past. This is a pretty cool composition which compares and describes their moves, attitudes and feelings (I had to gif it, guys, it was that compelling for me). While In-woo was full of anger, Hye-ri is eager to discover what's hidden in between lines. Hye-ri reads everyone's statements, just as In-woo did; they're both insanely looking for justice and nothing or no one will make them forget that goal.
Omnipotent In-woo is waiting outside for her to exit the building hidden behind some trees, noting that they're finally in the last acts of his play. Sadly, he can't accompany her in this hard moment, when her reality and real reality are abruptly colliding. He extends his hand, wearing the bracelet, pretending to touch her face (if you ask me, this was unnecessary and too melodramatic. What? You didn't ask me?).
Okay, In-woo shippers, say goodbye to food bonding, fish roding, and incoherent bickering; he's decided to return to his jerk path in order to fulfill his revenge. Hye-ri tries to contact him, she needs his advice and always present shoulder to express her deception and sadness. Her despair grows so amazingly fast, that she goes to his apartment, and upon receiving no answer (every "Lawyer Seo!" made a kitten die of regret), she rushes to his office. After facing a human answer machine called "Secretary", an extremely contemptuous Jenny Ahn says, with a fake smile, that she can't tell Lawyer Seo's private matters to just anyone. Anyone, bitch? ANYONE? Enjoy this moment, Jenny. You've always looked down on Hye-ri, but in the future, Prosecutor Ma will show you and your stupid friend who she is. Just wait for it.
Hye-ri wants to believe that he'll contact her as soon as he knows that she's in need, but her rational thought tells her not to. As she exits his law firm's building, in tears, she calls his name…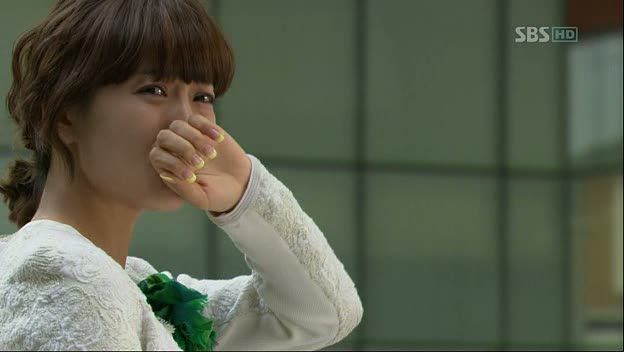 Hye-ri: Lawyer Seo… Lawyer Seo…
Sob.
Tell us, kaedejun, why is Superman neglecting Lois Lane? Why is he turning into Lex Luthor, huh? HUH?
Personal comments
After this episode ended, I was left with this empty, depressing sensation. The members of the love triangle (which I think was never an actual triangle in the classic sense of the term, based on Se-joon's reticence and indecision, In-woo's obsession with revenge and Hye-ri's denial of her feelings towards the second) have somewhat changed irreversibly. Let me explain with details.
First of all, we have Hye-ri. Slowly she's discovering that she is completely seduced by In-woo's charms, leaving behind her admiration for Se-joon. She has a sense of attachment for him, but it won't be for long – just look at how awkward she felt while telling Jung-sun that she liked Se-joon.
Secondly, Se-joon's tragedy. He never found out that Jung-sun was in love with him, until his wife's lookalike appeared, and produced this emotional twister for both him and Jung-sun. He now knows that Prosecutor Jin likes him, but how will he handle this new situation? His daughter already loves her as a mother figure, but is that enough to erase Hye-ri's wifey image from his mind?
Lastly, In-woo. Waters are divided: one side loves him, the other hates him. Are any of them wrong? Well, not completely. His story is indeed tragic. Was he a jerk? Yes, of course. Is he still a jerk? I can't have a yes/no straight answer here. After starting to feel that his heart beats faster every time he looks at Hye-ri, he had to make a choice: either he forgot about his promise and his all life plan or he forgot about Hye-ri. Can I blame him for the path he's taking? No, not at all. I understand his choice, while I don't approve of his means. Is it easy to put aside the fact that her father was the responsible for his father's fate? Is it easy to simply not care about what he's been thinking all his life, since he was a kid? No, he's lived fixated in one objective; it's natural and predictable that he wouldn't leave those thoughts easily. Like one wise man once said: "When one has been angry for a very long time, one gets used to it. And it becomes comfortable, like… like old leather. And finally… becomes so familiar that one can't ever remember feeling any other way."
This episode provided me with the answer I was looking for: In-woo's honestly kind; he overacted a little to get Hye-ri's attention, but he is not a despicable guy. He wanted to help Hye-ri a couple of times, he found her amusing at his apartment, he is even completely angry for having valued his promise to perform his revenge over living a life free from grudges.
Why do I still believe in In-woo? We can see his struggle, and we should take advantage of that fact to make a deeper analysis of his character. He's not some weirdo who's lying and manipulating just because he was bored at home and said "Hey! What about some mind games with this girl?". He is completely conscious of what he's doing, and now, he's realizing that it's wrong, too, so he's trying to erase his positive image from Hye-ri's mind. This minimum gesture is the first step towards redemption. Going from the "I don't care" bubble to the "I don't want to do it, but I have to" one is so significant that I can't help but imagining when he'll move to the "I don't have to do this, this is wrong, I'm sorry" final one. I hope for this, I hope for his soul to be repaired at last, and for his mind to both leave behind his resentment and embrace his future. In the end, this drama is about growth. Why wouldn't I expect him to find his way towards a sincere happiness?
On a side note, kudos to Kim So-yeon for her outstanding acting. She's made her bratty poppa girl so relatable, that I can feel her pain as it was mine. She grew constantly from episode one, without losing her innocent, childish ways that make her so unique as a kdrama heroine: instead of being tiring or dim, she won my heart with her adorable clumsmartiness. Standing ovation.
RELATED POSTS
Tags: Choi Song-hyun, Han Jung-soo, Kim So-yeon, Park Shi-hoo, Prosecutor Princess