Rom-com My Gangster Boyfriend and its "loser couple"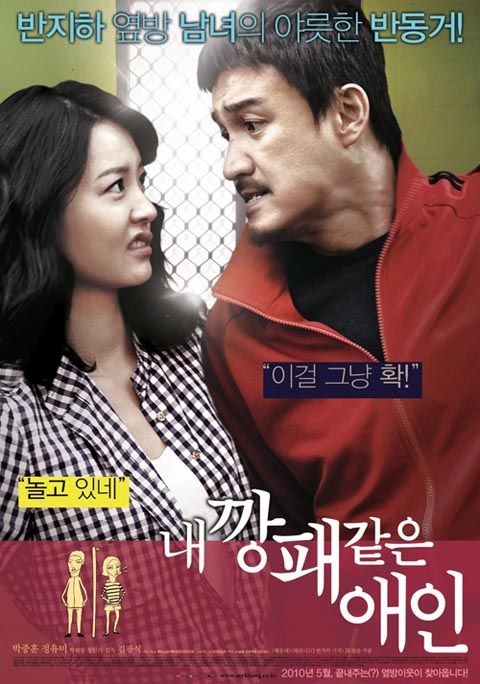 Jung Yumi (the actress from Que Sera Sera and Chaw, not the one with the same name from Friend, Our Legend) has a new movie out, My Gangster Boyfriend [내 깡패 같은 애인], and it looks pretty funny, if not quite original.
Jung stars with Haeundae's Park Joong-hoon in the odd-couple romance that develops between two unlikely neighbors. Roughneck Park Joong-hoon plays a gangster (and, based on the preview below, not a very good one — she snarks that for a gangster, he sure does get beat up a lot).
Jung's character initially moves up to Seoul with dreams of becoming an impressive careerwoman, only to have her office go bankrupt. She finds herself unemployed and has trouble finding a new job, and therefore has to move to a room that's a semi-basement. She hopes her new neighbors are nice, but as (bad) luck would have it, she moves in next door to the gangster Park. Despite their initial clashes, they start to like each other more (though grudgingly) every time they run into each other.
I've been a fan of Jung Yumi's acting since seeing her in Que Sera Sera, and she has a knack for playing quirky characters with a natural, artless style. Park Joong-hoon has a very warm, personable appeal, and I can see this being a light and easy watch.
My Gangster Boyfriend opened this week, on May 20.

(In the preview, she moves in and introduces herself. He calls her "next door girl," which she asks him not to do because it makes their relationship sound weird. After her date tries to make a move on her and she fights back, the next day he shows up at an office to (presumably) beat the guy up, yelling, "I'm her boyfriend!" She then asks a request of him — to pose as her boyfriend — and he balks, so she says, "But you slept with me!" Next thing you know, he's dressed up in a suit and spouting stuff about designing computer programs and talking about his family.)
RELATED POSTS
Tags: Jung Yumi, Park Joong-hoon