Ryu Seung-beom's W Korea shoot
Ryu Seung-beom's newest movie, Bang-ja Chronicles, is pretty racy stuff (it's marketed as an "erotic sageuk" along the lines of Portrait of a Beauty and Frozen Flower), so I suppose it's fitting that he bares some skin in his W Korea photo shoot, which will be in the magazine's June issue.
In the movie, which is a twist on the classic story of young lovers Chun-hyang and Mong-ryong, who overcame social barriers in Joseon Korea to be together, Ryu Seung-beom plays young nobleman Mong-ryong. However, the movie plays with the idea that Chun-hyang was actually in love with his servant Bang-ja, played by Kim Joo-hyuk, just as The Story of Hyang-dan had Mong-ryong falling for her servant Hyang-dan. But while Hyang-dan was a comic reinterpretation, Bang-ja Chronicles — which was marketed at Cannes this year under the title The Servant — bears a 19+ age restriction at home for its sexual content.
Bang-ja Chronicles releases on June 3.
I just want to ask in the photo above, whatchoo lookin' at? Scandalous!
In case you're wondering how much of those abs are Photoshopped on, it seems not much. Ryu posted the candid shots below on his mini-homepage last week, and he's rockin' the choco abs. (Although I guess that doesn't preclude them having been drawn on.)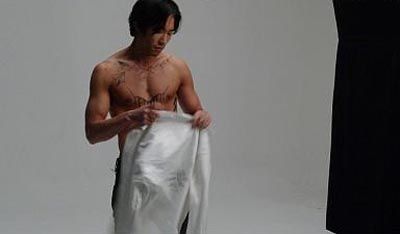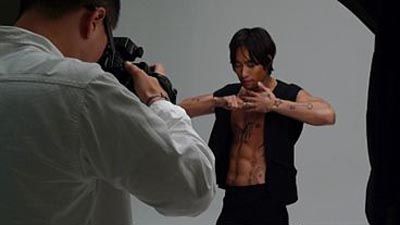 RELATED POSTS
Tags: Ryu Seung-beom