Wang Bit-na joins Kim Suro as a Kaya spy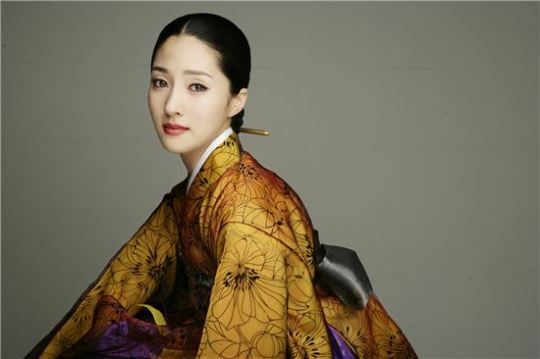 I know, there's been a lot of promotional material coming out about MBC's Kim Suro, but as the drama finally premieres this weekend, this'll probably be the last of them. I just thought I'd share, since the photos are lovely and portray a wholly different look to Wang Bit-na than we saw in her most recent role as Bu-ki in The Woman Who Still Wants To Marry.
In Kim Suro, Wang plays Ah-ro, aunt of Ah-hyo (Kang Byul), and possesses outstanding martial arts skills. She uses her wiles and espionage skills to approach the man who currently holds control over the Kaya nation (played by Lee Won-jong), from whom she conspires with her niece to steal the technology of ironworking.
Her appearance as Ah-ro is a stark contrast to the awesomely stylin' single-and-proud Bu-ki of The Woman Who Still Wants To Marry, although to be fair, her look as Bu-ki was actually a departure from her usual image, so perhaps this is closer to her regular look. Not the elaborate hanbok, of course, but without the sharply asymmetrical haircut.
In any case, Kim Suro premieres tomorrow, May 29.
Via My Daily
RELATED POSTS
Tags: Kim Suro (drama), Wang Bit-na