Coffee House: Page 6
The plot thickens! With Episode — er, Page — 6, we have our first heart-tugging episode, and a deeper understanding of the emotions buried in these characters' histories.
One thing I really like about these SBS Monday-Tuesday 9pm shows is that they're slightly shorter than the average prime-time episode. The dramas in the 10pm hour average about 1 hour and 5 minutes, give or take a few minutes. These 9 o'clock SBS shows are clocking in at 55 to 57 minutes, so while they're all approximately 1 hour long, dropping 8 to 10 minutes makes a world of difference in how they FEEL. I think that's why I've been hooked into watching three of them (out of four total so far — the only one I haven't watched fully is Angel's Temptation).
SONG OF THE DAY
8eight – "얼굴이 바껴도" [ Download ]
Audio clip: Adobe Flash Player (version 9 or above) is required to play this audio clip. Download the latest version here. You also need to have JavaScript enabled in your browser.

PAGE 6 RECAP
Eun-young awakens from her dream of the accident that killed Jin-soo's wife with tears on her face. Jin-soo enters the room to see them, and although she waves them off as nothing, he doesn't buy that, although he doesn't press for an explanation.
The assistants (Hyun-joo and Dong-min) joke about the situation, imagining how funny it must have been for Jin-soo to have come upon Eun-young in the altogether. With anyone else this would have been fodder for a romance story, but with these two they're more likely to end up in court.
Seung-yeon asks about their history, and learns that Eun-young was friends with Jin-soo's wife, who has since died. This is shocking, since she was told they divorced. Hyun-joo clarifies that the woman died in an accident not long after the divorce, to which Dong-min wonders, "Wasn't it suicide?"
(Theory! If Eun-young and Jin-soo got together after the divorce, leading to the death of the ex-wife, that adds a heckuva lot more guilt, which would prevent them from pursuing a relationship. Ooh. Interesting.)
Jin-soo can tell that Eun-young is feeling blue, and asks what the matter is. She provides plenty of legitimate reasons for feeling depressed — she's injured, she had to cancel meetings, he saw her naked — but again, Jin-soo senses there's more to it.
To cheer her up, Jin-soo tells her that she was right: she does have an awesome figure. Eun-young scoffs that he didn't even see her, but he replies, "Men can see everything worth seeing in one second." He even offers to draw her a picture. Lol.
Getting serious for a moment, Jin-soo tells her that it depresses him to see her depressed, "So cheer up." Eun-young brushes this aside, telling him to knock off the nice act. Jin-soo tells her, "You know I'm not acting."
What I like about these two is that they obviously care for each other, but they've developed this dynamic where they communicate through arguing, joking, and irony. Heartfelt emotions make them uncomfortable, so even when they're sharing a moment, they laugh their way out of the earnestness. Based on what we've seen thus far, the one who laughs first is the one feeling more vulnerable in the moment, and in this case, that's Eun-young.
Anyway, Jin-soo's got lots of research to conduct, and he's off to work with his "Kyak-kyak" secretary — that's the sound she makes when she's enjoying herself, which he demonstrates for Eun-young.
I just about died when Jin-soo produces Seung-yeon's "Kyak!" squeal and mimics her hand-clasping gesture, because that is pretty darned close to her real expression, as she demonstrates when she oohs over his horse Andromeda. At least that's the name he gives her; she finds out from the stable hand that the horse is actually named Bok-soon. One of these days Seung-yeon will learn to discern joke from truth, but today is not that day.
Seung-yeon marvels at the lovely surroundings and how cool Jin-soo looks, but her own day is not to have that kind of grandeur. Pretty much the exact opposite, in fact: Jin-soo puts her to work taking photographs of horse poop. Not just one kind, but all varieties, from all different types of horses.
When she finally finishes taking said photos, she's finally able to pull out the tissue she's stuffed up her nose and talks to Jin-soo with a tinge of an attitude. (I love that she's finally starting to snark back at him, although she drops the snippy tone as soon as Jin-soo calls her out on it.)
When he hands her his synopsis, she loses her grasp on the papers, which get carried off in a gust of wind and land in the manure pile. Jin-soo sighs that she wouldn't be her without a snafu like this, and asks pointedly, "Don't you know what you have to do?" Back in go the noseplugs.
With dismay, Seung-yeon starts picking the papers out of the dung, trying to keep as far away as possible. Which means that when she reaches for a paper on the far end, she stumbles… and falls… right onto the pile. Ewwww.
Jin-soo, ever the thoughtful employer, can't have his secretary covered in horse poop and offers to help her clean off. With a grin, he holds up a garden hose, making Seung-yeon shake her head wildly in a mix of dread and anticipation. She asks, "W-why? What are you going to do?"
Jin-soo lets her have it, spraying her with water and enjoying every minute. When she runs out of range of the hose, he grabs a bowl of water and douses her with that. Seung-yeon retaliates with the hose. Jin-soo gets back at her by dumping the entire bucket on her. So she grabs a handful of dung — hey, she's dirty anyway, right? — and chases him with it. I'd say that means she wins this round.
In her condition, Eun-young is forced to put up with Ji-won's attentions when he comes to see her. She tries to pull her hand away, but his grip is strong and her mobility is limited, so she grimaces throughout his speech and tries to hurry his departure.
For example, when he tells her he was saddened enough that she took Jin-soo's side at the boxing gym to consider letting her go, she bursts out, "Then let go!" He ignores that and kisses her hand, which makes her try again to wrench her hand free, resulting in neck pain. Ji-won enjoys having the advantage for once, and exults that she can't run away or kick him. I'm sure she's doing both mentally, though.
Now that Seung-yeon is sopping wet, Jin-soo suggests she buy some new clothes. They stop at a tourist shop, where she picks out a fairly normal-looking T-shirt and skirt, while Jin-soo tries to convince her to try on an ugly ensemble. She refuses, and goes to pay for her clothing, only to find that their credit card machine is broken. As she is out of cash, the elderly shopkeep asks her companion to lend her some.
Jin-soo generously offers to buy the outfit for her… but then he looks back at his joke outfit. Idea! He tells her to change outfits, refusing to pay for any new clothes unless he approves them first.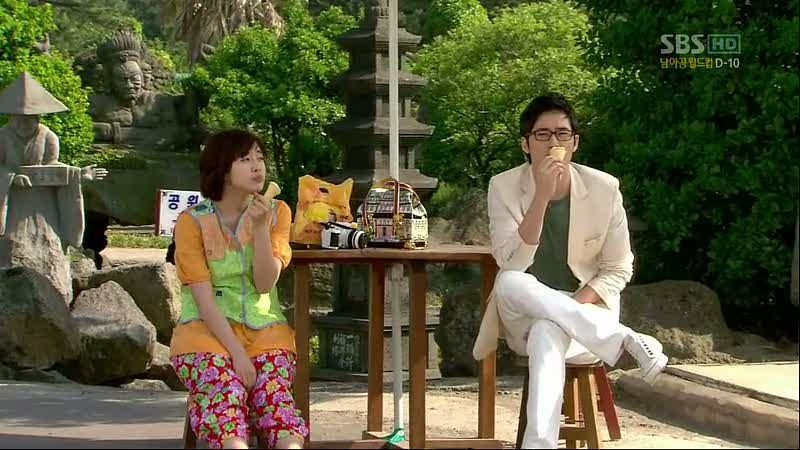 Into the ajumma-clown pants she goes. With Seung-yeon decked out in her garish new threads, Jin-soo jokes that he won't lose her now. She asks what's next on the schedule, which he declines to tell her — not because it's a secret (she'll find out soon enough) but because this is the answer that will annoy her. So when he looks at her to gauge her response, she refuses to give him the satisfaction. He asks why, and she retorts that that's what will annoy HIM. Oh, little chickee is learning!
A ringing sound confuses both of them, as neither has brought a cell phone to Jeju Island. Tracking the noise to Jin-soo's pocket, it turns out to be a phone Eun-young planted on him, to keep tabs while he's on this working trip.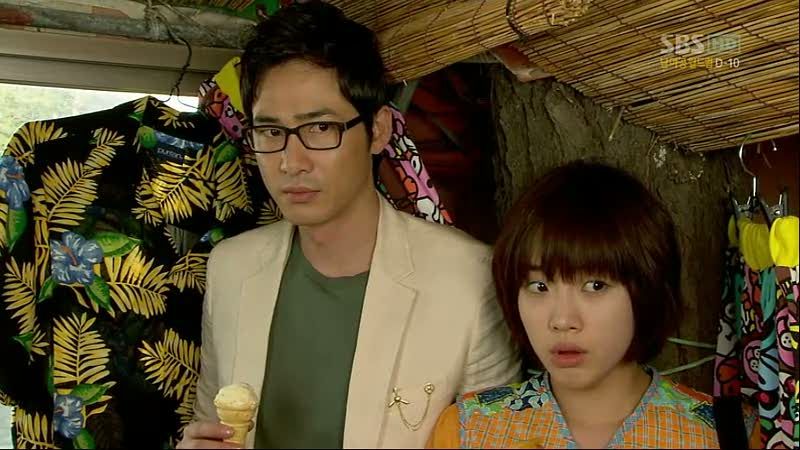 While he talks with Eun-young, Seung-yeon sees someone arriving — Ji-won! — and hurriedly warns Jin-soo. Whatever reason he has for being here, it can't be good.
They duck around the corner to the souvenir shop, hiding in a fitting room while Ji-won looks around. Seung-yeon's ice cream drips onto Jin-soo's jacket, and he retaliates by smearing the spilled ice cream onto her face, which is so like him — he's not one to let something slide when he could retaliate in kind, right?
Just as Ji-won turns to go, however, the planted cell phone rings, which draws Ji-won's attention to the two pairs of feet in the fitting room. Jin-soo is able to silence the phone, but Ji-won assumes that a couple is getting busy behind the curtain and can't resist peering into the room to check for himself (which is pretty pervy of him, really).
What he sees is even better than what he's imagining, however, since (1) he's caught Jin-soo in a compromising position, and (2) this gives him the idea that Jin-soo's interested in his secretary, (3) which means he's not going to be pursuing Eun-young. Win-win-win!
But on to the real reason for his visit. Seung-yeon watches from the car as Jin-soo and Ji-won talk a distance away. Worried that another fight will break out, she gathers rocks to arm herself should the need arise to defend Jin-soo. Say what you will about the character's dumb tendencies (which are not inconsiderable), her loyalty really is touching.
Jin-soo supposes that Ji-won is here to pick another fight, so he's shocked when Ji-won announces that he has decided to forgive him. Jin-soo's reaction is quite telling, as he urges Ji-won to not forgive him, since he wronged him pretty severely. In fact, he'd understand if Ji-won never wanted to see him again.
Ji-won's forgiveness comes with one condition — he tells Jin-soo to forget about any romantic interest in Eun-young, although perhaps this is unnecessary with Jin-soo directing his flirtations in a different direction. He explains his desire to let this go because the three of them — no, the four of them (including ex-wife) — have a lot of history together. Jin-soo is surprised at the suggestion of romantic feelings between him and Eun-young, but the mention of that foursome darkens his reaction.
(Based on the comments in previous episodes, it seems I may have been the only one who thought Jin-soo's pranks were going too far, but I'll still contend that they made me uncomfortable. If you pulled that kind of stuff in the States you'd be looking at criminal and civil charges for multiple offenses. I know this is a comedy and the prank was pulled for laughs, but I was a little uneasy about the extent of the joke. However, Jin-soo's response here explains things, because he wasn't looking to get off the hook. Underlying his jokester facade is a lot of anger at Ji-won, and he wanted to push Ji-won so far that he'd be deemed unforgivable. Thus he is now bummed to have that wish thwarted.)
Watching the exchange nervously, Seung-yeon almost unleashes her ammo at Ji-won, but is relieved when he walks back to the car without any sign of violence. Ji-won asks what she finds so appealing about Jin-soo, then figures that the young girls tend to like the crazies. He cautions her not to get too close, since she'll end up hurt.
Seung-yeon has no idea what he's insinuating and finds his comments perplexing, not to mention his trademark salute.
But her job is not yet done: Jin-soo has a message for Ji-won, which he directs her to deliver. When she hears what it is, she balks and tells Jin-soo to say it himself. He retorts that if he says it, Ji-won will kill him. Which is not exactly an encouraging thing to tell her. So with great apprehension, Seung-yeon knocks on Ji-won's window and recites his words reluctantly:
Seung-yeon: "He told me to say it like this: Sunbae, I couldn't tell you earlier, but don't… act like… like… such a loser with Ms. Seo [Eun-young]. It's really shameful to watch."
That sure gets Ji-won's attention, but that's not all. Seung-yeon cringes as she carries out the last part of her instructions, and Ji-won's eyes widen in rage to see the obscene gesture she's making with her fist. (It's the equivalent of flicking him off.)
At that, Ji-won tears out of his car to chase Jin-soo, who runs away.
Jin-soo laughs his head off as he relates the story to Eun-young, but she's still subdued and doesn't react with the same enjoyment. The source of this dismay appears to be different from before, however, because it seems like she's jealous at how well Jin-soo is getting on with his secretary. Eun-young comments that it sounds like he came to Jeju to play around, to which he answers that even though that isn't true, "it feels like I am, since my secretary keeps making me laugh."
Eun-young prods Jin-soo about whether Ji-won said "anything weird" to her, and this time he knows what she means. However, neither wants to address the elephant in the room, so Jin-soo feigns ignorance, asking for clarification.
Eun-young sends Jin-soo away, saying that he needs the sleep and she doesn't need him to stay with her. After he makes his exit, she sighs to herself, let down — it's not like she was angling for him to stay, but rather that she wanted him to want to stay.
Proving that these two are once again in tune — or "on the same page," har! (sorry, couldn't resist) — Jin-soo comes right back into the room. He doesn't make a big production of it, preferring to act like this is no big deal and not a sign of caring.
Eun-young admits that it's nice having him looking after her, pointing out that he's weak to two things: tears and illness. Half-jokingly, she suggests that she ought to have been sick earlier, since she's never been the recipient of this side of him before. That's about as close to an earnest statement as we'll hear her make, and Jin-soo keeps his side of the conversation flippant, telling her that being sick on purpose would have gained her his attention but have lost her charm, which is her cool attitude.
Meanwhile, Seung-yeon chats with Hyun-joo, who comments that she'd like to find herself a star client like Jin-soo someday and set up her own publishing company. Seung-yeon takes her joke seriously about poaching Jin-soo as a client, so Hyun-joo assures her that Jin-soo and Eun-young will continue to work together. Not only that, but unless Eun-young cuts him loose first, Jin-soo would never betray Eun-young by leaving. The reason being:
Jin-soo has a history of running out of interviews, leaving for months without contact, and showing up unannounced as though nothing had happened. A flashback depicts one such scenario, and my, Kang Ji-hwan's looking a lot like his swashbuckling Hong Gil Dong, isn't he? Right down to the tinted glasses. (Given how Kang is said to pay excruciatingly close attention to the details of his characters, I'm sure this is no coincidence.)
Hyun-joo's explanation makes sense, but as it turns out, there's an even deeper reason for their bond, which I love. That night, Jin-soo sleeps on the couch in Eun-young's room, while she looks at him pensively. His eye opens, indicating that this next flashback belongs to him, although it's likely Eun-young is sharing the thought.
In the memory, Eun-young pounds on a door madly, knowing that Jin-soo is in trouble inside. A hotel employee opens the door for her, and she bursts inside, past the living room that is littered with alcohol bottles and scattered with pills (hence her apprehension about sleeping pills?). Inside the bedroom, she finds Jin-soo close to unconsciousness, sitting next to a glass of water and more scattered pills.
Eun-young pleads with Jin-soo to wake up, shaking him and slapping his face, trying to get some kind of response. His head lolls dully, and although his eyes are open, he's so out of it that he doesn't react.
Eun-young holds up a paper, telling him that this is a contract. She stamps his thumb to make it binding, and insists that he's signed the contract now, which means he has a lot of work ahead of him. Sobbing, she slaps him again, urging him to find that will to keep writing and therefore keep living — and finally, he lifts his head up with some awareness, and a tear falls from his eye.
I LOVE this flashback, which not only gives us insight into their past but manages to make our hearts twist for their pain. It also makes Hyun-joo's comment about Jin-soo never leaving Eun-young more meaningful, because he literally owes her his life. She forced him to come back to writing, which dragged him out of his emotional misery and allowed him to find the will to keep going. Therefore he'll never leave her — as a writer indebted to his publisher, but also as a friend indebted to a friend.
Cute Dong-wook time! He knows that Seung-yeon's away on a trip, but he heads over to her father's cafe, curious to know if she's back yet. It's Sunday so the cafe is closed, as her brother Seung-chul informs him. Dong-wook lingers and asks hesitantly about whether something "has come," which is unhelpfully vague. Fumbling for words, he asks about, you know, from Jeju Island… which Seung-chul interprets to mean juice. Or maybe tangerines? What else could come from Jeju?
It occurs to him belatedly that Dong-wook might be asking after his sister, and now he gives the guy the once-over with a knowing smile. He rushes home to report the news to an astonished Dad and Grandma: noona's got a new prospective boyfriend!
Jin-soo and Seung-yeon are escorted back to Seoul by the employees, and Jin-soo is surprised to hear that Eun-young left in the morning without telling him. He asks Dong-min to call Eun-young, to which the employee uneasily fakes a call and reports that her line is busy at the moment. When the car pulls up to the back of the book cafe rather than the front, Dong-min makes a nervous excuse about construction.
All this tips Jin-soo off that something strange is going on, and he tries to figure out what. Unfortunately, he's just about a split second too late, because it isn't until he opens his front door that he realizes what's going on, and it's too late to escape. Eun-young has planned a television interview for him, and the filming crew is set up in his place. When he turns to leave, a crowd of apologetic company employees block his escape route.
Thus it's too late to make a break for it. Eun-young introduces him to the director, and while Jin-soo shoots death glares her way, he has to put on an accommodating smile for the director, and exclaims politely, "Oh, don't worry, it's nothing!"
Jin-soo changes his clothes in preparation for the interview, after which Eun-young approaches hesitantly, mindful of his anger but wanting to smooth things over. She promises that this is the very last thing she'll force him to do, and that starting tomorrow he can do everything his way. This is an interview he'd refused before, but which she had reminded him was necessary and unavoidable.
Bitterly, he deduces that she was planning this while he was sitting by her bedside at the hospital. This is why she insisted on staying in the Jeju hospital until the day of the interview, matching her release date to the schedule to make sure he didn't leave early. (I don't think he's accusing her of faking her accident, but of maneuvering everything to direct him here according to her plans.)
She had prepared herself for his reaction, but she feels his sense of betrayal keenly. She tries to defend herself by saying she didn't enjoy this, and then asks if they ought to end their contract after this book. She fears what will happen to them if they keep this up, which may even land them in court. He says caustically that she need not worry, since she'd win and he'd end up bankrupt.
That's rather harsh, and Eun-young tells him that she's not somebody who would just be excited to win in court. He asks, clearly not believing her, "Really?" She says, "Really." He asks pointedly again, "Really?"
Eun-young starts to give in, saying, "If you really hate it so much…" But the arrival of the makeup team and support staff interrupts, and they start to work on him.
Seung-yeon also joins them, and Jin-soo makes his last attempt to take control of the situation. He sends Seung-yeon a look — not just any look, but a meaningful look, like he's willing her to read his brain and catch on to his unspoken message.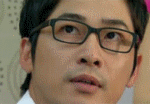 He introduces Seung-yeon to the others, and gives her a coded message that sounds innocuous to the casual listener but emphasizes his meaning. What he says is, "You've worked for me for three months now, haven't you? That means you should be able to guess what I mean by now." But combined with his eye gymnastics and emphasis on certain words, he's making sure that she knows he's sending her a message. Like saying, "You should KNOW what I want you TO DO."
Ah! After mulling over his words in her mind, Seung-yeon catches on and gets to work. She wanders around the office area casually, so as not to attract undue attention, while she grabs some of his supplies. A look out the window maps out her exit route, and she saunters over to the bookshelf blocking the back door, moving it just enough for someone to fit behind. She opens the door and leaves it ajar.
Thus when Jin-soo comes out to do the interview, he sees that she has set up his escape and casually makes his way over to the bookshelf. Her preparations give him a few seconds' advantage and he races down the stairs and out the back way, where Seung-yeon is waiting with a taxi.
The employees chase him out of the apartment and into the street, and just barely miss him as the taxi speeds away.
In addition to her frustration with Jin-soo's exit, Eun-young confirms that Seung-yeon was with Jin-soo — looks like Eun-young's lesson sank in, and the secretary has solidified her allegiance to Jin-soo over her.
In the car, Seung-yeon is proud of herself for understanding Jin-soo's message and managing this getaway successfully. On top of that, she'd managed to pack all his materials and supplies.
Seung-yeon explains that she worried about misinterpreting his intent or him taking the other route, but stops midsentence as Jin-soo reaches over to ruffle her hair enthusiastically, thrilled at this turn of events.

COMMENTS
I totally take back what I said in the first recap about liking this drama just as much without Kang Ji-hwan. Inititally the refreshing, wacky story was enough to get me onboard without the added draw of Kang Ji-hwan, but by this point he is bringing such added depth to the character — and some truly awesome comic acting — that I can't see anyone topping his portrayal of Jin-soo. How is it that this supremely oddball, often rude and inconsiderate character is so endearing? On top of that, Kang has that ability to tap into his character's veiled inner emotions, so that we're given occasional glimpses into his vulnerable "real" side, but not full access. He controls how much we get to see, and he's a master at that.
I like that we're being fed little clues into the backstory without seeing it all at once. It's enough to keep us intrigued and curious, but not so scant that we grow frustrated or too much that the mystery dissipates prematurely. I'm really digging how we're peeling back the layers in Eun-young and Jin-soo's friendship with each flashback.
We've still got plenty of room for an alternate pairing, because while the last sequence in this episode sets us up for a Jin-soo/Seung-yeon relationship, the flashbacks (and a few fleeting comments in present-day conversations) indicate that his relationship with Eun-young has deeper roots than first indicated. If they can heal those wounds, maybe they can get their second chance. Yet while I still think they'd be great together, I can see where the ending scene argues more strongly for Seung-yeon, because she stuck with Jin-soo while Eun-young "betrayed" him with the trick. Seung-yeon's actions are purely motivated by wanting what Jin-soo wants; Eun-young's actions are largely motivated by her own desires. I don't think it's wrong of her, because she's a professional with a business to run, so I don't hold it against Eun-young. It just differentiates the two women from each other. One could argue that this is hardly the first time Eun-young and Jin-soo have found themselves in this situation (her tricking him, him running away), but from Jin-soo's reaction it appears that there's something different this time around; that she was going too far. Maybe it's because, as he pointed out, she was planning this when he was sitting by her bedside and being earnest with her, for once, instead of glib.
Last but not least, I'm enjoying the way this drama is directed with the different flashback styles. The comedic sequences are framed in that comic-book-like grid style, titled on its axis for a slightly skewed effect. Just like the humor it contains. Whereas the serious flashbacks are done in stark black and white, all hint of jokiness gone. The black-and-white flashback in this episode was one of my favorite scenes of the drama, and not only had great acting but was finished with the perfect musical and directorial touches.
RELATED POSTS
Tags: Coffee House, Ham Eun-jung, Jung Woong-in, Kang Ji-hwan, Park Shi-yeon