Elle's interview with Coffee House team
SBS's Coffee House is currently on hold till next week; two weeks were postponed due to World Cup coverage. This Elle interview with Park Shi-yeon and PD Pyo Min-soo actually came out last month — just before the drama aired — but I figured this would be a good time to get in a dose of Coffee House while we're waiting for new episodes.
In PD Pyo Min-soo's dramas, there are real people. Those real people show real expressions when they suffer troubles. There is love. The name Pyo Min-soo is a symbol of that kind of trust. SBS's Coffee House is a drama he made while thinking of ways he could become happier. And Park Shi-yeon, who leads this drama with him, says without hesitation that she is happy.
ELLE: What was your reason for picking Park Shi-yeon as a lead character? There must have been an overlap with her and the character, and what she could draw out from within herself.

Pyo Min-soo: "I wanted to portray confidence a little differently this time. You could call her someone with confidence in life. In that case, she's not in a rush and should have time to relax, and the actress Park Shi-yeon showed that side the best. She's extremely kind, too. I had heard before that she had a good personality, but it feels like she's honestly come from a good-hearted planet."

Park Shi-yeon: "In the drama, Eun-young has a very free spirit. Should I call her frank? She's faithful to her emotions, but doesn't hold grudges. To be honest, I can't do that. Even if something goes wrong, I think, "Okay, I'll just have to put up with it."

Pyo: "She's very understanding. She's that type of person."

Park: "Eun-young's the type of woman who can readily point out 'Hey, this is wrong' and then cast that off and laugh and converse again, but because I can't do that in my real life it's really refreshing to be able to act that. I have a really bright personality, but somehow I've always been cast as the femme fatale. I wanted to do a role like this at least once before I got too old. On top of that it was a Pyo Min-soo drama, so I had no reason to hesitate."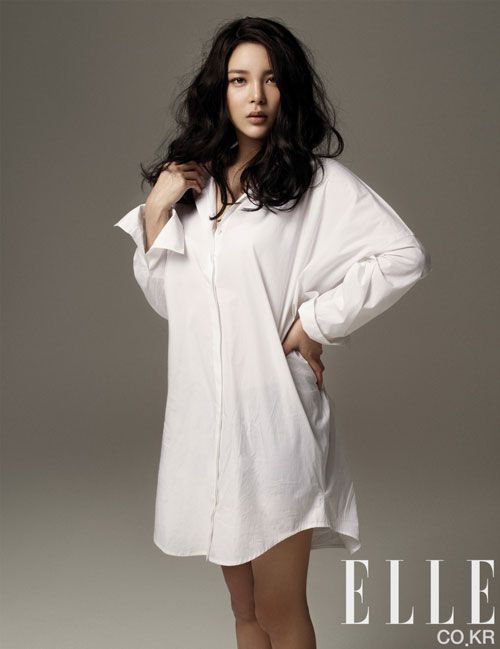 This could be the birth of a leading female character who could be called romantic [idealistic].

Pyo: "That's right. Eun-young isn't a character that you find much in the real world, someone who hardly exists. She is confident, she knows how to take care of people, she knows how to help people in trouble, she's clear and expressive. Haha. To throw yourself into work without reservation means that you know exactly what that work is. That's why she can say without hesitation, 'Yes to this, no to that.' That includes giving up right away when something's not possible."

Park: "That's appealing. She can even tell men clearly that she dislikes them if she dislikes them, and that she likes them if she likes them."

Pyo: "When I'm alone I can swear all I want and say things like bastard and asshole, but I can't in front of others. The strongest expression I use is at the level of 'Really? You're going to do that?' And some people will just ignore it and move on. For me, that was speaking pretty strongly, but they can't feel that. That's why when I first meet someone, I'll let them know in advance that if I say something like that I'm being forceful. But in this drama, Eun-young is very clear about her statements."

On top of that, she's perfect, and also incredibly picky about her coffee preferences.

Park: "I love coffee and books most of all. I don't have the chance to read very much, but I always have to have coffee, a book, and sleep. [Laughs] I like those things personally, but I also like things that everyone can relate to. She's not a standard character, which makes me even more fond of her. I feel like she can do anything, and I'm overflowing with thoughts. I have even deliberated over things she might wear and gone online to order clothing for her. Actually, this is the first time I've ordered something online. That's how much I want to show [the character]. I want to try everything, and since she's not like the characters I've played before, I feel ambitious."

With coffee and novels as its subject, the teaser video released online gave off a really hazy feeling.

Pyo: "These days, I'm seeking the answer to the question 'What can I do to be happier?' This drama is an extension of that. There will be more joy, more things to laugh at, more playing with emotions. I ordered the actors to show multiple colors."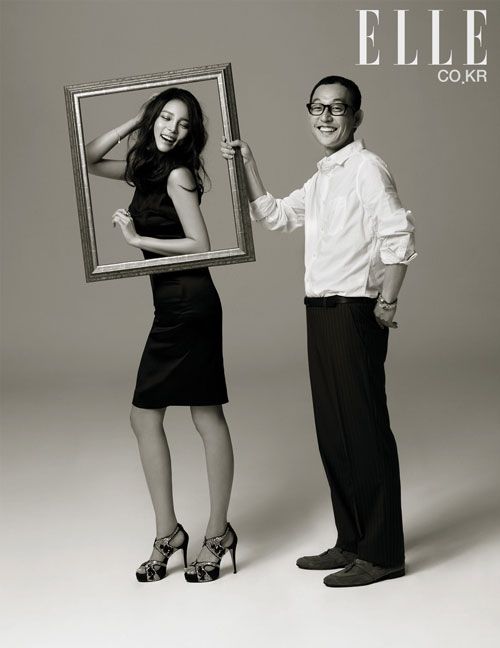 The project had the working title Page One, but it was changed to Coffee House, which brings to mind your prior drama Full House.

Pyo: "Part of it is because it's an English title, but there were comments that the meaning of Page One didn't really come through clearly. When we first chose the name Page One, it was to suggest the first page of life, the first page of a new drama. The feeling that each and every day is a first page.

This is your first time working with writer Song Jae-jung of Unstoppable High Kick. That collaboration probably has its own energy.

Pyo: "The collaboration is good. He's a writer who understands the level of entertainment. My job is the express the emotions, but if we can be in tune and add to each other, we can produce a good drama."

Park: "I received the scripts for 5 and 6 a few days ago, and reading them was so much fun. It was so funny — "Ah, is he an idiot?" I was happily giggling to myself and read it all in one sitting. If it's easy to read, then I think it would naturally be fun to watch as well."

Aside from dramas, what do you do to keep yourselves happy?

Pyo: "Getting absorbed in enjoyable things, whether that's reading books, watching TV, watching soccer, sleeping, eating good food, having good conversations, or doing my best with positive thinking. It isn't that positive thinking makes your environment positive, but that doing your best within your environment is positive thinking."

Park: "Honestly, this is the first time working has been this fun. When I'm acting a dark role, sometimes going to the filming set feels overwhelming. For one, there's the director who demands that the dark atmosphere be preserved. I've been instructed to not eat for a few days and bring out emotions that put me just on the brink before wanting to commit suicide. In those instances I worry about what I'm doing, but these days I'm really enjoying myself. I don't generally like to change my staff so I've been working with the same people all this time, and those around me say that this is the first time that they've seen me take such care into every bit of clothing. I usually just wear what I'm given, but this time I've stepped in to pick out new clothing myself. I like to take baths, and I'll read the script while I'm in the bath, which helps me memorize my dialogue. While I'm by myself, I practice by getting angry or yelling or losing my temper or laughing. That's how I am these days. I enjoy it."
When I called to discuss scheduling over the phone, to be honest I was surprised. I knew the broadcast premiere was fast approaching and figured that the director must be incredibly sensitive around that time. But for the director to be this friendly and kind?

Park: "Not long ago when I was filming the one-act drama [Drama Special's Red Candy], Lee Jae-ryong sunbae said he really envied me. He knew Director Pyo's style very well, haha. Only a few decades ago, I hear that directors would scream on set and it was considered a virtue for actors to be timid. But Director Pyo is the very person who started to change that. Honestly, how humiliating must it be when a director curses at the actor, "Hey! You there! You [expletive]!" when everyone's attention is fixated on them? Director Pyo never raises his voice on set even now, and he's always running around. He's the busiest person. He'll go over to the actor to say, 'Please try it this way.' Then he'll run over to a staff member to say, 'Please do it this way.' If an actress finds a run in her stockings that interrupts things, he'll run out secretly during a break and buy some."

That might be called temperament more than style.

Pyo: "It's embarrassing for me too, but that's how it is. The nature of a drama is to express people and humanity, and there are so many people who go into making a drama. If the set itself isn't humane, how can we express humanity? On top of that, actors are by nature sensitive to their emotions and surrounding environments. When actors and staff members feel safe and secure, the drama improves and if the drama improves, I'm happy and if I'm happy, my wife is happy and if my wife is happy, my mother-in-law is happy. If this continues, can't we make the 6 billion people on the earth happy? Ah, is that what humanitarianism is? Haha. That's why I try to speak calmly, and I think that improves the results. The schedule is very tight, but even if I don't have much time it's crucial to be on top of the actors' feelings and conditions. That's why I always want them to enjoy themselves."

Seeing the reactions of your main cast, it seems things are proceeding as you want them to.

Park: "You're right. Haha."

Pyo: "That makes me feel happy and refreshed."

This drama is a love story, which is a common thing but still difficult to do. What in the world is love about?

Park: "First off, if the two people don't respect each other, I think that once one person disregards the other, the relationship falls apart. Also, you have to trust each other. If you want both of those things, you really need time [to build it up]. All interpersonal relationships are like that, but love relationships particularly need both."
But in dramas when love is depicted, you can't leave out the moments when faith is shattered and cracked, and conflict builds. And you have to have empathy for the characters and their pain for viewership ratings to peak.

Pyo: "I see love's failure and pain differently than in the past. Maybe it comes with aging, but I think it hinges on adjusting our thinking. When you like someone, one person might think that calling three times a day isn't enough, but once your feelings cool, three times becomes a hassle. Feelings change every moment. We briefly talked about happiness earlier, but I think the things that made you happy in the past aren't that necessary now. What's important is what makes you happy today, maybe tomorrow. In this drama, the things of the past don't drag you back, and they're there, but I want to talk about how happy we can be today and tomorrow. I don't want to give the feeling that the people in the drama are hung up on love. They don't live their lives for love; I want them to have loves that benefit their lives, to have passion for their lives as they do their life's work. You can take Shi-yeon-sshi's comment about respecting each other and broaden it to mean respect for everybody. Find out about that person's good points, reveal some of my own faults and learn about each other. Let everyone live happily."

I felt that Director Pyo Min-soo's previous dramas were all particularly infused with deep emotions. They felt as though you took apart that emotion called love and showed it candidly.

Pyo: "When talking about my old dramas, I divide them in half. In the first part are the strong stories. With adultery? Dark loves? Backstreets, with no lights? Things like that. Haha. Then after Full House, I went on a brighter path. If you categorize this one, it's also a bright story. Whether bright or dark, a drama hinges upon how you portray the people."
Here is Pyo's filmography (drama-ography?):
Lie (1998)
Blue Fog (2001)
Loneliness (2002)
Full House (2004)
What Star Are You From? (2006)
Insoon Is Pretty (2007)
The World They Live In (2008)
Coffee House (2010)
Sometimes I get a harsh feeling, maybe from the strong dialogue, but when watching a so-called 'Pyo Min-soo/Noh Hee-kyung brand' drama, I feel like there's the declaration, sometimes an insistence, that 'This is what love is like.'

Pyo: "When writer Noh Hee-kyung wrote Lie and Foolish Love, and when we worked on Loneliness together, there was definitely that kind of declaration. Like life is painful, everything's a lie. The dialogue was like that, too. 'Love is like a traffic accident.' 'Love is like the seasons — when winter passes, spring comes back.' But these days I wonder how someone can pass judgment or make declarations about anyone else. From More Beautiful Than a Flower onward, Noh Hee-kyung also seemed to ease up on the pronouncements and took a more contemplative approach. Instead of directing as the leader of an army, I'm taking the 'back-up' style. From that perspective, when considering love, everything is beautiful. Painful love? Beautiful love? A love with a past? Maybe the love of a person you don't love? It's all quite beautiful. I find that people who are enthusiastic about their emotions and who live diligently are all beautiful. They're beautiful even if they quarrel, and beautiful even after you split up and suffer heartbreak. Rather than thinking this person is good and that person is bad, thinking that person loved someone, is loving now, or will love in the future — that in itself is really beautiful."

Park: "For me, of all of Noh Hee-kyung's dramas, the dialogue of Goodbye Solo really sticks with me. Because the twenty- and thirtysomething lead characters loved so beautifully, Bae Jong-ok sunbae-nim [a veteran in the drama's cast] said, 'It must be hard, being young.' I think I understand that feeling now."

It seems like this can only be said by someone who likes people on a fundamental level.

Pyo: "Whoever I meet, I see their strengths first. I want to see that."

Park: "The first time I met the director was in the parking lot. I worried, what if he didn't recognize me? So I couldn't meet his eyes properly as I greeted him [politely in passing] — I looked this way, he looked that way and we passed each other. Listening to him talk, it seems there are a ton of points we have in common. There are a lot of times when he'll know how to read the emotions. It's one way he's considerate."

Pyo: "Now that we've stripped away the formalities, we'd better talk frankly, saying things like, 'Hey, what's with you?' Haha."
With a new drama and a new start, what do you both wish to gain through it?

Park: "I want to be so into the character that I can be called by her name, for people to say, 'About Eun-young, yesterday in Coffee House…' I'd like to be an actor who is able to be completely different each time, like drawing a fresh image on each new sheet of blank paper. I'd also like them to know that I'm a cheerful person."

Pyo: "More than anything, I'd like for it to be a drama where you can say that the actors really attempted everything they wanted to attempt. If there are any mistakes, I'll fix them up, so I want them to not worry and try as much as they want. I want viewers to be able to say that everyone worked hard, and that they felt like those people are like real people. I hope everyone can be healthy and enjoy themselves."

This is where the line from The World They Live In must make a reappearance, to "Live like it's a drama."
"That one phrase is the reason Noh Hee-kyung and I both started in dramas. To put it another way: Live with joy. Be honest with how you express your emotions, and be faithful to every moment. If our world is joyful for our hundred years, perhaps the next hundred will be okay, even with a little sadness. If we could choose to make sure of a good today versus a good future, most would pick their futures, but I'd choose today. Dividing today into 24 hours, people might choose to skip this hour now and choose to be happy later, but I wouldn't. People always think of what's next, but then that means happiness is off in the future, like a rainbow. Be happy right now."

Are you happy now, too?

Pyo: "I'm happy."
Park: "Of course I am, too. Haha."
Via Chosun, Elle AtZine
RELATED POSTS
Tags: Coffee House, interviews, Park Shi-yeon, photo shoots, Pyo Min-su