Glossary: Oppa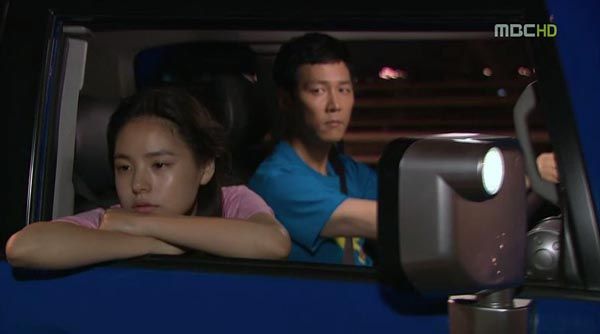 Was there ever such heartbreaking confusion over the meaning of
the word "oppa" as with these two in Triple?
Perhaps you've seen that Glossary link in the menu to the left, languishing in neglect with nary an update. I decided, what better way to update than to expound upon those familiar kdrama terms and concepts in a Glossary Series? Because while longtime drama lovers may know exactly what a chaebol is, why pojangmachas rule, and why makjangs induce eye-rolls, sometimes we toss around these Korean terms freely without explanation. And we suspect (we being myself and girlfriday, of course!) that some people are left in confusion.
Hence: the Dramabeans (Extended) Glossary. First up in this ongoing series is that ubiquitous, loaded term that we see in practically every drama ever: "Oppa."
Of all the terms in the glossary, oppa may be the most packed-with-extra-meaning-and-therefore-confusion entry. The straight definition is pretty simple — an oppa is what a girl calls her older brother, or an older guy whom she feels somewhat close to — but its application is where we get all tripped up in nuance.
The Types of "Oppa"
(1) The brother. This is the most straightforward use of oppa: the blood relative. This can mean a girl's sibling or cousin, just as long as he's male and older. Oddly enough, oppa can even mean one's twin brother, if he were born ahead of the sister. In You're Beautiful, Mi-nyeo calls her twin Mi-nam "oppa," because ostensibly he got a few minutes' head start in the world.
(2) The older guy. The term oppa can also be extended to guys who are not blood-related, but to whom the girl feels some closeness. When a girl is a young child, this is pretty easy to do — every boy older than you is an oppa.
When the girl starts growing older, however, she has a few more choices for things to call older guys and therefore the use of "oppa" becomes at her discretion. Now she gets to pick whether a guy is close enough to be an oppa — or maybe there's some distance and sunbae, or his work title, or his name would be more appropriate.
A guy who takes on oppa status to a girl he's not related to also takes on a few implied responsibilities, like generally watching over her and making sure she doesn't get into trouble. He's the one who might introduce her to social drinking — but he's also the guy who'd better cut her off when she's had too much. An oppa who takes advantage of his drunk charge isn't worthy of the title oppa. If the currently popular trope of the cold-on-the-outside, fuzzy-on-the-inside hero can look to Mr. Darcy as its archetype, then the quintessential oppa is surely Mr. Knightley.

My Girl: Not quite an oppa
You might wonder, in My Girl, why does Yoo-rin call Gong-chan that weird formal word oraboni?
Oraboni is an older, formal version of oppa, most often heard in historical dramas. At first Yoo-rin calls Gong-chan by his title — executive director. However, once they assume the ruse that she is his long-lost cousin, she's family and it's no longer appropriate to use his business title. She can't use his name because he's older and that would be disrespectful. So why doesn't she use oppa? Well, they're virtual strangers, and oppa — even in family settings — suggests some level of closeness. And Gong-chan is a cold, distant sort of guy. To preserve that respect but to not appear presumptuous, she uses the more distant, formal oraboni.
Suffice to say that once you're an adult, the lines get blurry. Add to that the following complication and here's where things start getting tricky:
(3) The romantic oppa.
Hooo boy, now this is the big one.
A girl often calls her (older) boyfriend "oppa." I know. It's weird. It's just how it is.
So you can imagine that the word now takes on all these added implications. No longer are you just the protective older brother-figure. Now the oppa is the object of romantic affection — the manly man, the stud. You take those earlier connotations of the brother-oppa (respect, guidance) and you add in romantic adulation? It's a heady combination.
There's a reason the denizens of the Open Thread have coined the term "Oppa Pout Wiggle," or "O-P-W." In short, it's that whiny, girly, fussy way a girl pouts, "Oppaaaaaaaa" when she wants her boyfriend to do something for her. Personally, I find the oppa-whine immensely annoying, but there's a reason the guy always crumbles. (Key example: Sung Yuri's batty eyelashes and oppa-whine to Hyun Bin in Snow Queen. Also known as Samsooki's kryptonite. There's a particularly robust discussion about the O-P-W in Open Thread #81.)
Here's an explanation in the words of Min-ae of 2006's Soulmate:

The Application (and Complications) of "Oppa"
When a relationship is clear-cut, things are simple. But in kdrama-land, things are never clear-cut and one relationship always wants to be another kind of relationship. Hence all the blurry lines.
Take Triple. Haru (Min Hyo-rin) uses oppa with Hwal (Lee Jung-jae), her ex-stepbrother from childhood. They haven't seen each other in years but when they reconnect, he's still her oppa.
She also uses oppa with his buddy Hyun-tae (Yoon Kye-sang) — but why does she use "ajusshi" with a third friend Hae-yoon (Lee Seon-kyun), when they're all the same age? (Ajusshi is used with older men.) Well, Hyun-tae is goofy, fun, and young at heart — oppa seems fitting. Hae-yoon is much more professional and acts like a real grown-up, so he gets the ajusshi treatment. Note that when Haru later switches to calling him oppa, he LOVES it. It makes him feel younger, plus it's much cooler to be an oppa than a crotchety ol' ajusshi.
There's a scene in Triple (Episode 3) when the adorable Song Joong-ki, who has a crush on Haru, is miffed with her. She apologizes, calling him oppa, and immediately his attitude drops — he turns into a giddy, excitable boy. She doesn't mean it flirtatiously, but it suggests that romantic vibe he so wants with her.
And then, another wrench is thrown into the works when Haru starts to develop feelings for Hwal — meaning that he starts to encompass all THREE meanings of oppa.

Two very different kinds of oppas: Cinderella's Sister and Bad Guy
This romantic-platonic complication runs both ways. In the case of Song Joong-ki above, he wants that "oppa" usage to cross the divide from platonic into romantic. In an opposite scenario, a girl may desperately want to advance to the romantic stage with her oppa, but he sees her in a purely sisterly light. For instance, Cinderella's Sister: Hyo-sun uses oppa readily with Ki-hoon, as she looks up to him and adores the ground he walks on. He merely thinks of her as a sister, but contrast that with Eun-jo. Could you imagine the reaction she'd get if Eun-jo ever tried to call Ki-hoon oppa? I'm guessing that would be the first and last time, since he'd be dead from shock.
In Coffee Prince, confusion about Eun-chan's (Yoon Eun-hye) gender is exacerbated by her sister teasingly calling her oppa. Eun-chan already looks like a guy, so when her cute younger sister goes around calling her oppa (instead of the word for sister), it's no surprise that Min-yup assumes that lady's a dude.
In Que Sera Sera, Hye-rin calls Joon-hyuk oppa. They're not related, but he was raised as her brother. As adults, the two have a secret affair, and you get the sense that Hye-rin relishes calling him oppa, which sounds like one meaning of the word but is spoken intending the other. (Also: WTF kdramas and your obsession with faux-incest?)
In the recent Bad Guy, 20-year-old Mo-nae has taken a liking to Gun-wook (Kim Nam-gil). Before she knows his name, there's enough of a tangible age gap that she has to call him "ajusshi"… but after they bump into each other a few times and are on speaking terms, she asks for his name, and immediately switches to "Gun-wook oppa." And now that she is dating him, she uses oppa freely.
Basically, the rule of thumb is: the closer you are, the more you can break the rules and the more you can use oppa.
In conclusion?
Oppa is a word with power. Don't abuse it!

To cap things off, here's the 2000 pop song "Oppa," as sung by Wax and featuring a young Ha Ji-won. The song pretty much encapsulates the whole oppa dilemma:
I liked that simple, casual vibe
I just thought of you as a good person
But what's up with this? I keep feeling you as a man
I must be in love with you

Oppa, only look at me.
Are you so busy?
It hurts my feelings
Why don't you understand how I feel?
Oppa, why are you looking at her?
See, she's bad
Look, take me now
Take me now

Why won't you see me as a woman?
Why do you keep saying it can't work?
Look at other couples, they all start off as oppa
In the end they love and live happily
Next up: girlfriday defines noona.
Tags: Bad Guy, Cinderella's Sister, Coffee Prince, My Girl, Triple