Road No. 1 premiere numbers lower than expected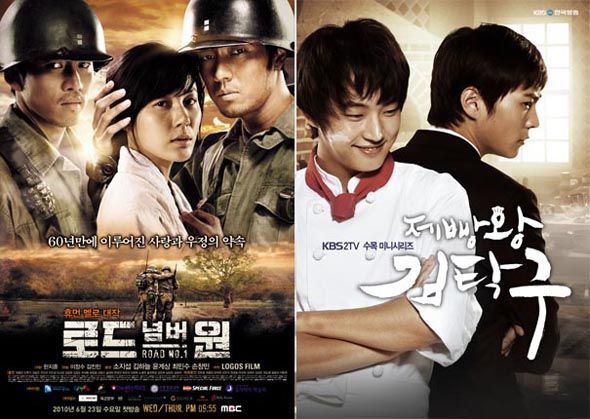 Road No. 1 premiered this week, and despite all the fanfare over its cast and 13 billion won budget, the first two episodes brought in a 9.2% and 9.1%, respectively. Not horrible numbers, but lower than hoped, certainly. Especially considering that competitor drama Baker King Kim Tak-gu on KBS climbed even higher with a 27.1% and 31.1%.
SBS, meanwhile, postponed Bad Guy once again to air World Cup games, and the highlights program and the Slovakia-Italy game recorded respective numbers of 7.3% and 11.4%.
Normally I wouldn't say that Road's numbers are such a bad thing for an epic drama, as those sprawling blockbuster series usually take a little time to build and tend to increase later on. (See: East of Eden, Giant.) However, note that Road No. 1 is a 16-episode miniseries, and as it has already completed 100% of its filming, the possibility of an extension is not on the table.
This is also interesting because next week Bad Guy will resume, and before its repeated pre-emptions, it was pulling in 13%-15% numbers. It remains to be seen how much it will cut into the other two competitors — or if its constant delays will have taken the zip out of people's interest. Some disgruntled and vocal viewers have complained that SBS is making it particularly difficult to watch Bad Guy, so the broadcaster responded by scheduling a "special broadcast" of Bad Guy this weekend. On the 27th, they will air a two-hour program that reviews the plot of the first five episodes, in time for Episode 6 to resume on June 30.
Via E Daily
RELATED POSTS
Tags: Bad Guy, Baker King Kim Tak-gu, drama ratings, Road No. 1