Road No. 1 wraps filming
The drama is a week and a half from its premiere, but already MBC's Road No. 1 has completed all the filming on its 16 episodes. The production wrapped on June 12 and is now in post-production, meeting its goal of being 100% done with shooting prior to broadcast.
I'm a little annoyed that the reports gave away the details of the final shoot, so here it is under spoiler notice for those of you who don't want to know what the ending involves. [SPOILER] The war results in an unavoidable separation of the drama's leads — no doubt referring to the characters played by So Ji-sub and Kim Haneul — and they finally meet again after sixty years have passed. As the war broke out on June 25, 1950, that places the last scene in contemporary times. [/END SPOILER]
Director Lee Jang-soo said, "I really wanted to finish filming ahead of time, as planned from the start. I'm thankful for the staff and cast, who followed me with stamina of steel."
Star So Ji-sub said, "Finally, this long six-month run has ended. I'm glad now that filming is over, but I also feel pretty sad. I'm really grateful that we were able to finish without anyone getting badly hurt and without accidents."
His co-star Kim Haneul siad, "The six months I lived as Soo-yeon have felt pretty long. Because I've gotten so deeply into her character, it doesn't feel real that we've ended. This is a drama that gave me a lot of experience and broadened my horizons as an actor. I'm looking forward to the first broadcast with excitement."
Yoon Kye-sang said, "It feels like just the other day that filming began, but it's really passed by swiftly. This drama will last in my memory for a long time. Since it's the final shoot, it would have been nice for the other actors who were part of the troops to have been part of it, since all worked hard together."
Road No. 1 premieres next Wednesday, June 23.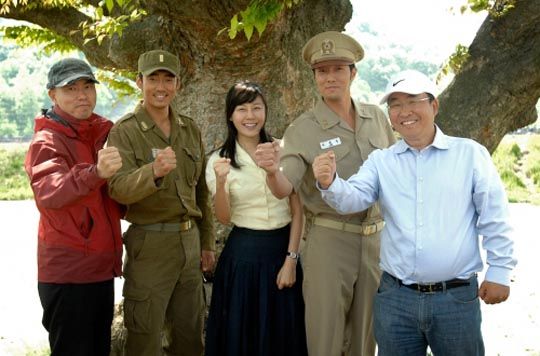 Via Joy News
RELATED POSTS
Tags: Kim Haneul, Road No. 1, So Ji-sub, Yoon Kye-sang