Sector 7 beefs up its cast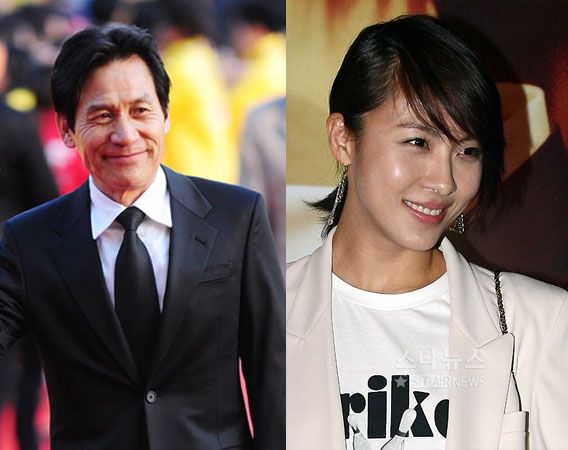 Ahn Sung-ki, Ha Ji-won
Ha Ji-won's blockbuster 3D action movie Sector 7 has packed its cast with more name stars just as it readies to begin shooting this week. Produced by the man behind last year's disaster movie Haeundae and directed by the man behind May 18, the project has already got a high profile and a budget to match. The addition of more stars to its cast ought to build up more buzz for the The-Host-in-the-open-seas action flick.
The monster movie takes place out on an oil prospecting ship at sea, and it was announced two weeks ago that Oh Ji-ho (Chuno) would be joining the production as Ha's engineer boyfriend. One of Korea's most respected veteran actors, Ahn Sung-ki (May 18), plays the ship's veteran captain.

Park Chul-min, Lee Han-wi, Cha Ye-ryun, Song Sae-byuk
Joining him are two actors well-known for their comic chops, Park Chul-min (Return of Iljimae's Wang Hweng-bo, the nervous trumpeter in Beethoven Virus) and Lee Han-wi (Chuno's police officer, also of Good Morning President). The former is in charge of the oil drilling equipment, while the latter plays the ship's medical professional.
Rounding out the cast are Song Sae-byuk (Bang Ja Chronicle), who plays a welder, and oceanographer Cha Ye-ryun (Invincible Lee Pyeong-gang, A Star's Lover).
After two years of pre-production, Sector 7 begins shooting on June 16 and is aiming for a Summer 2011 release.
Via Kuki News
RELATED POSTS
Tags: Ahn Sung-ki, Cha Ye-ryun, Ha Ji-won, Lee Han-wi, Park Chul-min, Song Sae-byuk