The leading men of Gumiho: Fox Child

Seo Joon-young
Lead actress Han Eun-jung will be acting opposite several leading men in the new sageuk thriller Gumiho: Tale of the Fox's Child. First announced was Seo Joon-young as a young love interest, who is pictured above.
Two more actors have been cast to complicate matters: Yoon Hee-seok and Jang Hyun-sung. The former plays a cold-hearted man in pursuit of the gumiho, while the latter is the human father to the young girl portrayed by Seo Shin-ae.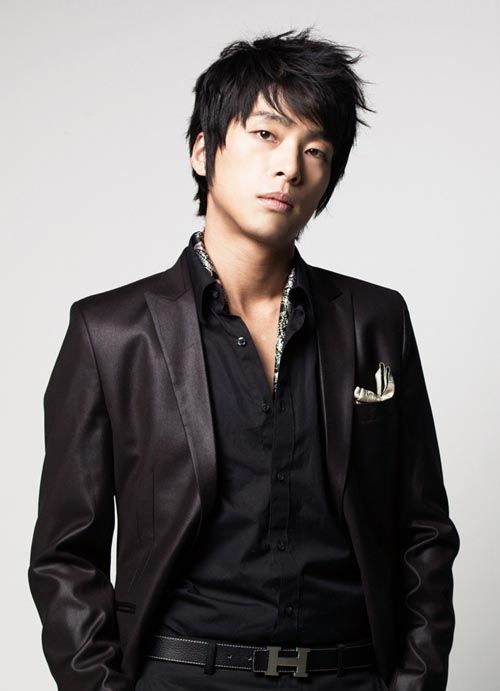 Jang Hyun-sung, Yoon Hee-seok
First, the father: Jang Hyun-sung (Jejoongwon) plays "Yoon Doo-su," who falls in love with "Gu San-dek" (Han) at first sight. (She is kept from being able to turn into a human ten years into marriage with a human, and her daughter is just on the cusp of realizing her gumiho identity.) Jang describes the drama as one that explores complex relationships and emotions — gumiho and child, man and wife, conflict between the former wife and the new one. "It's not an easy melodrama, and it's not a family drama that fixates on the protective instincts between family members. Our Gumiho also includes politics, love, and maternal love."
Jang had worked with director Lee Gun-joon (Loveholic) in his television debut and started out as a theater actor. Asked how he felt about going up against Lee Seung-gi in My Girlfriend Is a Gumiho, Jang laughed, "Does it even make sense to compare me to him? I don't have any thoughts of challenging an icon like Lee Seung-gi. My Girlfriend Is a Gumiho is a bright contemporary drama, and we're a sageuk. The dramas have differing structures, and each has its strengths and weaknesses."
Meanwhile, Yoon Hee-seok also has stage experience as a musical actor, and has also had roles in films like Secret Reunion and I Like It Hot. He will play a "wicked" and "cold" local governor who is persistent in his search of Han's character, which puts him into frequent conflict with her husband. He's as intelligent as he is mean, and portrays a formidable enemy.

Seo Joon-young
Finally, let's take a look at 23-year-old Seo Joon-young, who sheds his model-student image from youth series Sharp #3 for a more adult, sexy one here. (Additional credits: Radish Kimchi, As Much as Heaven and Earth, War of Money, and Marrying a Millionaire.)
Seo's "Chun-woo" character is a servant who also takes on a bodyguard role to Han, described as "taciturn and masculine." (Okay, pause here to say: I'm a sucker for this setup. I loved it in Sandglass and I'm inclined to like it here — you've got me intrigued already. I just hope this does NOT mean that Han will be a damsel in distress. With her secret gumiho powers, perhaps she'll be better off than the typical wilting-flower heroine. *fingers crossed*) To build up his physique, he has been busily working out on set and on his own time.
Gumiho: Tale of the Fox's Child premieres on July 5 on KBS.
RELATED POSTS
Tags: Gumiho: Tale of the Fox's Child, Jang Hyun-sung, Seo Joon-young, Yoon Hee-seok